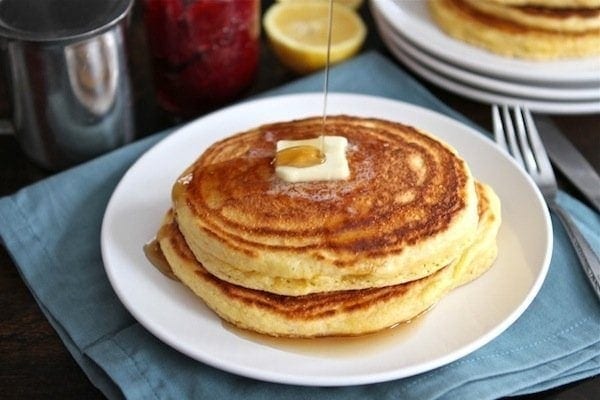 Do you have any big weekend plans? Well, you do now! You are going to make these Lemon Cornmeal Pancakes. I don't mean to be bossy, but you really need to make these pancakes. They are amazing! I got the recipe from my good blogging bud, Jenna. We made them a few weekends ago and I can't stop thinking about them. I love making special breakfasts on weekends and these Lemon Cornmeal Pancakes are definitely special.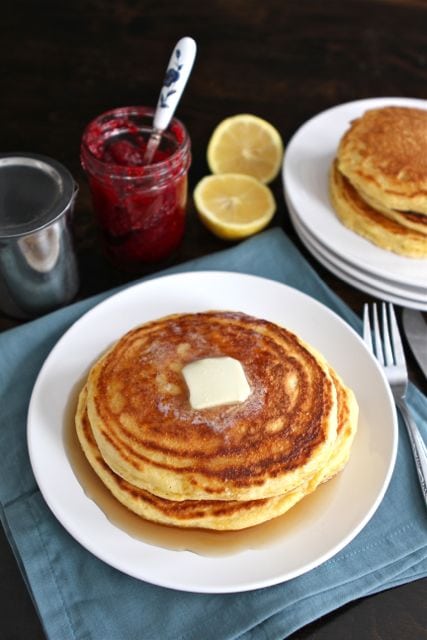 The pancakes are thick, hearty, with a refreshing lemon kick. We served them hot off the griddle with a dab of butter and pure maple syrup. I was in pancake heaven. I wanted to eat the entire stack because they were so good, but I had to tap out at one. These pancakes are very filling. We saved the leftover pancakes and enjoyed them the next day for breakfast. They were just as good reheated.
Treat yourself to a special breakfast this weekend and make Lemon Cornmeal Pancakes. I can't wait for Saturday morning! Josh better not sleep in because I am going to be waiting for my Lemon Cornmeal Pancakes:) For the recipe and step-by-step photos, check out my post on Tasty Kitchen.
And make sure you checkout our giveaway for a SodaStream machine! You have until Sunday night to enter! Good luck!
If you like these Lemon Cornmeal Pancakes, you might also like: