Maple Scones-tender, buttery scones with a sweet maple glaze! Top with chopped up candied pecans for an extra special scone.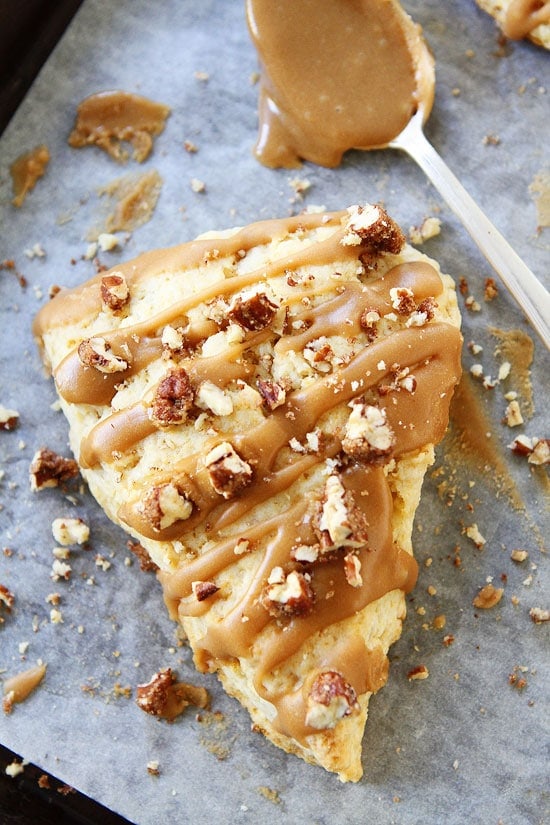 Josh LOVES maple bars. He prefers donuts from our favorite local shop, but he will still eat a maple bar from the grocery store. If I send him to the store in the morning, he almost always comes home with a donut. And sometimes he will try and hide his donut splurge from me by eating the donut in the car. It never works! I can smell the maple on him as soon as he walks in the door. He can't fool me:)
Over the weekend, Josh went to the store to pick up a few groceries. He came home empty handed and I didn't smell maple. I looked at the receipt and no donut! I was shocked. I asked Josh why he didn't get a maple bar. He looked at me with a sad face and said they were out of maple bars. Poor guy!
Josh couldn't get his maple craving to go away, so he made Maple Scones instead! I like scones better than donuts so it was a win for me:)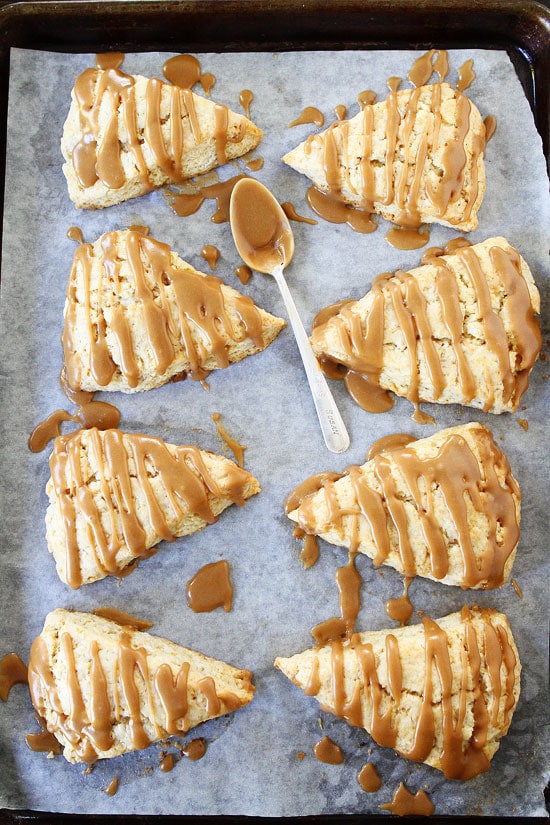 Josh had to go back to the store to buy heavy cream to make the scones. He was determined…or maybe he was checking to see if they made any new donuts..ha! They must have still been out because he came home and got busy on the scones!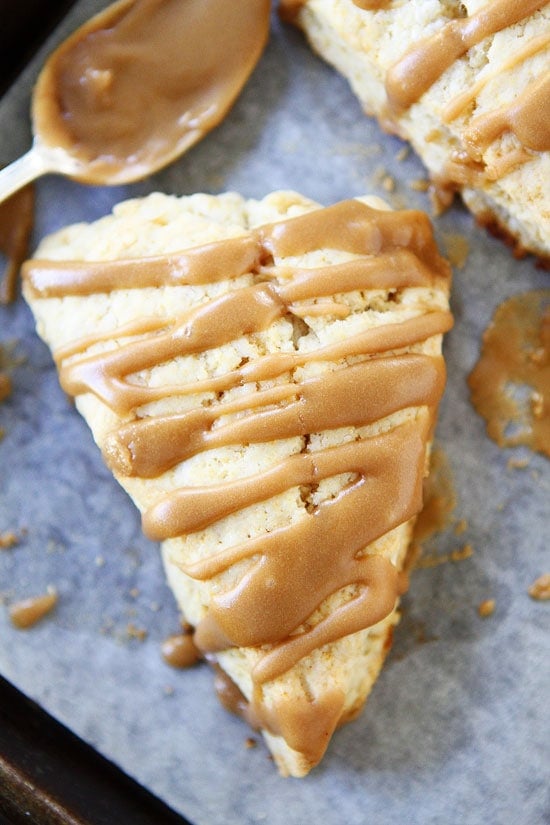 The scones are made with heavy cream and butter…so you know they are going to be good! They are light and fluffy and so good with the sweet maple glaze! If you are a maple bar fan, you will love these scones too!
Josh brought me a warm scone to enjoy while I was feeding the baby, I know I am spoiled. I took a bite and thought the scone was really good! Josh did a fabulous job. I had an idea though. I thought Josh's Maple Scones would be even better with candied pecans on the top.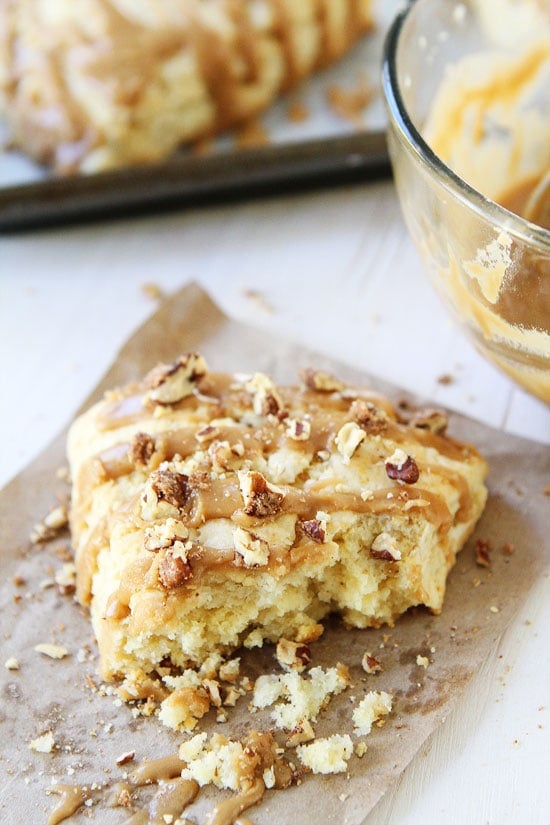 I went into the kitchen, chopped up some candied pecans, and added them to a few of the scones. Josh asked me what I was doing to his precious scones. You see, Josh is allergic to nuts and can't have pecans, but I can! I told Josh that most people would appreciate my addition to his scones, so he said fine. I wasn't trying to take over his recipe, but I just made a batch of candied pecans and knew they would be SO good on the Maple Scones. I was right! 🙂 And don't worry, I left him plenty of plain scones to eat:)
The Maple Scones are delicious…with or without the candied pecans. You decide which version you like better:) Props to Josh on creating a fabulous scone recipe. I think I need to tell the grocery store to sell out of maple bars every morning so we can enjoy homemade Maple Scones instead. They were delish!
More Scone Recipes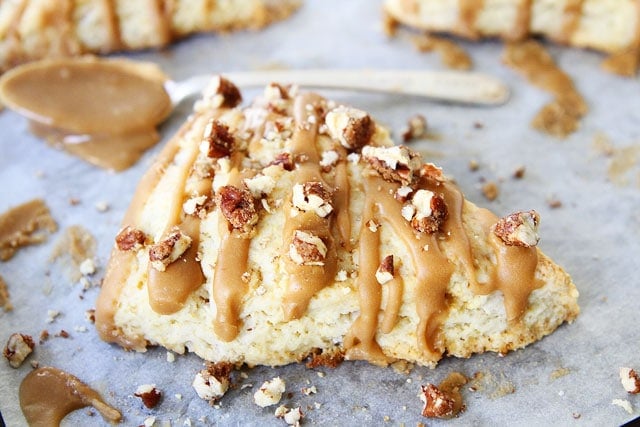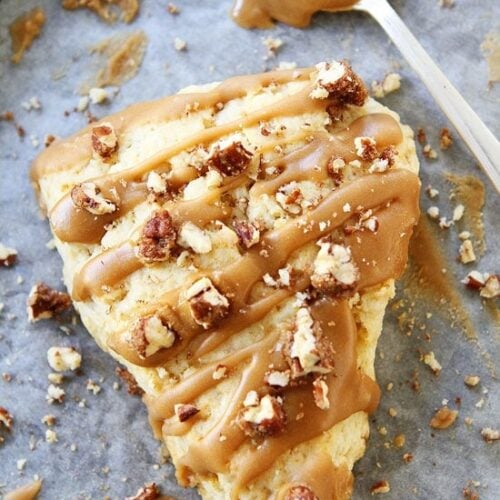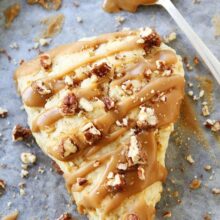 Maple Scones
If you like maple bars, you will love these maple scones! They are easy to make at home and a wonderful breakfast treat!
Instructions
Preheat oven to 400 degrees F. Line a large baking sheet with parchment paper or a Silpat baking mat and set aside.

In a large bowl, whisk together flour, baking powder, brown sugar, and salt. Quickly cut in the butter, using your hands, two knives, or a pastry blender. Mix until mixture resembles coarse meal, with a feel larger butter lumps.

In a small bowl, whisk together ¾ cup heavy cream, the egg, and vanilla extract. Pour the mixture over the ingredients and stir with a spatula until dough begins to form. Don't over mix.

Transfer dough to a floured countertop and knead dough by hand just until it forms a ball. Form scones by patting the dough into a 3/4-inch thick circle. Cut the scones into even triangles.

Place scones on prepared baking sheet. Using a pastry brush, brush scones lightly with the additional one tablespoon of heavy cream. Bake scones for 15-17 minutes, or until scones are slightly golden brown. Cool scones on a wire cooling rack.

While the scones are cooling, make the maple glaze. In a small saucepan, add butter, maple syrup, and heavy cream. Heat over medium until butter is melted and ingredients are combined, stirring occasionally. Stir in the maple extract. Slowly whisk in the powdered sugar, adding about ¼ of a cup at a time. The glaze will be a little lumpy at first, but will smooth out as you keep whisking.

Let glaze cool for 5 minutes. Drizzle glaze over cooled scones. Top with chopped candied pecans, if desired.

Note-Scones will keep in an air-tight container for up to 2 days, but they really are best eaten the day they are made.
Nutrition
Calories:
402
kcal
,
Carbohydrates:
57
g
,
Protein:
5
g
,
Fat:
18
g
,
Sodium:
243
mg
,
Fiber:
1
g
Have you tried this recipe?
Leave a comment below and share a photo on Instagram. Tag @twopeasandpod and hashtag it with #twopeasandtheirpod
Follow us on Instagram and show us what recipes you are making from our blog! Use the hashtag #twopeasandtheirpod! We want to see what you are making in your kitchen!