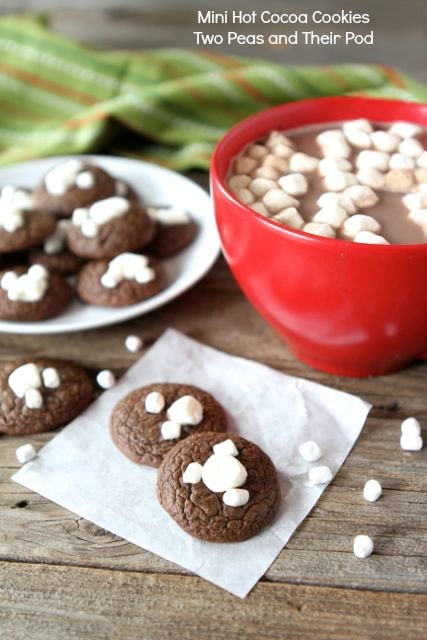 First of all, we would like to take a moment to say that our thoughts and prayers are with the families, community members, and everyone affected by the tragedy in Connecticut. There are no words. Make sure you hug your loved ones extra tight.
Are you a hot cocoa fan? Josh loves hot cocoa, but I am indifferent. I like a sip or two, but can't drink an entire cup. I decided to make Mini Hot Cocoa Cookies for Josh…Christmas is right around the corner, I need to earn all of the bonus points I can get:)
I really wasn't planning on eating these cookies, remember they were for Josh, and my cookie intake for December is off the charts. I decided to take a little taste to make sure they were edible. Big mistake! I should have never tasted these cute little cookies. I might not be able to drink a cup of hot cocoa, but I can down a dozen Mini Hot Cocoa Cookies.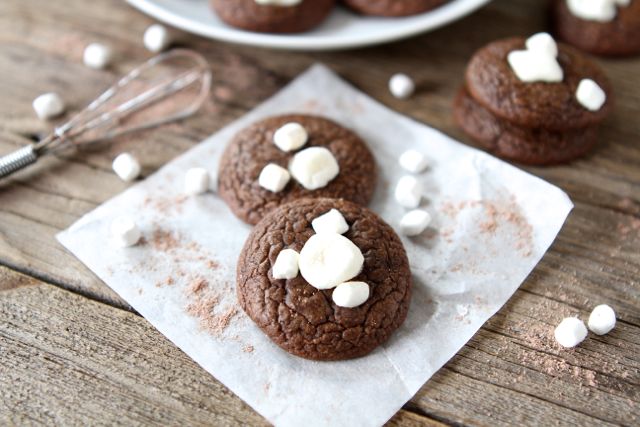 These cookies might be mini, but they are not mini in chocolate flavor. They really do taste like a hot cocoa. There is actual hot cocoa mix in the cookies…along with two cups of semi-sweet chocolate chips. No wonder I liked them:) And you can't have hot cocoa without marshmallows so I topped each cookie with a marshmallow and added a few Mallow Bits for fun. They turned out super cute and super tasty!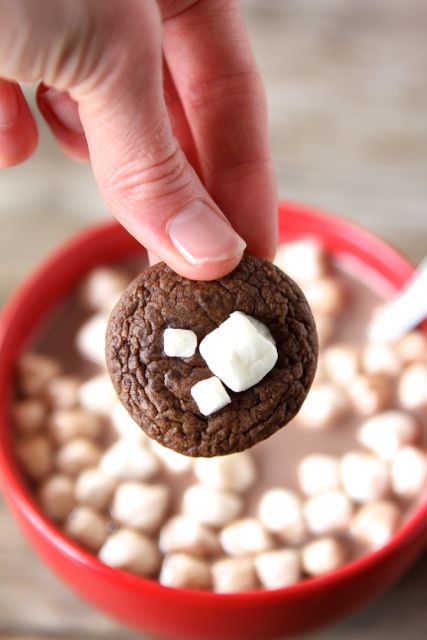 And if you are into the whole hot cocoa thing, dunk a Mini Hot Cocoa cookie into your warm cup of cocoa. Double the chocolate, double the fun!
I love it when a recipe surprises me. These Mini Hot Cocoa Cookies are a new favorite. I am going to make them all winter long.
And don't worry, I did share with Josh. The cookies were for him after all. He loved them. In fact, he said these Mini Hot Cocoa Cookies are the best chocolate cookies he has ever tasted. I am thinking my pre-Christmas plan to earn bonus points worked:) I should be getting all of the items on my Christmas list this year and then some:) Just don't tell him I ate a few…or a dozen:)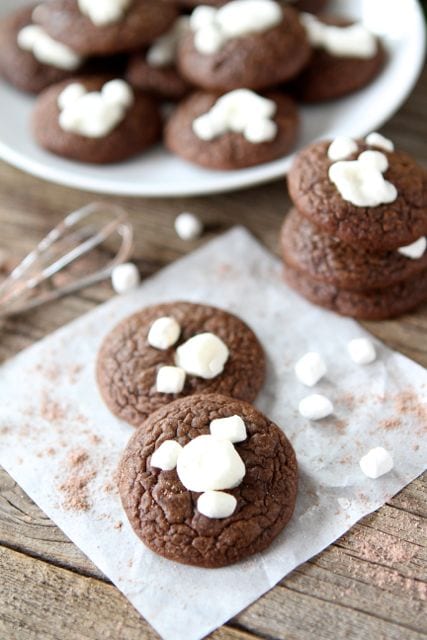 Mini Hot Cocoa Cookies
Mini chocolate cookies made with hot cocoa mix and mini marshmallows. These cookies make a delightful winter treat.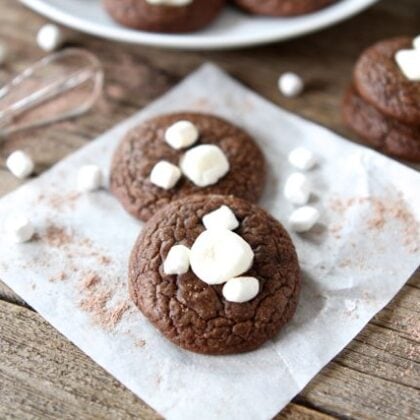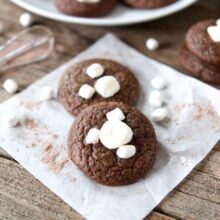 Cook Time

10

minutes
Servings

48 mini cookies
Ingredients
1/2

cup

unsalted butter

2

cups

semi-sweet chocolate chips

1 1/2

cups

all-purpose flour

1/4

cup

hot cocoa mix

1 1/2

teaspoons

baking powder

1/2

teaspoon

salt

1

cup

brown sugar

3

large eggs

2

teaspoons

vanilla extract

48

mini marshmallows

Mallow Bits

2-3 per cookie
Instructions
In a small saucepan, melt butter and chocolate chips over low heat. Stir until combined and smooth. Set aside to cool for about 10 minutes.

In a medium bowl, whisk together flour, hot cocoa, baking powder, and salt. Set aside.

In the bowl of a stand mixer, beat the brown sugar and eggs together. Add vanilla extract. Slowly add in dry ingredients. Mix in the melted chocolate. Refrigerate cookie dough for at least 1 hour or overnight.

Preheat oven to 325 degrees F. Line a large baking sheet with a Silpat baking mat or parchment paper. Using about a teaspoon of dough, form cookie dough balls and place on prepared baking sheet.

Bake for 6 minutes, or until cookie tops begin to crack. Pull cookies out from oven and place 1 mini marshmallow in the center of each cookie. Place a few Mallow Bits on each cookie as well. Bake cookies for an additional 4 minutes, or until marshmallows are soft and cookies are set around the edges, but still soft. Let the cookies cool on the baking sheet for 2 minutes. Transfer cookies to a wire cooling rack and cool completely.

Note-I buy the Mallow Bits at Target. If you can't find them, just use the mini marshmallows. They will still be tasty:)
If you like these Mini Hot Cocoa Cookies, you might also like: