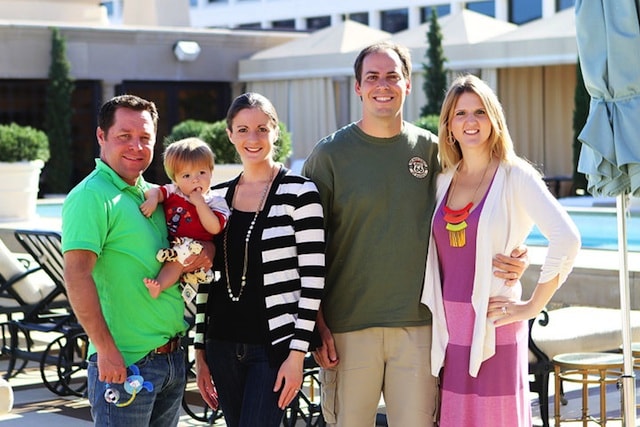 After our event at Disneyland, we headed to the Montage Beverly Hills for a fun weekend with Kevin and Amanda. When we stayed at the Montage Deer Valley, we fell in love. Montage resorts are the cream of the crop! We were super excited to experience the Montage Beverly Hills.
The Montage Beverly Hills is located in the heart of Beverly Hills, right by Rodeo Drive. The location is perfect for shopping, dining, and sightseeing. Although, you will never want to leave the resort because it is so fabulous:)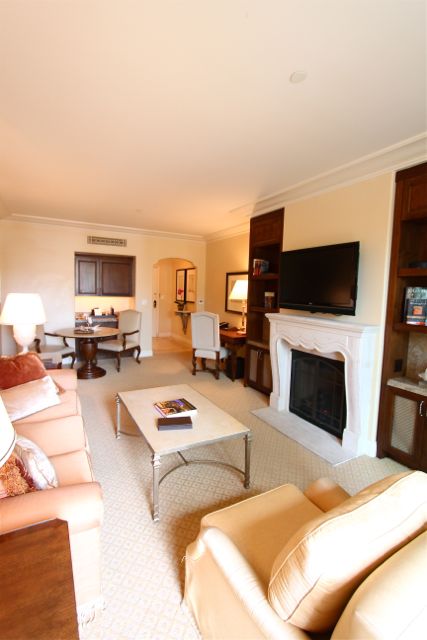 Our Junior Suite was elegant and spacious. The living room had a fireplace, 42 inch LCD television, a sleeper sofa, desk, and mini bar area. Caleb had plenty of room to crawl around.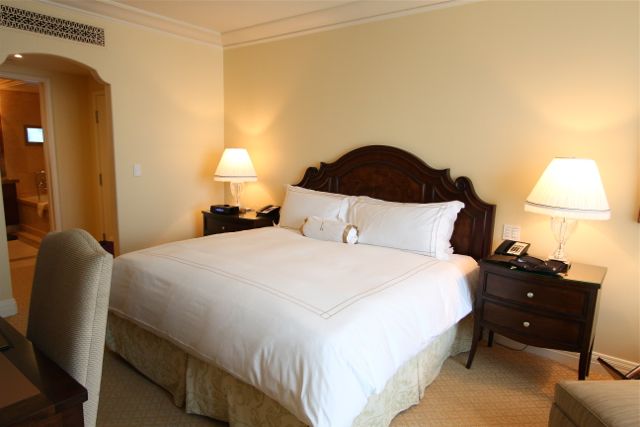 The bedroom had a king-sized bed, a 42 inch LCD television, an executive desk, and cozy reading corner.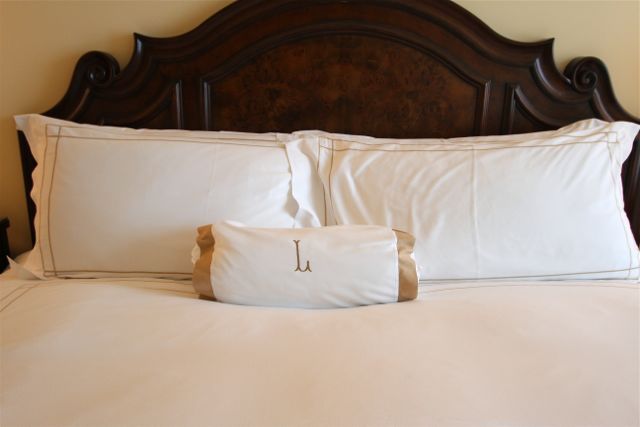 Look at the "L" for Lichty on the pillow. The Montage doesn't miss a thing. I love their attention to detail. Sometimes it's the little things that make a stay special.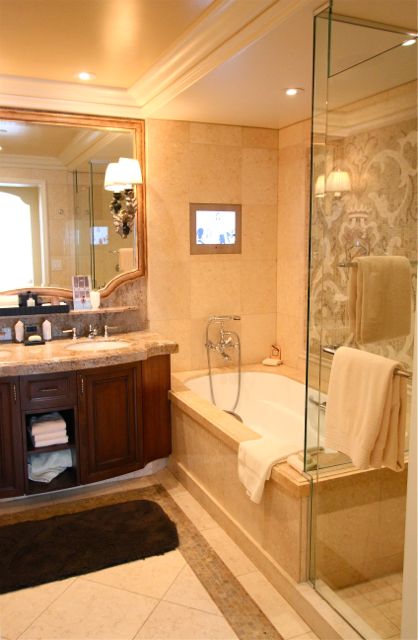 Our master bathroom had a large soaking tub, walk in shower, and dual sinks. And yes, that is a television in the wall. Josh didn't have to miss a baseball game while he got ready:)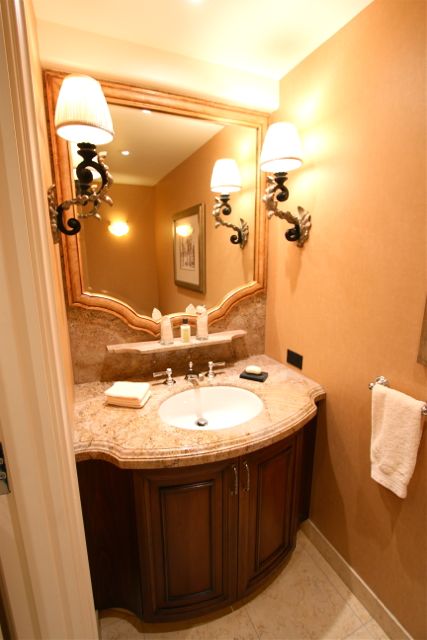 Our suite even had a guest bathroom! We wanted to invite guests into our room, just so they could use the guest bathroom:)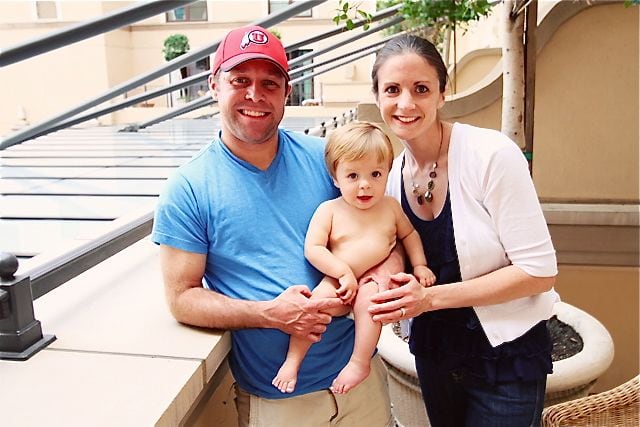 We also had a huge balcony that was perfect for relaxing and soaking up the California sun!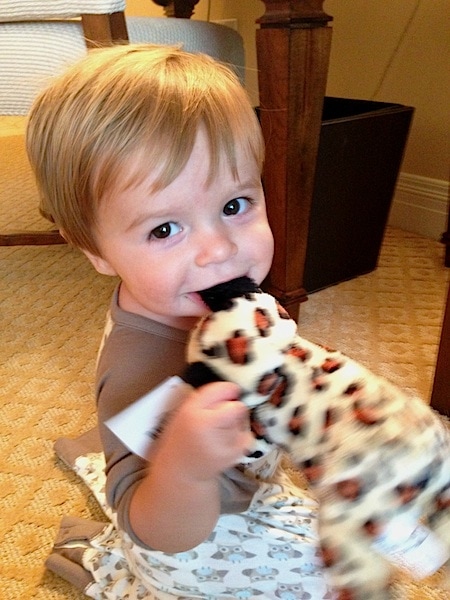 The Montage Beverly Hills gave Caleb a stuffed jaguar when we checked in. He loved it! They also put a special crib and bath set in our room for Caleb.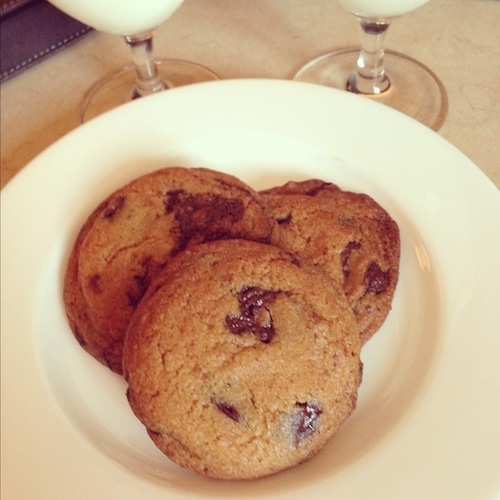 The Montage Beverly Hills delivered freshly baked chocolate chip cookies to our room. The cookies were warm and gooey when they arrived. Now, that is service! We were in heaven!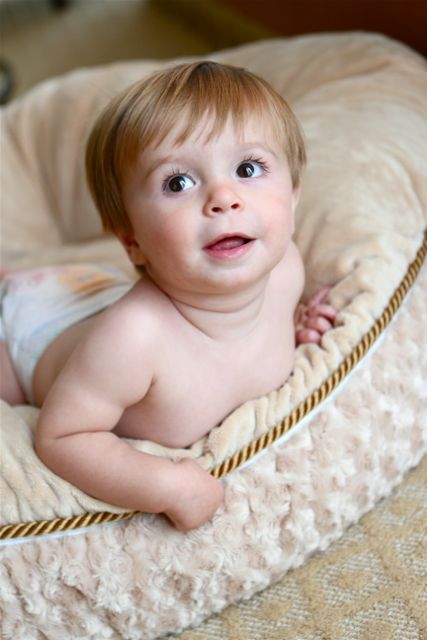 The Montage Beverly Hills is also pet friendly. They put special dog beds in Kevin and Amanda's room for Howie and Miley. Unfortunately, the doggies stayed home, but Caleb made good use of the dog beds.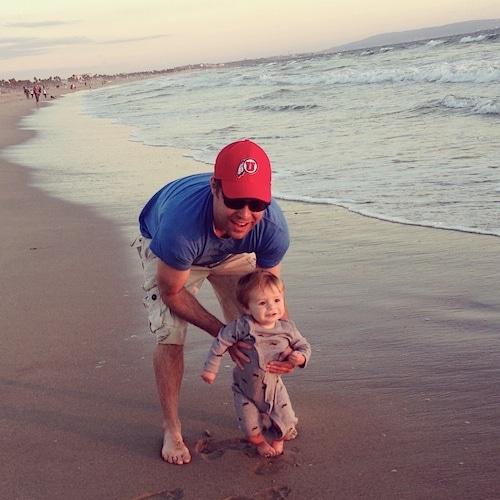 Friday night, we drove down to Santa Monica Pier to watch the sunset. Caleb loved playing on the beach.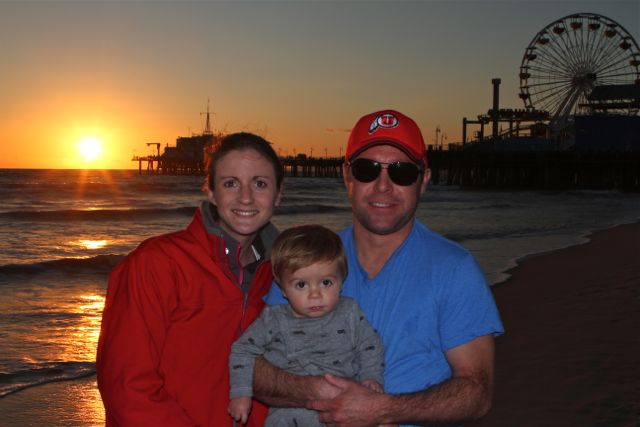 Family sunset photo! Thanks Amanda for taking so many photos and for letting us borrow your camera while ours is in the shop!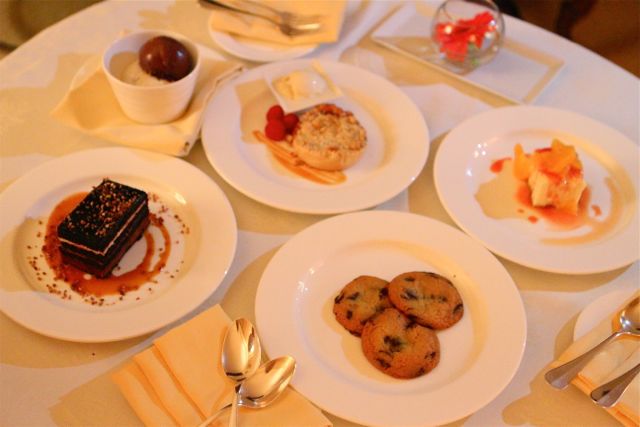 When we got back to the Montage Beverly Hills, we had a pj dessert party! Everything on the menu sounded good, so we decided to get a few to share. We ordered chocolate and vanilla ice cream, apple crumble pie, cheesecake with guava puree, freshly baked chocolate chip cookies, and a slice of Montage. The slice of Montage is the Montage's signature cake with praline, creme brulee, and chocolate. It was divine. The apple crumble pie was also a favorite. There wasn't a crumb left. The Montage Beverly Hills definitely knows how to do dessert.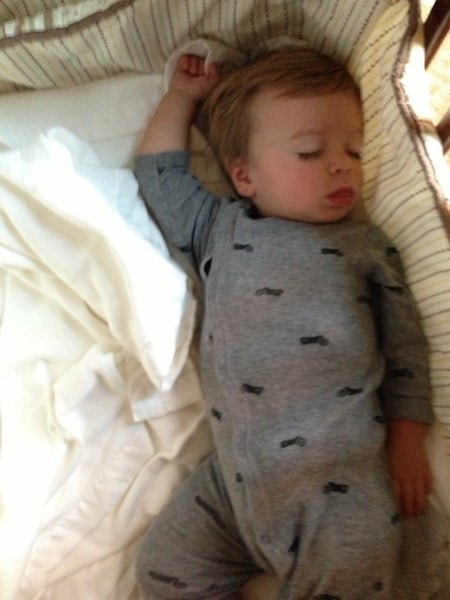 We had a hard time waking Caleb up on Saturday morning. He was so cozy in his crib! The blackout drapes are a dream. Oh, and the drapes, sheers, and lights are all electronically controlled. You can open the drapes right from your bed. So neat!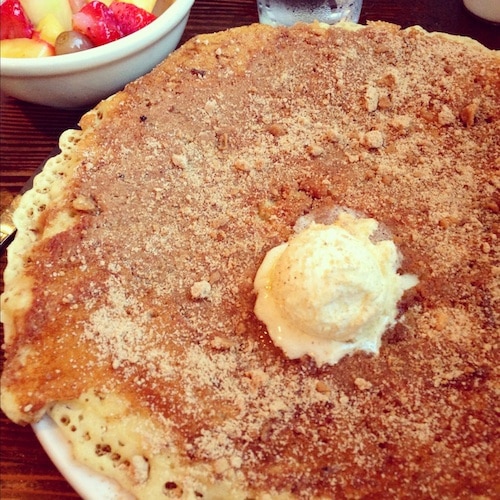 We went to breakfast at The Griddle Cafe. We've been to The Griddle Cafe before and instantly fell in love with their Recess Time Pancake. I had to order it again! It's awesome! We've recreated a Cinnamon Streusel Pancake that is very close to the original. But if you are in the LA area, make sure you stop in and try the original pancake. It's one of those pancakes you will dream about for days.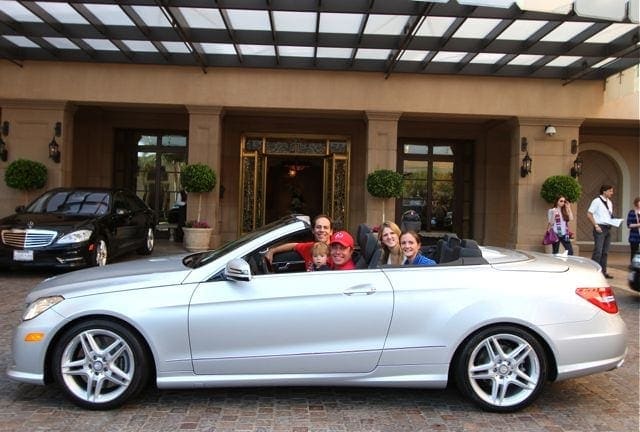 Josh and Kevin had tickets to go to the Utah vs. UCLA game at The Rose Bowl on Saturday. The Montage Beverly Hills gave them a complimentary convertible Mercedes Benz to drive to the game. We made sure we got a photo before they drove off in style! Lucky guys!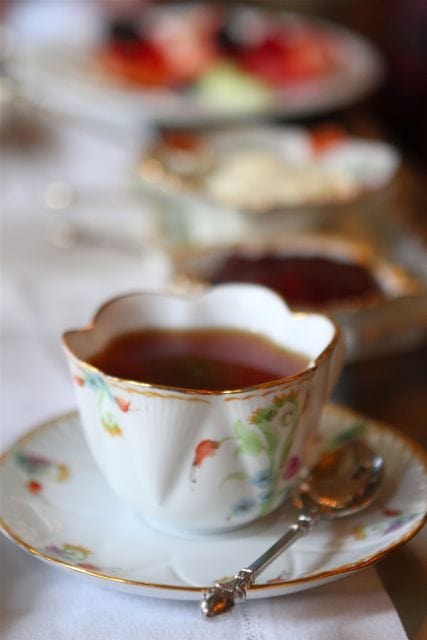 While the guys were at the game, the girls (and Caleb) went to afternoon tea. I had the exclusive Montage blend-golden pomegranate caffeine-free tea with rooibos, rose hips, orange peel, lemon myrtle tart, smooth and sweet. It was very soothing with sweet fruity hints.
They also brought us a large platter of scones, sandwiches, and pastries. We didn't know where to start. The scones with devonshire cream, strawberry jam, and lemon curd were my favorite. The chocolate sea salt cookies were also excellent. Really, everything was excellent! Look at that tray of goodies!
The Montage Beverly Hills is very kid friendly, which we really appreciate. They had a special kids tea for Caleb. He really enjoyed his fruit and grilled cheese sandwich…and he was mesmerized by the harp player.
After tea time, we went to the pool to relax, which is on the rooftop. The view is stunning! Caleb wasn't in the mood to relax, so I let him play in the pool fountain. He had the time of his life. Thanks Amanda for taking so many photos! We love them all!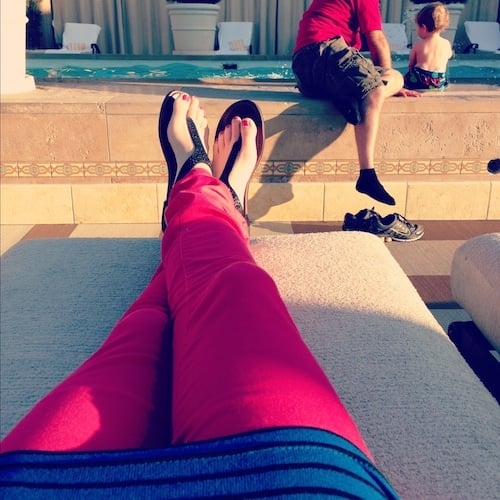 When the guys got back from the game, we went back up to the pool. This time I relaxed on a plush lounge chair while the guys played in the water. Pure bliss!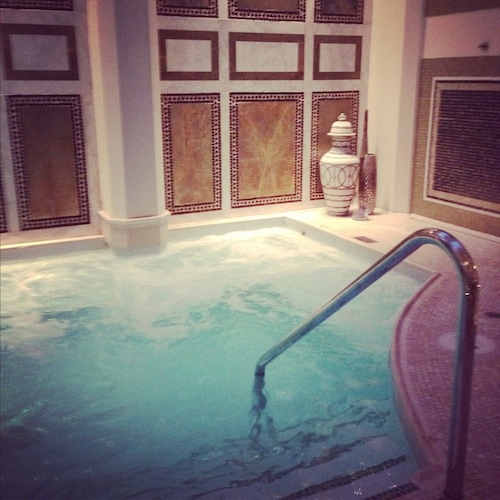 Next, I found my way to Spa Montage, a two-story spa oasis. The second I walked through the doors, I was relaxed. I enjoyed the whirpool and sauna. It was just what this mama needed:)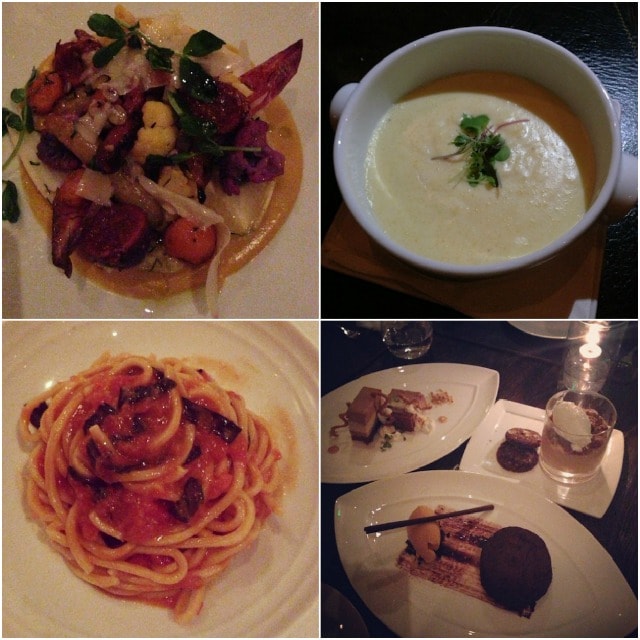 For dinner, we went to Scarpetta, which is located in the lobby of the Montage Beverly Hills. I am still talking about our meal, so you know it was good. Josh ordered the creamy polenta with truffled mushrooms and we all had a bite…and another bite and another bite. It was the best polenta I have ever had. It was smooth, rich, and creamy. Caleb had his fair share too:)
I ordered the spaghetti for my entree. I know, boring spaghetti, but think again. Scarpetta's spaghetti is life changing. It is hands down the BEST spaghetti I have ever had. Pasta perfection! I am telling you, if you go to Scarpetta, order the spaghetti. Just do it. We also ordered a trio of desserts. The rich chocolate cake sent me right into dreamland. Thanks Chef Scott Conant for an amazing meal!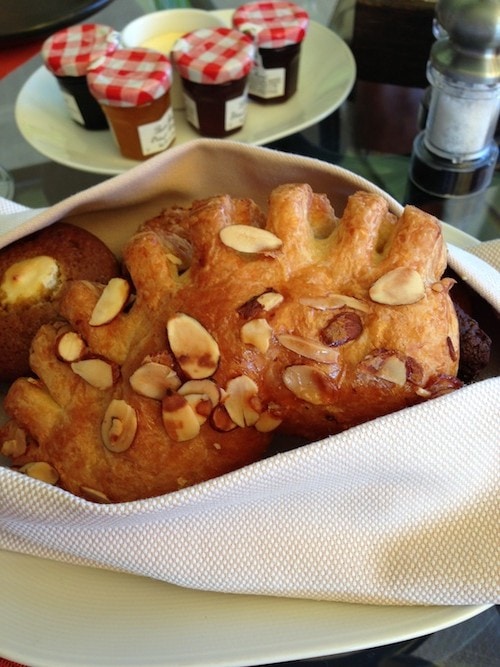 On Sunday morning, we went to breakfast at The Conservatory Grill, which is on the rooftop of the Montage Beverly Hills. We enjoyed breathtaking views of the Hollywood Hills while we ate a delicious breakfast. We started with a bakery basket from Bouchon. Bouchon Bakery is located right next to the hotel. How nice is that?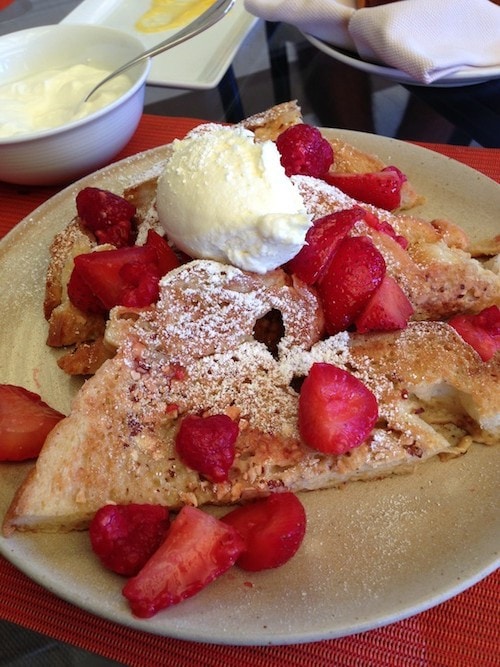 I ordered the Almond Crusted Brioche French Toast with Lemon Mascarpone and Berries. I loved the slight crunch the almonds added to the French toast. Mmmm!
Thank you Montage Beverly Hills for a perfect weekend. We really enjoyed our stay and can't wait to come back!
If you haven't visited a Montage resort, add it to your bucket list right now. They are the best! They also have a Deer Valley location and a Laguna Beach location. You can check out our Deer Valley visit here! We can't wait to visit Montage Laguna Beach!