Smoked Paprika Roasted Sweet Potatoes-a healthy side dish that goes great with any meal. You will love the sweet and smoky flavor of these simple roasted sweet potatoes!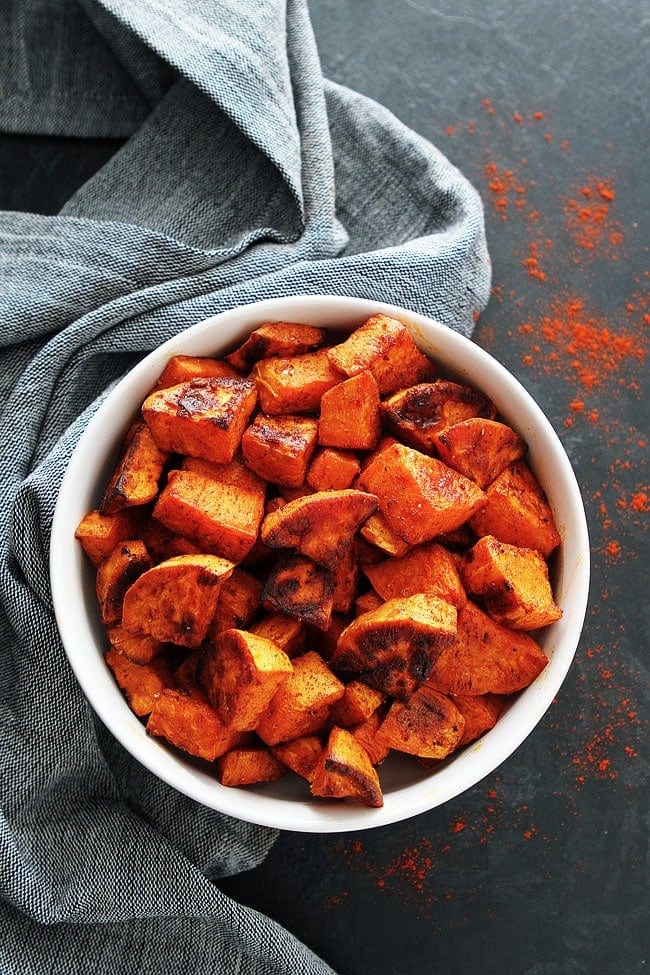 Roasted Sweet Potatoes
I eat sweet potatoes in some form almost every single day. I am obsessed. They are just so good! I like them mashed, stuffed, in salads, in enchiladas, cut up into fries, and roasted. You really can't go wrong.
Roasted is probably my favorite way to eat sweet potatoes because they are so easy to make and go great with any and every meal. Lately, I have been making Smoked Paprika Roasted Sweet Potatoes and they are crazy good, so good I sometimes eat the entire pan for lunch. I am a little worried I might turn orange..ha!
What is the difference between a Sweet Potato and a Yam?
I think most of us are a little confused about the difference between a sweet potato and a yam. Most grocery stores carry two different types of sweet potatoes and call one sweet potatoes and one yams…even though they are both sweet potatoes.
So let's do a little sweet potato 101 before we get to the recipe.
A sweet potato is a root vegetable that is part of the morning glory family and they are grown in the United States. Sweet potatoes are tapered vegetables that have smooth skin. Sweet potato flesh can vary from white to orange and even purple. Sweet potatoes are moist and sweet and have more fiber, protein, and Vitamin A than yams.
Yams are a type of lily and are cylindrical in shape. They typically have white flesh and a rough, dark skin. They are grown in Africa. Yams are starchy and dry.
You want to use sweet potatoes for this recipe, which should be easy since most grocery stories carry sweet potatoes!
How to Roast Sweet Potatoes
Now that we have our sweet potatoes figured out, let's get roasting!
First of all, do you have to peel your sweet potatoes for roasting? The answer is no. You don't have to, that is personal preference. If I am roasting sweet potatoes just for me, I always leave the skins on. I just wash them really well. If I am serving them to company, I usually peel them because some people don't like the skin. I think they are good both ways.
Use a sharp knife to cut the sweet potatoes into 1-inch pieces. Make sure you cut the sweet potatoes the same size so they will cook evenly.
Toss the sweet potatoes in olive oil so they will crisp up nicely in the oven.
Roast the sweet potatoes in the oven at 425 degrees F. You want to use high heat so they will get nice and crispy.
I like to season the sweet potatoes with smoked paprika before they go into the oven. I am currently obsessed with smoked paprika, it is one of my favorite spices! The smoked paprika gives the sweet potatoes a ton of flavor. The sweet and smoky combo is amazing!
Make sure the sweet potatoes are spread out evenly on the pan. You don't want to overcrowd them or they will get mushy instead of crisp in the oven. You want crispy roasted sweet potatoes, trust me.
Roast for 30-40 minutes, stirring once. You want the sweet potatoes to be tender and slightly crisp around the edges.
You are going to love these healthy oven roasted sweet potatoes! They are so easy to make and are the perfect side dish to any meal…and sometimes they are my meal because I can't stop eating them! They are SO good!
If you like this roasted sweet potato recipe, you might also like: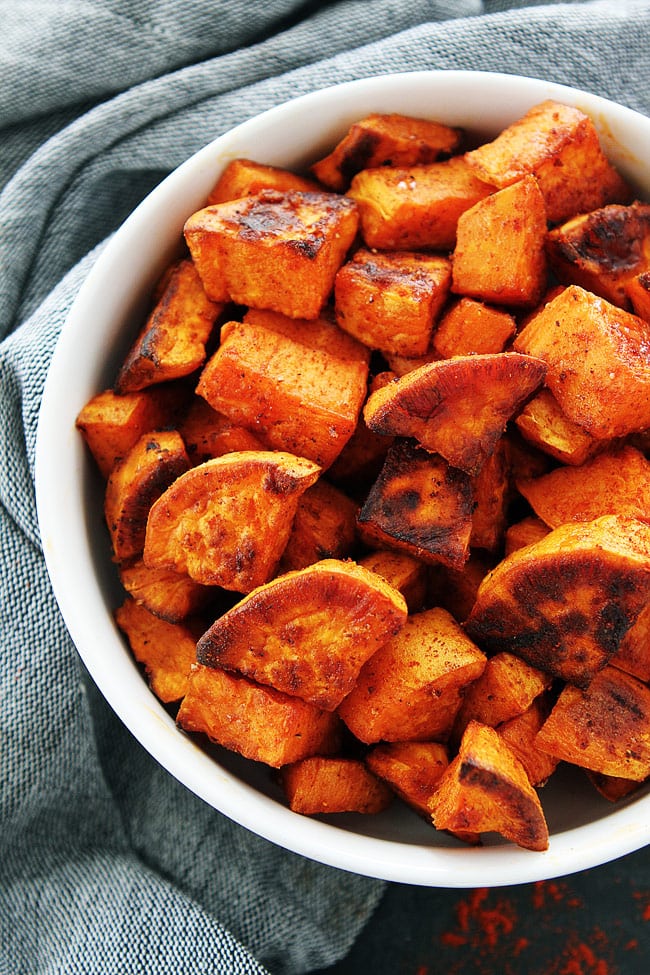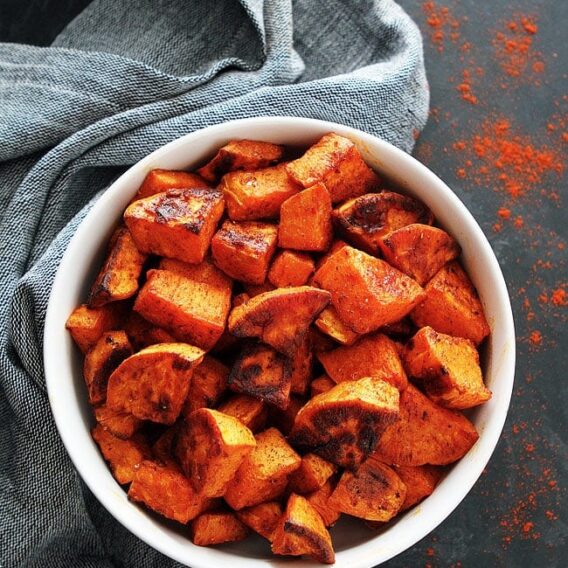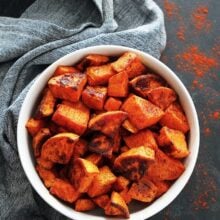 Smoked Paprika Roasted Sweet Potatoes
You only need three ingredients to make these simple roasted sweet potatoes that are spiced with smoked paprika! An easy side dish that goes great with any meal!
Instructions
Preheat oven to 425 degrees F.

Place sweet potatoes in a single layer on a large baking sheet. Drizzle with olive oil and toss until sweet potatoes are well coated with the oil. Sprinkle smoked paprika evenly over the sweet potatoes and toss again. Season with salt.

Place the baking sheet in the oven and roast for 30-40 minutes, tossing once, or until sweet potatoes are tender and slightly browned. Serve immediately.
Have you tried this recipe?
Leave a comment below and share a photo on Instagram. Tag @twopeasandpod and hashtag it with #twopeasandtheirpod