Peach Raspberry Smoothie
Peach Smoothie with Raspberries – this simple smoothie is a peach smoothie + raspberry smoothie mashup! Fruity and refreshing, this peach raspberry smoothie is great for breakfast, snack time, or even dessert!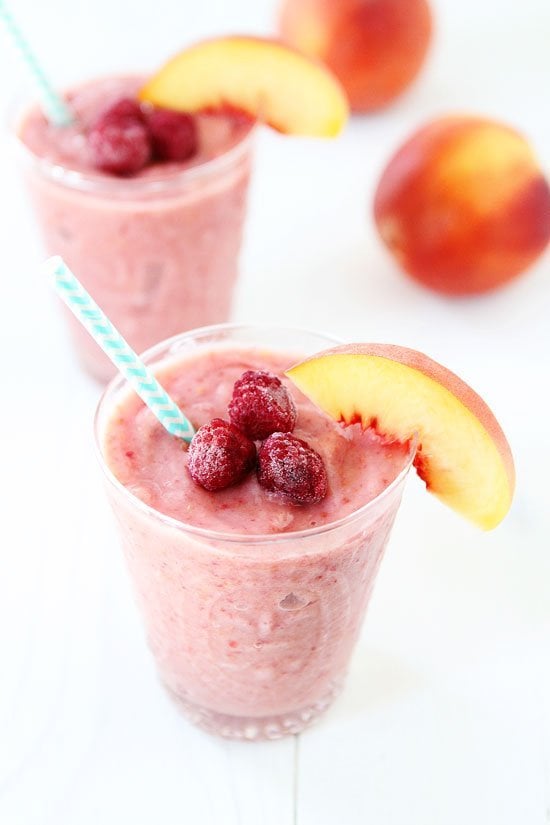 A Smoothie for Sleepyhead Mornings
Peach season is my favorite and I am always looking for new ways to use up our summer peaches. This Peach Smoothie with Raspberries is for sure a summer favorite! I used the last of the peaches from our tree to make this yummy peach smoothie and I am going to have to find more because it is SO good. I was tired one morning and needed a special drink to get me going and this smoothie did the trick! It is the perfect smoothie to start any day.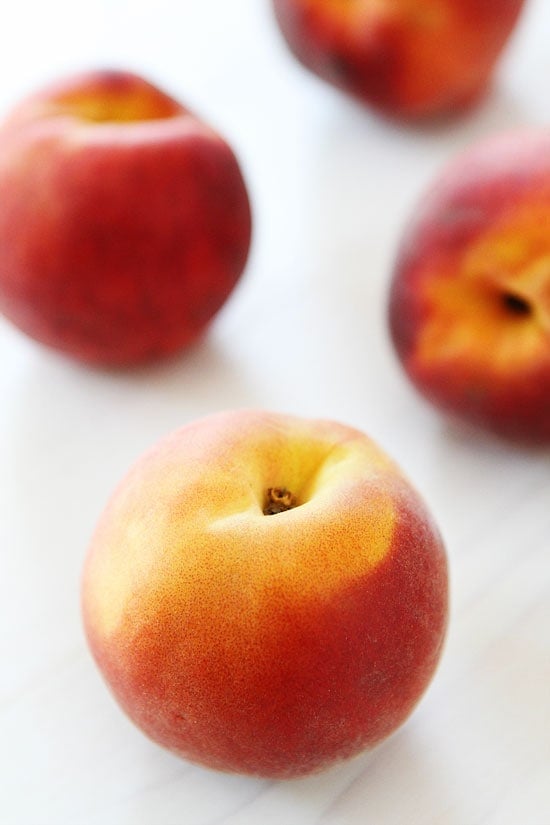 Fresh Peach Smoothie
I am sad our peaches are gone, but I am glad I used the final peaches to make this Peach Raspberry Smoothie. The peach and raspberry combo is delightful! If you don't have fresh peaches, you can use frozen peaches.
To make the smoothie, just combine peaches, raspberries, almond milk, agave or honey, and ice in a blender and let it do the work! It's that simple!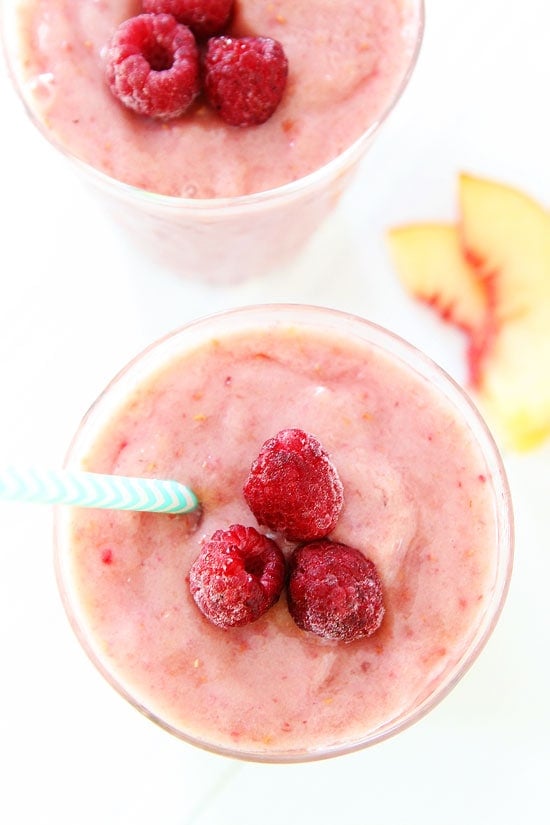 Peach Smoothie or Raspberry Smoothie?
I shared my peach smoothie (Or is it a raspberry smoothie? Either way it's delicious!) with our boys and they thought we were drinking a dessert for breakfast! Major mom win!
This peach smoothie is great any time of the day – for breakfast, as a healthy snack, or even for dessert! And it tastes even better if you've had a stressful week. This Peach Smoothie with Raspberries was just the treat I needed! It gave me the boost to keep on going! I hope we get some rest this weekend. If not, I will just keep sipping on smoothies!
Pro tip-if you have to many peaches, slice them up and freeze them! You can use frozen peaches in this smoothie. If you use frozen peaches and frozen raspberries, you can omit the ice! The frozen fruit will make a nice, thick smoothie!
If you like this easy peach smoothie, you might also like: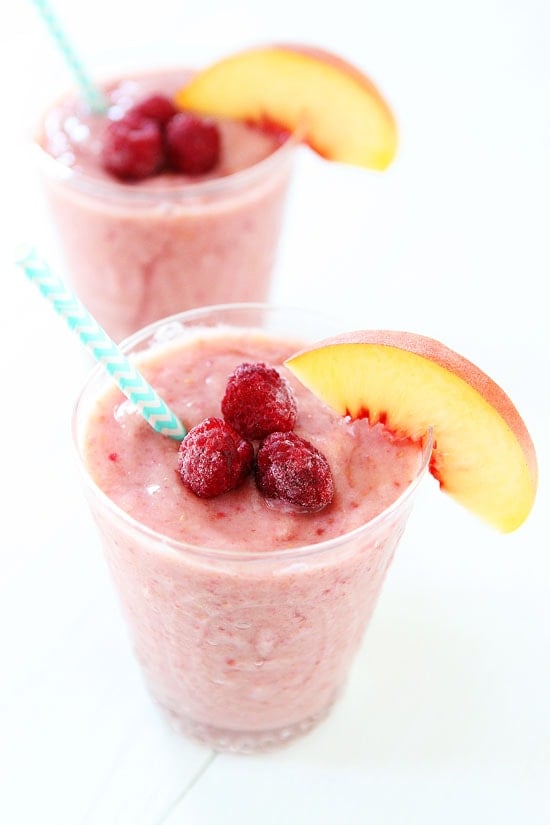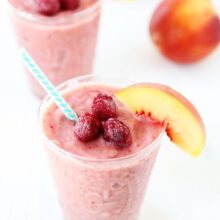 Peach Raspberry Smoothie
This simple smoothie only takes 5 minutes to make and is great for breakfast, a healthy snack, or even dessert!
Ingredients
1

cup

sliced peaches

1/2

cup

frozen raspberries

1

cup

vanilla unsweetened almond milk

or milk of your choice

1-2

teaspoons

agave or honey

depending on the sweetness of your peaches

3-4

ice cubes
Instructions
Add peaches and raspberries to blender

Add milk, agave or honey, and ice cubes to the blender.


Blend until smooth. Serve immediately.
Recipe Notes
Note-use agave for a vegan smoothie. You might have to add more ice or milk, depending on how thick or thin you like your smoothie.