I know I just posted a pumpkin muffin recipe and several other pumpkin recipes within the last month, but I just can't stop. I love pumpkin. I honestly was going to call it quits for awhile, but on Saturday morning I was eating my pumpkin granola for breakfast and an idea popped in my head to make pumpkin chocolate chip granola bars. I quickly got out the pumpkin and started baking.
I based the recipe off of my pumpkin granola, but I made a few changes. I adjusted the spices, used honey instead of maple syrup, and added in chocolate chips. This was my first time making homemade granola bars so I was a little worried, but after a few minutes in the oven, I knew they would be good. The smell of pumpkin and chocolate was divine.
When the bars were golden brown, I removed them from the oven and let them cool for five minutes. I cut them into bars and let them finish cooling while we went to the farmers market. When we got home, we rushed into the kitchen to sample the granola bars. I sampled them again and again:) I was smitten. The chewy granola bars have a nice pumpkin flavor that is complimented by chocolate and laced with cinnamon and nutmeg.
Homemade granola bars are so easy to make, I can't believe it has taken me this long to try them. These pumpkin chocolate chip granola bars make a great fall snack or breakfast on the go. If you are looking for a pumpkin recipe to try-I nominate this one!
I have been getting bombarded with one question lately, "when are you going to post pictures of your new kitchen?" We are home and our kitchen is functioning (I loved using our Thermador oven on Saturday) but it isn't completely done. We have some odds and ends to finish up before it is ready to be viewed by all:) Until it is finished, I will be posting teaser photos. Here is one for you to enjoy today. Don't you love our new white kitchen backsplash? That is all you get for now!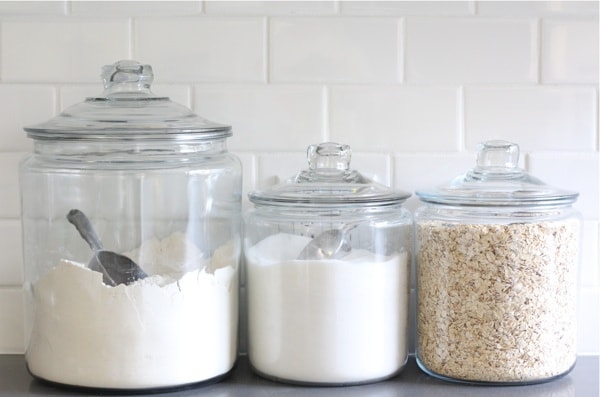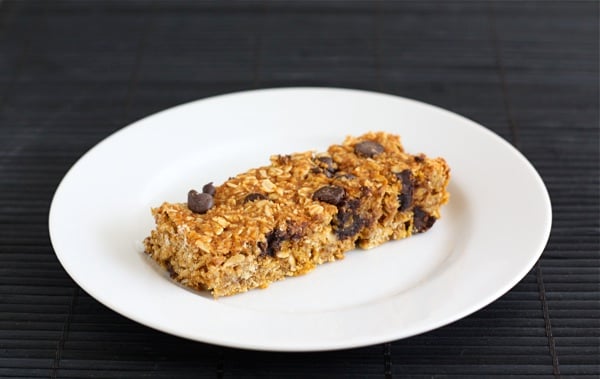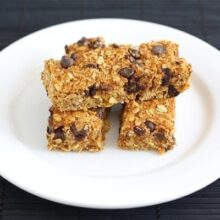 Pumpkin Chocolate Chip Granola Bars
Instructions
1. Preheat oven to 350 degrees F. Spray an 8 by 8 baking pan with cooking spray and set aside.

2. In a large bowl, whisk oats, spices, and salt together. Set aside.

3. In a medium bowl, whisk brown sugar, pumpkin, applesauce, honey, and vanilla extract until smooth. Pour over oats and stir well, until all of the oats are moist. Stir in chocolate chips.

4. Evenly press oat mixture into prepared pan. Bake for 30-35 minutes or until golden brown. The pumpkin keeps the bars moist, so make sure they are golden and set-you don't want them to be under baked. Remove from oven and let cool on a wire rack for 5 minutes.

5. Using a sharp knife, cut into bars. Remove from pan and let cool completely.
Have you tried this recipe?
Leave a comment below and share a photo on Instagram. Tag @twopeasandpod and hashtag it with #twopeasandtheirpod
If you like these pumpkin chocolate chip granola bars, you might also like:
Pumpkin Granola from Two Peas and Their Pod
Granola Bars from Buns in My Oven
Cranberry Spice Granola Bars from Bitchin' Camero
Thick, Chewy Granola Bars from In Good Taste