Roasted Mushroom and Gruyere Toasts-crusty bread topped with garlic, roasted mushrooms, thyme and melted Gruyere cheese!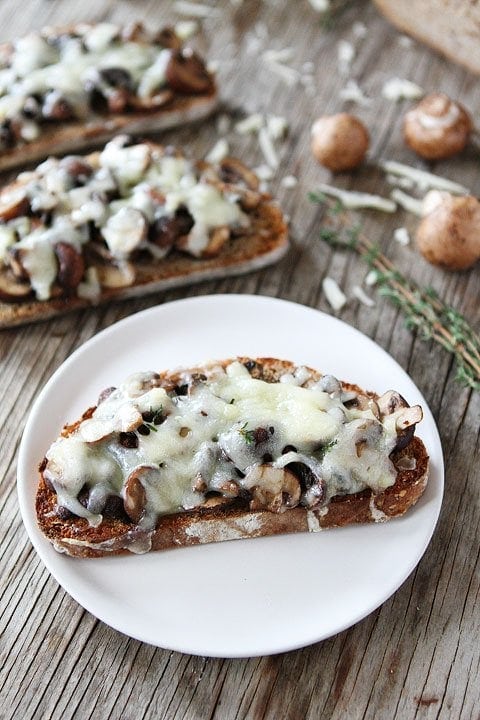 I am almost 17 weeks pregnant and my carb cravings are still going strong. The good news? I am finally eating and enjoying vegetables again. Of course, it helps if the veggies are served with carbs…like my new favorite pasta dish. I am making baby steps:)
Grilled cheese sandwiches have been my staple. I was going to make another grilled cheese for lunch, but I decided to branch out and make Roasted Mushroom and Gruyere Toasts instead. I know, it's basically an open-faced grilled cheese sandwich, but I added lots of mushrooms so it made me feel better. Who cares if the mushrooms were covered in melty cheese? They are still veggies!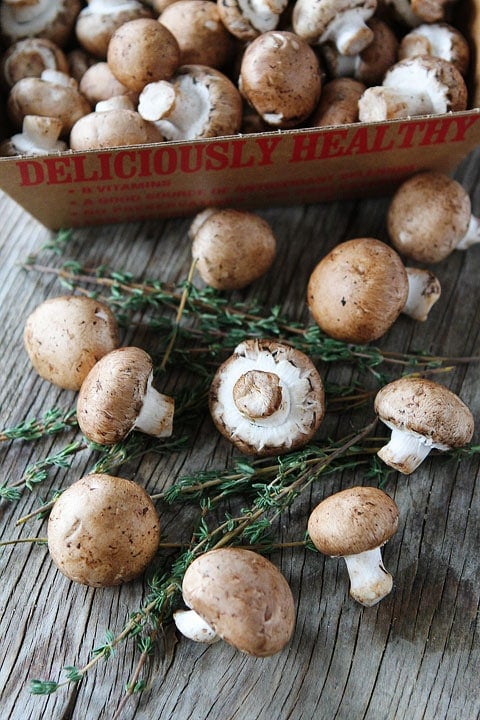 If you haven't tried mushrooms and thyme together, it's time…ha! Thyme and mushrooms just go together. They are kindred spirits.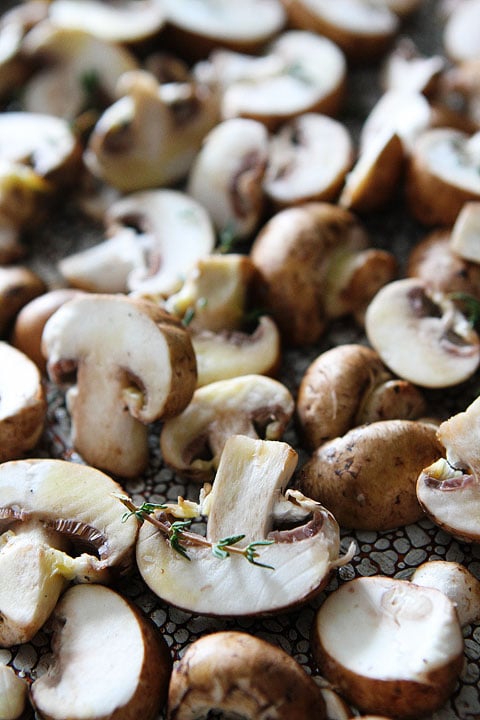 I sliced Baby Bella mushrooms, tossed them with olive oil, fresh thyme, salt, and pepper.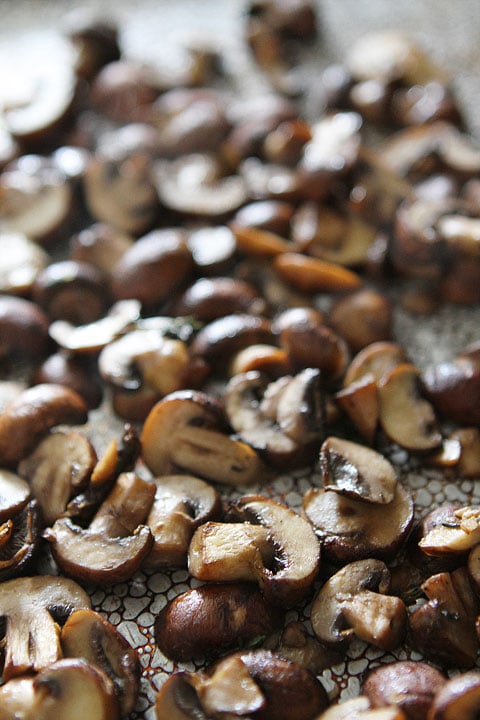 I roasted them in the oven until they were soft, juicy, and smelling good! Although, Caleb didn't think they smelled very good. He said, "Mommy, what is that smell? It is stinky!" I guess he doesn't like the smell of mushrooms like his mama:)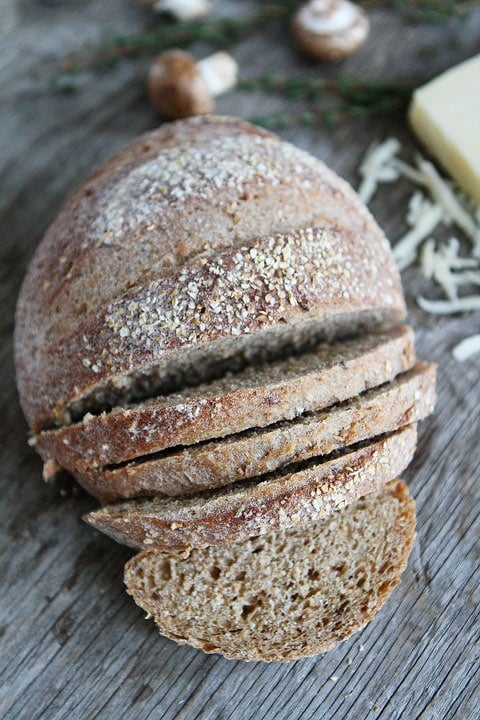 I sliced a loaf of crusty whole grain bread for my toasts. You can use your favorite bread, sourdough or French bread would work too! I put the bread under the broiler until the bread was nice and toasty!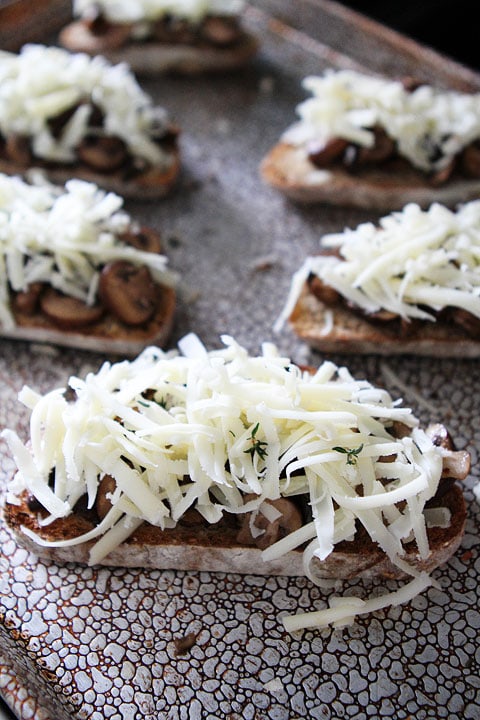 I pulled the bread out of the oven and rubbed each slice with a clove of garlic. The garlic seeped into the warm bread! I topped the toasts with the roasted mushrooms and shredded Gruyere cheese.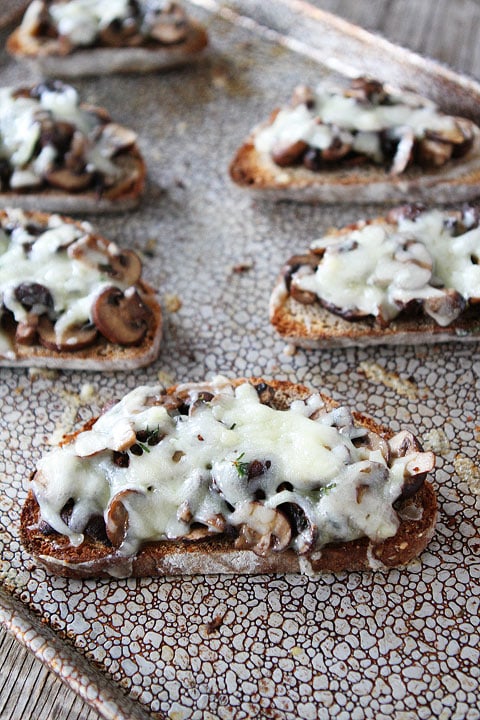 I put the toasts back into the oven for a few minutes…just until the cheese melted over the roasted mushrooms. Look at all of that cheesy goodness!
I didn't bother getting a plate. I ate my Roasted Mushroom and Gruyere Toasts right from the pan. So easy and SO good! I was only going to eat one, but I couldn't help myself. I had to go back for another one!
And Caleb may not like the smell of mushrooms, but he sure enjoyed his Roasted Mushroom and Gruyere Toast. He kept telling me, "Mommy, I ate it all gone!" He was proud of himself…and I was proud of him too! I am so glad he forget about the stinky smell and ate lunch with me!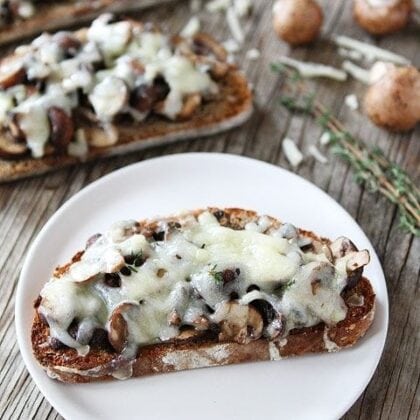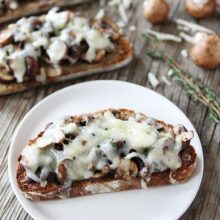 Roasted Mushroom and Gruyere Toasts
Toasted bread topped with garlic, roasted mushrooms, thyme, and melted Gruyere cheese! Perfect for a quick and easy meal!
Ingredients
Instructions
1. Preheat oven to 375°F.

2. Arrange mushroom slices in a single layer on a large baking sheet. Drizzle the mushrooms with olive oil and toss. Sprinkle the mushrooms with thyme, salt, and pepper. Toss again.

3. Roast the mushrooms, stirring halfway through, for 20 minutes or until they are hot and beginning to brown around the edges. Remove from oven and set aside.

4. Turn the oven to broil. Place the bread slices on a baking sheet and toast for 2-3 minutes. Remove the pan from the oven and flip the bread over, toast for an additional 2-3 minutes. You just want to get the bread toasted. Watch carefully so it doesn't burn. Remove the pan from the oven.

5. Take the garlic clove and spread it over each slice of bread. This will give the bread a nice garlic flavor. Top each slice of bread with roasted mushrooms. Top with shredded gruyere cheese. Place the pan back in the oven under broil for 2 minutes, or until the cheese melts. Again, watch it closely. Garnish with extra thyme, if desired. Serve warm.
Have you tried this recipe?
Leave a comment below and share a photo on Instagram. Tag @twopeasandpod and hashtag it with #twopeasandtheirpod
Disclosure: This post is in partnership with the Dairy Council of Utah, but all of our opinions are our own. "For more dairy & nutrition information visit: www.dairyutnv.com and to get to know more about your local dairy farmers visit www.thecowlocale.com."