Spinach Artichoke Egg Casserole
Spinach Artichoke Egg Casserole-this easy egg casserole with spinach, artichokes, and cheese is great for breakfast, brunch, or dinner!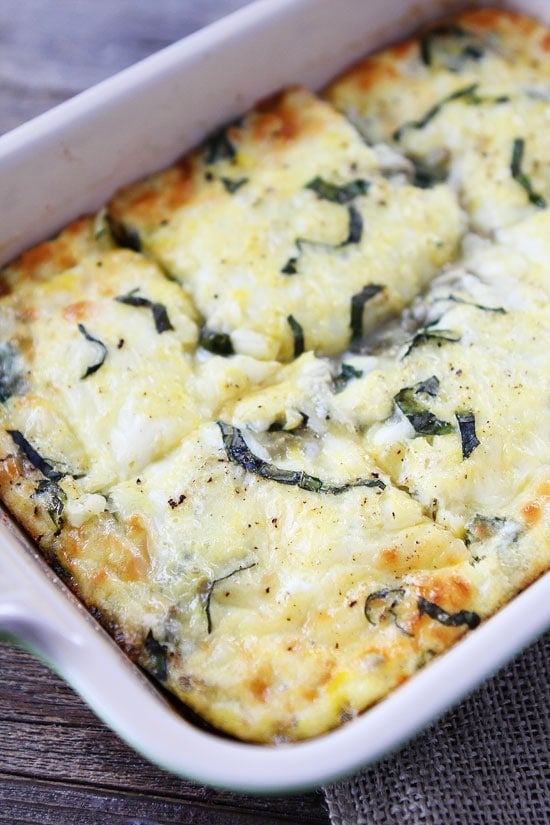 I use eggs all of the time for baking, but they have never been one of my favorite foods to just eat. I've never craved eggs…until recently. I don't know what it is, but I am loving eggs! I have been eating them a couple times a week. I usually just scramble up a couple of egg whites with spinach and call it good, but I was getting kind of bored so I made a Spinach Artichoke Egg Casserole. Oh man, it was so easy and SO good! I think I have become a full on egg fan thanks to this casserole.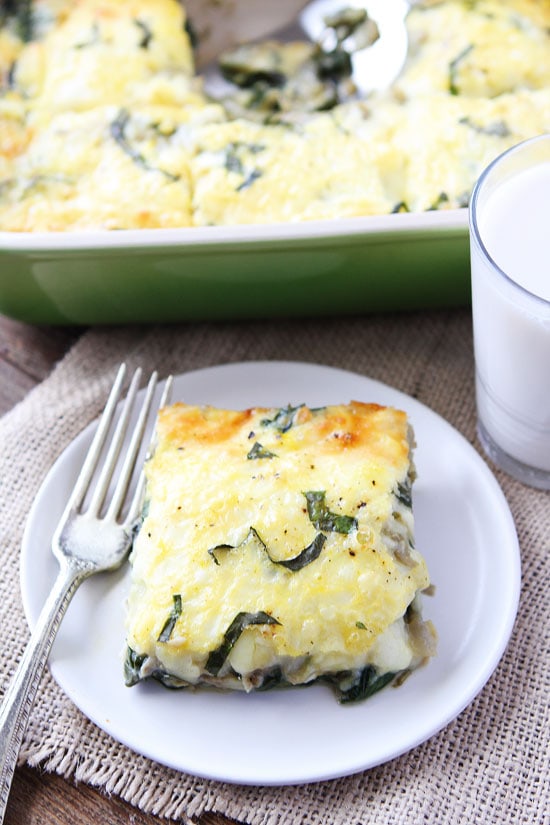 I love this egg casserole because it is easy to make and loaded with spinach and artichokes, two of my favorite veggies. I am new to liking eggs and for me, veggies are a must:)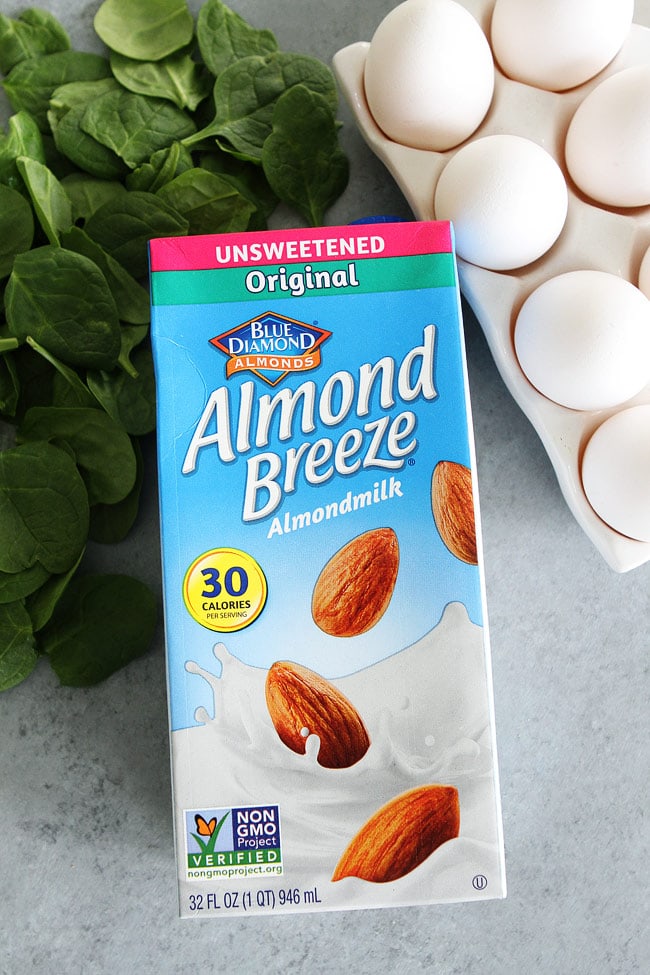 I love this recipe because you bake it in the oven. I put the veggies on the bottom of the pan, add some shredded mozzarella and parmesan cheese, and then I pour the eggs that have been whisked with Almond Breeze Original Almondmilk over the top. I sprinkle more cheese and some fresh basil over the eggs and boom! In the oven it goes! Bake until golden and you have one delicious egg casserole…or we can call it an egg bake if the word casserole scares you:) It is basically a super duper easy baked frittata or omelette. Anyone can make this egg dish!
We served this Spinach Artichoke Egg Casserole for dinner, but of course it would be good for breakfast, brunch, or lunch too. I know we will be making this easy egg casserole for Easter brunch. It is perfect for entertaining. It's easy to make, easy to serve, and there is little clean up! This is my kind of recipe!
Get cracking and make this Spinach Artichoke Egg Casserole. Ha, get it, get CRACKING…like cracking your eggs. I am so funny:) Enjoy!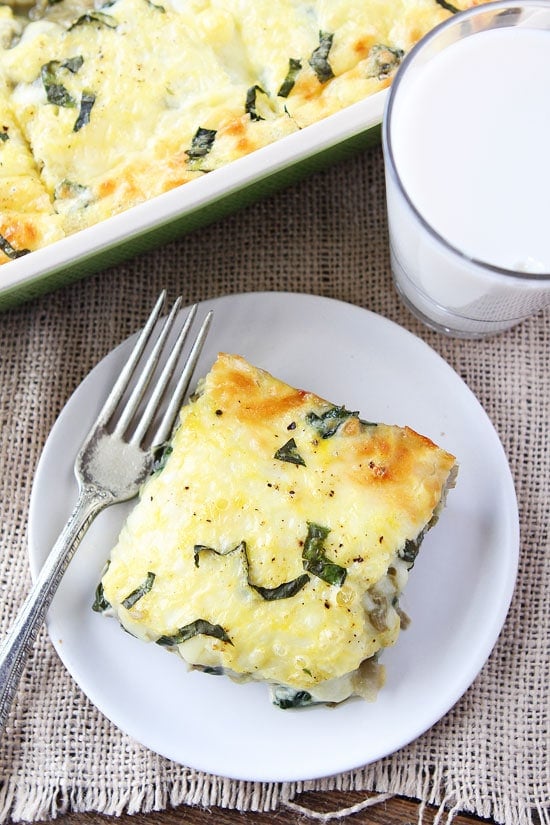 Spinach Artichoke Egg Casserole
This easy egg casserole recipe is perfect for a quick and healthy breakfast, brunch, or dinner. It is also great for holidays!
Yield: Serves 6
Prep Time: 15 minutes
Cook Time: 30-35 minutes
Total Time: 50 minutes
Ingredients:
1 tablespoon olive oil
1/2 yellow onion, diced
2 cloves garlic, minced
6 cups packed fresh spinach
1 1/2 cups chopped jarred artichoke hearts (packed in water and drained)
1/4 teaspoon dried oregano
1 tablespoon finely chopped fresh basil
Dash of crushed red pepper
Salt and black pepper, to taste
1 1/2 cups shredded mozzarella cheese, divided
1/4 cup grated Parmesan cheese, plus 2 tablespoons, divided
8 large eggs
3 tablespoons Almond Breeze Original Almondmilk
Chopped basil, for garnish, if desired
Directions:
Preheat oven to 350 degrees F. Spray a 2-quart baking dish with nonstick cooking spray and set aside.
In a large skillet, heat olive oil over high heat. Add the onion and cook until tender, about 3 minutes. Add the garlic and cook for an additional 2 minutes. Stir in the spinach and cook until wilted, about 3-4 minutes. Stir in the chopped artichoke hearts. Add dried oregano, fresh basil, and crushed red pepper. Season with salt and black pepper, to taste. Pour mixture into prepared pan and spread out evenly. Sprinkle 1 cup of the mozzarella cheese and 1/4 cup Parmesan cheese over the mixture.
In a medium bowl, combine eggs and almond milk. Whisk well. Pour eggs over veggies and cheese. Top with remaining 1/2 cup mozzarella cheese and 1 tablespoon Parmesan cheese. Sprinkle additional chopped basil over the top, if desired.
Bake for 30-35 minutes or until eggs are set and slightly golden around the edges. A knife inserted into the center should come out clean. Remove from oven and let cool for 10 minutes. Cut into squares and serve warm.
Note-if you want to make this dairy-free, you can use your favorite dairy-free cheese!
All images and text ©
.
Follow twopeasandpod on Instagram and show us what recipes you are making from our blog! Use the hashtag #twopeasandtheirpod! We want to see what you are making in your kitchen!

Disclosure: this post is sponsored by Almond Breeze, but our opinions are our own.