jump to recipe
Whole Grain Fruit-Filled Bars
Homemade Whole Grain Fruit-Filled Bars are the perfect back to school treat! Kids and adults will gobble up these bars!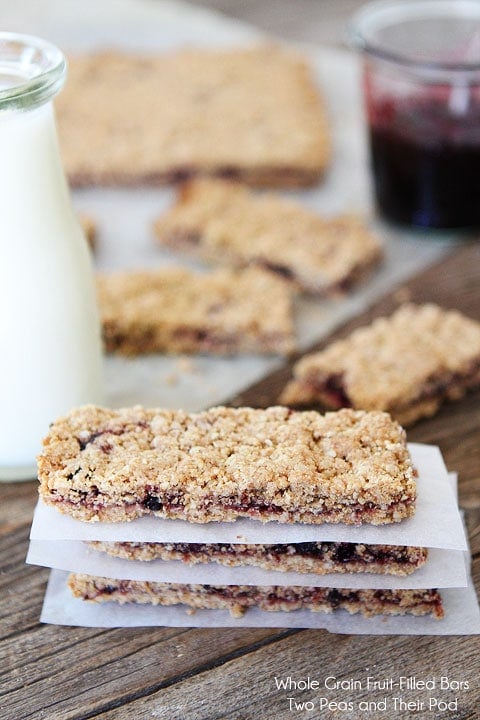 Labor Day is over which means it's time to get back to school and back to the grind. I tried to ignore it for as long as I could, but I can't pretend anymore! School is in full swing and that means it's time to wake up early, pack school lunches, do homework, and go to bed early. Caleb isn't old enough to go to school yet, but I still feel the need to get back to our regular schedule. We kind of let things go during the summer months. We are more flexible with our work schedule, naps, bedtime, and even diet. I ate a few too many desserts in Jackson Hole🙂
Back to school doesn't mean we can't have fun though! To kick off our "school" year and new routine we made Whole Grain Fruit-Filled Bars. These bars are fun to make and fun to eat!

OTHER RECIPES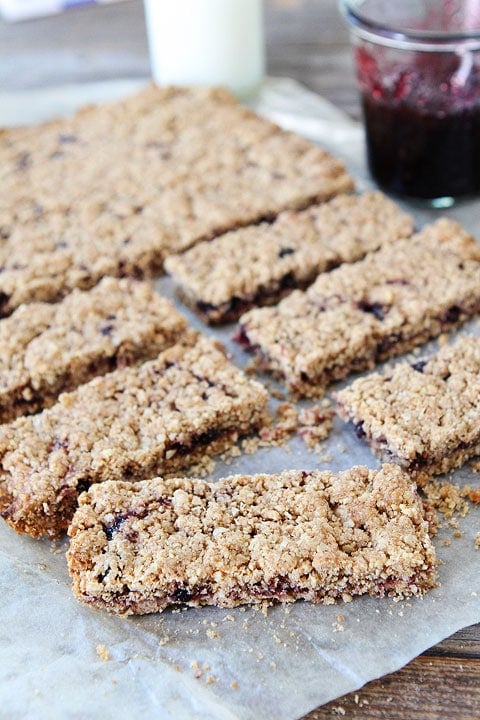 The recipe for Whole Grain Fruit-Filled Bars comes from Catherine McCord's new cookbook, Weelicious Lunches. Catherine's first book is a favorite at our house so when she told me she was writing a second book all about healthy lunches, I started counting down the days until release date. Well, it's here and the book is fabulous!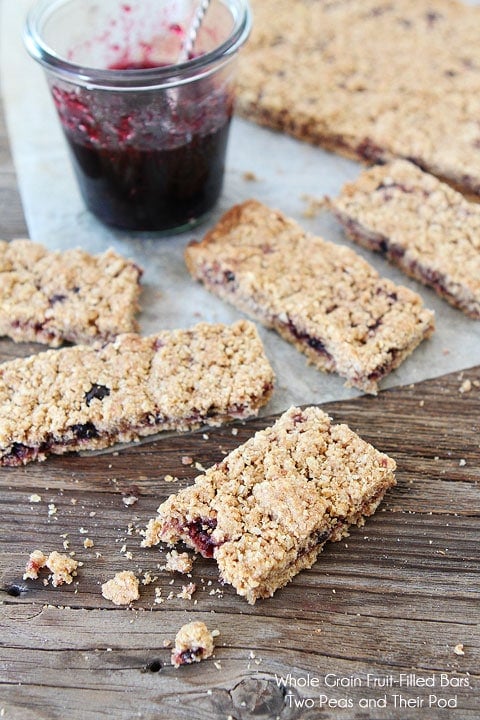 Weelicious Lunches is filled with healthy and fun recipes, lists of lunchbox favorites, facts on food allergies, and tips for picky eaters. Catherine's recipes are sure to make even your pickiest eaters happy! Plus, there is a chapter dedicated to Peanut Butter & Jelly. I am going to be tackling that chapter very soon:)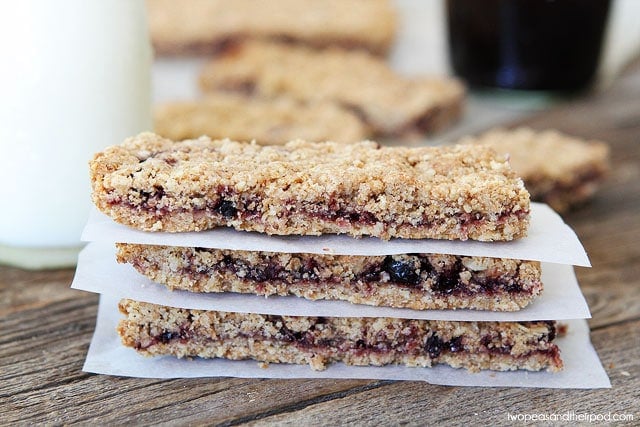 But let's talk about these Whole Grain Fruit-Filled Bars. I never buy packaged granola or fruit bars at the store. Most bars have ingredients that I can't pronounce and are expensive so I stay away. I always make homemade granola bars, but haven't tried making a fruit bar. So when I saw Catherine's recipe for Whole Grain Fruit-Filled Bars I knew I had to try them!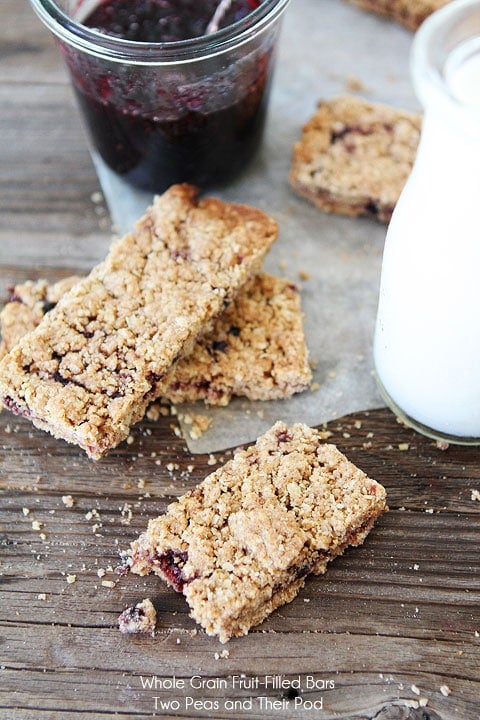 There are only seven ingredients in these bars and I can pronounce all of them:) I love that they are made with whole wheat flour and oats. You can use your favorite jam or fruit preserves for the filling. I went with homemade triple berry jam that our friends gave to us.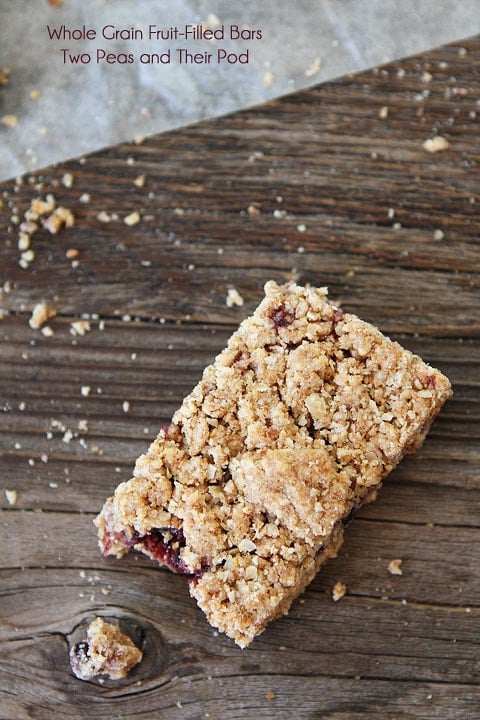 The bars have a buttery whole grain crust with a sweet fruity filing! They are the perfect treat for school lunches or an after school snack. They are easy to pack and will keep in the refrigerator for up to a week. So you can make a pan and ration out the bars during the week.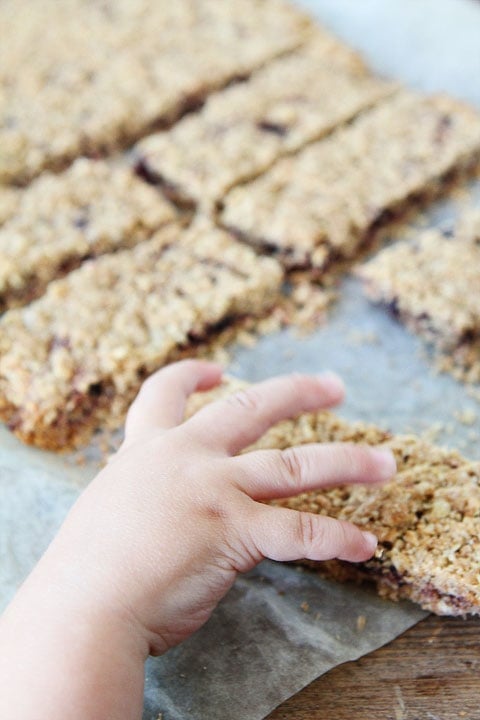 I tried to ration out our bars, but they went quickly. Caleb wanted a taste as soon as they came out of the oven!
Whole Grain Fruit-Filled Bars are the perfect back to school or anytime treat. I know we will be making these homemade fruit bars all of the time!
And make sure you check out Catherine's blog, Weelicious, for more healthy kid-friendly recipes! And if you want a daily dose of lunch inspiration follow Weelicious on Instagram. Every day Catherine posts a photo of a healthy lunch box. She has the best ideas! I want to be Catherine when I grow up!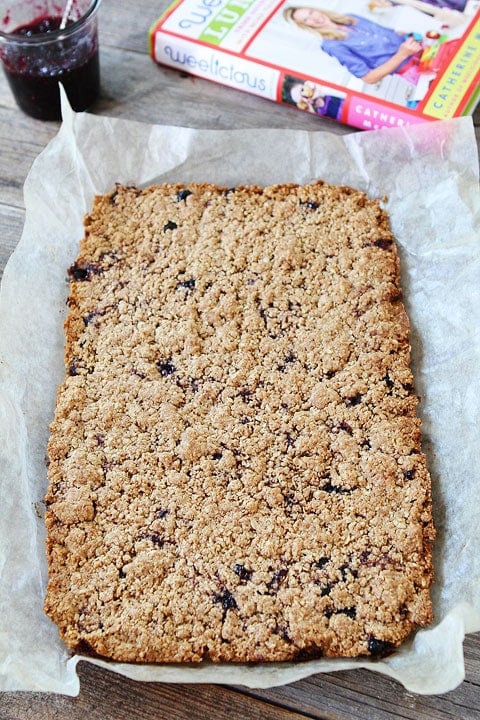 Whole Grain Fruit-Filled Bars
Homemade Whole Grain Fruit-Filled Bars are the perfect treat for school lunches, an after school snack, or grabbing on the go!
Yield: 16 bars
Prep Time: 10 minutes
Cook Time: 45 minutes
Total Time: 55 minutes
Ingredients:
1 1/2 cups whole wheat flour
1 1/2 cups old-fashioned oats
1/2 cup packed brown sugar
1/2 teaspoon salt
3/4 cup cold, unsalted butter, chopped into 1/2-inch cubes
2 tablespoons cold water
3/4 cup fruit preserves or jam
Directions:
1. Preheat the oven to 350 degrees F.
2. In the bowl of a food processor, combine the flour, oats, brown sugar, and salt. Pulse for 30 seconds.
3. Add the butter and cold water and pulse until the dough holds together when pressed.
4. Grease a 9×13-inch baking dish, line it with parchment paper, and grease the parchment paper.
5. Divide the dough mixture in half and press half into the prepared baking dish, using the back of a spatula to press down evenly.
6. Spread the preserves evenly on top of the dough. Sprinkle the remaining dough evenly on top of the preserves and gently press down using the back of a spatula.
7. Bake for 45 minutes, or until golden brown.
8. Cool, cut into 1 1/2 x 4-inch bars, and serve.
Note-bars can be stored at room temperature up to 3 days or refrigerated for up to a week.
Recipe from Weelicious Lunches by Catherine McCord
All images and text © .
Follow twopeasandpod on Instagram and show us what recipes you are making from our blog! Use the hashtag #twopeasandtheirpod! We want to see what you are making in your kitchen!