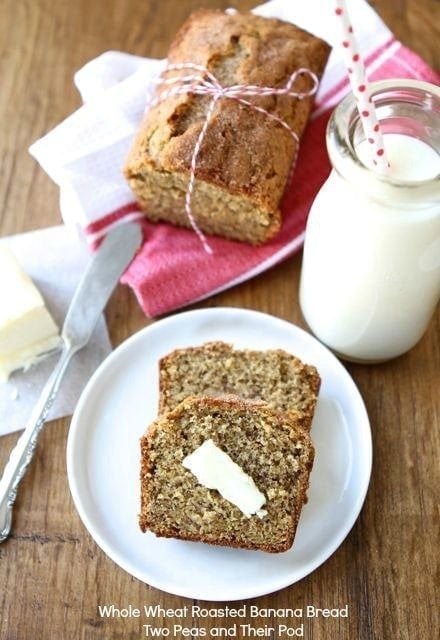 And so the brown bananas strike again. They don't strike as often since we've had Caleb. That kid loves bananas. Somedays I wonder if he is half monkey. He would eat bananas at every meal if we let him…and he climbs on everything! Hmm…maybe he really is part monkey. We better watch to see if he starts growing lots of hair:)
Anyways, we finally had a bunch of bananas turn brown so I jumped at the chance to make banana bread. I usually make Buttermilk Banana Bread, but I wanted to make a new recipe. Big surprise, huh? I am always itching to make new recipes:) I had an open bag of Whole Wheat Flour (we made pancakes the day before) so I put the flour to good use and made Whole Wheat Roasted Banana Bread.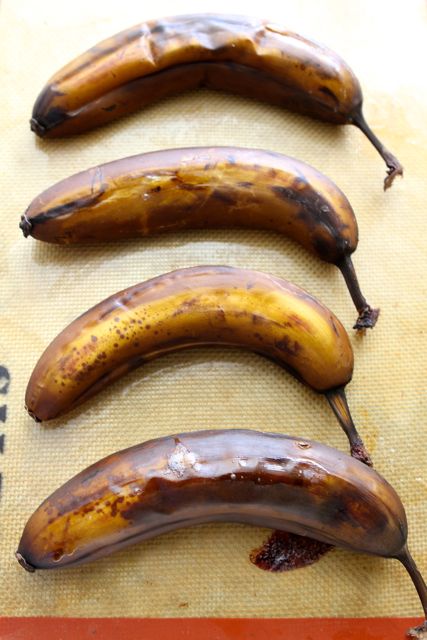 First, I roasted the bananas in the oven. Don't be scared by the ugly brown and blistered bananas. They bring out the best flavor in the bananas. And roasting them is easy. Just place the unpeeled bananas on a baking sheet, pop them into a 350 degree F oven and let them roast for about 15-20 minutes. That's it!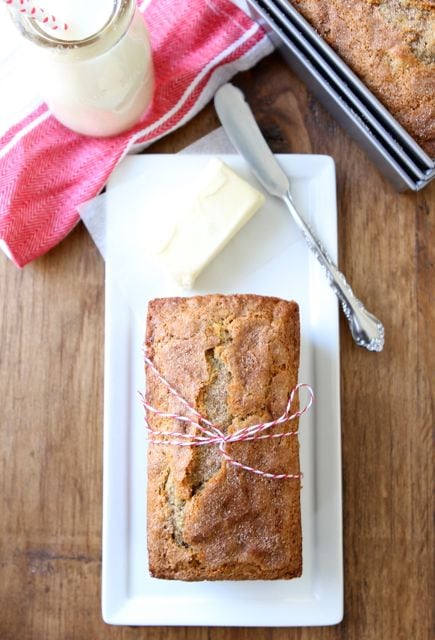 The rest of the recipe is easy too! I bet you have everything in your kitchen to make this bread right now. Unless, you have a little monkey eating all of your bananas:)
This recipe will make 2 (8×4 loaves) or 4 mini loaves. I made mini loaves this time around so we could share with our friends. Plus, they are super cute and everything cute tastes better:)
We love this Whole Wheat Roasted Banana Bread. I will have to hide the bananas from Caleb so I can make it again! Have a great weekend!
Make sure you check out our post on How to Make the BEST Banana Bread!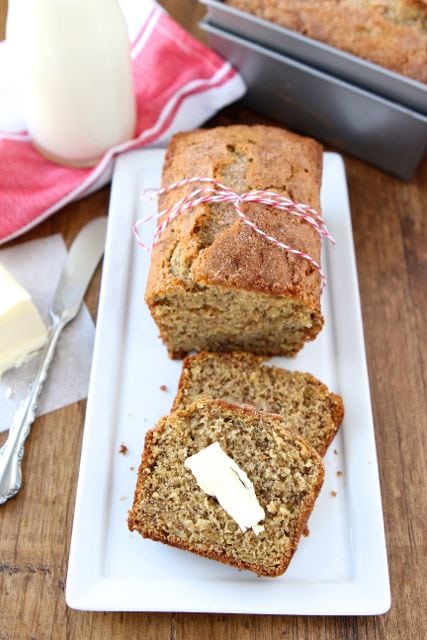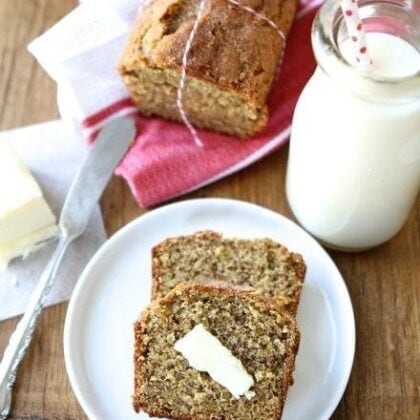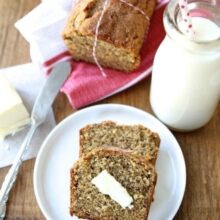 Whole Wheat Roasted Banana Bread
Roasting the bananas brings out the best flavor!
Instructions
1. Preheat oven to 350 degrees F. Grease two 8×4-inch loaf pans or four mini loaf pans; set aside.

2. Place bananas on a baking sheet and roast, with peels on, for 15-20 minutes. They will darken and blister. Set aside to cool.

3. In a medium bowl, whisk together the whole wheat flour, baking soda, salt, and cinnamon; set aside.

4. Remove the roasted bananas from the peels, placing the insides in a medium bowl. Mash the bananas with a fork.

5. In a large bowl, combine the bananas, sugar, canola oil, eggs and vanilla extract. Using a mixer or whisk, mix until well combined. Add the flour mixture and mix until completely blended.

6. Divide the mixture into the prepared pans. Sprinkle cinnamon/sugar mixture on top of each loaf, if desired. For large loaves, bake for 35 to 45 minutes, or until a thin knife inserted into the center comes out clean. For the mini loaves, bake for 25 minutes, or until a thin kinve inserted into the center comes out clean. If the loaves begin to get too dark before they are done in the middle, cover with foil. Let the banana bread loves cool in the pan for 10 minutes. Remove from pans and let cool completely on a wire cooling rack.
Have you tried this recipe?
Leave a comment below and share a photo on Instagram. Tag @twopeasandpod and hashtag it with #twopeasandtheirpod