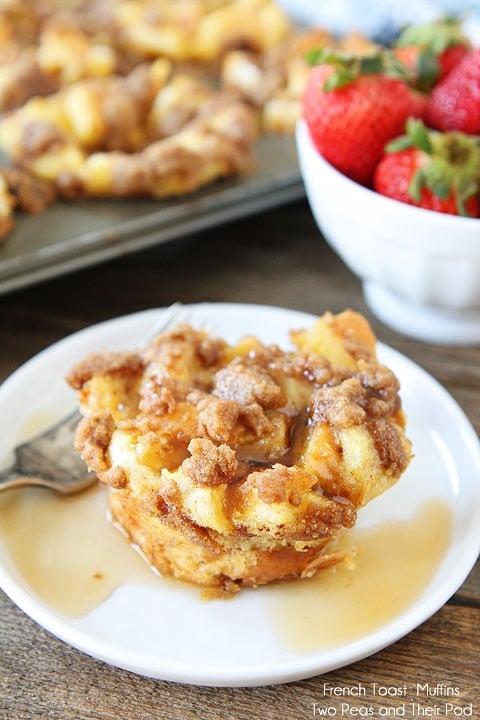 I eat oatmeal with Caleb every morning for breakfast. It's our thing. We invite Josh to our oatmeal party, but he rarely attends:) He would rather eat cold cereal or toast. Josh will sit down to watch cartoons though. I think he likes Curious George and Dinosaur Train more than Caleb does:)
When we go out for breakfast, it's a different story. I never order oatmeal. I don't want to be boring and oatmeal is kind of boring. I love it, but when we go out, I am ready to splurge. I usually ask Josh one hundred times if I should get French toast or pancakes, hoping that he will get the hint and order one of them so I can have both. He sometimes plays along:) I almost always end up ordering French toast. It is just too good to pass up!
I think Sunday will be a French toast day at our house. It's Mother's Day and that means I can splurge. I don't want to go out because I would rather be lazy and eat breakfast in my pj's. I am putting Baked French Toast Muffins on the menu for Mother's Day. Josh, Caleb-are you listening? I am counting on you:)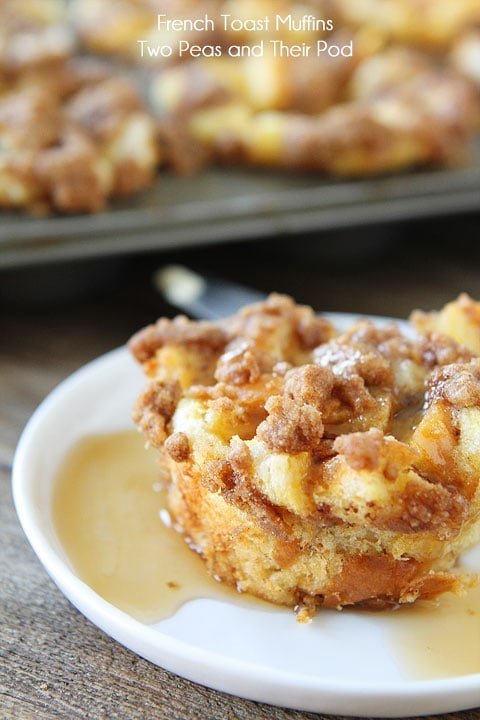 When we do make French toast at home, it is usually Baked French Toast. It's so easy and everyone loves it, including myself. I recently decided to change things up by making Baked French Toast Muffins. Instead of making the French toast in a big pan, I made it in muffin tins. Bonus points for cuteness, right?
Who wouldn't want their own French toast muffin? Especially when there is cinnamon streusel topping on top! Oh yeah! You might even need two muffins because they are that good! Remember, Mother's Day is a special occasion so it's ok to splurge. That is what I am telling myself. I deserve a French toast muffin…or two:)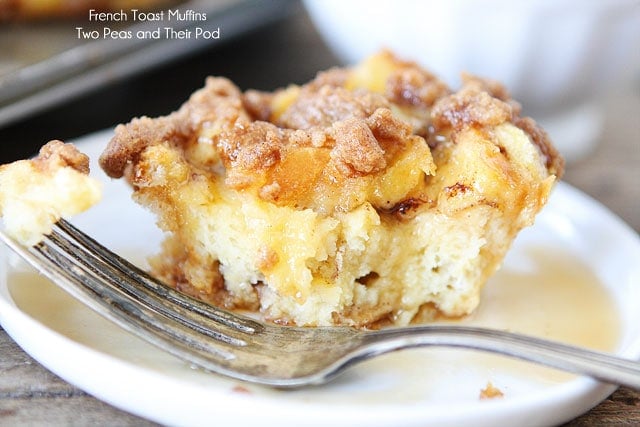 I am sure the kids, dad, the dog, and whoever else wants to help make breakfast for mom will have fun making French toast muffins. They are easy to make. And don't worry, moms are nice and will most likely share. So if you put in a little work to spoil mom, you will get the reward too! Bonus! French toast muffins for everyone!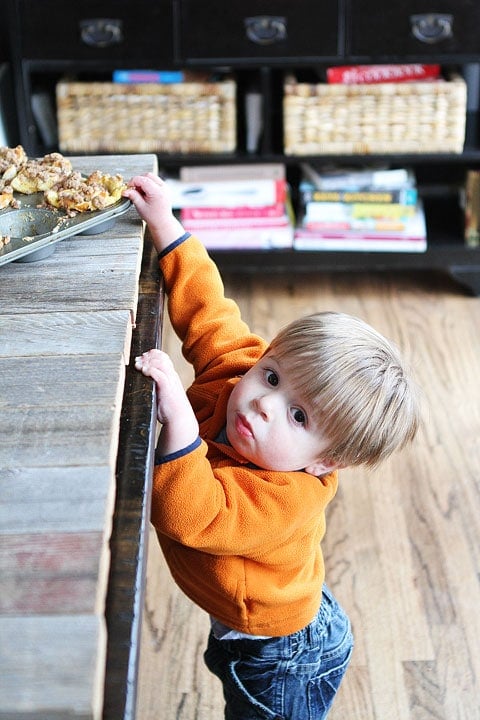 Caleb couldn't wait to get his tiny hands on a muffin! That little sneak:) Of course, I am a nice mom and shared with our little pea. How could I say no to that face?
Treat mom to Baked French Toast Muffins on Sunday! I know I am looking forward to my Mother's Day morning treat. I will get back to my oatmeal habit on Monday.
If you are looking for other breakfast and brunch ideas, here are a few of my favorite recipes:
Happy Mother's Day!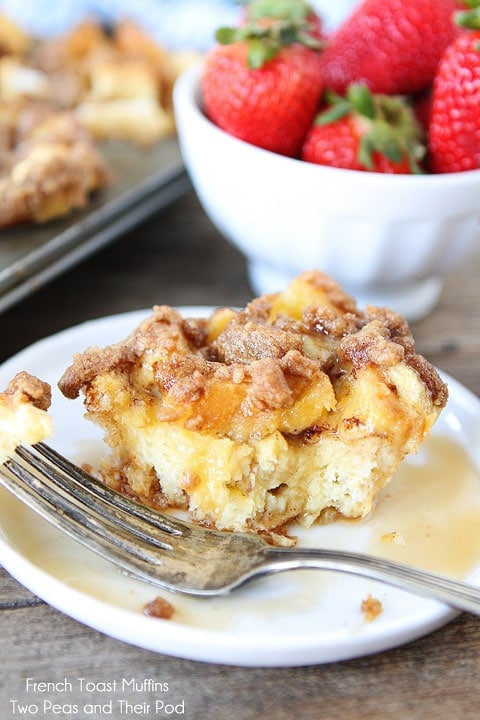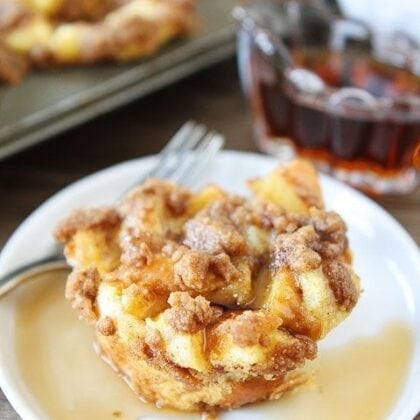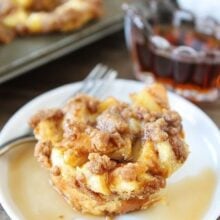 Baked French Toast Muffins
Baked French Toast made in muffin cups. These muffins are too cute and a fun breakfast treat!
Ingredients
For the Cinnamon Streusel Topping:
Instructions
In a medium bowl, whisk together the milk, eggs, sugar, vanilla, and cinnamon.

Grease a 12 cup muffin tin. Add about 1 cup of bread cubes to each muffin cup. Carefully pour egg and milk mixture evenly over each muffin tin. You may need to press down on the bread cubes after you pour a little mixture and then pour more. Pour slowly or you will have a mess. Or you can combine everything in a large bowl and then fill the muffin cups. Cover the muffins with plastic wrap and refrigerate for 2 hours or up to overnight.

 When ready to bake, preheat the oven to 350 degrees F. To make the cinnamon streusel, in a small bowl, combine butter, brown sugar, flour, cinnamon, and salt. Mix together with your hands, until you have a crumbly mixture. Remove the muffins from the refrigerator and sprinkle the muffins evenly with the streusel topping.

Bake for 25 minutes or until tops are golden brown. Let muffins cool for 5 minutes. Remove from pan and serve with butter and maple syrup, if desired.
Nutrition
Calories:
255
kcal
,
Carbohydrates:
37
g
,
Protein:
9
g
,
Fat:
8
g
,
Saturated Fat:
4
g
,
Cholesterol:
97
mg
,
Sodium:
259
mg
,
Potassium:
146
mg
,
Fiber:
1
g
,
Sugar:
16
g
,
Vitamin A:
320
IU
,
Calcium:
91
mg
,
Iron:
1.8
mg
Have you tried this recipe?
Leave a comment below and share a photo on Instagram. Tag @twopeasandpod and hashtag it with #twopeasandtheirpod