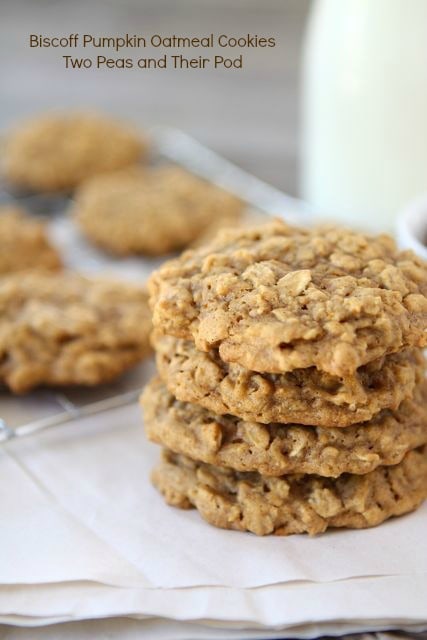 It's finally Friday! Yay! It's been a busy week at the Two Peas and Their Pod household. We've been playing catch up from our fun California vacation. Catch up is never easy or fun-laundry, cleaning, grocery shopping, emails, and doctor's appointments. Caleb had his one year checkup which meant five shots. Luckily, he is a brave boy and did just fine. I had to get my flu shot and I don't think I was as brave:)
I did take a break from all of the catch up to bake Biscoff Pumpkin Oatmeal Cookies. A cookie break is the best kind of break…and I needed a good break!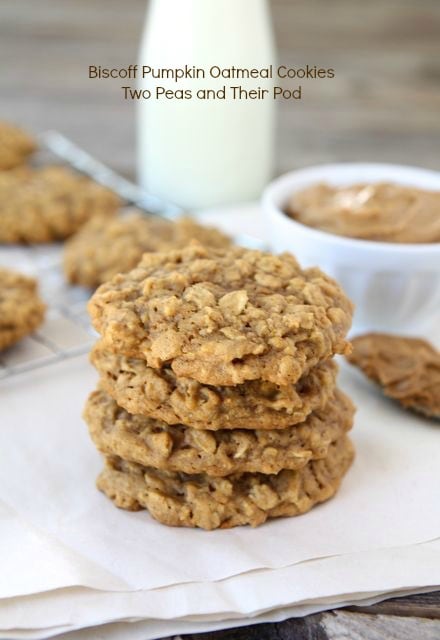 My Biscoff Oatmeal Cookies are one of my all-time favorite cookies. I decided to make them with a fall twist. I added pumpkin puree and fall spices to the mix. Our house smelled amazing while the cookies were baking. I want to bottle up that smell and create a candle…or better yet a perfume. Ok, maybe not a perfume because then I would be hungry and craving cookies all day long. Not a good idea for a cookie addict:)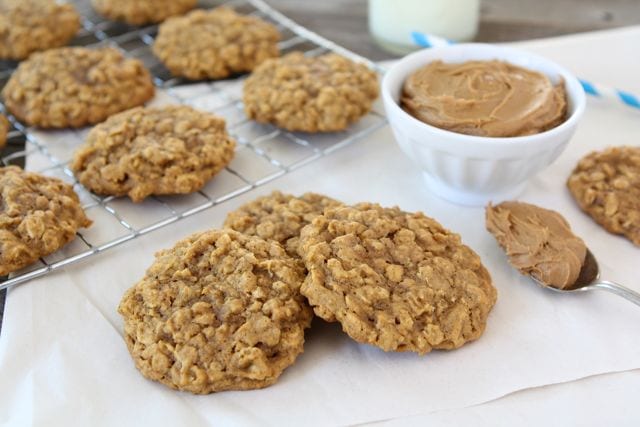 The cookies are super soft and chewy. The Biscoff Spread (a sweet and creamy spread made with Biscoff cookies) and pumpkin are a match made in heaven! I love the simplicity of this cookie recipe. You can go crazy and add in chocolate chips, white chocolate chips, dried cranberries, or pecans, but I really liked them plain and simple.
Take a break from your everyday "to do" list and bake a batch of Biscoff Pumpkin Oatmeal Cookies. And did you know October is National Cookie Month? So you pretty much HAVE to take a cookie break. I think it is a law.
If you are in the mood to do some major cookie baking, check out my post at Cafe Zupas. I am sharing my top 10 favorite cookie recipes. How did I pick only 10? You caught me. It is impossible for me to pick favorites when it comes to cookies, so I just picked 10 cookies that I am currently craving. The list might change in 5 minutes, but I promise the 10 recipes I picked are all winners! Check them out!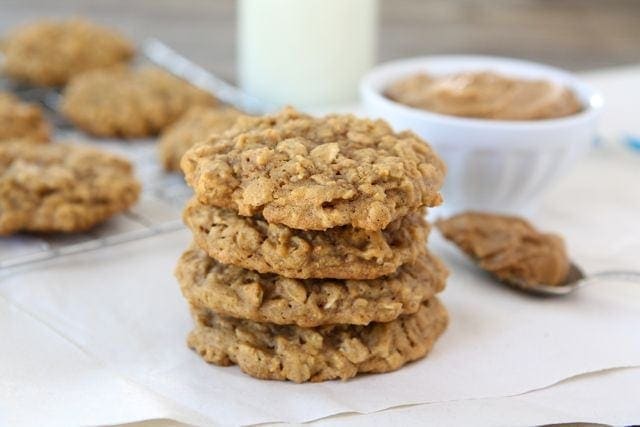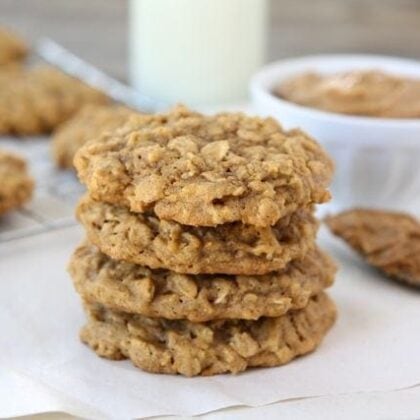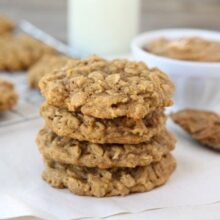 Biscoff Pumpkin Oatmeal Cookies
Soft and chewy oatmeal cookies with a hint of Biscoff and pumpkin! These are the perfect cookies for fall!
Instructions
Preheat the oven to 350 degrees F. Line a baking sheet with a Silpat or parchment paper and set aside.

In a medium bowl, whisk together the flour, baking soda, cinnamon, nutmeg, ginger, allspice, and salt. Set aside.

In the bowl of a stand mixer, add the butter and sugars. Beat until creamy and smooth, about 3 minutes. Add the pumpkin and Biscoff spread and mix until combined. Add the egg and vanilla extract and beat until smooth.

Reduce the mixer speed to low and slowly add the dry ingredients, beating only until blended. Stir in the oats.

Form the cookie dough into rounded tablespoons and place them 2 inches apart on the baking sheet. Bake for 10-12 minutes or until cookies are golden and just firm around the edges. Let the cookies cool on the baking sheet for 5 minutes and then remove with a spatula onto a cooling rack.

Note-you can also use Trader Joe's Cookie Spread in this recipe. I prefer Biscoff Spread though:)
Have you tried this recipe?
Leave a comment below and share a photo on Instagram. Tag @twopeasandpod and hashtag it with #twopeasandtheirpod
If you like these Biscoff Pumpkin Oatmeal Cookies, you might also like: