Black Bean Cheese Taquitos
Black Bean Cheese Taquitos-these Easy vegetarian taquitos make a great party appetizer or main dish! Serve with all of your favorite toppings!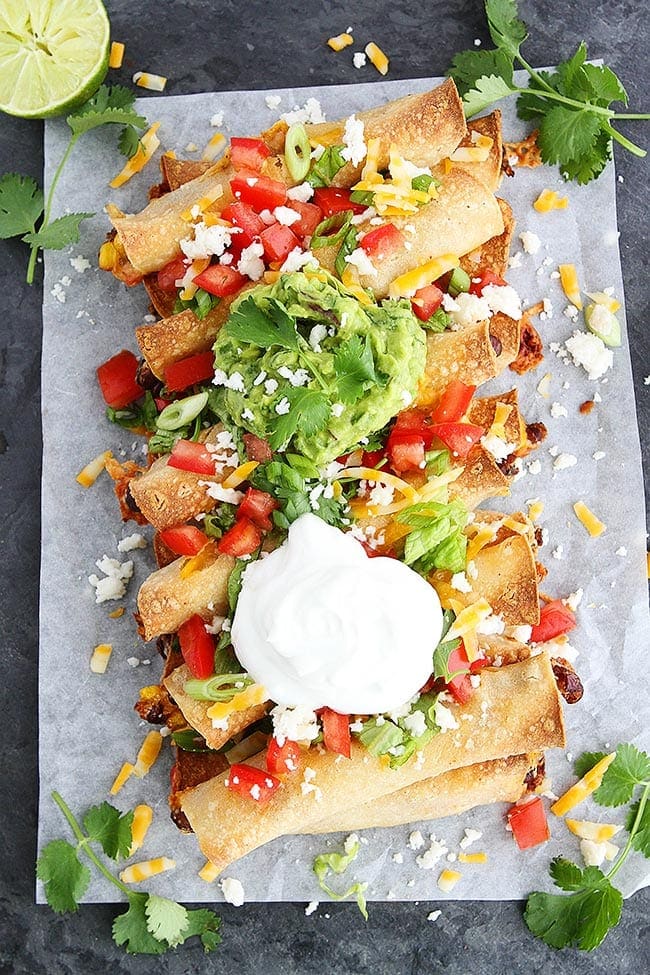 Vegetarian Taquitos
Everyone LOVES our chicken taquitos recipe, it is one of the most popular recipes on our site. It is also one of the most popular recipes in our house! Our boys are always begging for taquitos for dinner.
When we make taquitos, I always make vegetarian taquitos for me and I thought it was time I shared the recipe so you can make them too! These Black Bean Cheese Taquitos are super easy to make and are great for a party appetizer or dinner.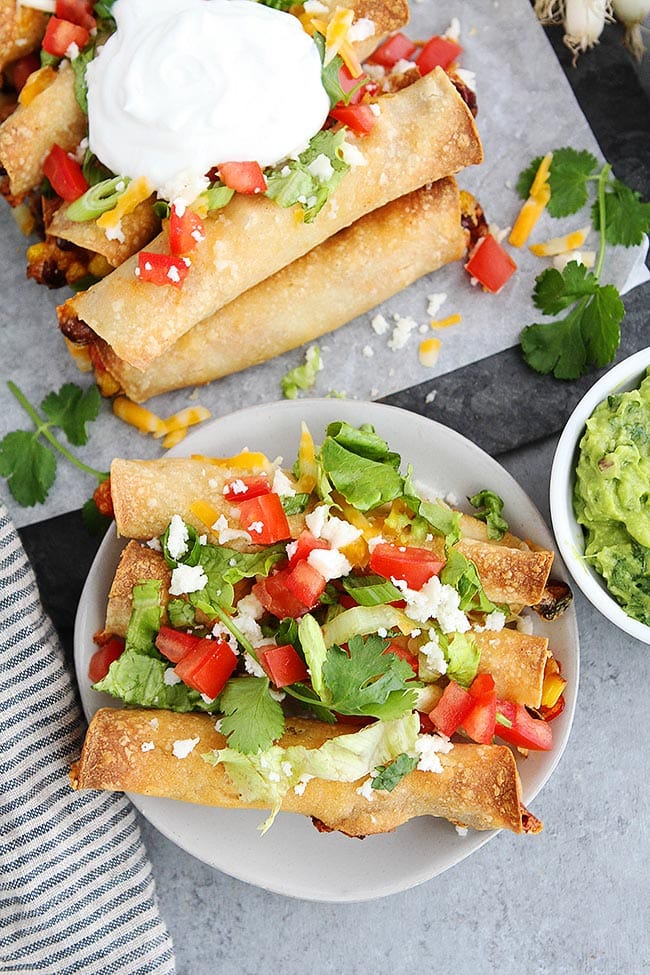 What are Taquitos?
Taquitos are basically rolled up tacos. The small rolled-up tortillas are traditionally filled with chicken, beef, or cheese, but I used black beans and some veggies for my vegetarian version. Taquitos are usually fried, but we like to bake them in the oven to keep things on the healthier side. A taquito is different than a flauta, taquitos are made with corn tortillas and flautas are made with flour tortillas.
How to Make Homemade Taquitos
Taquitos are easy and fun to make at home. Here are some tips for making taquitos!
For vegetarian taquitos, I make a filling with black beans, cheese, red pepper, corn, cilantro, green onion, lime juice, chili powder, cumin, garlic powder, paprika, salt, and pepper. You won't miss the meat because there are lots of delicious flavors going on!
Make sure you rinse and drain the black beans well.
Use 6-inch fresh corn tortillas. Your tortillas will roll a lot easier if they are fresh. To help the tortillas roll better and not crack, get two paper towels damp and place two tortillas at a time in between the paper towels. Place in the microwave for 20-30 seconds. Remove from the microwave and roll up the taquitos.
Place a heaping tablespoon of the black bean mixture in the center of the tortilla and sprinkle shredded cheese over the top. Roll the tortilla up tightly. Place the taquito, seam side down on a greased baking sheet. Continue rolling taquitos until the tortillas and filling are gone. You should have about 20 taquitos.
Don't over fill the tortillas or they won't roll and stay closed.
Spray the taquitos generously with nonstick cooking spray before you put them in the oven. If you don't spray them well, they won't crisp up in the oven. Bake for 17-23 minutes or until taquitos are golden brown and crispy.
Taquitos Toppings
The best part about taquitos, besides the fact that they are crispy rolled up tacos, the TOPPINGS! We always load our taquitos with lots of delicious toppings. Here are a few of our favorites:
chopped lettuce
cilantro
sour cream or Greek yogurt
sliced green onions
shredded cheese
queso fresco
Put out the toppings and let your family or guests top their own taquitos! You can also serve Mexican rice or cilantro lime rice on the side!
Taquitos are the perfect party food and kids love them…even these vegetarian taquitos. Our boys like them just as much as our famous chicken taquitos. They will eat both!
If you like this taquitos recipe, check out: