Blueberry, Brie and Lemon Curd Grilled Cheese-a sweet and decadent grilled cheese sandwich that is perfect for dessert!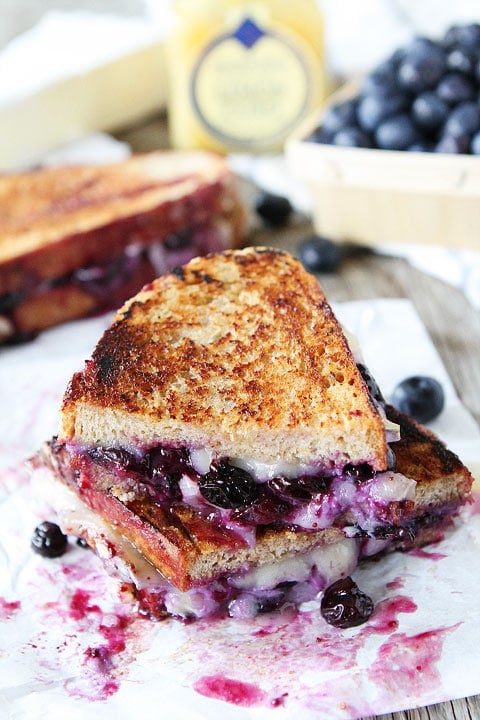 It's no secret that grilled cheese sandwiches have been my ultimate pregnancy craving this time around. The ingredients are simple-bread, cheese, and butter. You really can't go wrong when those ingredients are involved. I am fine with a classic grilled cheese sandwich, but sometimes it's fun to spice things up. A few of my favorites include: Guacamole Grilled Cheese, Pesto Crusted Pesto Grilled Cheese, and Roasted Broccoli Grilled Cheese.
I love a good savory grilled cheese, but my new favorite is a sweet grilled cheese sandwich, Blueberry, Brie and Lemon Curd Grilled Cheese. You shouldn't be too surprised since I have a major sweet tooth! This blueberry grilled cheese is EPIC!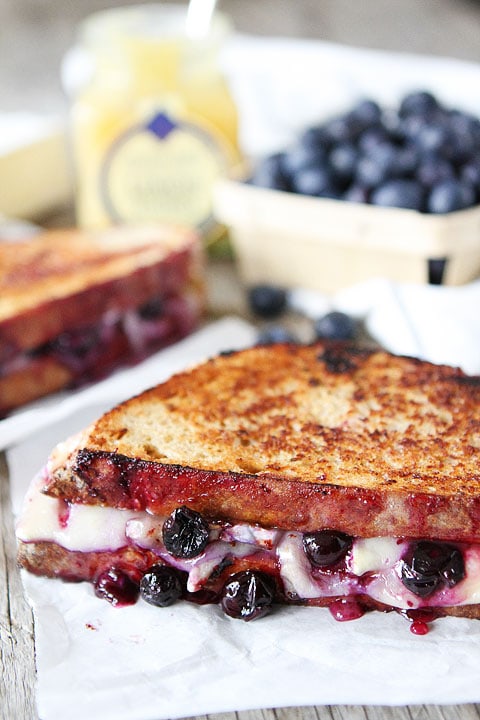 The other day we were out running errands and got home later than we anticipated. It was kind of late and I wasn't in the mood to cook dinner, so Josh suggested grilled cheese sandwiches. He knew I would be on board.
I looked in the fridge and spotted a wedge of President Cheese Brie. My mouth started to water. I also found fresh blueberries and a jar of lemon curd. A light bulb went on in my head and I told Josh I wanted to make a dessert grilled cheese sandwich. I told him it was late enough so I could just skip dinner and have dessert:)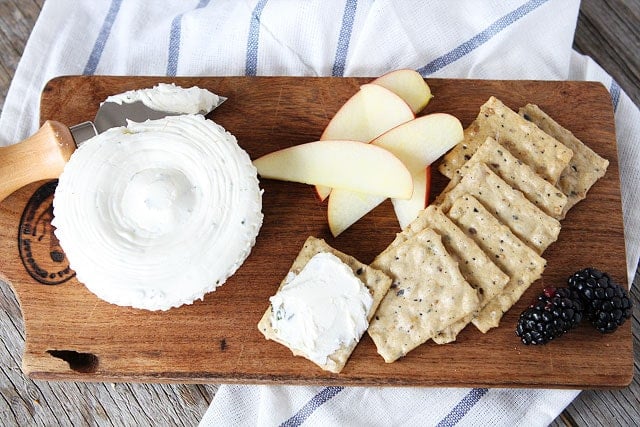 Josh agreed, but I started to feel like a bad mother, so I got out some veggies, crackers, fruit and spreadable President Gourmet Cheese for us to snack on while we made our dessert grilled cheese sandwiches. I felt better that Caleb had some "dinner food" in his belly before we indulged. And Caleb loves the Garlic and Herb cheese so he was happy spreading cheese on crackers while we got to work.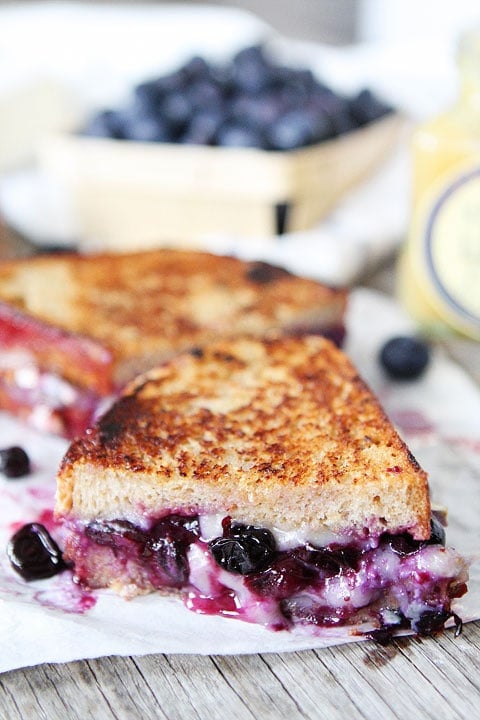 Josh cut slices of crusty bread while I sliced the brie. I also put the blueberries on the stove with a little water and sugar so they would create a nice blueberry sauce.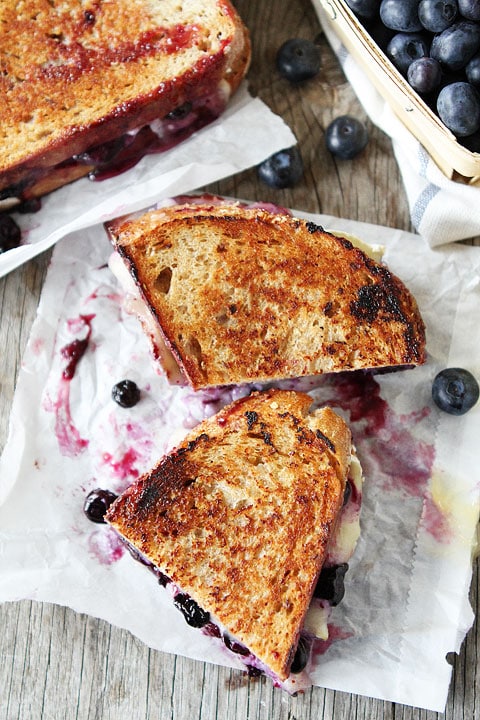 Josh buttered the outside slices of bread and layered the brie, lemon curd, and blueberry sauce inside the pieces of bread. He grilled the sandwiches until the brie and blueberries were oozing out the side. I couldn't wait to have a taste!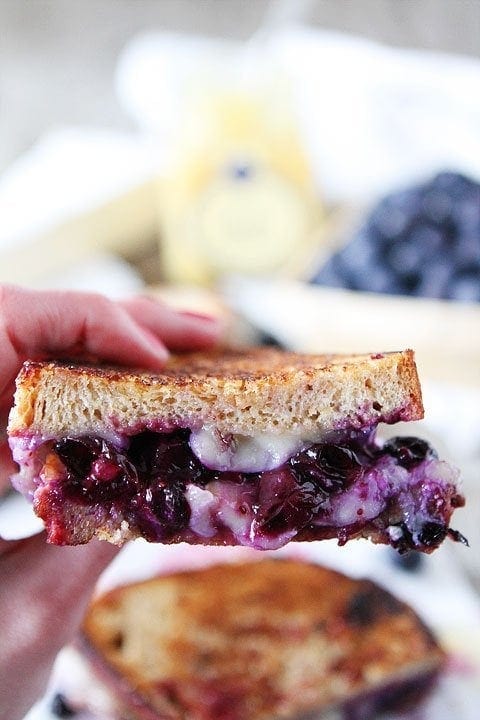 There are no words to describe the deliciousness of this sandwich. It is out of this world good! The melty brie paired with the sweet blueberries and tart lemon curd is amazing! I was only going to eat half of a sandwich, but I had to finish the whole thing. It was too good to stop! Josh and Caleb enjoyed the sweet sandwiches too. Caleb had blueberries all over his face…with a big smile!
Sweeten up your spring with a Blueberry, Brie and Lemon Curd Grilled Cheese sandwich. I can't stop thinking about this grilled cheese sandwich. I think I need a round 2 and very soon!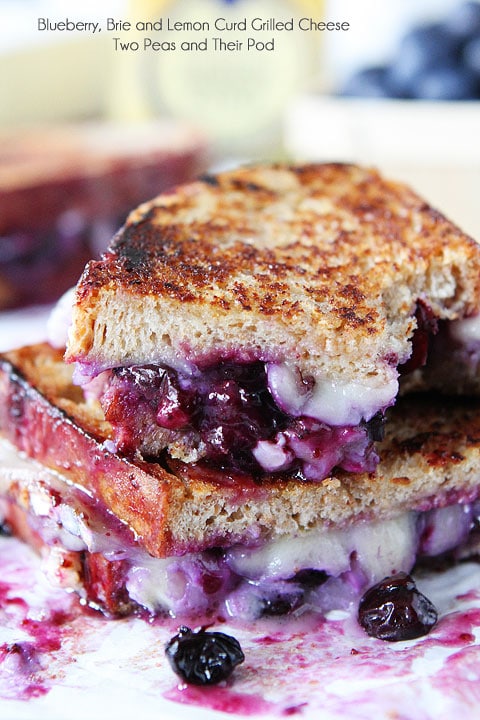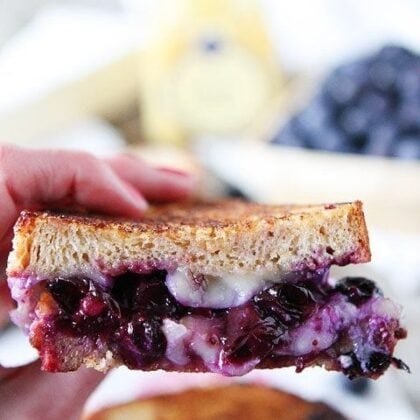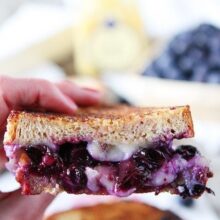 Blueberry, Brie and Lemon Curd Grilled Cheese
This sweet grilled cheese sandwich is perfect for dessert...or any time of the day! It is amazing! You can make your own
lemon curd
or use store bought.
Ingredients
1

cup

of fresh or frozen blueberries

2

teaspoons

of water

if using fresh berries

1/2

teaspoon

sugar or honey

4

slices

crusty bread

Softened butter

to spread on bread

3

oz

President brie cheese

thinly sliced

3-4

tablespoons

lemon curd
Instructions
In a small saucepan, add the blueberries and water. Only add the water if you are using fresh berries. You don't need water if you are using frozen berries. Stir in the sugar or honey. Cook over medium heat until blueberries begin to pop and are juicy. Remove from heat and set aside.

Spread butter on one side of each slice of bread.

Evenly place slices of brie cheese on unbuttered side of two slices of the bread. Spread lemon curd evenly on the bread slices. Top with blueberries and addition slices of brie cheese. Top with remaining slice of buttered bread.

Heat a skillet over medium high heat. Place sandwich, butter side down, in pan. Cook for 2-3 minutes on each side or until lightly toasted and cheese melts. Remove from pan and cut sandwich in half, if desired. Serve immediately.

Note-I used store bought lemon curd from Trader Joe's. You can make your own though!
Have you tried this recipe?
Leave a comment below and share a photo on Instagram. Tag @twopeasandpod and hashtag it with #twopeasandtheirpod
Disclosure: this post is in partnership with President Cheese, but all our opinions are our own.