Homemade Blueberry Coconut Granola Bars-easy to make at home and much better than store bought granola bars!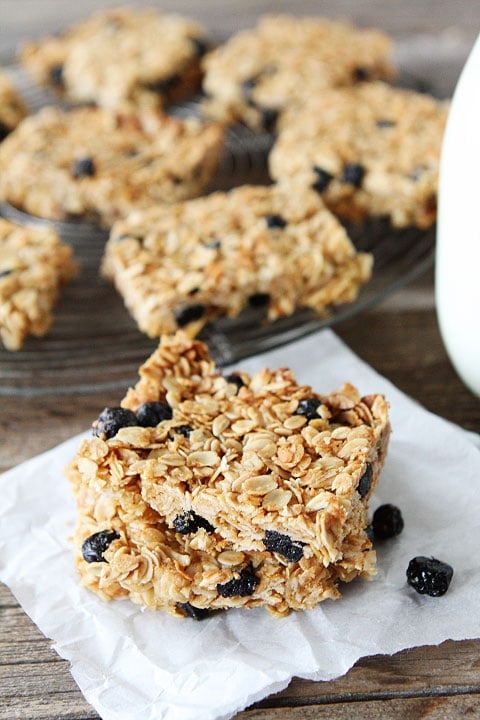 Today, I am headed to The Pioneer Woman's ranch for a little retreat with my Land O' Lakes friends. You can follow my ranch adventures on Instagram and I will post about my trip next week. I am sad I have to leave my boys behind, but I am looking forward to some fun girls time!
I didn't want to leave my boys empty handed so I made them Blueberry Coconut Granola Bars to snack on. Caleb loves blueberries and coconut, our Baked Blueberry Coconut Oatmeal is one of his very favorite recipes, so I thought he would like these granola bars too!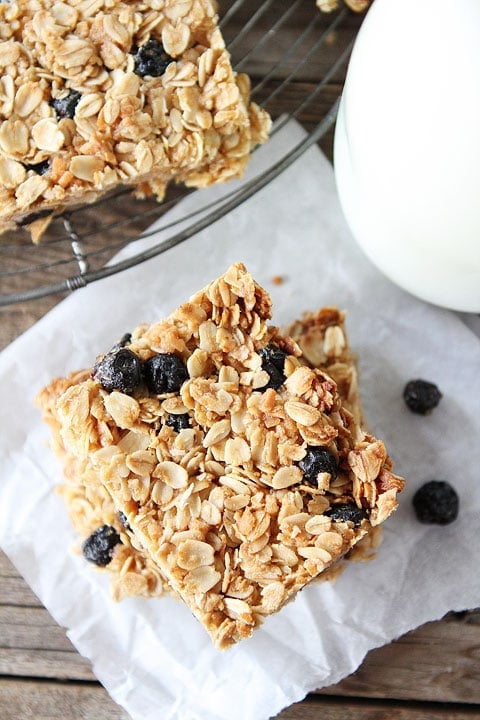 I never buy granola bars at the store because they are so easy to make at home…and they are so much better. Plus, I like knowing what ingredients are going into Caleb's snacks. I make our No-Bake Peanut Butter Chocolate Chip Granola Bars and No-Bake Biscoff Granola Bars all of the time and they never last long.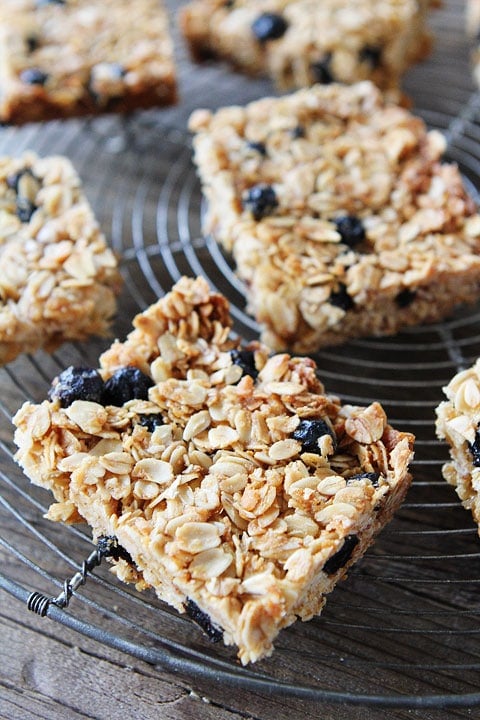 This time I made Blueberry Coconut Granola Bars for my little pea. I adapted a recipe from my friend Catherine's book, Weelicious Lunches. She always has the best healthy snack ideas. I used shredded coconut, coconut oil, and coconut extract to make these granola bars. I love the coconut flavor. I stirred in dried blueberries for a pop of color and sweetness.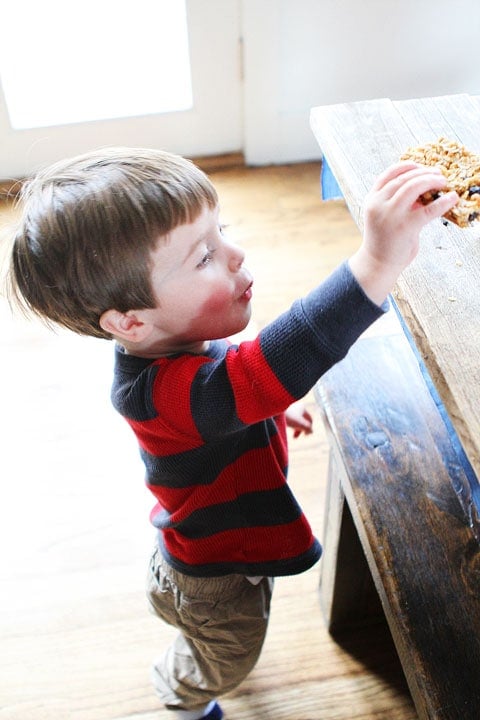 I tried to take hurry and take pictures of the granola bars before Caleb saw what I made…but I failed. He smelled the granola bars and came running! I couldn't stop him from snatching a granola bar.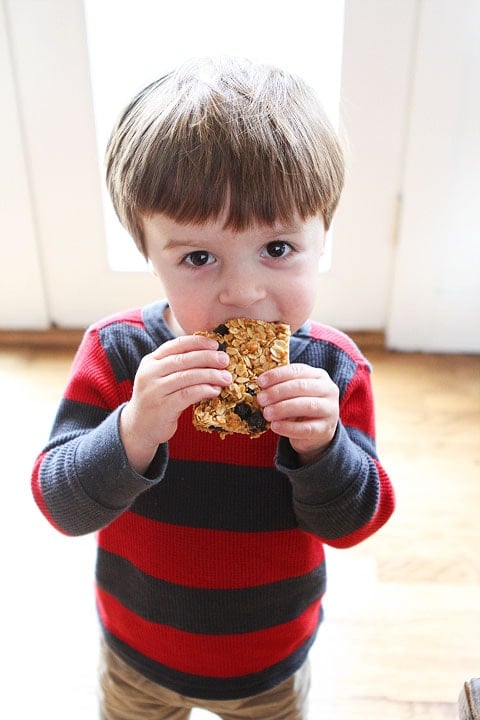 He loved his special treat! I cut the granola bars into squares and wrapped them up. They are the perfect snack for on the go or snack time at home. I may have snuck a few into my carry on bag for the plane:)
I hope my boys will eat their Blueberry Coconut Granola Bars and think of me while I am gone. And I hope the granola bars balance out the pizza and donuts that Josh will probably give Caleb while I am gone:) Boys will play while mama is away:)
And make sure you visit the blog tomorrow, we have some exciting news to share! 🙂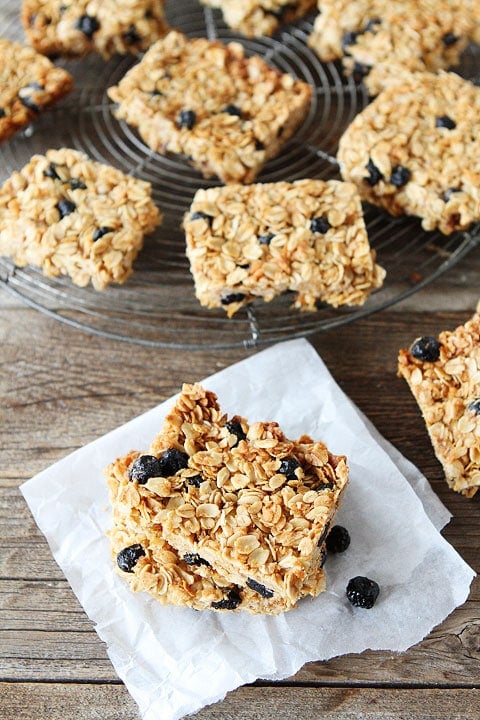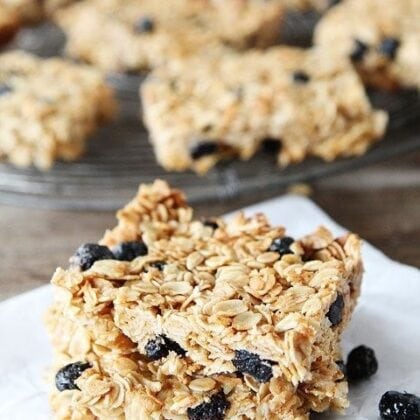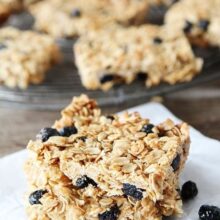 Blueberry Coconut Granola Bars
Blueberry coconut granola bars are so easy to make at home and MUCH better than store bought granola bars!
Instructions
1. Preheat oven to 325 F. Spray a 9x13 pan with cooking spray and line with parchment paper. Set aside.

2. Combine the oats, flour, coconut, brown sugar, salt, and dried blueberries in a large bowl. Stir well.

3. In a separate bowl medium bowl, whisk together the coconut oil, honey, coconut extract, and vanilla extract. Pour the wet ingredients over the oat mixture and stir to combine.

4. Press the granola mixture into the prepared pan. Bake for 40 minute or until the granola bars are golden brown. Allow to cool completely then cut into bars. Serve!

Note-Individually wrapped, the bars will remain fresh for several weeks.
Have you tried this recipe?
Leave a comment below and share a photo on Instagram. Tag @twopeasandpod and hashtag it with #twopeasandtheirpod