Butter Toffee Heath Popcorn-this sweet popcorn is great for snacking or gift giving! Beware, it is addicting!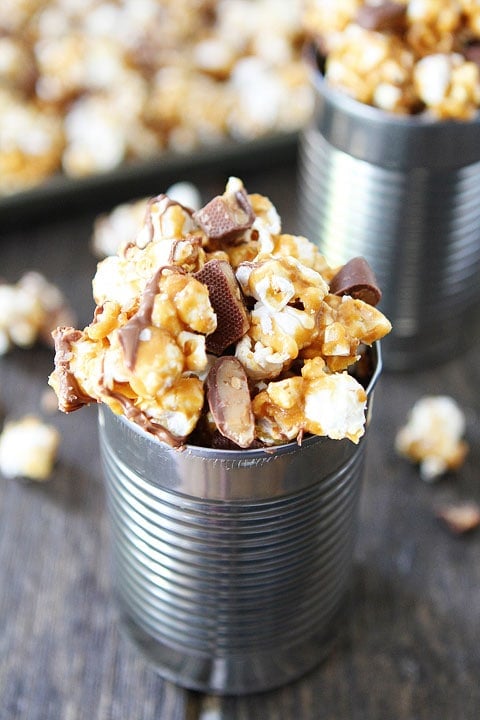 Halloween is on Friday and our costumes are ready! I haven't dressed up in years, but Caleb LOVES Halloween and insisted that we all dress up. I let him pick out my costume…I must have been sleep deprived that day because I really wish I would have picked out my own costume or at least given him choices. He picked out a real winner:) Follow us on Instagram to see photos on Friday, if I don't chicken out:)
We are going to go trick-or-treating and pass out candy. While we pass out candy, I am going to be munching on Butter Toffee Heath Popcorn. You know, because snacking on Halloween candy isn't enough sugar for one night:)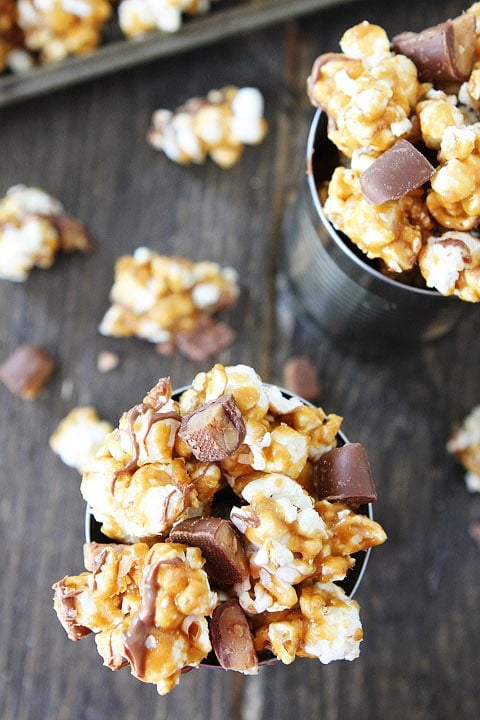 I usually love having Josh in the kitchen with me, but not when I make Butter Toffee Heath Popcorn. He always volunteers to chop up the Heath candy bars, but I have learned that he is not chopping, he is eating them. He is no longer allowed to help with this recipe. I make him wait until the popcorn is finished to enter the kitchen:)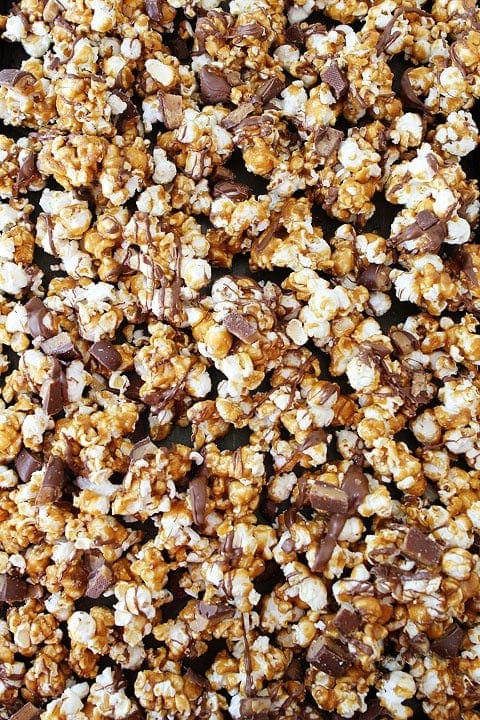 When the caramel corn comes out of the oven, I drizzle the pan with chocolate and stir in chopped up Heath candy bars…the ones I hide from Josh:)
The pan never lasts long at our house. We all love this sweet popcorn and eat it by the handfuls! If we don't eat it all, I like to share with friends! This popcorn makes a great gift during the holidays so make sure you bookmark this recipe!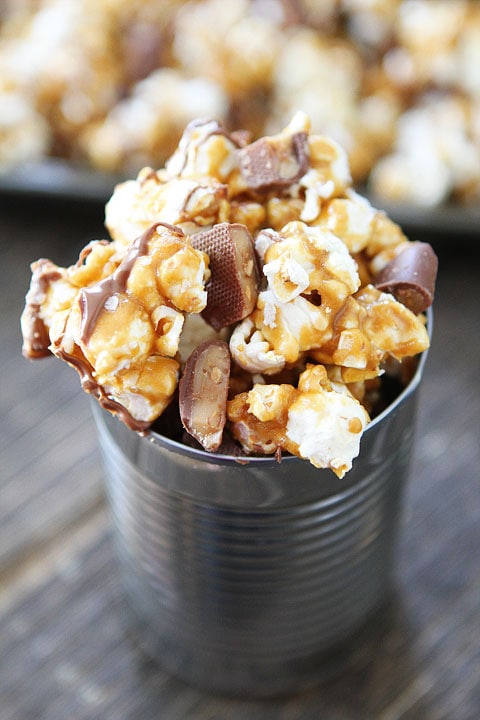 Popcorn is a must on Halloween and this Butter Toffee Heath Popcorn is one of our favorites! I think you should make a pan to celebrate Halloween! Or you could wait until after Halloween and use the leftover Halloween candy to make this popcorn. I hope people pass out Heath candy bars this year. Josh and I will have to fight over Caleb's Heath bars if he gets any:)
If you like this Butter Toffee Heath Popcorn Recipe, you might also like: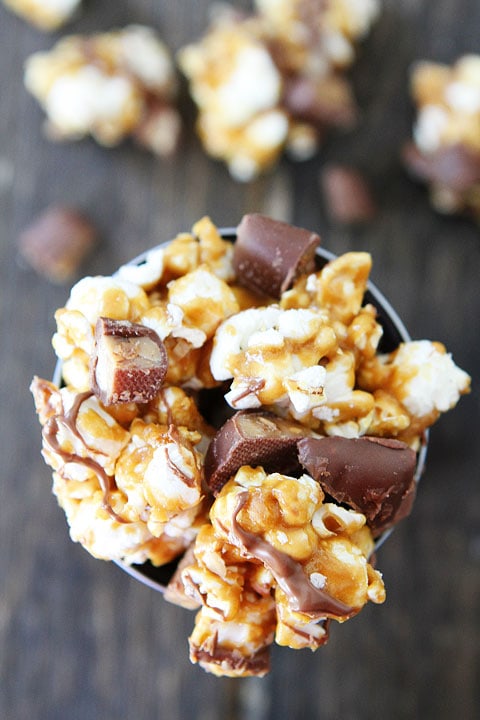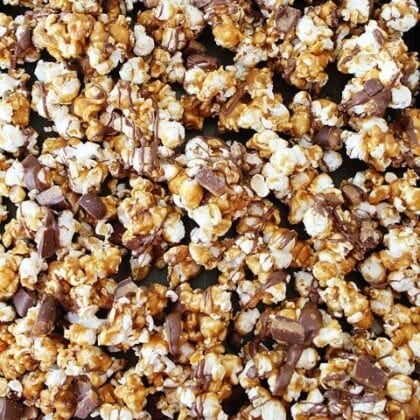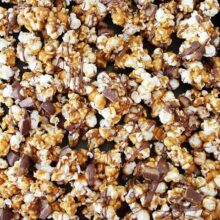 Butter Toffee Heath Popcorn
Caramel popcorn with chocolate and Heath candy bars. This sweet popcorn is always a treat!
Instructions
Preheat oven to 250 degrees F. Place popcorn in a very large bowl. Set aside.

In a medium saucepan melt butter over medium heat. Stir in brown sugar, corn syrup and salt. Bring to a boil, stirring constantly. Boil without stirring 4-5 minutes, or until the mixture is a deep golden color. Remove from heat and carefully stir in baking soda and vanilla. The mixture will bubble.

Pour mixture over the popcorn in a thin stream. Stir to coat the popcorn. Place popcorn on a large baking sheet that has been lined with a Silpat baking mat or parchment paper. Bake for 45 minutes stirring every 15 minutes. Remove from oven and let cool completely.

When the popcorn is cool, break into pieces. Melt the chocolate chips in the microwave. Drizzle chocolate over the popcorn. Add the chopped Heath candy bars. Let the popcorn set until chocolate hardens. Store in an airtight container for up to one week.

Note-you can also stir in some peanuts or almonds.
Have you tried this recipe?
Leave a comment below and share a photo on Instagram. Tag @twopeasandpod and hashtag it with #twopeasandtheirpod