jump to recipe
Easy French Bread Pizza
Easy French Bread Pizza-this pizza only takes 20 minutes to make!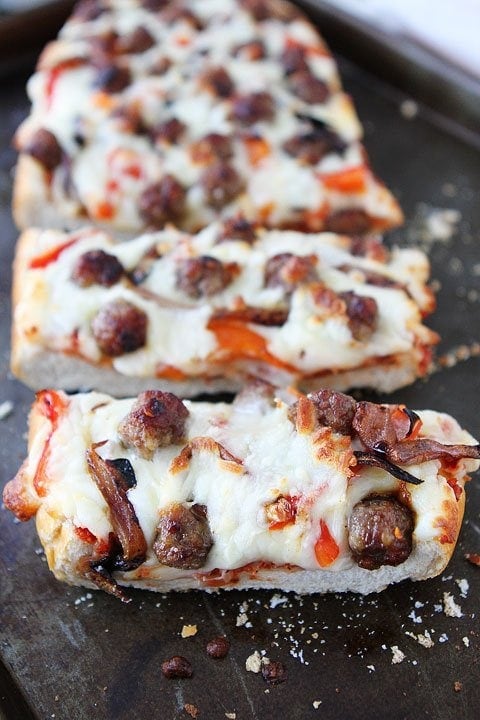 The Super Bowl is less than a week away! Are you ready for the big game? Even if you aren't excited about the football game, you can still enjoy good food and the commercials.
If you are looking for a super easy recipe to serve your family and friends, make Easy French Bread Pizza. Pizza is the perfect food for game day and this French Bread Pizza is beyond easy. It only takes about 20 minutes to make! You don't have to stress about making pizza dough, the French bread is the crust!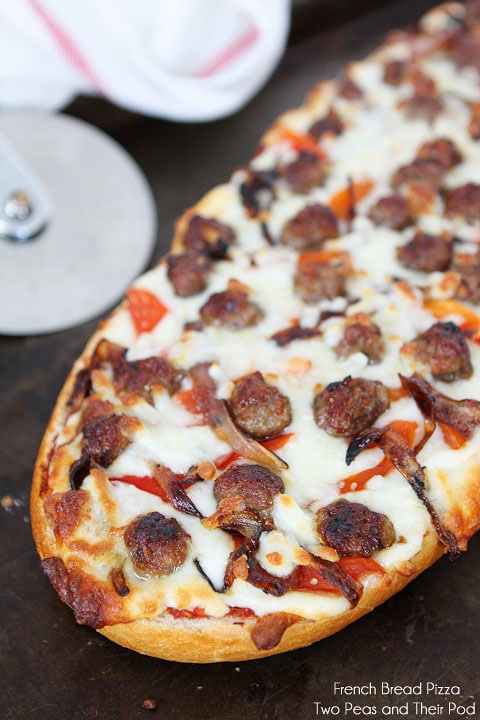 Caleb takes after Josh in a lot of ways, especially in his love for pizza. Caleb asks for pizza every day of the week. It is currently his favorite food.

OTHER RECIPES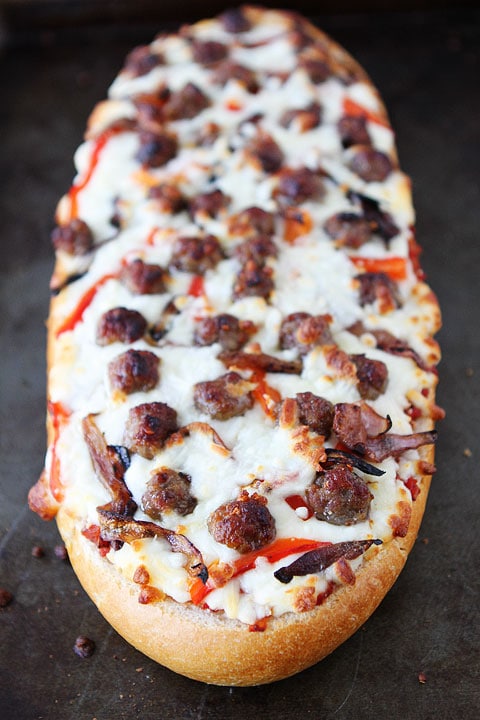 Caleb was begging for pizza last week so Josh told him he would make it for dinner if Caleb took a good nap. Caleb recently learned how to get out of his crib, so nap time has been interesting. Pizza was the magic word because Caleb slept like a baby!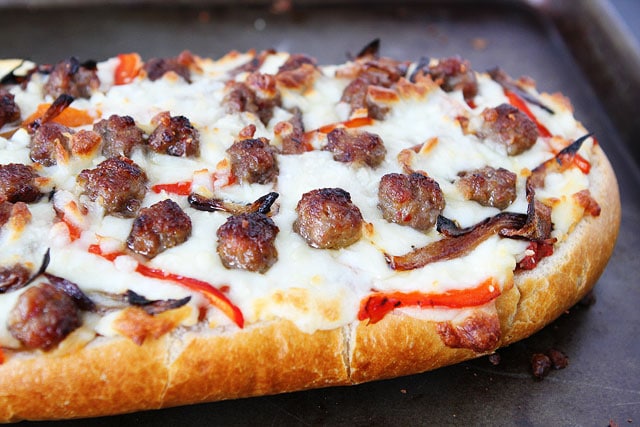 Josh surprised Caleb with a special pizza. He made French Bread Pizza! He sliced a loaf of French bread in half and topped it with pizza sauce, mozzarella cheese, sausage, caramelized onions, and roasted red peppers. He baked the pizza until the cheese was bubbling!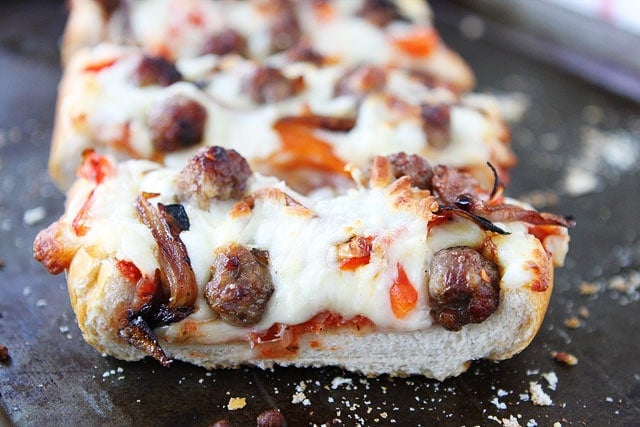 Josh cut the loaf into pizza slices and shared with Caleb. They both loved it!
The next time you are craving pizza, make Easy French Bread Pizza. It is so easy and so good! And you can top your pizza with your favorite pizza toppings. Josh always makes sure he makes a veggie half for me:)
Easy French Bread Pizzas are perfect for Super Bowl Sunday too! Invite your friends over and let them top their portion of the pizza with their favorite toppings! You can cheer on your favorite team while you eat some delicious pizza!
And in case you missed it, yesterday I shared a pregnancy update!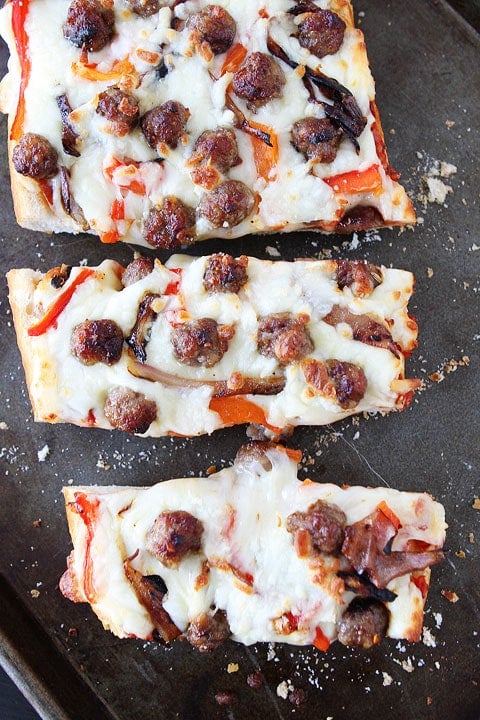 Easy French Bread Pizza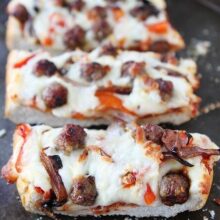 French bread is turned into pizza! Pizza has never been so easy to make! Use your favorite pizza toppings!
Yield: Serves 4-6
Prep Time: 10 minutes
Cook Time: 10-12 minutes
Total Time: 22 minutes
Ingredients:
1 loaf French Bread
Pizza sauce, homemade or store bought
Shredded Mozzarella cheese
Your favorite pizza toppings-Josh used sausage, caramelized onions, and roasted red peppers this time
Directions:
Preheat oven to 400 degrees F.
Slice French bread loaf in half lengthwise and place on a large baking sheet. Evenly spread pizza sauce over the bread. Top with cheese and desired toppings.
Bake for 10-12 minutes or until cheese is melted. Cut and serve!
Note-you can cut the French bread into 4 pieces. This is fun for a pizza party. Everyone can make their own pizza with their favorite toppings!
All images and text ©
.
Follow twopeasandpod on Instagram and show us what recipes you are making from our blog! Use the hashtag #twopeasandtheirpod! We want to see what you are making in your kitchen!