Shrimp Tacos with Grilled Poblano Salsa
Shrimp Tacos with Grilled Poblano Salsa – the secret to these shrimp tacos is in the salsa! Fresh corn, cherry tomatoes, and poblano pepper are grilled, then tossed with creamy diced avocado, cilantro and lime juice for unforgettable shrimp tacos!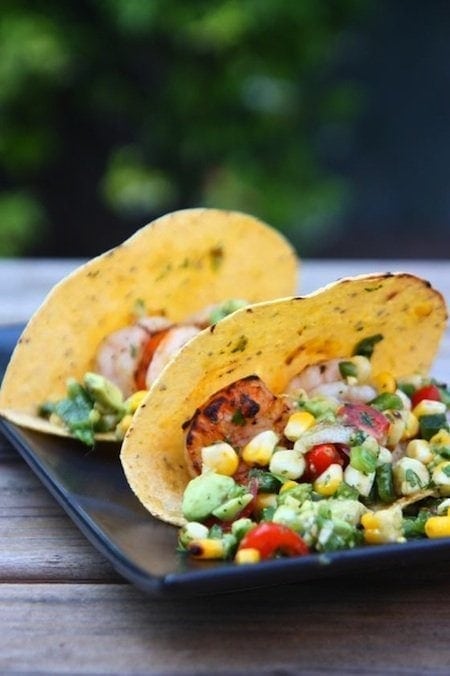 All-Time Favorite Shrimp Tacos
This is Jenna from Eat, Live, Run! I was honored when Maria asked me to guest post as she welcomes the newest pea into the pod this week. I've been reading Maria's blog for years and got the chance to meet her a year ago in Arizona at a blogging event. Let me just say she is definitely as sweet in person as she appears on the blog! The recipe I have for you today is one of my all-time favorites: shrimp tacos with grilled poblano salsa.

OTHER RECIPES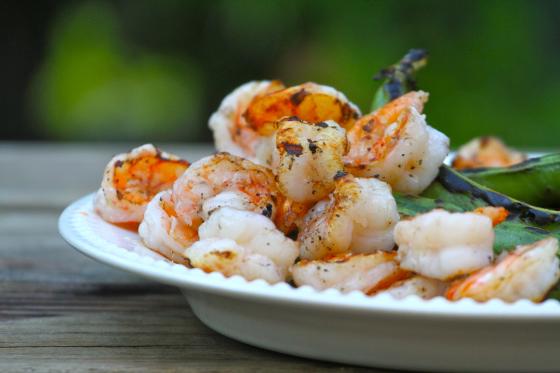 Grilled Shrimp Tacos: The Secret is in the Salsa
Even though Fall is here, you can always use one more barbecue recipe and this is definitely it! I've made these shrimp tacos countless times this past summer and it's my go-to recipe for when I need a great healthy meal.
The real kicker in the shrimp tacos isn't the shrimp though—it's the salsa! By grilling all of the ingredients in the salsa, it really ramps up the flavor big time. In it, fresh corn, cherry tomatoes, and poblano pepper are grilled and tossed with creamy diced avocado, cilantro, and lime juice. I promise this shrimp taco recipe with grilled poblano salsa will be a favorite for years to come!
Thanks Jenna for guest posting these yummy grilled shrimp tacos! Make sure you check out her fabulous blog, Eat, Live, Run!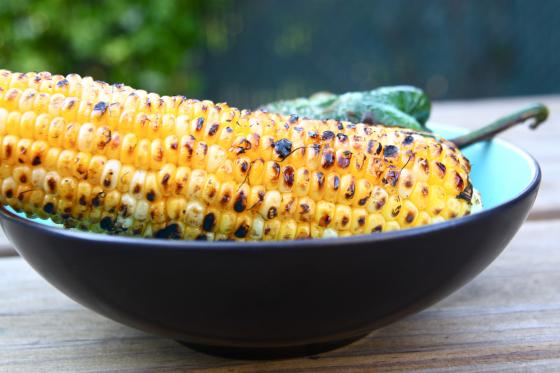 Shrimp Tacos with Grilled Poblano Salsa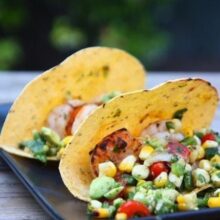 Ingredients:
For the salsa:
1 ear corn, husked
6 scallions, white and light green parts only (about 5 inches)
1 poblano chile
1 cup cherry tomatoes, halved
1 large (or 2 small) haas avocado
1 small bunch cilantro, minced
Juice of two small limes
1 clove garlic, minced
1/2 teaspoon salt
1 tablespoon olive oil
For the tacos:
1 lb shrimp
Corn or whole wheat tortillas
Directions:
1. Heat your grill up to medium high. Brush corn, green onions and poblano chile with olive oil and place on grill. You want everything to have a nice char to it—to chile should be black and the corn and onion should be charred. This will take about five minutes, flipping occasionally with tongs.
2. When done, remove veggies from grill and let cool on a plate. When cool, peel the now black skin off the pepper, remove the seeds and chop into small dice. Run your knife down the corn to remove the kernels from the cob and place into a bowl with the pepper. Chop onion and place into bowl as well. Add chopped avocado, cherry tomatoes and cilantro to the bowl and add lime juice and salt. Season to taste and set aside while you prepare the shrimp.
3. Wash and devein if necessary then grill only a few minutes until pink. Be careful because shrimp cook extremely quickly! When done, place into tortillas, top with salsa and eat immediately.
All images and text ©
.
Follow twopeasandpod on Instagram and show us what recipes you are making from our blog! Use the hashtag #twopeasandtheirpod! We want to see what you are making in your kitchen!