Grilled Zucchini Chickpea Tacos-these easy vegetarian and gluten-free tacos can be on the dinner table in under 30 minutes and make a great summer meal.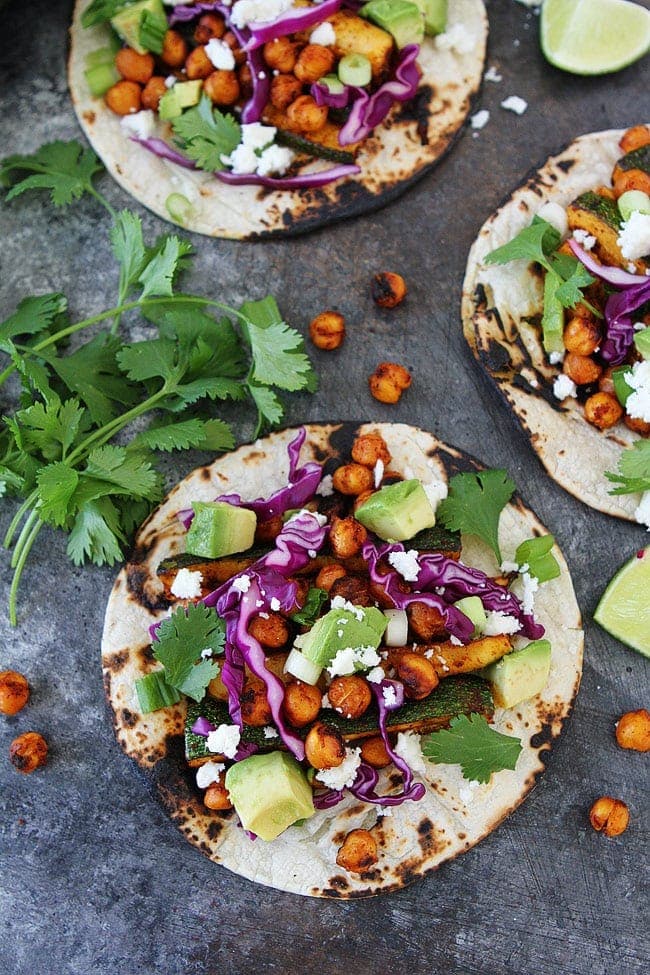 We eat tacos for dinner almost every week. We switch things up so we don't get bored. We make Grilled Steak Tacos, Roasted Cauliflower Chickpea Tacos, Honey Lime Salmon Tacos, and Three Bean Tacos. I am currently loving Grilled Zucchini Chickpea Tacos. This recipe for tacos is my new favorite! I could eat these vegetarian tacos every single night of my life.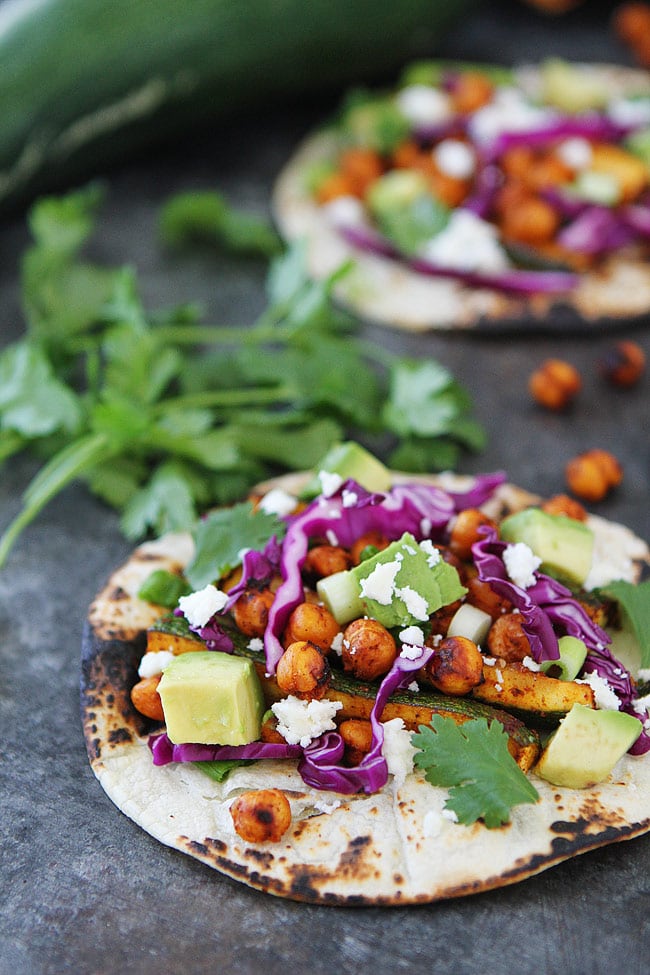 These tacos are the perfect summer meal because they are made on the grill and so easy to make. You don't have to heat up the house and the tacos come together in no time. Plus, this taco recipe will help you use up some of your garden zucchini. I know you are all looking for zucchini recipes right now. Well, add these easy tacos to your MUST make list because they are healthy and SO delicious.
And you want to know another reason I love these tacos? Our boys ate them! I was a little worried, but they love our Grilled Zucchini Nachos so I was hopeful. I just told them we were having tacos for dinner and when they sat down to eat, they didn't say anything, took a bite, and NO complaints. It was a BIG dinner win!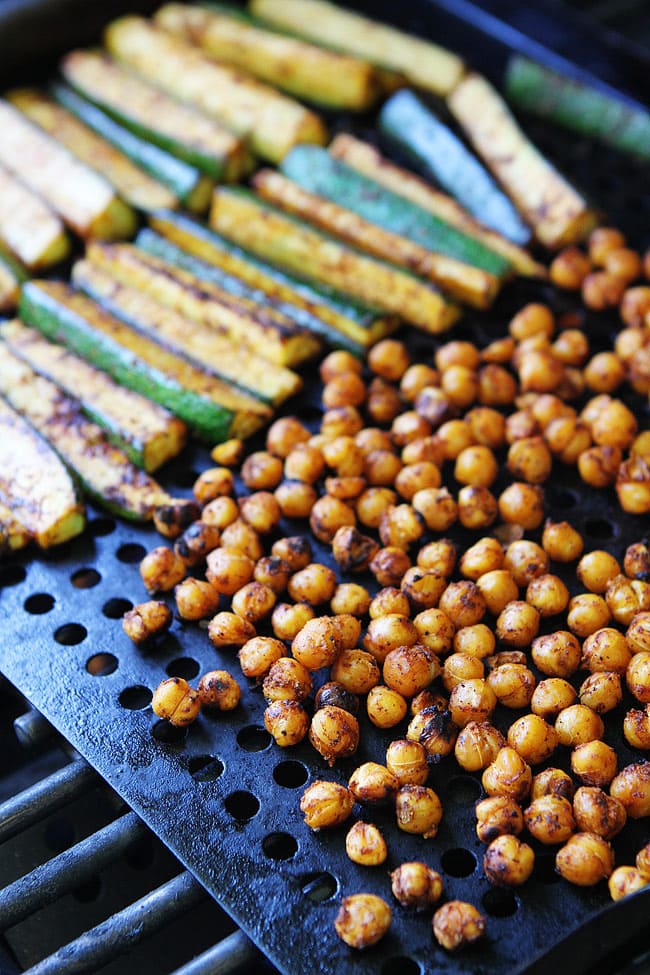 To make the tacos, mix together a simple spice mixture to coat the zucchini and chickpeas. Don't worry, I bet you have all of the spices in your pantry already. I use:
chili powder
cumin
salt
garlic powder
onion powder
paprika
Super simple! Once the zucchini and chickpeas are spiced, put them on a large grill pan and grill until they are nice and crispy. The grill adds tremendous flavor!
Now, it is taco time. Take a corn tortilla and add the grilled zucchini, chickpeas, and all of your favorite toppings. I like to add red cabbage, avocado, green onions, cilantro, and a little crumbled queso fresco. Drizzle with tomatillo salsa and you are good to go!
Grilled Zucchini Chickpea Tacos are the tastiest tacos! Make them for dinner tonight! And if you are looking for more zucchini recipes, check out our favorites here. There are over 50 fantastic zucchini recipes to choose from!
If you like this taco recipe, you might also like: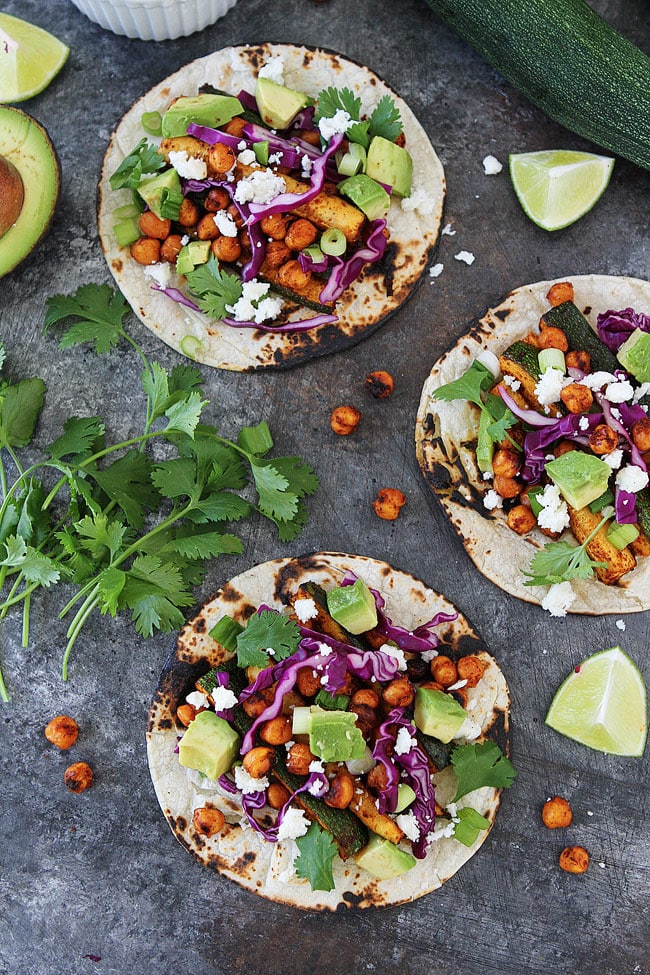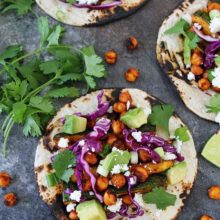 Grilled Zucchini Chickpea Tacos
These healthy tacos can be on the dinner table in under 30 minutes! The perfect summer meal!
Instructions
Preheat grill to medium-high heat.

In a small bowl, combine chili powder, cumin, sea salt, garlic powder, onion powder, and paprika. Stir until combined.

Place the zucchini strips in a medium bowl. Place the rinsed and drained chickpeas in a medium bowl. Drizzle a little olive oil over the zucchini and a little over the chickpeas. Toss. Pour half of the seasoning mixture over the zucchini strips and half over the chickpeas. Stir until zucchini and chickpeas are well coated. Place seasoned zucchini and chickpeas on a large grill pan.

Place the grill pan on the hot grill and grill until zucchini is cooked and chickpeas are slightly crispy, about 10 minutes.

Heat or char the corn tortillas on the grill or over a gas flame. Place zucchini and chickpeas in the center of the taco. Add red cabbage, avocado, cilantro, queso fresco, and

tomatillo salsa

, if desired. Serve warm.

Note-if you need the tacos to be vegan, leave off the queso fresco. They are still super delicious!
Have you tried this recipe?
Leave a comment below and share a photo on Instagram. Tag @twopeasandpod and hashtag it with #twopeasandtheirpod