Slow Cooker Minestrone Soup
Slow Cooker Minestrone Soup-this easy slow cooker soup is loaded with vegetables, beans, and pasta. It is great for lunch or dinner!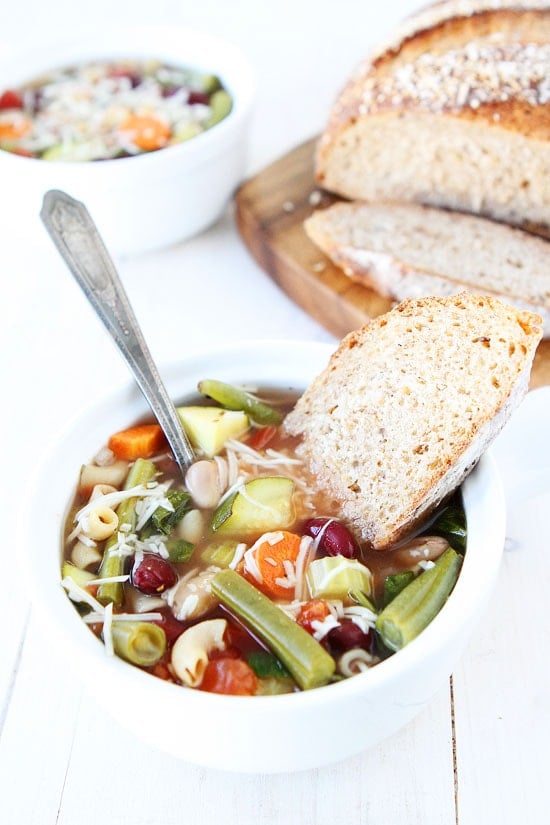 Our slow cooker has been getting a workout this month. We've made our Slow Cooker Sweet Potato Vegan Chili twice and now we are on a Slow Cooker Minestrone Soup kick! I love this soup because it is hearty and very filling. Sometimes Josh will want more than just soup for dinner, but not when we have Slow Cooker Minestrone. It is loaded with veggies, beans, and pasta. There is lots of goodness going on in this soup! You really don't need anything else, well, we like to serve it with crusty bread because carbs…duh, but that is it! This soup makes a great meal!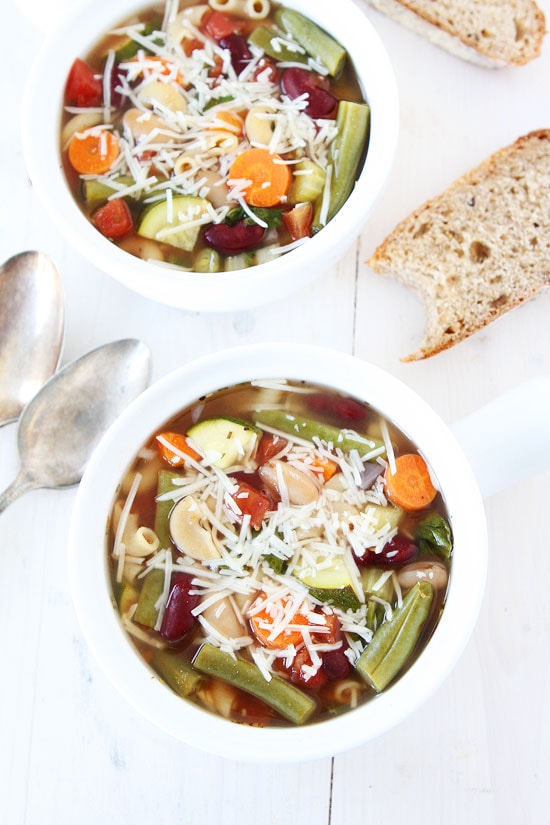 We haven't gotten much snow this winter and it is really bumming Josh out. He has been skiing quite a few times but is craving some fresh, deep powder! I am not a fan of the cold and snow, but I do know we need the snow! I would rather have the snow now than in June. It seems like our winters are getting later and later every year. Plus, soup and snow just go together. I am hoping if we keep making this soup the snow will come…for Josh's sake.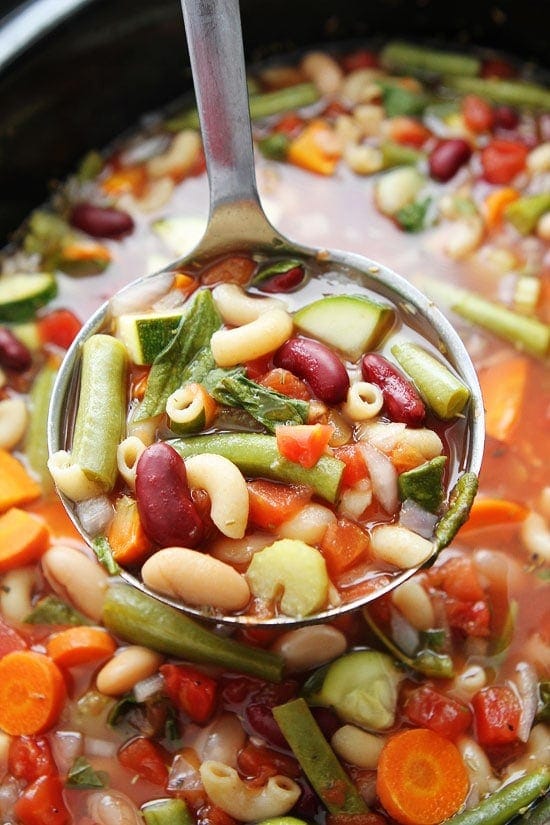 And I really do enjoy watching the snow from inside…under a blanket, with cozy socks on, and a warm bowl of soup!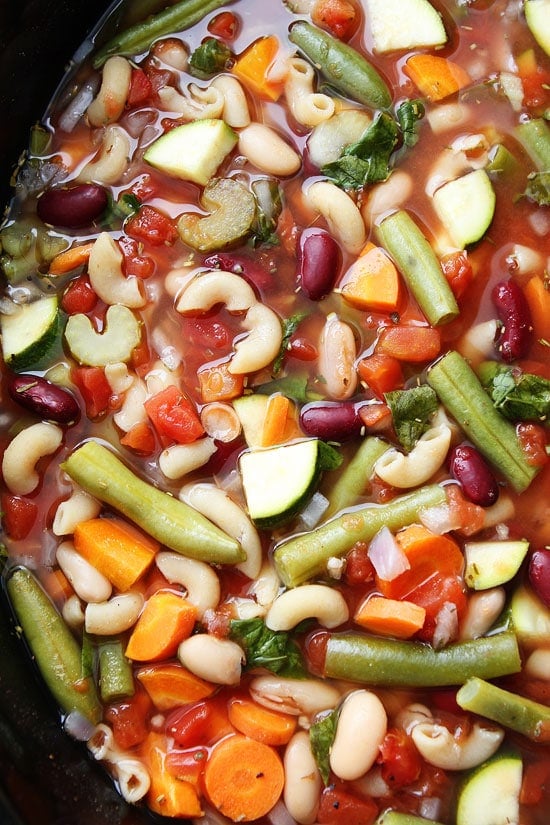 This Slow Cooker Minestrone is the perfect cold weather meal. It is loaded with lots of healthy veggies, beans, and whole wheat pasta. It will warm you right up and if you are feeling under the weather, it will help you get better too! Yay for delicious food that is good for you too!
We like to serve our minestrone soup with freshly grated Parmesan cheese. If you are going the vegan route, you can just eat the soup plain. It is plenty good on it's own. If you need the soup to be gluten-free, you can use gluten free pasta! We use whole wheat elbows, but you can use your favorite small pasta! This soup is very adaptable!
After a long day, it is nice to have dinner waiting for you! I am so glad our slow cooker is an amazing cook! He's got this Slow Cooker Minestrone down! Every bowl is perfection! And yes, I decided our slow cooker is a he. I think I will name him Stewart. Stewart the Slow Cooker…it has a nice ring to it:)
Get out your personal chef, your slow cooker, and make this Slow Cooker Minestrone Soup! It is the perfect soup for a cold and hopefully snowy day!
If you like this easy soup recipe, you might also like: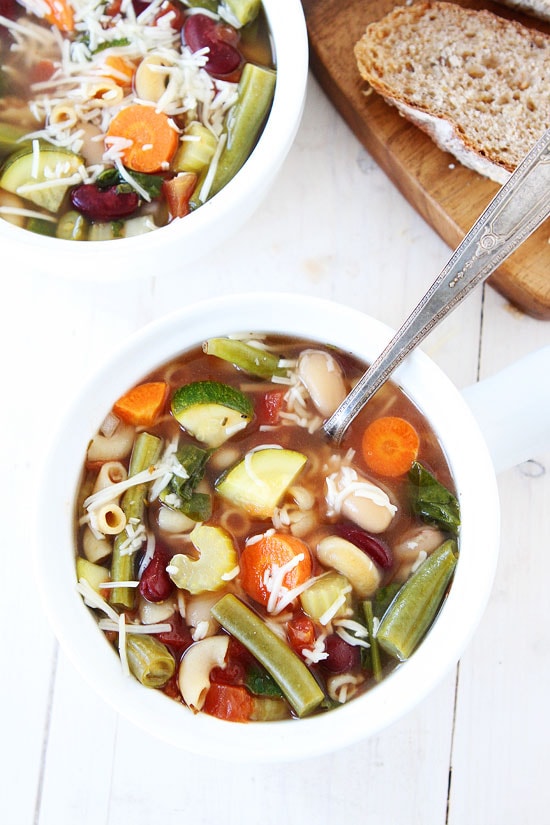 Slow Cooker Minestrone Soup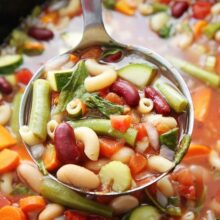 This easy slow cooker soup is loaded with veggies, beans, and whole wheat pasta! It is the perfect meal for a cold day!
Yield: Serves 6-8
Prep Time: 15 minutes
Cook Time: 3-4 hours on High or 6-8 hours on Low
Ingredients:
1 small red or yellow onion, diced
2 small carrots, diced
2 celery stalks, diced
4 cloves garlic, minced
1 1/2 cups fresh green beans, trimmed and cut into 1/2-inch pieces
1 (28 oz) can diced tomatoes, with juices
6 cups vegetable broth
1 (15 oz) can red kidney beans, rinsed and drained
1 (15 oz) can cannellini beans or Great Northern beans, rinsed and drained
2 bay leaves
1 teaspoon dried oregano
1 teaspoon dried basil
1/2 teaspoon dried rosemary
1/8 teaspoon red pepper flakes
1 small zucchini, diced
1/2 cup dried whole wheat elbow pasta (can use gluten-free pasta)
1 cup chopped fresh spinach
Salt and black pepper, to taste
Freshly-grated Parmesan cheese, for serving, optional
Directions:
Combine the onion, carrots, celery, garlic, green beans, tomatoes, broth, and beans in a 6-quart slow cooker. Add the bay leaves, oregano, basil, rosemary, and red pepper flakes. Cover and cook on low for 6-8 hours or on high for 3-4 hours.
30-40 minutes before the soup is done cooking, add in the zucchini, pasta, and spinach. Cook until pasta is tender. Season with salt and black pepper, to taste. Remove bay leaves. Ladle soup into bowls and serve with Parmesan cheese, if desired.
Note-for vegan, don't use the Parmesan cheese and for gluten-free, use gluten-free pasta.
All images and text ©
Two Peas & Their Pod
.
Follow twopeasandpod on Instagram and show us what recipes you are making from our blog! Use the hashtag #twopeasandtheirpod! We want to see what you are making in your kitchen!