Zucchini Noodles with Pesto
Turn abundant zucchini into noodles for a fun summer meal. Zucchini Noodles with Pesto is a simple and healthy dish that the entire family will love!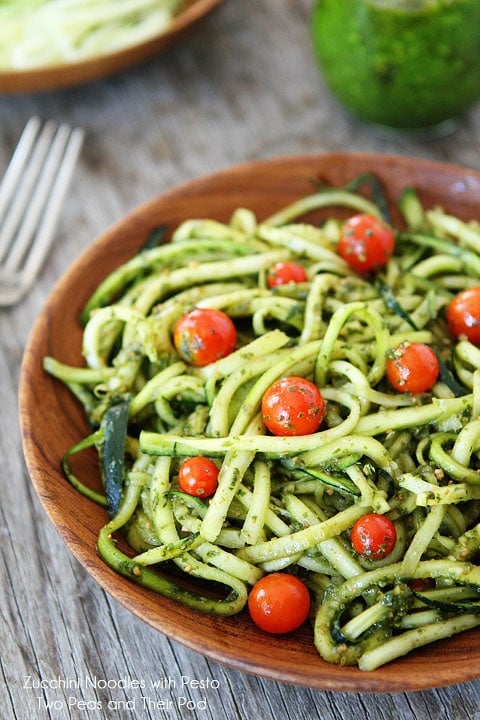 I have another zucchini recipe for you today! I hope you are applauding with excitement and not rolling your eyes. I know I have been on a zucchini kick lately, Grilled Zucchini Nachos and Zucchini Coconut Chocolate Chip Cookies, but tis the season for zucchini!
I think you will love this zucchini recipe, Zucchini Noodles with Pesto. It only takes 15 minutes to make and there is no cooking involved!

OTHER RECIPES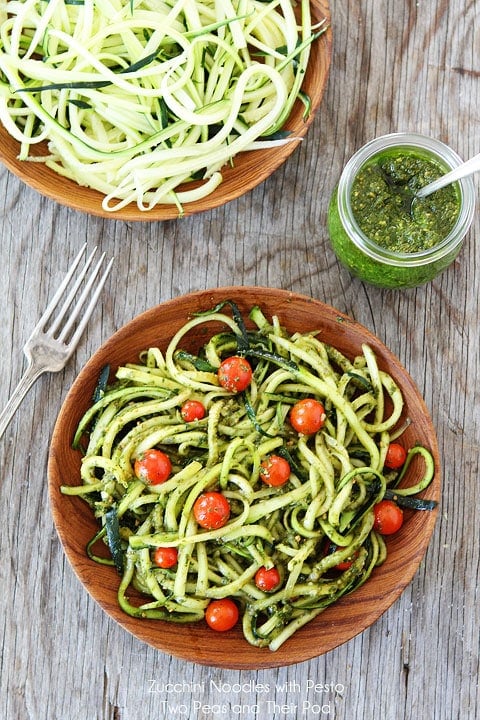 Last Friday my friend, Kelley, came over and we were going to make a bunch of recipes for our blogs, but instead we got to talking and decided to take a little break and just enjoy catching up. Sometimes food bloggers need a break from the kitchen:) We did get hungry so I threw together Zucchini Noodles with Pesto for us to eat for lunch.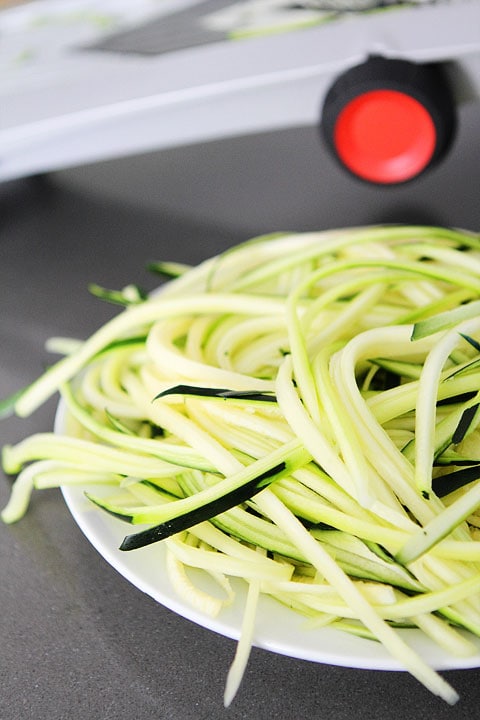 Zucchini noodles aren't hard to make. All you need is zucchini, which shouldn't be a problem this time of year, and a mandoline or julienne peeler. Slice the zucchini into noodles so it looks like pasta. That is it! Easy as pie…actually easier because pie really isn't easy to make. I don't know who came up with that saying.
I tossed the zucchini with some fresh basil pesto that I made the day before. I added a few cherry tomatoes from our garden and we had a fresh, healthy, and beautiful lunch…without breaking a sweat.
We enjoyed the Zucchini Noodles with Pesto raw, but if you want to cook them, you can. Just add the zucchini pesto noodles to a skillet and sauté them up over medium heat. It only takes a few minutes. These Zucchini Noodles with Pesto are good cold or hot!
I wasn't going to take any pictures since we were taking a break from our work, but I snapped a few quick photos because I knew you would all want this simple recipe. You are welcome:)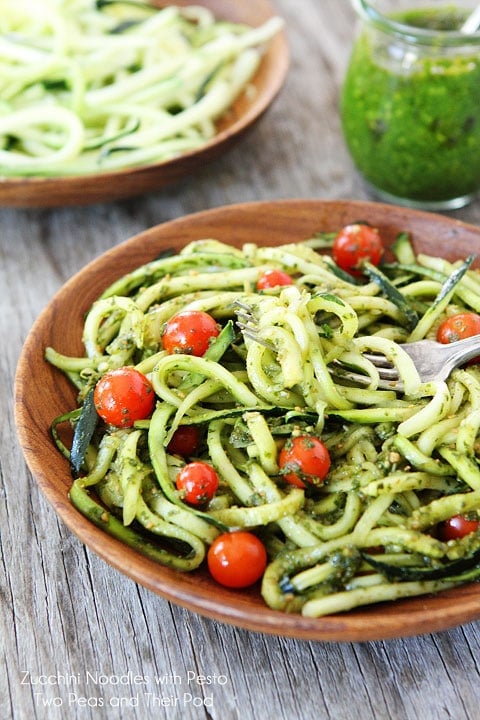 If you are looking for an easy recipe to use up your summer zucchini, look no further. Zucchini Noodles with Pesto is your answer. 15 minutes is all you need to enjoy this tasty dish! And this recipe is also good with our Spinach Basil Pesto! And if you are in a pinch you can use store bought pesto, I love DeLallo's Simply Pesto! Enjoy!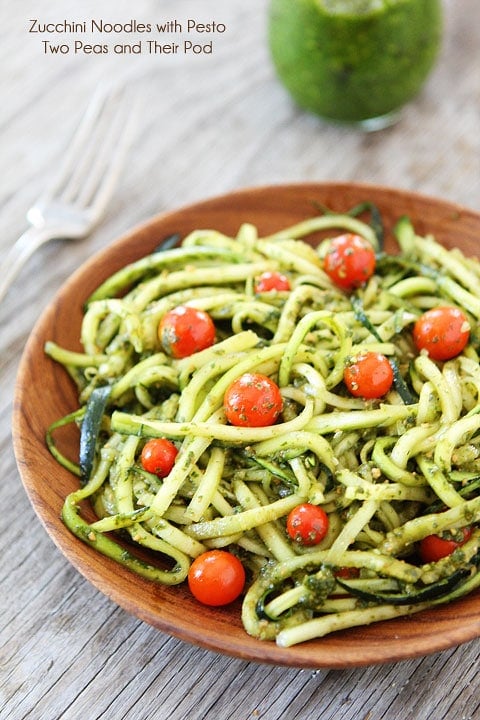 Zucchini Noodles with Pesto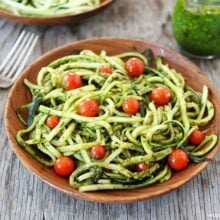 Turn your zucchini into noodles and toss with fresh basil pesto. A fresh and healthy meal in minutes!
Yield: Serves 4
Prep Time: 15 minutes
Total Time: 15 minutes
Ingredients:
4 small zucchini, ends trimmed
2 cups packed fresh basil leaves
2 cloves garlic
1/3 cup extra-virgin olive oil
2 teaspoons fresh lemon juice
1/4 cup freshly grated Parmesan cheese
Kosher salt and freshly ground black pepper, to taste
Cherry or grape tomatoes, optional
Directions:
Use a julienne peeler or mandoline to slice the zucchini into noodles. Set aside.
Combine the basil and garlic in a food processor and pulse until coarsely chopped. Slowly add the olive oil in a constant stream while the food processor is on. Stop the machine and scrape down the sides of the food processor with a rubber spatula. Add the lemon juice and Parmesan cheese. Pulse until blended. Season with salt and pepper.
Combine the zucchini noodles and pesto. Toss until zucchini noodles are well coated. Top with tomatoes, if using. Serve at room temperature or chilled.
Note-if you want to cook the zucchini noodles, you can. Just add the zucchini pesto noodles to a skillet and sauté them up over medium heat. It only takes a few minutes.
All images and text ©
.
Follow twopeasandpod on Instagram and show us what recipes you are making from our blog! Use the hashtag #twopeasandtheirpod! We want to see what you are making in your kitchen!
If you like Zucchini Noodles with Pesto, you might also like: