jump to recipe
Grilled Zucchini Nachos
Grilled Zucchini Nachos-use zucchini as the chips and top with all of your favorite nacho toppings! A great recipe to use up the summer zucchini!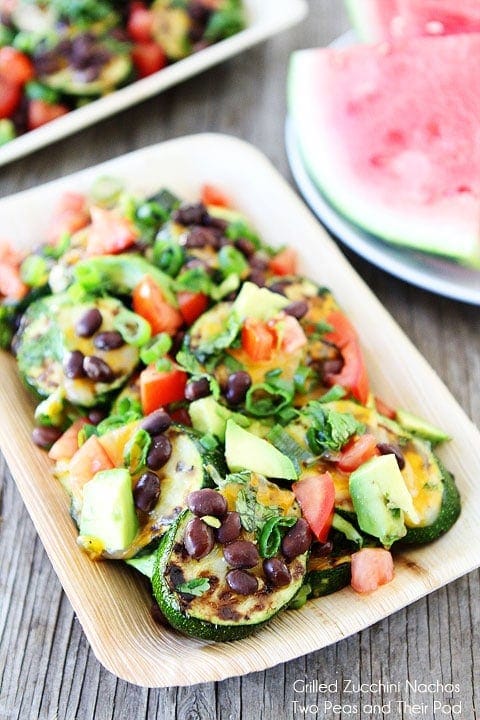 It's zucchini season! I know some people try to hide under their covers to avoid answering the door when neighbors stop by with zucchini, but I jump for joy. I will accept any and all zucchini with a big smile. If you need our address, just let me know. Our garden unfortunately hasn't gave birth to any zucchini yet.
So what should you do with your collection of zucchini? I love using zucchini to make salads, bread, brownies, cupcakes, and cookies! I  also highly recommend you make Grilled Zucchini Nachos. Yep, you heard me, zucchini nachos! Oh, yeah!

OTHER RECIPES
We have made Grilled Nachos before with tortilla chips, but since it is zucchini season, I thought it would be fun to use zucchini as the chips! Plus, I love the idea of a healthy chip! Bring on the veggies!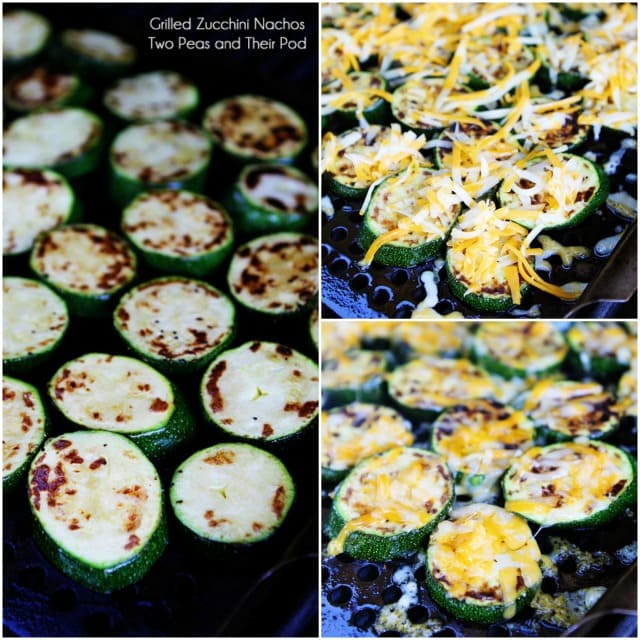 Grilled Zucchini Nachos are easy to make and you don't have to turn on the oven. Cut the zucchini into rounds, aka chips, and grill them until they are tender. Sprinkle cheese over the zucchini chips and grill until melted. Look at that cheesy goodness!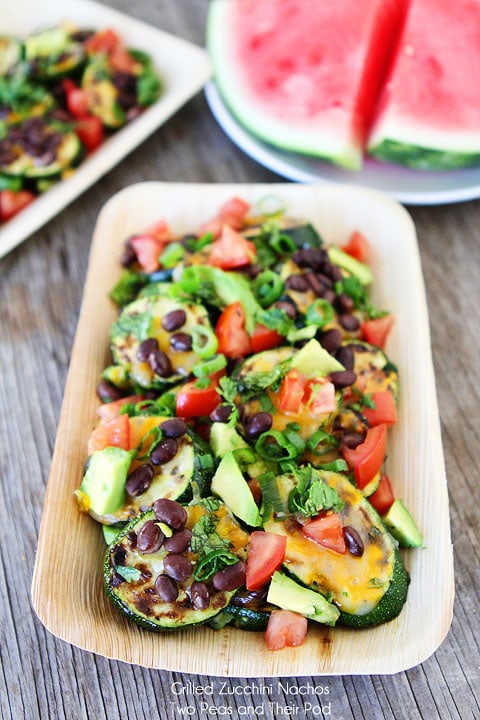 Remove the cheesy zucchini chips from the grill and top with all of your favorite nacho toppings! We topped ours with black beans, garden tomatoes, avocado, cilantro, green onion, and a squeeze of fresh lime juice.
I will be honest, when I told Josh we were having Grilled Zucchini Nachos for dinner. He asked why I had to go and "healthify" nachos. I told him to not judge my nachos until he tried them. Well, he not only tried them, but he ate more than his fair share. He loved them! Once again, I surprised Josh with my healthy and delicious creation:)
Put your garden zucchini to good use, make Grilled Zucchini Nachos. And if your neighbors knock on your door with a bag of zucchini, get out from under the covers, open the door, say thank you, and make Grilled Zucchini Nachos.
And if you have an obscene amount of zucchini to use up, check out these 35 Zucchini Recipes. Don't let your zucchini go to waste!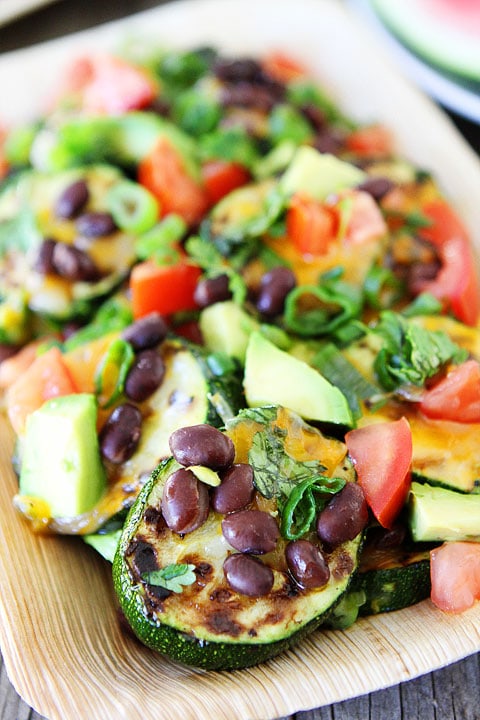 Grilled Zucchini Nachos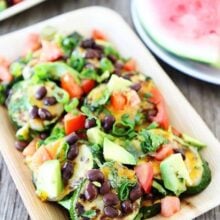 Grilled zucchini rounds turned into chips and topped with all of your favorite nacho toppings! Grilled Zucchini Nachos are a great way to use up your summer zucchini!
Yield: Serves 4
Prep Time: 10 minutes
Cook Time: 6 minutes
Total Time: 16 minutes
Ingredients:
4 small zucchini, sliced into "chips," about 1/4 inch thick rounds
Olive oil, for brushing zucchini chips
Salt and pepper, to taste
1 cup shredded cheddar cheese
1 (15 oz) can black beans, rinsed and drained
2 small tomatoes, chopped
1 large avocado, chopped, seed removed
2 green onions, chopped
1/4 cup chopped cilantro
1 lime
Directions:
Put the sliced zucchini chips into a large bowl and toss with olive oil. Season with salt and pepper, to taste. Place zucchini on a a grill pan or directly on a hot grill, over medium heat. Grill for 4 to 5 minutes or until zucchini is tender. Sprinkle cheese directly over zucchini chips and cook until cheese is melted, about 1 minute.
Remove zucchini from grill and place on a platter or onto plates. Top with black beans, tomatoes, avocado, green onion, cilantro, and a squeeze of fresh lime juice. Serve immediately.
All images and text ©
.
Follow twopeasandpod on Instagram and show us what recipes you are making from our blog! Use the hashtag #twopeasandtheirpod! We want to see what you are making in your kitchen!