Quick Summary
This family favorite Baked Mac and Cheese is creamy, cheesy, and finished with a buttery panko cracker Parmesan topping. It can be served as a main dish or side dish.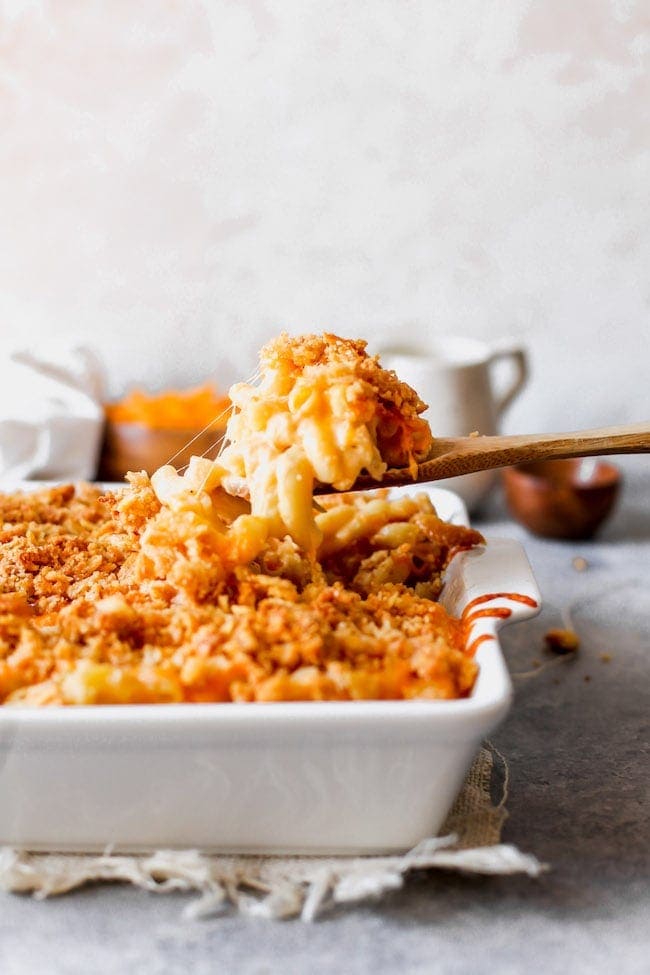 My dad makes the BEST cinnamon rolls, if you haven't tried them, you really need to. He also makes the BEST Baked Mac and Cheese. Yep, it's true! His recipe is hands down the best, everyone loves it and always requests Parry's mac and cheese!
My dad made this meal all of the time for my siblings and me, it was one of our favorites. You can't go wrong with homemade baked mac and cheese, especially when you are a kid, and especially when it's LOADED with cheese. My dad doesn't hold back on the cheese, he goes all out! It is rich, creamy, CHEESY, and has a buttery panko cracker topping that seals the deal on this being the BEST! Trust me!
Homemade mac and cheese is the way to go. I know the simplicity of the blue box can be tempting, but I promise making it from scratch is SO worth the effort. It really isn't hard to make and it's SO much better. This recipe makes a BIG pan so you can enjoy leftovers or share with family and friends.
Once you make it from scratch, you won't be able to go back to the box stuff. It is classic comfort food and I guarantee you will crave it on a regular basis. It is a favorite at our house.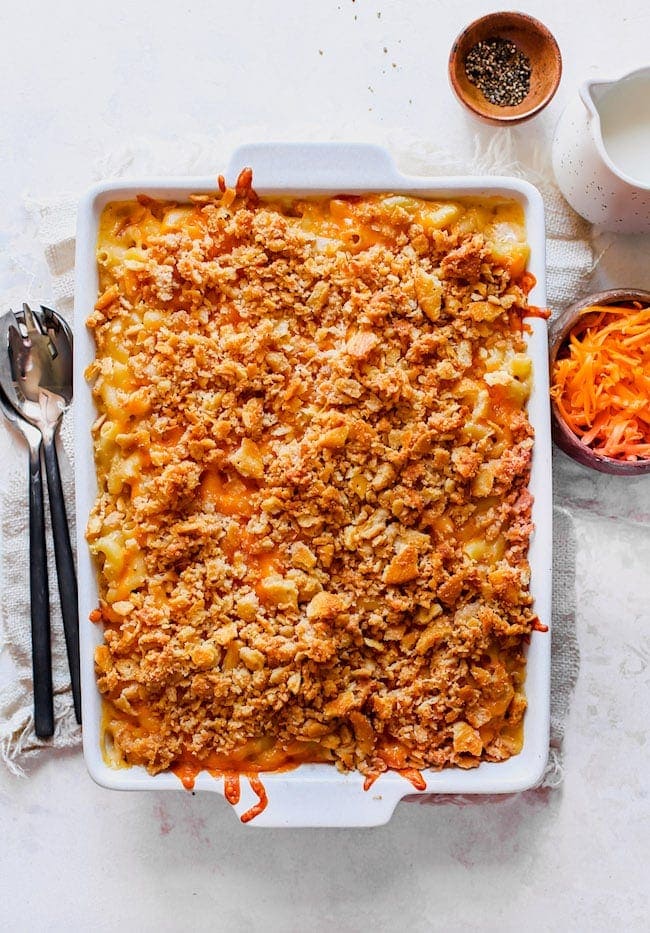 Mac & Cheese Ingredients
Elbow macaroni– we like to use large elbow macaroni, but another small pasta will work too.
Butter– for flavor and richness!
Flour– to create a roux.
Milk– use whole milk for the creamiest mac and cheese!
Cheese– I like to use a mix of shredded cheddar and Gruyere cheese, but you can use all cheddar cheese. Don't use pre-shredded cheese. I know it is convenient, but pre-shredded cheese contains a coating that prevents it from melting properly. Buy block cheese and use a grater or food processor to shred the cheese.
Dry mustard– adds a little tang to balance out the richness.
Salt & Black Pepper– to enhance the flavors.
Topping Ingredients
Butter– to add flavor to the panko and crackers.
Panko crumbs– to add a nice crunch!
Crushed crackers– you can use saltine or Ritz crackers.
Cheese– more cheese please! We add Parmesan and extra Cheddar cheese on top.
How to Make Baked Mac and Cheese
Cook the macaroni until al dente, about six minutes, and that is it! Don't over cook the pasta or it will get soggy and mushy after being baked in the oven with all of the cheese sauce.
Drain the macaroni and rinse with cold water. I normally don't rinse pasta, but my dad says it is a must for baked mac and cheese to remove the starch. You don't want the starch thickening the sauce.
You will need to make a roux, but don't be intimidated by that word, it is just a mixture of butter and flour that is used to thicken a sauce. The roux will make make a thick and silky smooth sauce sauce.
Use equal parts butter and flour. Melt the butter and add the flour, whisking until smooth. Coating the flour in butter helps to prevent the flour from clumping together and making a lumpy sauce. Cook over medium-low heat, whisking frequently, for 3–5 minutes, or until bubbly and fragrant, but not burnt.
Whisk the milk into the roux. Use whole milk to create a super rich and creamy sauce. You can use 2% milk, but try to avoid skim milk, you want the sauce to be velvety and thick.
Stir the shredded cheese into the sauce, reserving 1 cup of shredded cheddar cheese for the top. Stir until the cheese is melted.
Gently fold the cooked macaroni noodles into the cheese sauce. Pour the mixture into a large oven-safe baking dish.
Don't skip the topping! We make a buttery panko cracker parmesan topping to go on top and it is AMAZING! It makes the mac and cheese extra special. The panko, cracker, parmesan combo is perfection! You can use saltine or Ritz crackers, both are great! Sprinkle the remaining cheese over the top of the macaroni and add the panko cracker topping.
Bake in a 350 degrees F oven for 30 minutes or until bubbly and the topping is golden brown. You don't need to cover with foil while baking.
Let it rest 5 minutes before serving. The mac and cheese will keep covered in the refrigerator for up to 4 days. Reheat in the microwave.
Serving Suggestions
Mac and cheese can be served as a main dish or side dish. If you live in the South, mac and cheese is often served at Thanksgiving and other holidays. There really is no bad time to enjoy baked mac and cheese. It is always a crowd pleaser!
If you want to make a full meal, here are some recipes that go well with mac and cheese!
More Comfort Food Recipes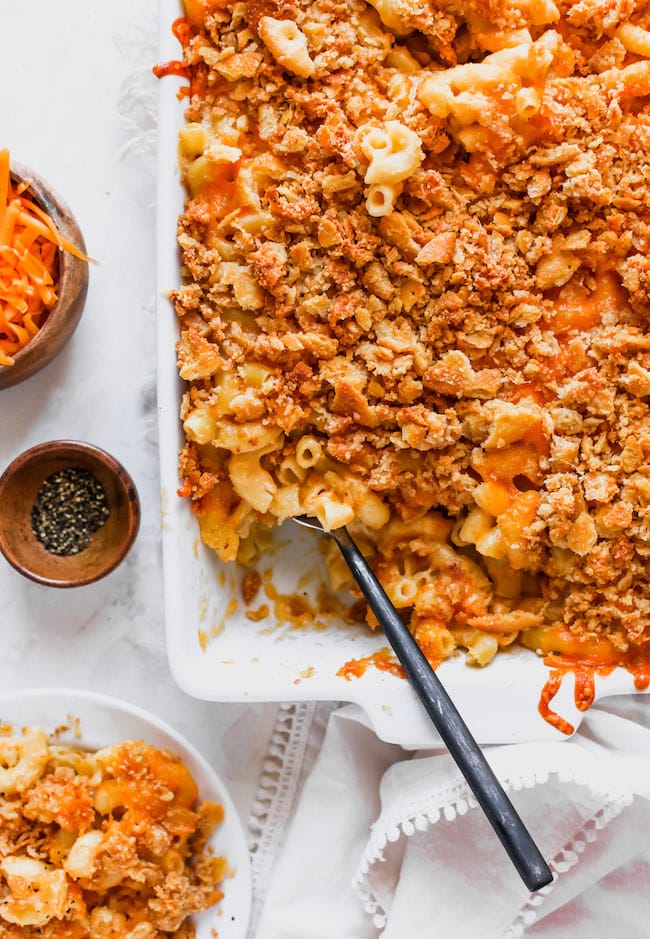 More Mac & Cheese Recipes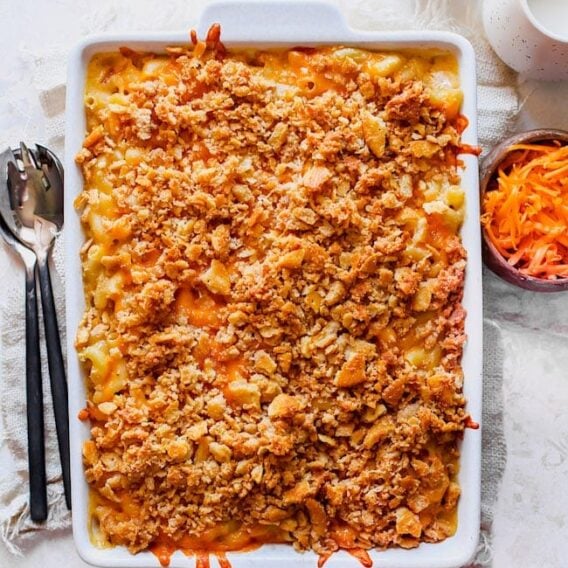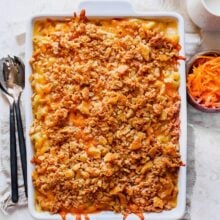 Baked Mac and Cheese
This baked mac and cheese recipe is easy to make at home and the ultimate comfort food!
Instructions
Preheat oven to 350 degrees F. Grease a 9×13-inch baking dish and set aside.

Cook the macaroni until al dente, about 6 minutes. Don't overcook because the pasta will finish cooking in the oven. Drain and rinse the pasta with cold water. Drain well and set aside.

Meanwhile, in a large pot melt the butter over medium-low heat. Add the flour and quickly whisk. Cook for about 3 minutes, whisking frequently, or until smooth and slightly browned. Be careful not to burn the mixture. Add 1 cup of the milk and whisk until well combined and there are no lumps. Add the remaining milk and keep whisking until the mixtures starts to boil.

Add 3 cups cheddar cheese, all the Gruyere cheese, dry mustard, salt, and pepper and stir until cheese is melted and smooth.

Gently fold the cooked macaroni into the cheese mixture. Pour evenly into the prepared pan.

To make the topping, in a medium skillet, melt the butter over medium heat. Add the panko and crushed crackers and stir until the crumbs and crackers are coated in butter. Remove from heat and stir in the grated Parmesan cheese.

Sprinkle the remaining 1 cup cheddar cheese over the top of the macaroni and then add the panko cracker topping.

Bake for 30-35 minutes or until cheese is melted and bubbly and topping is golden brown. Let the mac and cheese rest for 5 minutes before serving.
Notes
If you don't have Gruyere cheese, you can use all cheddar cheese.
Nutrition
Calories:
592
kcal
,
Carbohydrates:
44
g
,
Protein:
26
g
,
Fat:
33
g
,
Saturated Fat:
20
g
,
Cholesterol:
99
mg
,
Sodium:
678
mg
,
Potassium:
274
mg
,
Fiber:
1
g
,
Sugar:
5
g
,
Vitamin A:
1035
IU
,
Calcium:
638
mg
,
Iron:
1.6
mg
Have you tried this recipe?
Leave a comment below and share a photo on Instagram. Tag @twopeasandpod and hashtag it with #twopeasandtheirpod