Brown Butter Brussels Sprouts Pasta with Toasted Hazlenuts and Parmesan Cheese-my new favorite pasta dish and I think you are going to love it too!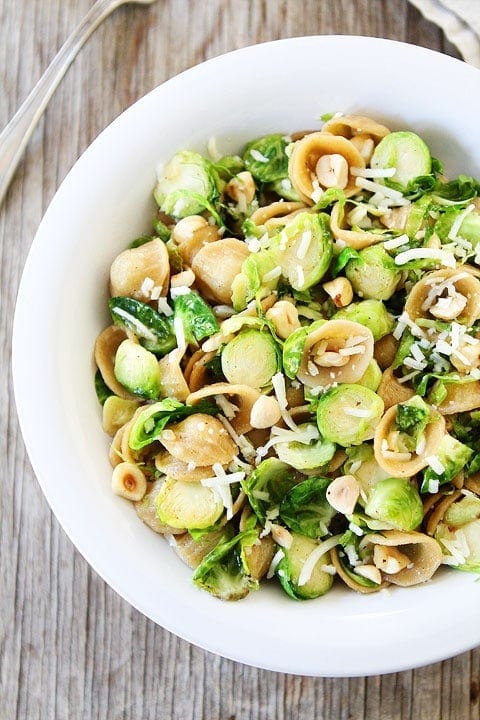 So I am kind of obsessed with this Brown Butter Brussels Sprouts Pasta with Hazelnuts. It is my new favorite pasta dish! I love everything about it! I made it for lunch and couldn't get over how good it was!
I kept raving about my pasta to Josh. He couldn't taste it because he is allergic to hazelnuts. I know, I know, I am a terrible wife for eating such a delicious lunch in front of him, but I couldn't help myself. And in my defense, he wasn't home when I started making lunch. He showed up when I was ready to eat so I had to tell him how good it was. This seriously is the best pasta ever!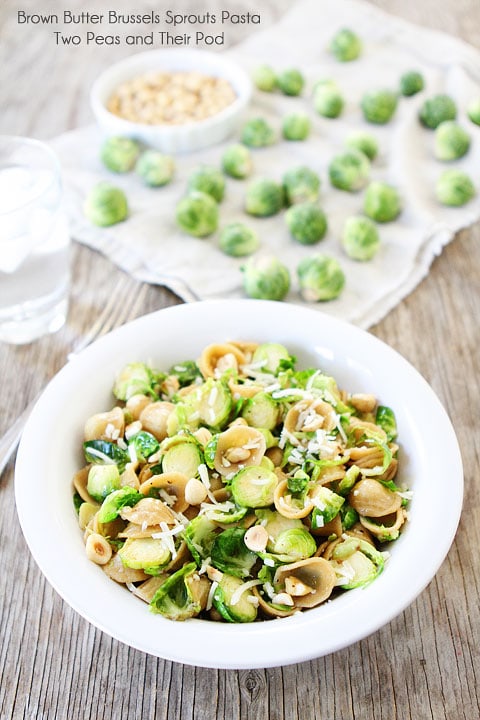 I am always in the mood for pasta. It is my go to comfort food. My favorite pasta is DeLallo's Organic Whole Wheat Pasta. I love all of the pasta shapes and sizes, especially the Orecchiette. They are the cutest little ears I have ever seen:)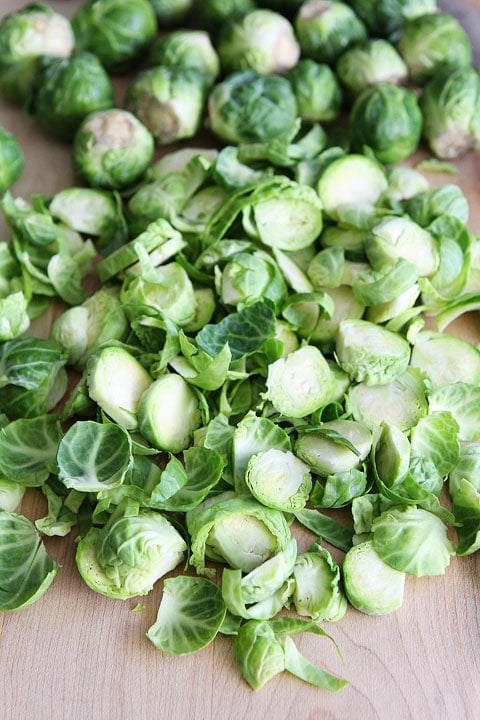 I had a huge bag of brussels sprouts in the fridge that were begging to be used. I was going to roast them, my standard way of enjoying sprouts, but I decided to add them to my pasta instead. I am SO glad I did!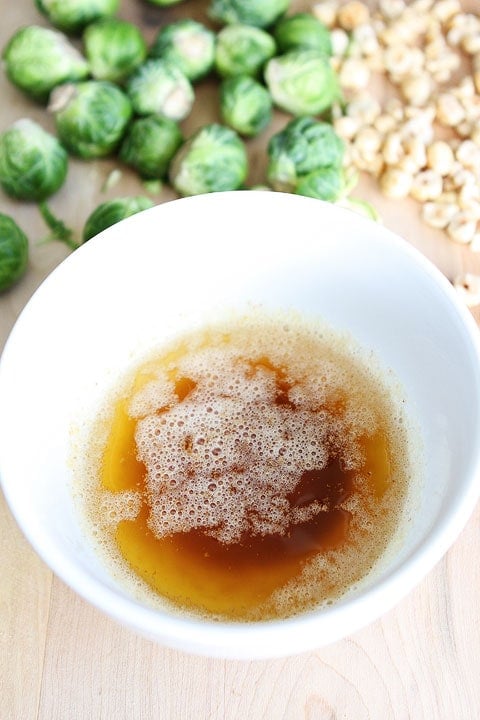 The sauce to my pasta is simple, BROWN BUTTER!
You know I am craaaazy about brown butter. I've made lots of sweets with brown butter: cupcakes, crisp, waffles, syrup, and cookies. Well, brown butter works in savory dishes too! Yes, it does!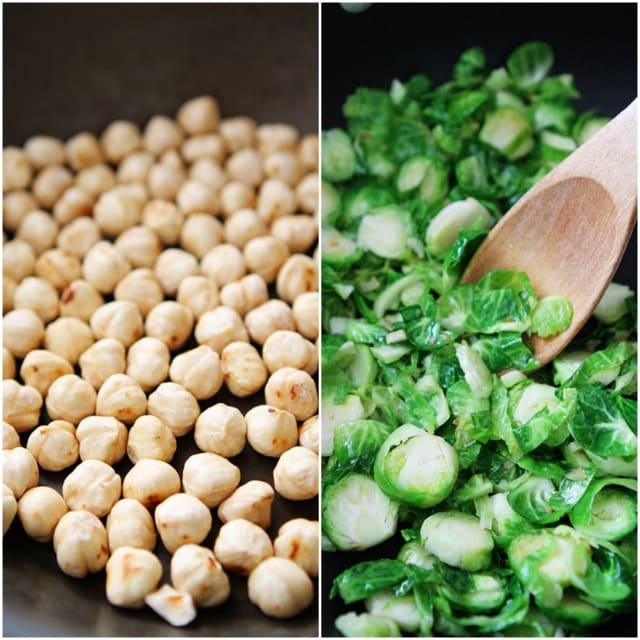 Brown butter, toasted hazelnuts, and brussels sprouts are a mean combination!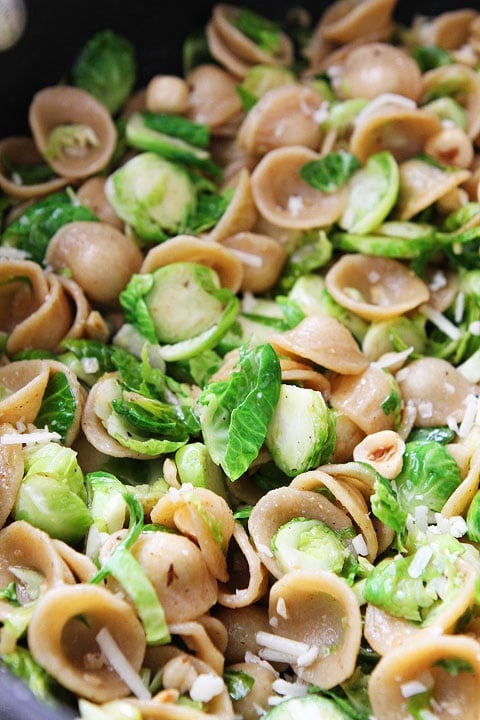 Oh, and I also tossed in some Parmesan cheese because cheese is always a good idea!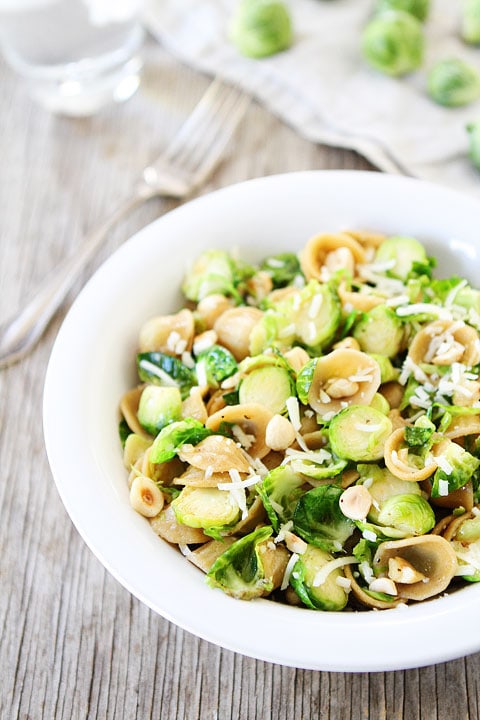 I love the nuttiness from the whole wheat pasta, brown butter, and hazelnuts. This pasta dish is nutty all around!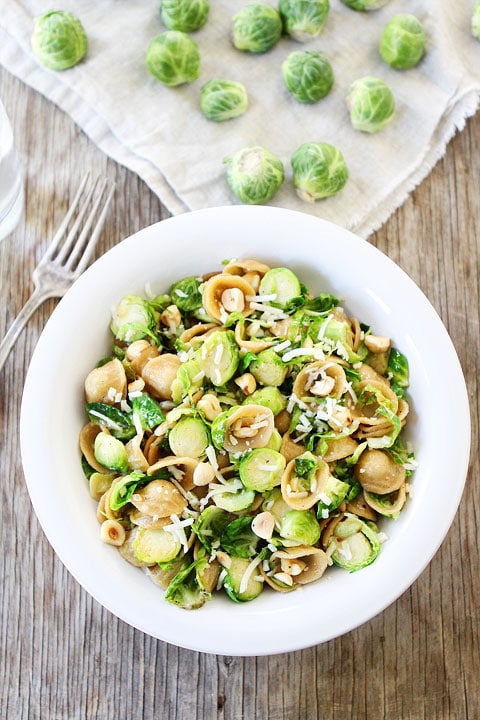 I wanted to eat the entire pan of pasta all by myself, but I decided to be nice and share. Since I couldn't share with Josh, I took some pasta to our neighbors so they didn't have to cook dinner. They accepted the pasta with open arms and a smile!
I am secretly hoping Josh will not be around for lunch or dinner soon so I can make Brown Butter Brussels Sprouts Pasta with Hazelnuts. I am craving it already! And if Josh doesn't go away soon, I will make it anyway. He will just have to listen to me go on and on about how amazing this pasta is:)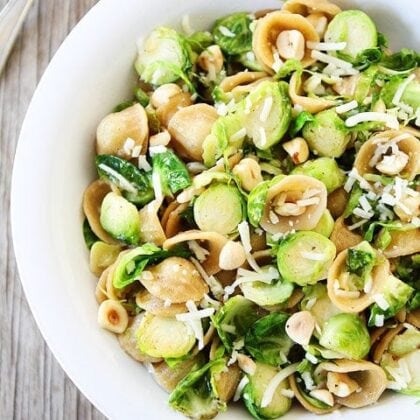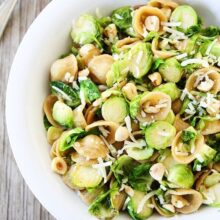 Brown Butter Brussels Sprouts Pasta with Hazelnuts
Whole wheat pasta with brown butter, brussels sprouts, toasted hazelnuts, and Parmesan cheese. This is my favorite pasta dish!
Ingredients
6

tablespoons

butter

8

ounces

whole wheat pasta

we used DeLallo Organic Whole Wheat Orecchiette

1/2

cup

hazelnuts

1

tablespoon

olive oil

2

cloves

garlic

minced

1

tablespoon

shallot

minced

2

cups

chopped Brussels sprouts

stems removed

1/3

cup

Parmesan cheese

Salt and freshly ground black pepper

to taste
Instructions
First, brown the butter. In a small saucepan, melt the butter over medium-low heat and continue to cook, swirling occasionally, until butter turns golden brown, Skim foam from top, and remove from heat. Pour into a bowl to stop the cooking, leaving any burned sediment behind; set aside.

Bring a large pot of water to boil. When the water comes to a rolling boil, add a little salt, then add the pasta. Cook pasta to al dente, cooked through but still a little firm. When the pasta is done cooking, drain and set aside.

Meanwhile, in a small sauté pan over medium heat, toast the hazelnuts until they become lightly browned and fragrant, about 5-7 minutes. (You can also toast the hazelnuts in the oven at 350 degrees F for 8 to 10 minutes — watch closely to prevent burning.) Place the toasted hazelnuts on a towel and rub together to remove the skin. Roughly chop the hazelnuts and set aside.

In a large pan, heat the olive oil over medium-high heat. Add the garlic and shallot and cook for 2 minutes. Add the brussels sprouts and cook until tender, about 5-7 minutes. Stir in the pasta and hazelnuts. Pour browned butter over the pasta and sprouts. Stir well. Cook until pasta is heated. Stir in the Parmesan cheese and season with salt and black pepper, to taste. Serve immediately.
Have you tried this recipe?
Leave a comment below and share a photo on Instagram. Tag @twopeasandpod and hashtag it with #twopeasandtheirpod
Disclosure: this post is in partnership with DeLallo, but our opinions are our own.