jump to recipe
Roasted Brussels Sprouts with Balsamic Vinegar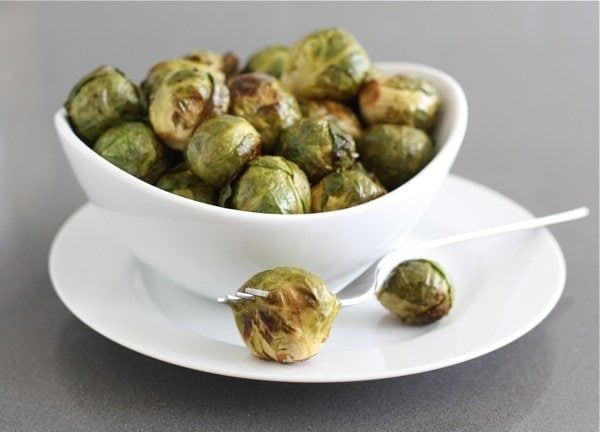 Mmmm, brussels sprouts. Yes, I sad Mmmm! I love brussels sprouts. I don't know why this vegetable is hated by so many. They are probably one of my top ten favorite vegetables (I love all vegetables, so they really are high on the list.) Roasted brussels sprouts with balsamic vinegar are my absolute favorite way to eat the little sprouts.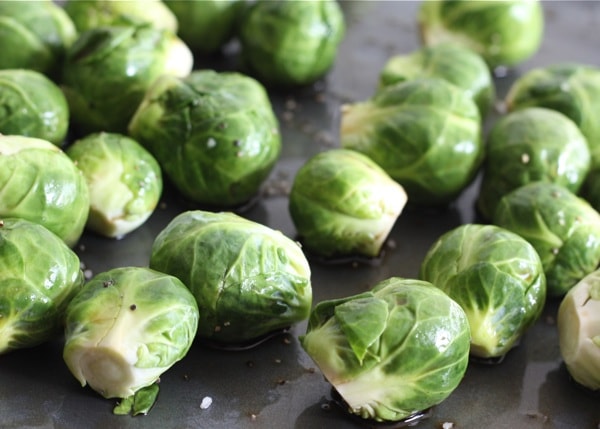 OTHER RECIPES
Roasted brussels sprouts with balsamic vinegar are the perfect holiday side dish. They are so easy to make. All you have to do is toss the sprouts in a little olive oil, balsamic vinegar, and salt and pepper. The oven will do the rest of the work. The thin outer leaves will crisp up and caramelize while roasting. The center of the sprouts stay tender and juicy. I like popping the sprouts into my mouth straight from the baking sheet. Sometimes they don't even make it to the table.
If you haven't tried roasted brussels sprouts with balsamic vinegar, please give these cute little sprouts a chance. They make the perfect vegetable side dish for Thanksgiving.
Do you like my photo background? You are looking at our new Caesarstone Quartz countertops! We are loving them! The kitchen is 95% done, I promise the big reveal is coming soon. Stay tuned!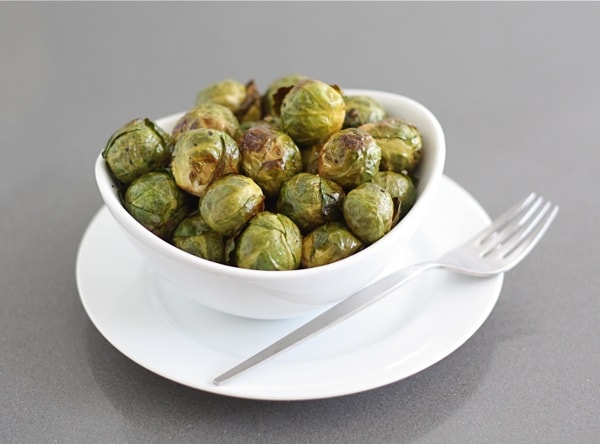 Roasted Brussels Sprouts with Balsamic Vinegar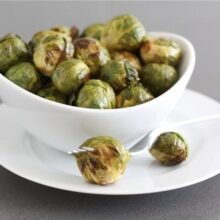 Yield: Serves 4
Cook Time: 30-35 minutes
Ingredients:
1 pound brussel sprouts, rinsed

2 tablespoons olive oil

3 tablespoons balsamic vinegar

Kosher salt and freshly ground black pepper, to taste
Directions:
1. Preheat the oven to 400 degrees F.
2. Cut off the ends of the brussels sprouts. If the brussel sprouts are large, cut in half. If they are small, it is ok to leave them whole.
3. Place sprouts in a medium bowl. Toss with olive oil and balsamic vinegar. Season with salt and pepper.
4. Pour sprouts on a baking sheet and roast 30-35 minutes or until sprouts are tender. Make sure you stir them a couple of times while they are roasting. Serve warm.
All images and text ©
.
Follow twopeasandpod on Instagram and show us what recipes you are making from our blog! Use the hashtag #twopeasandtheirpod! We want to see what you are making in your kitchen!
If you like these roasted brussels sprouts, you might also like:
Roasted Sweet Potatoes, Yams, and Brussels Sprouts from Two Peas and Their Pod
Roasted Brussels Sprouts with Sriracha and Mint from White on Rice Couple
Shredded Brussels Sprouts with Bacon and Walnuts from Pinch My Salt
Roasted Brussels Sprouts with Pecans from Kalyn's Kitchen