The brown butter makes this pear crisp extra special. Serve with vanilla ice cream for the ultimate fall dessert!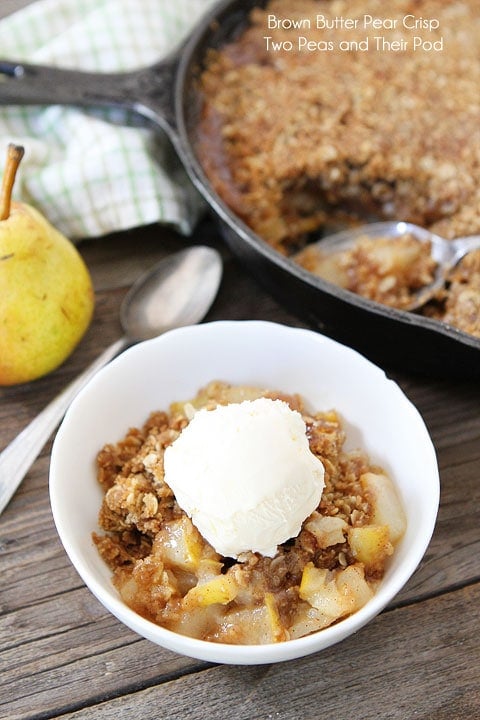 I've been on a brown butter kick lately. Brown Butter Buttermilk Syrup, Brown Butter Pumpkin Waffles, and I just made my favorite fall cupcakes-Brown Butter Pumpkin Cupcakes with Salted Caramel Frosting. I guess it's not really a kick, it's more of an obsession. I can't stop. I won't stop!
Today I am sharing a recipe for Brown Butter Pear Crisp. Brown butter makes everything better, including this pear crisp. I've always enjoyed pear crisp. It's a fine dessert. Well, this Brown Butter Pear Crisp is more than fine. It will sweep you right off your feet!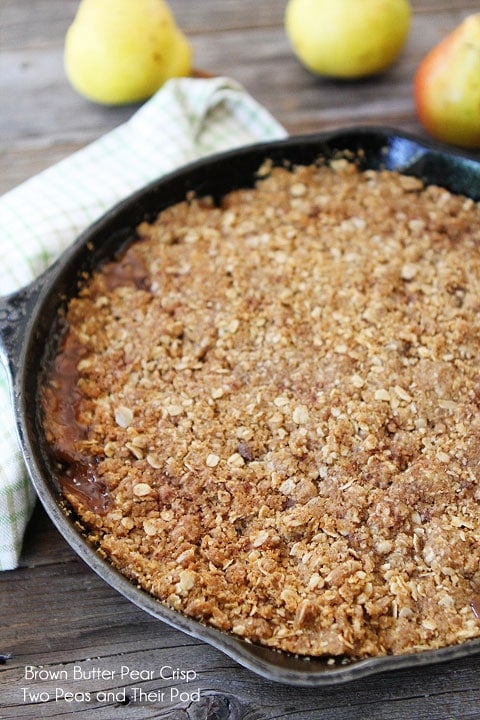 We have pears coming out our ears. Ok, they aren't really coming out our ears, but they are taking up my precious counter space. I made a few batches of Easy Pear Sauce, but that barely made a dent in our pear supply. So I made dessert, Brown Butter Pear Crisp to be exact. The pears made me do it!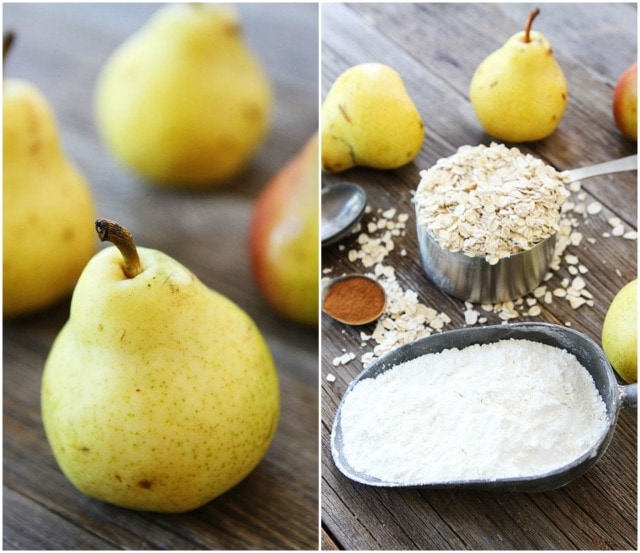 I started with ripe, juicy pears and added in the basics-lemon juice, sugar, Gold Medal Flour, oats, cinnamon, nutmeg, vanilla, and a little cornstarch.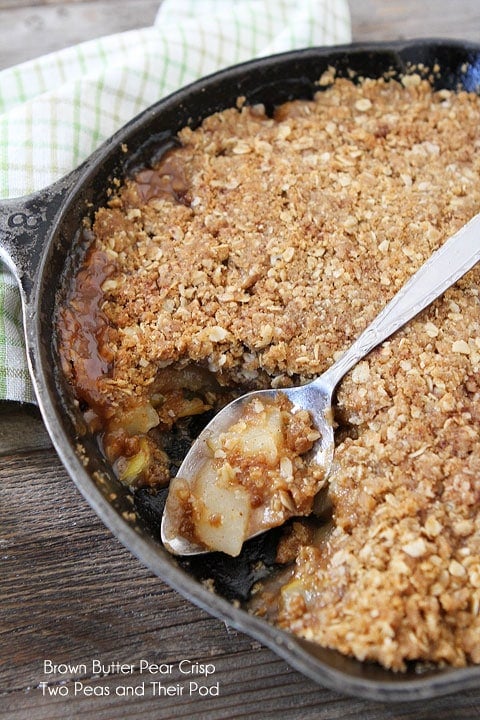 Next, I added the glorious brown butter topping! Go ahead, you can oooh and awww! This brown butter oat topping deserves it! It's fabulous!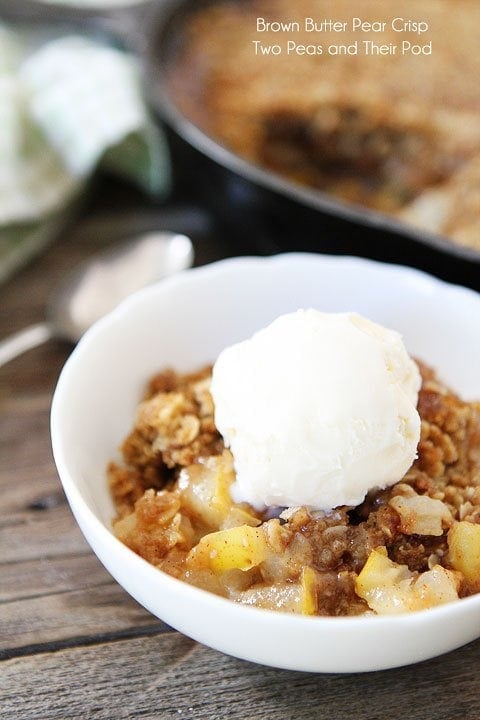 I baked the crisp in a cast iron skillet to give it an extra rustic look. If you don't have a cast iron skillet, you can use a baking dish. It will taste good either way!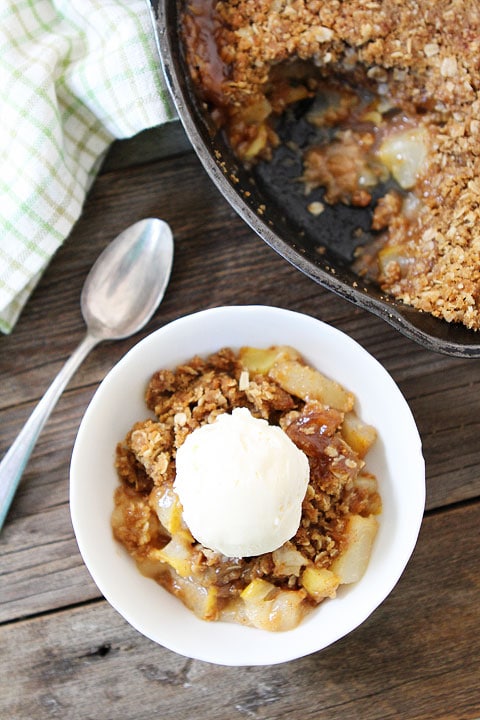 I baked until bubbly and paced back and forth until it was cool enough to eat. The brown butter cinnamon pear smell was driving me crazy! I was tempted to dive right into the bubbling crisp, but I didn't want to burn off my tastebuds. I've learned my lesson in my old age:) I wanted to make sure I could taste every single bite of this dessert!
When the crisp was cool enough to eat, I scooped a healthy portion into a bowl and topped it with vanilla ice cream. I enjoyed every single bite! And I may have enjoyed a second helping for breakfast the next day:) And if you want to go all out, you can add Salted Caramel Sauce too. It's always a good idea!
I hope you will join me in my brown butter obsession by making Brown Butter Pear Crisp. It is the perfect dessert for fall!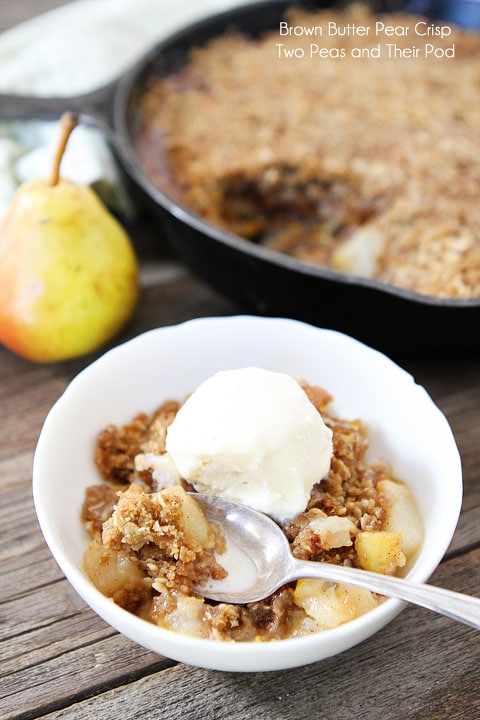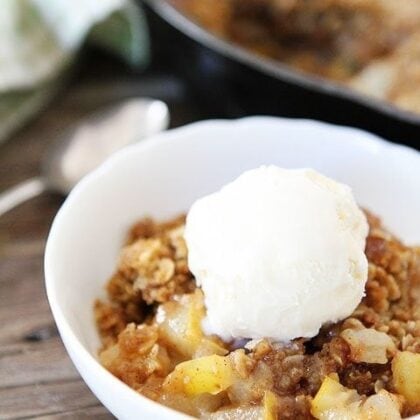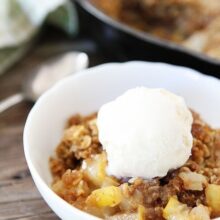 Brown Butter Pear Crisp
The brown butter makes this pear crisp extra special!
Ingredients
For the Brown Butter Crisp Topping:
Instructions
Preheat oven to 350 degrees F. Grease a 10-inch cast iron skillet and set aside.

In a large mixing bowl, combine pears, lemon juice, and vanilla. Toss to coat the pears. In a medium bowl mix together sugars, flour, cornstarch, cinnamon, and nutmeg. Sprinkle sugar mixture over pears and stir until combined. Pour pear mixture into prepared skillet and spread into an even layer. Set aside.

In a small saucepan, melt ½ cup of the butter over medium-low heat and continue to cook, swirling occasionally, until butter turns golden brown, Skim foam from top, and remove from heat. Pour into a bowl to stop the cooking, leaving any burned sediment behind; let cool.

In a large bowl, combine the oats, flour, salt, cinnamon, and brown sugar. Pour the browned butter over the mixture and stir well. Add in the remaining 2 tablespoons of cold butter and mix until crumbly. Pour mixture evenly over the pears.

Bake for 40-45 minutes or until the crumble topping it golden brown and the crisp is bubbling around the edges. Let cool for 10 minutes before serving. Serve warm with vanilla ice cream,

salted caramel sauce

, or whipped cream, if desired.

Note-if you don't have a cast iron skillet you can bake the crisp in a greased baking dish.
Have you tried this recipe?
Leave a comment below and share a photo on Instagram. Tag @twopeasandpod and hashtag it with #twopeasandtheirpod