Brown Butter Toffee Chocolate Chunk Cookies-the brown butter makes these cookies extra special. Plus, they have all of my favorite ingredients: toffee, chocolate chunks, and a sprinkling of sea salt. These cookies are a MUST make!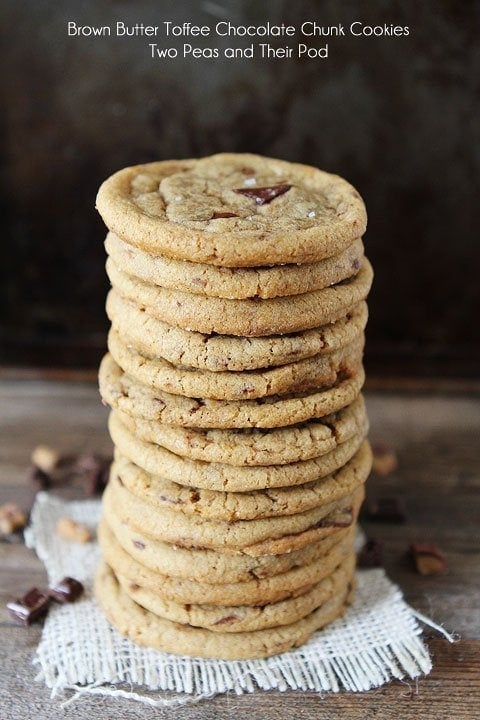 At my last check-up, my midwife told me I needed to gain a little weight. Nothing serious to worry about, I am just a little small for being 32 weeks pregnant. I am incorporating more healthy fats and calories into my diet…and more cookies. I am pretty sure gaining weight involves cookies, at least that is what I am telling myself:) I went home from my appointment and baked Brown Butter Toffee Chocolate Chunk Cookies and enjoyed one for me and one for the baby…and maybe a few extras:)
I can't even begin to describe how good these cookies are. They are almost too good to be true. The brown butter takes these cookies to a whole new level. If you haven't baked with brown butter, you are missing out! I love the deep, nutty flavor it adds to the cookie. And it isn't hard to brown butter, you just have to watch it closely and have a little patience.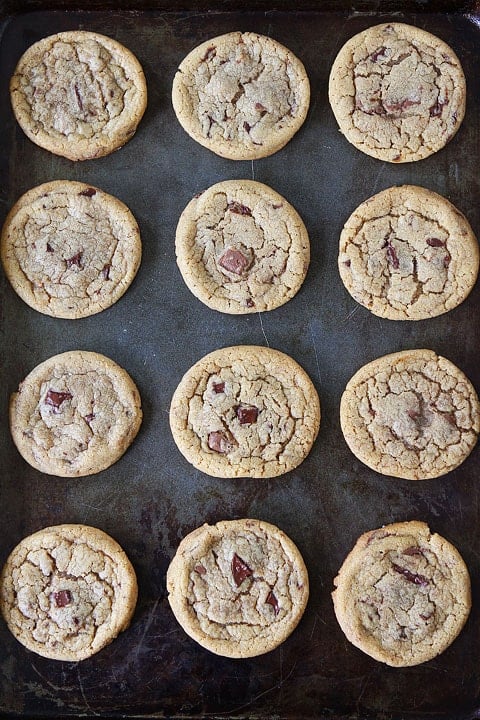 The cookies are chewy on the inside and crisp around the edges. And just when you think the cookies couldn't get any better, they do! I add in chunks of chopped up Heath candy bars. The toffee flavor goes perfectly with the brown butter. Oh, and I don't stop there, I finish the cookies with a touch of sea salt.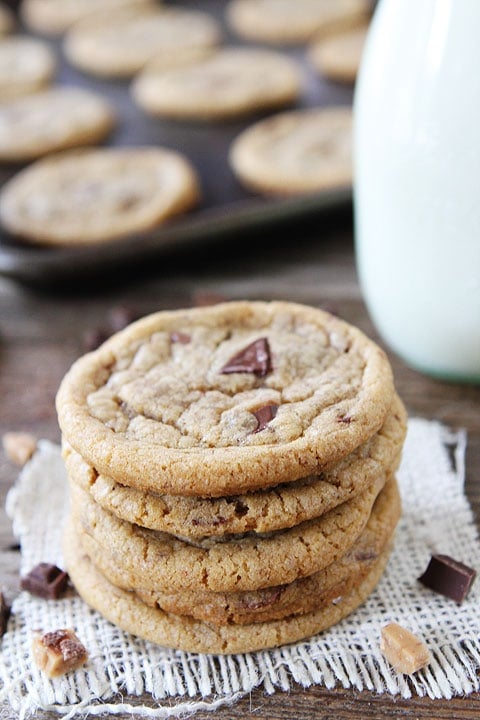 Brown Butter Toffee Chocolate Chunk Cookies pretty much perfect! I love everything about them! I could eat a big stack every day…and I just might until this baby is born! And FYI-these cookies freeze well. I put a few in our freezer to save for a rainy day, but I couldn't stay away. I've already gotten into my "secret" cookie stash in the freezer. Oops! 🙂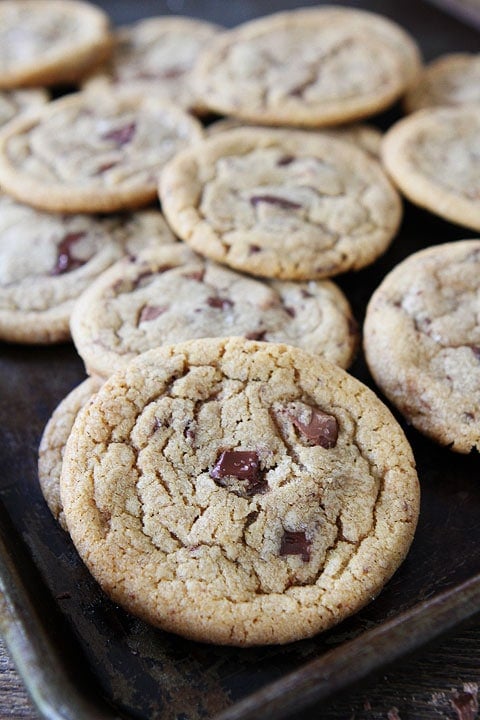 If you are looking for a new cookie recipe to try, look no further. You have to try my Brown Butter Toffee Chocolate Chunk Cookies. They are a favorite at our house and I think you will enjoy them too! Happy cookie baking!
If you are looking for more brown butter recipes, here are a few of our favorites:
Once you start browning butter, you can't stop:) Enjoy!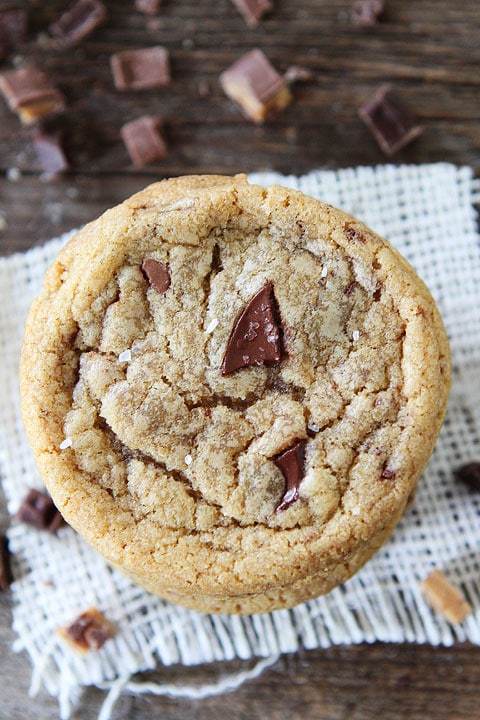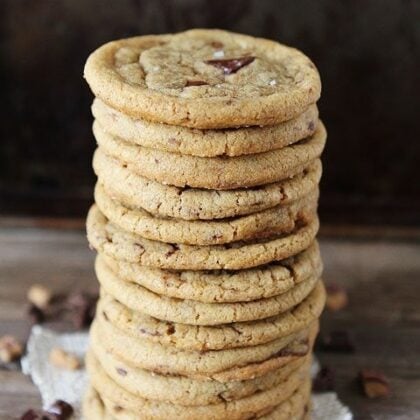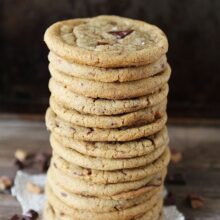 Brown Butter Toffee Chocolate Chunk Cookies
The brown butter takes these cookies to a whole new level. And then I add in toffee, chocolate chunks, and a little sea salt. These cookies are a must make!
Instructions
Cut one stick (½ cup) of butter into tablespoons. Place in a medium skillet. Melt the butter over medium heat, swirling it in the pan occasionally. The butter will foam and pop, so be careful. Continue to swirl the pan often. Remove pan from heat once the butter starts to brown and smells nutty. There will be small brown bits on the bottom. The butter should be an amber color. Pour butter into a small bowl and cool to room temperature, about 20 minutes.

While the brown butter is cooling, in the bowl of a stand mixer, combine the remaining ½ cup butter with dark brown sugar and granulated sugar. Beat until creamy and smooth, about 3-4 minutes. Add the cooled brown butter and mix until smooth.

Add the egg, egg yolk, and vanilla and mix until combined.

In a medium bowl, whisk together flour, cornstarch, salt, and baking soda. Gradually mix in the flour on low speed until just combined. Stir in the chocolate chunks and toffee chunks.

Form the cookie dough into a large ball and wrap in plastic wrap. Chill for at least 30 minutes.

When ready to bake, preheat oven to 350 degrees F. Remove dough from fridge and form into 2 tablespoon sized cookie dough balls. Place on prepared baking sheets, about 2 inches apart. Sprinkle with sea salt.

Bake cookies for 10 minutes or until slightly brown around the edges. Remove from oven and allow the cookies to cool on the baking sheet for 2-3 minutes. Transfer to a wire cooling rack and cool completely...or eat a warm cookie! I won't tell:) Store cookies in an air-tight container for 2-3 days. These cookies also freeze well.
Have you tried this recipe?
Leave a comment below and share a photo on Instagram. Tag @twopeasandpod and hashtag it with #twopeasandtheirpod