Salted Caramel Pretzel Brownies are fudgy, gooey brownies with pretzel pieces and a layer of salted caramel sauce. These brownies are the ultimate dessert.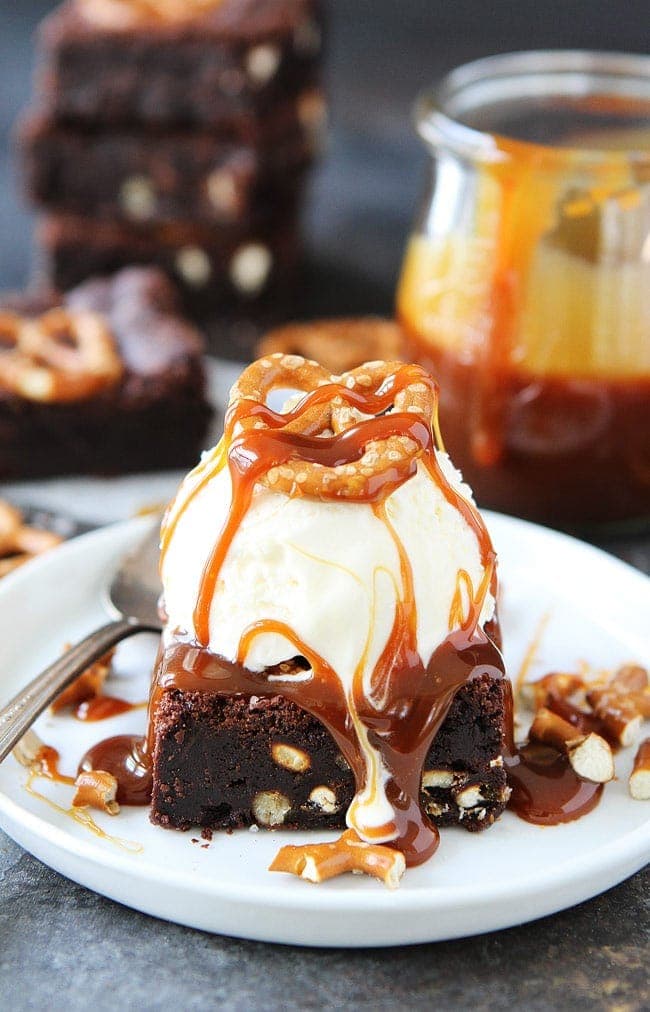 Are you looking for a dessert that will knock your socks off? Or maybe I should say knock your flip flops off since it's almost summertime and you probably aren't wearing socks:) Anyways, I have the dessert for you, these Salted Caramel Pretzel Brownies are insanely delicious.
If you are a regular reader of our blog, you know I LOVE all things salted caramel, especially when paired with pretzels. I've made:
I figured it was time to add brownies to the list!
Close your eyes and think rich, fudgy brownies with salty pretzel pieces and gooey salted pretzels. Don't open your eyes yet, we are not done, we still have to serve the brownies warm with a scoop of vanilla ice cream and a drizzle of salted caramel sauce. Ok, you can open your eyes now. Are you craving brownies now? You should be! And I just realized you had to read what I was writing, so you probably didn't close your eyes, but that is ok. Thanks for humoring me.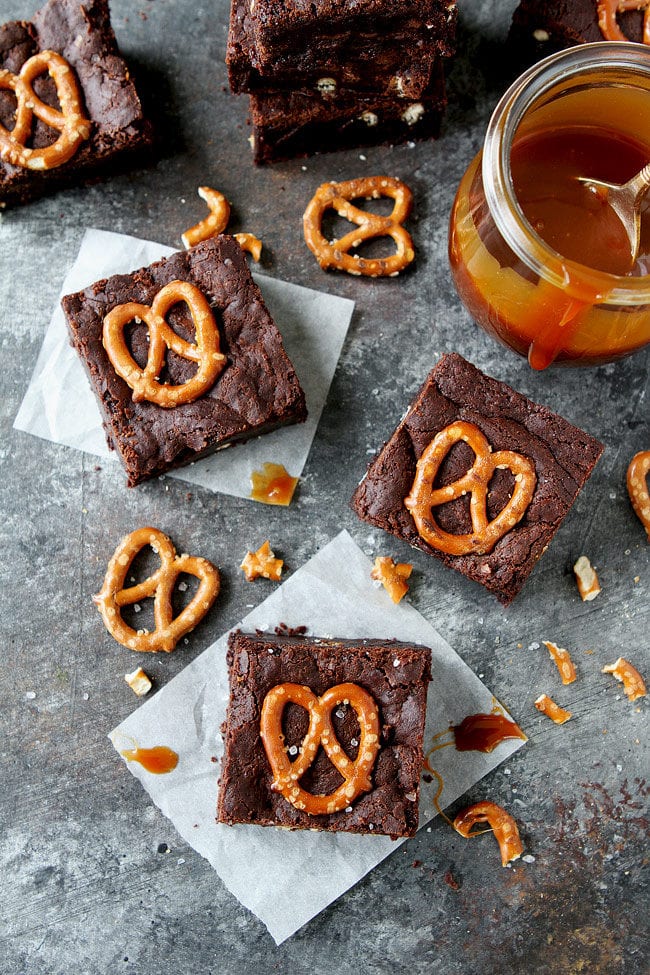 Don't let that craving drive you mad. Get into the kitchen right now and make these AMAZING brownies. You deserve them, I know you do!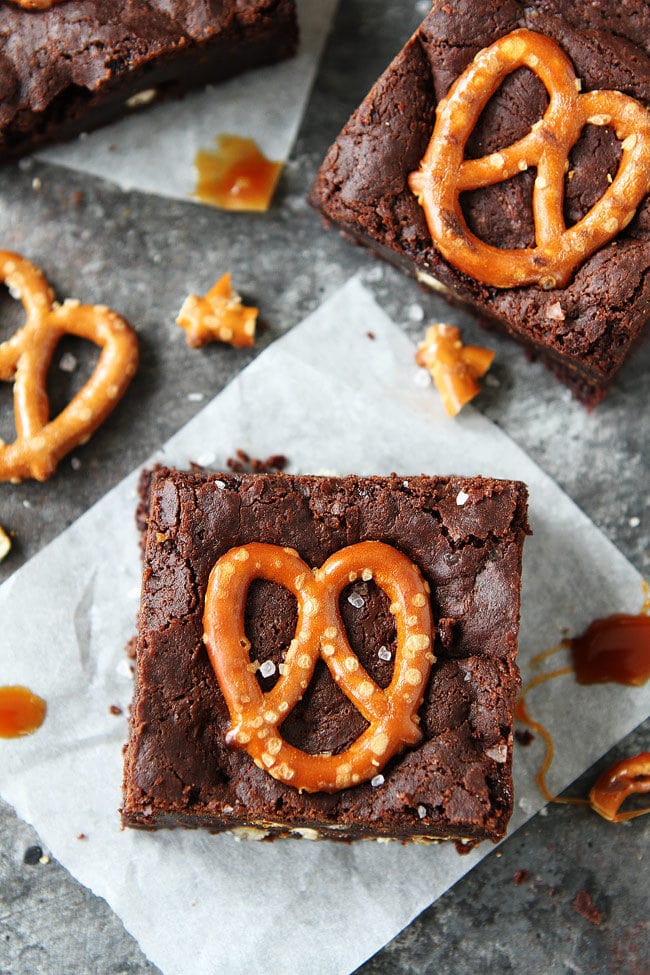 How to Make Salted Caramel Pretzel Brownies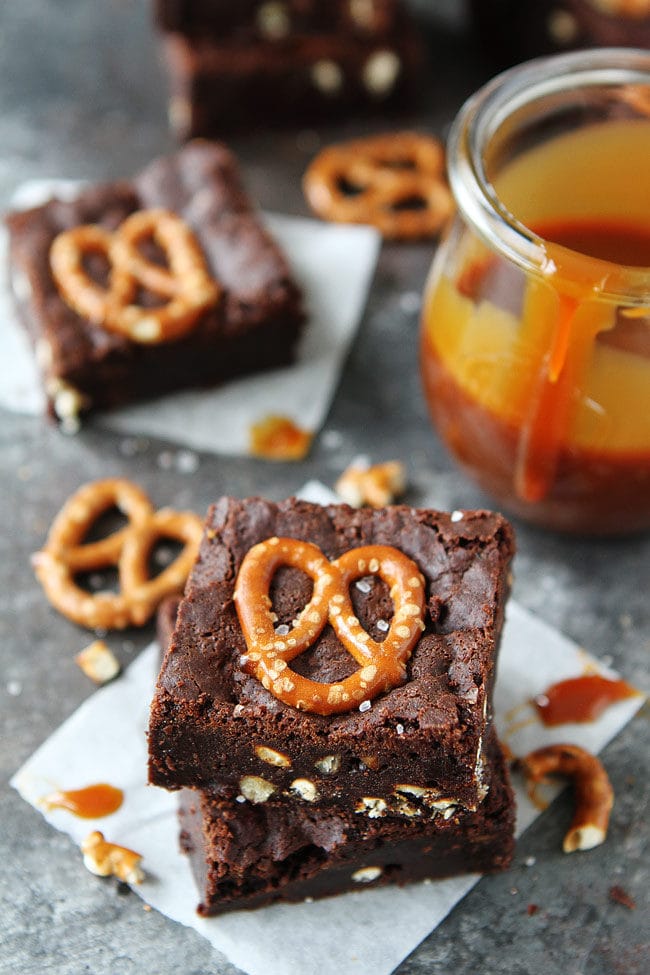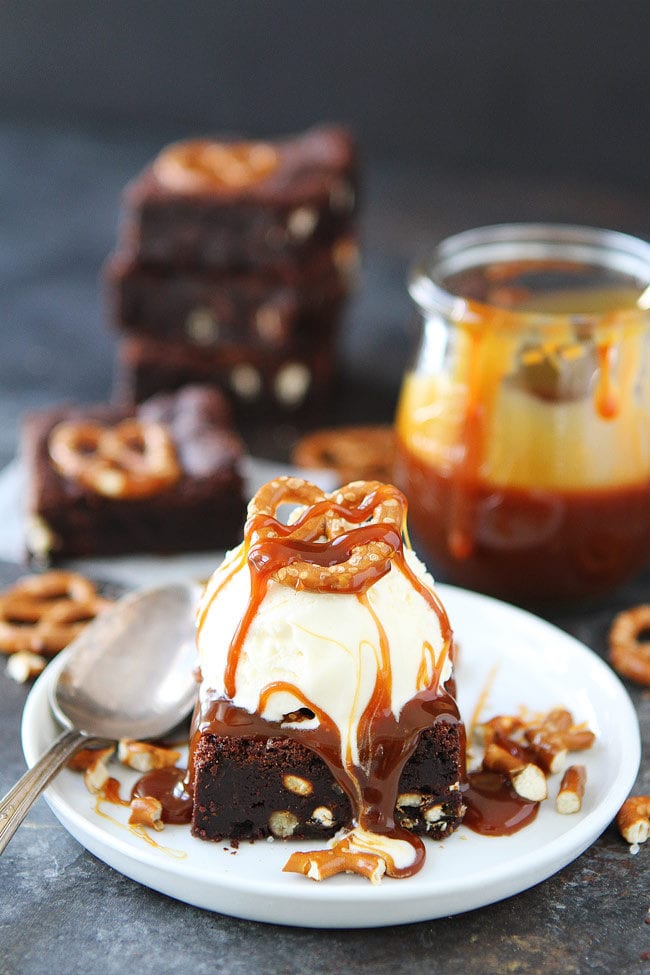 Are you ready for a Salted Caramel Pretzel Brownie? Ready, set, GO into the kitchen right now and make yourself a pan! And if you need a dessert to take to a party, potluck, barbecue, or celebration, take these brownies. Your people will LOVE you!
If you like these Salted Caramel Pretzel Brownies, you might also like: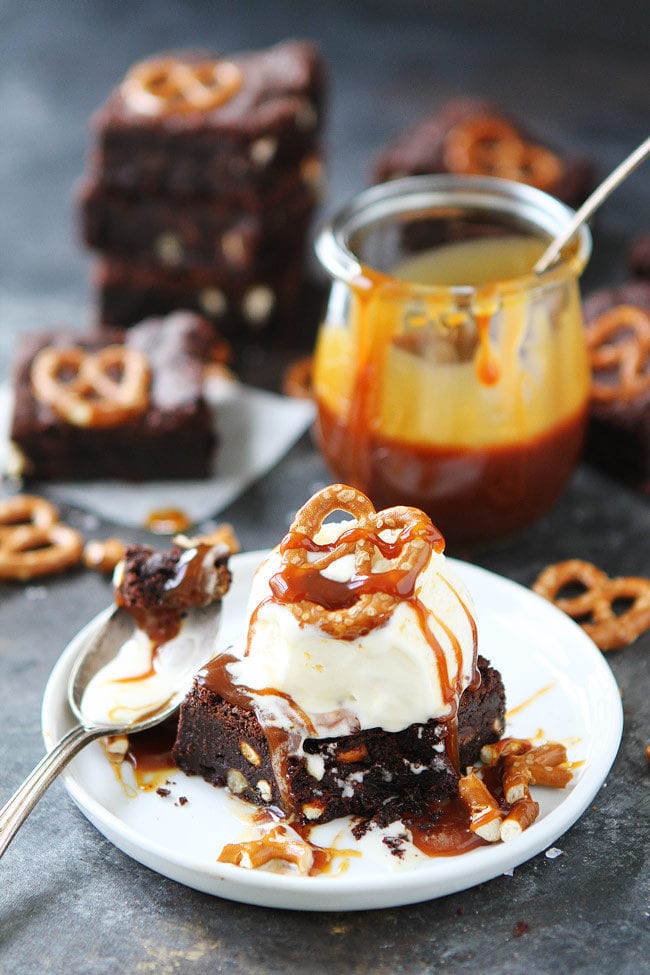 Salted Caramel Pretzel Brownies
These sweet and salty fudgy brownies are the BEST brownies. Serve with vanilla ice cream and extra salted caramel sauce for the most amazing dessert!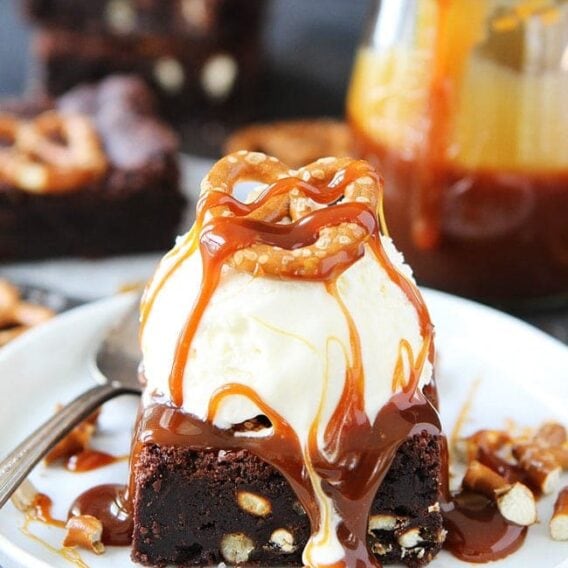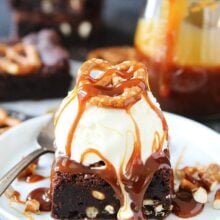 Prep Time

15

minutes
Cook Time

30

minutes
Total Time

45

minutes
Servings

24 brownies
Ingredients
1

cup

unsalted butter

2 1/4

cups

granulated sugar

1 1/4

cups

Dutch-process cocoa

1

teaspoon

baking powder

1

teaspoon

sea salt

1

tablespoon

vanilla extract

4

large eggs

1 1/2

cups

all-purpose flour

1 1/2

cups

semi-sweet chocolate chips

1 

cup

chopped pretzels

1/3

cup

salted caramel sauce

Whole pretzels

for topping the brownies

Extra sea salt

for sprinkling on the top of brownies

Ice cream and extra salted caramel sauce

for serving, if desired
Instructions
Preheat the oven to 350°F. Grease a 9″ x 13″ pan and set aside.

In a medium-sized saucepan set over low heat, melt the butter, then add the sugar and stir to combine. Stir until mixture is shiny, but do not let it bubble or boil. Remove from heat and pour the mixture into a large bowl.

Stir in the cocoa, baking powder, sea salt, and vanilla extract.

Stir in the eggs and stir until smooth. Add the flour, chocolate chips, and chopped pretzels.

Pour half of the batter into prepared pan. Drizzle the

salted caramel sauce

evenly over the brownie batter. Top with the remaining brownie batter and smooth with a spatula. Top with whole pretzels and sprinkle with additional sea salt.

Bake the brownies for about 30-35 minutes, or until they are set and a toothpick inserted into the center comes out clean, or with just a few moist crumbs clinging to it. Remove pan from the oven and cool on a rack. Cut into squares and serve.

Note-the brownies will keep in an airtight container in the refrigerator for 3-4 days. Bring to room temperature before serving. I like to eat them cold too:) They are also great served with a scoop of ice cream and extra caramel sauce.