jump to recipe
Easter Saltine Toffee
Easter Saltine Toffee-everyone goes crazy for this simple, sweet and salty cracker toffee! It is a fun treat for Easter or any holiday!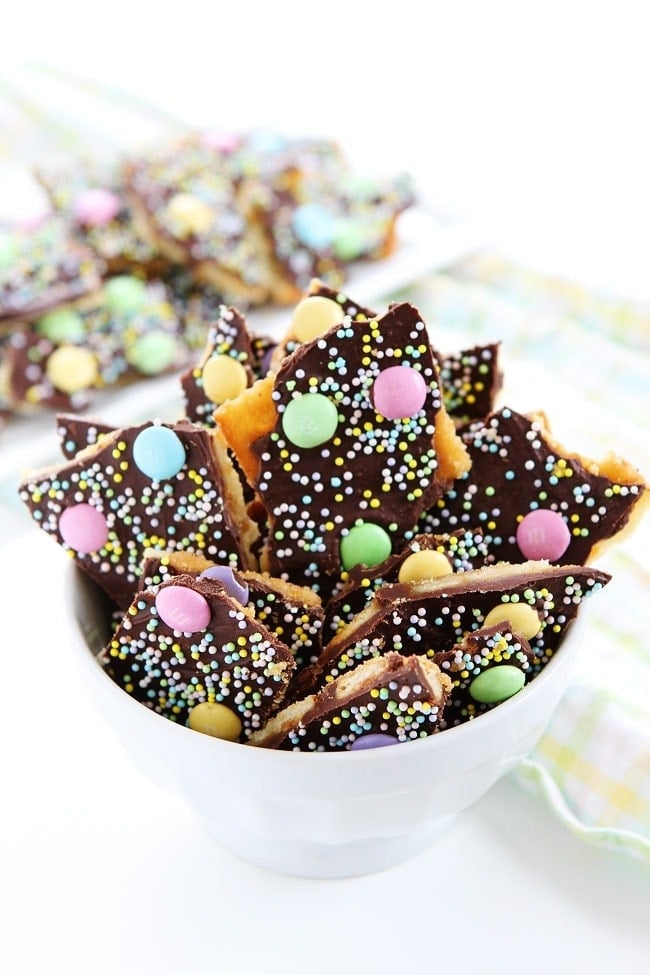 I have some fun news to share! I am going to Waco, Texas this week to stay at Chip and Joanna's new Bed and Breakfast, The Magnolia Home. I am beyond excited. I am a HUGE Fixer Upper fan and I LOVE Chip and Jo. They are the cutest couple ever and I love their work. I wish they were designing our house, but they only work in Texas…I checked:) I am going with a group of blogging friends so it is going to be a FUN girls weekend in Waco. Make sure you follow along on Instagram and Snapchat, twopeasandpod. I will be sharing all of our Waco adventures!!
I leave on Thursday and get back really late Saturday night. I wanted to be back for Easter Sunday so I can celebrate with my boys. Soooooo…this week is kind of crazy! I am trying to get work done, pack, and get everything ready for Easter. I made a batch of Easter Saltine Toffee yesterday so I don't have to make it when I get back.

OTHER RECIPES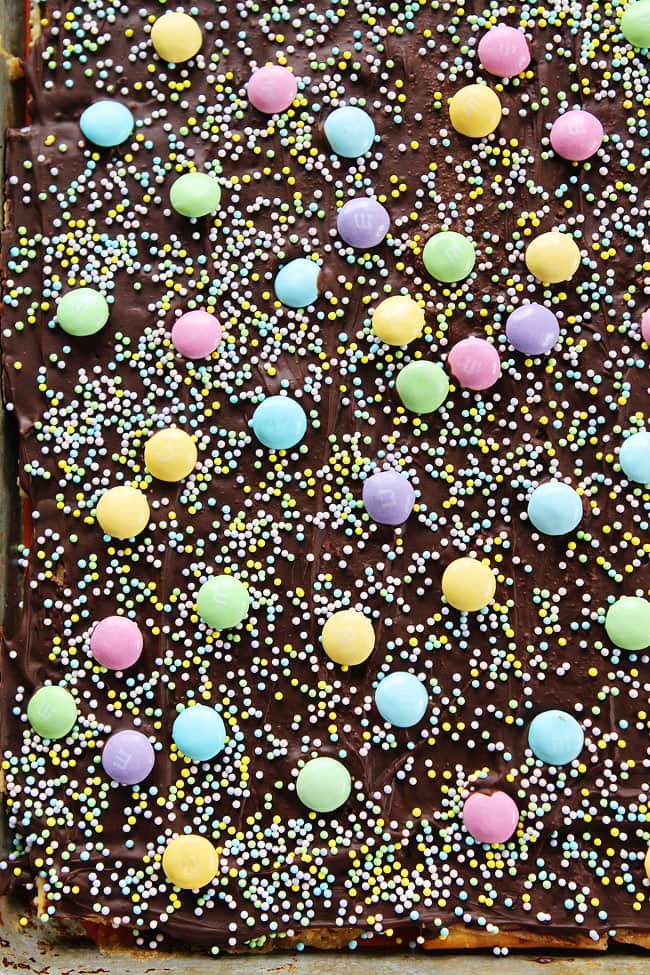 I love this toffee for so many reasons. It is super simple, you only need five ingredients…well, six if you count the sprinkles and I really think you should use sprinkles because they make the toffee fun and springy! Anyways, this toffee is SO easy. It comes out perfect every time and you don't even need a candy thermometer. You really can't mess it up!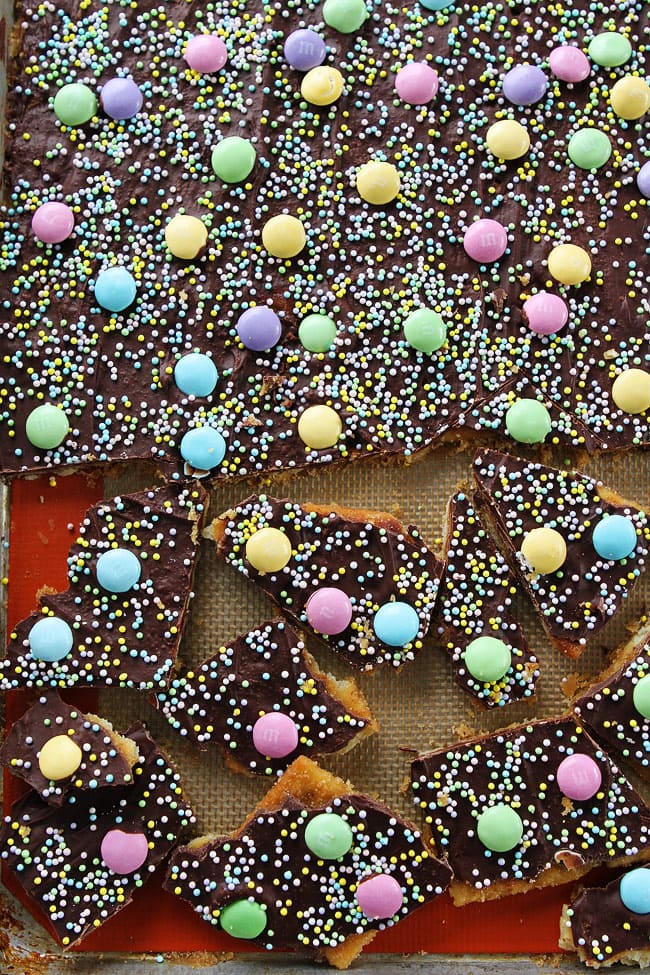 You might think the saltine crackers sound odd as a toffee base, but trust me on this one. The sweet and salty combo is incredible! The toffee is crunchy, buttery, sweet, salty, and topped with a layer of chocolate. Mmmmmm!
We love making this toffee for holidays because it is easy and everyone loves it. I usually make a batch of my Easy Graham Cracker Toffee and a batch of this Saltine toffee. Both are winners and never last long because this toffee is ADDICTING! Some call it crack and I know why because I can never resist.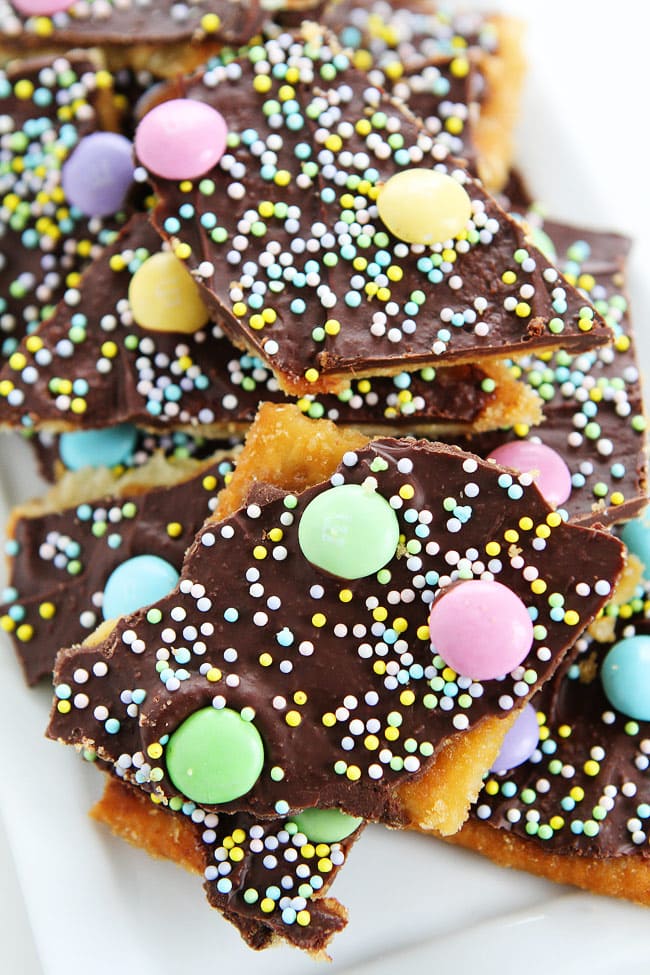 I added Easter candy and pastel sprinkles to make the toffee extra pretty for Easter. You can use nuts if you wish…I just wanted the toffee to be festive! You can mix the colors up for any holiday!
I also love this toffee because it can be made in advance. It will keep in the fridge for a few weeks and in the freezer for a few months. My toffee is already done and now I don't have to stress on Easter. The saltine toffee is ready for the bunny!
I can check Saltine Toffee off of my to do list! It is ready for Easter! You should make it too! It is a great treat to put in Easter baskets or put out on a platter at Easter brunch or dinner. Just beware, it won't last long and the bunny might steal it:)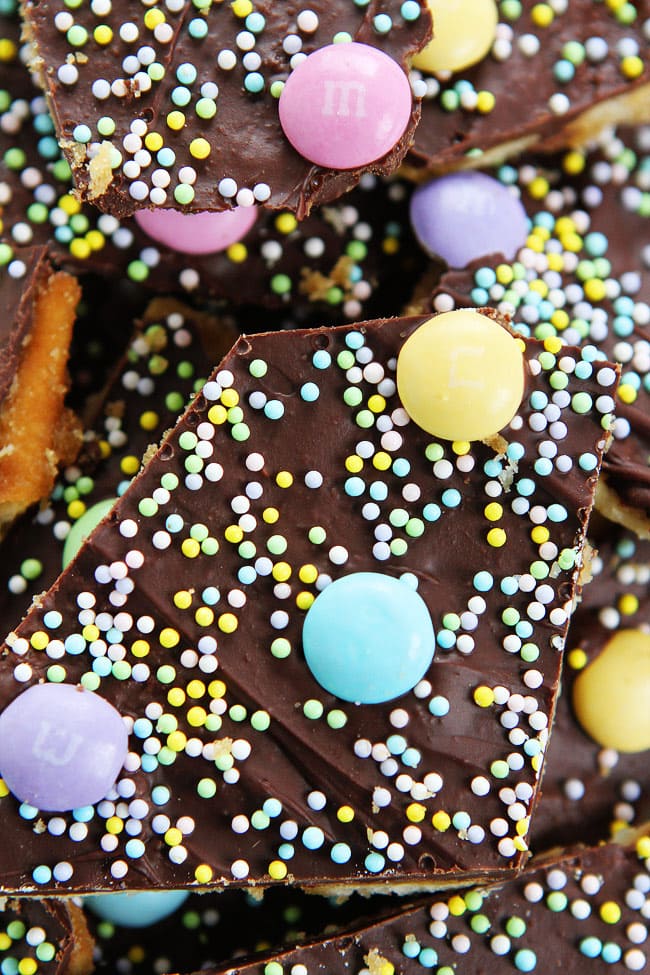 Easter Saltine Toffee
Everyone LOVES this simple, sweet and salty cracker toffee! It is a fun treat for Easter or any holiday!
Yield: About 30 pieces of toffee
Prep Time: 10 mintues
Cook Time: 15 minutes
Total Time: 2 hour 15 minutes
Ingredients:
40 saltine crackers
1 cup unsalted butter
1 cup brown sugar
2 cups chocolate chips
1 cup M&M's or other chocolate candies
Sprinkles, if desired
Directions:
Preheat oven to 350 degrees F. Line a large baking sheet with a Silpat baking mat, parchment paper, or aluminum foil. If you are using aluminum foil, spray lightly with nonstick cooking spray. Place saltine crackers in a single layer, touching, on the large baking sheet. Set aside.
In a medium saucepan, melt butter and brown sugar together over medium-high heat. Bring butter and brown sugar mixture to a boil. Boil for 3-4 minutes, stirring constantly. Pour mixture evenly over saltine crackers. Bake for 8 minutes or until topping is bubbling.
Remove the pan from the oven and immediately sprinkle chocolate chips evenly over the top of the crackers. Let the chocolate chips sit for 2 minutes so they have a chance to melt. Spread melted chocolate with a knife or rubber spatula. Sprinkle with candy and sprinkles, if using.
Let the toffee sit for about 2 hours or until the chocolate hardens. You can refrigerate the toffee for an hour, or freeze for 30 minutes. When chocolate is set up, break the toffee into pieces and serve!
Note-You can top the toffee with chopped pecans or almonds. You can also mix up the candy and sprinkle colors for any holiday. The toffee will keep up to 2 weeks in an airtight container in the fridge or in the freezer for up to 2 months.
All images and text ©
.
Follow twopeasandpod on Instagram and show us what recipes you are making from our blog! Use the hashtag #twopeasandtheirpod! We want to see what you are making in your kitchen!