Quick Summary
This is the best Puppy Chow (Muddy Buddies) recipe and it's SO easy to make! Prepare to be totally hooked on this addicting chocolate peanut butter treat. Homemade puppy chow is the perfect party snack and it's an instant hit during the holidays.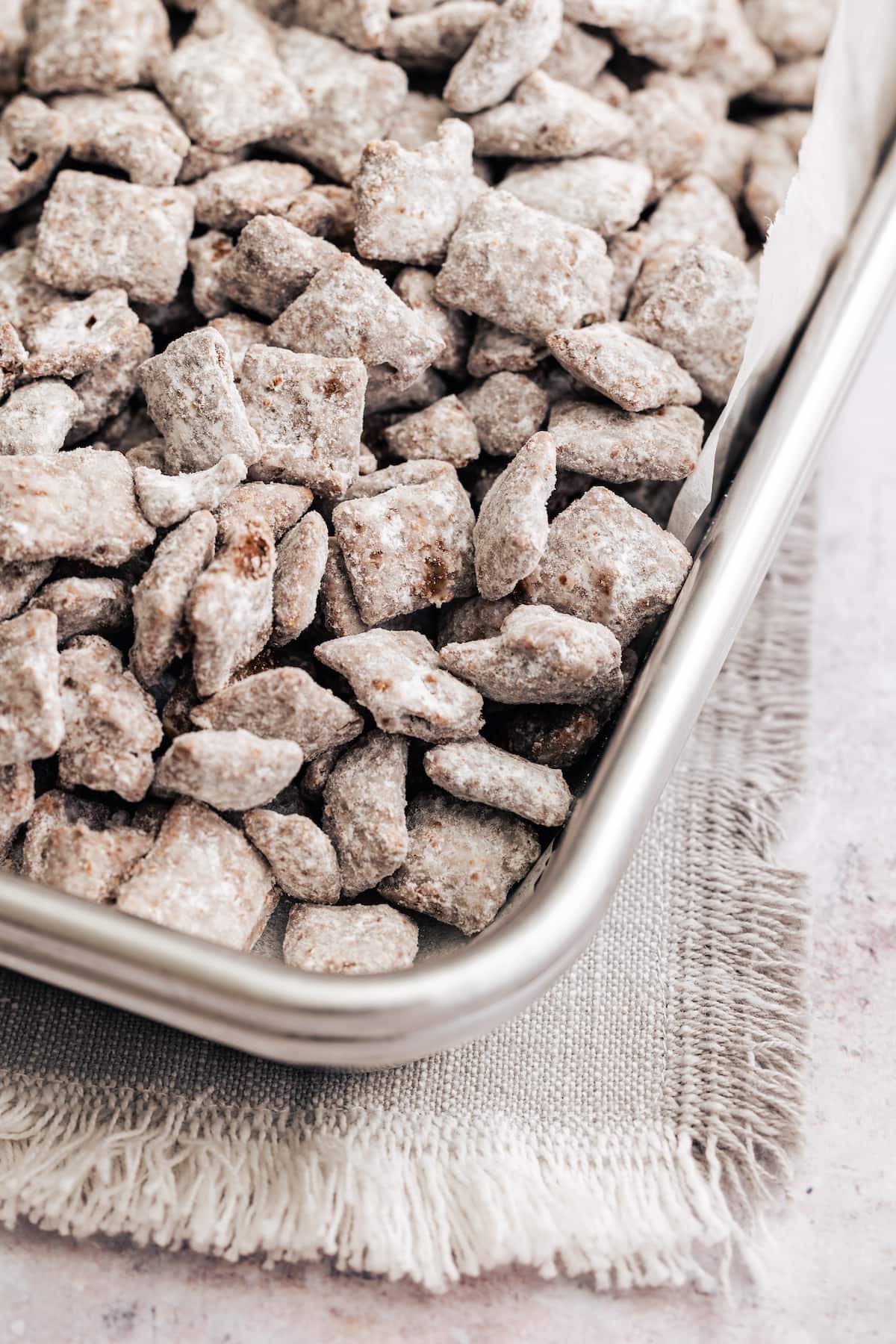 Puppy chow is one of my all-time favorite party snacks. And I promise I'm not talking about dog food! The puppy chow we're making today is a delicious and decadent homemade candy loaded with sugary chocolate and peanut butter goodness.
We're taking Chex cereal, coating it in chocolate and peanut butter, and tossing it in powdered sugar. It's a bit like dessert Chex Mix, and a whole lot of YUM. I grew up making and eating puppy chow, and it's always been a staple at our house, especially during the holidays.
Those of you who've had puppy chow before already know this is one of the best peanut butter treats of all time! And if you haven't made it, you are going to LOVE this easy recipe.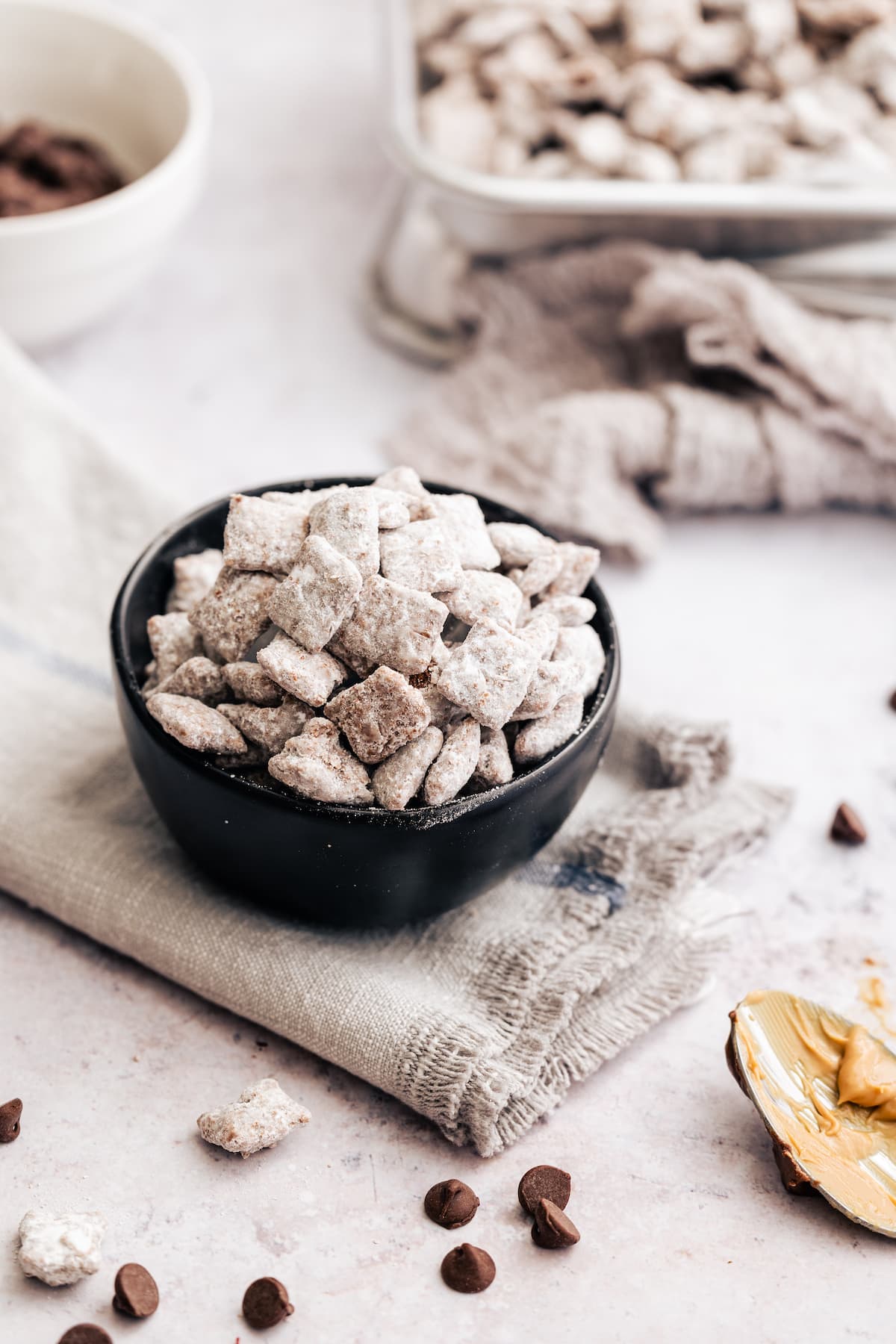 Why is it Called Puppy Chow?
This festive dessert is called puppy chow because, well, look at it. Doesn't it look an awful lot like real puppy kibble? That being said, please don't feed this recipe to your fur babies. This chocolate-loaded puppy chow is strictly for pet parents only!
Puppy Chow vs Muddy Buddies
There's sort of an ongoing debate about the name of this chocolate-covered cereal treat. Some people call it puppy chow, while others know it by different names: muddy munch, monkey munch, or muddy buddies.
Muddy Buddies is actually the official name of the recipe marketed by General Mills, the maker of Chex cereal. Names like "puppy chow" and others have become layman's terms for homemade versions like this one.
Depending on the holiday and season, you'll see recipes for Reindeer Chow at Christmas, Bunny Bait at Easter, and even Leprechaun Bait for St. Patrick's Day. I grew up calling this recipe puppy chow, so that's what we are going with today. Whatever you call it, it will always be delicious!
What You'll Need
If you need an easy treat to take to a party, this puppy chow is a hit! The ingredients are simple and I can almost guarantee that the whole batch will be gone by the end of the night.
You'll need the following ingredients to make a big bowl of puppy chow. Be sure to refer to the recipe card for the full details:
Rice Chex Cereal – Chex Cereal is the classic ingredient in puppy chow. You can use Corn Chex cereal, I just prefer the rice cereal flavor. Crispix will also work, the shape of your puppy chow will just be a little different from the photos.
Chocolate Chips – Semi-sweet chocolate chips, or milk chocolate chips.
Peanut Butter – Think JIF or Skippy for this puppy chow recipe! I highly recommend using creamy peanut butter and not natural peanut butter. Natural peanut butter has excess oils and the puppy chow coating won't set up properly.
Butter – I tend to use unsalted butter. However, if you want a little salty kick, salted butter works too.
Vanilla Extract – A little vanilla extract goes a long way in terms of flavor!
Powdered Sugar – a.k.a. Confectioners' sugar. Powdered sugar gives the puppy chow the perfect sweet finish, along with its signature sugar-dusted look.
Easy, right? Luckily, these common ingredients are almost always on hand in my pantry. So I can make puppy chow anytime and all of the time, obviously.
How to Make Puppy Chow
Did I mention that puppy chow is a no-bake dessert? That's just one more reason to love it. Your fingers will be covered with powdered sugar by the end of it and you'll be buzzing from the smells of peanut butter and chocolate! Not really a bad thing.
Here's how to whip up a big batch of puppy chow in no time: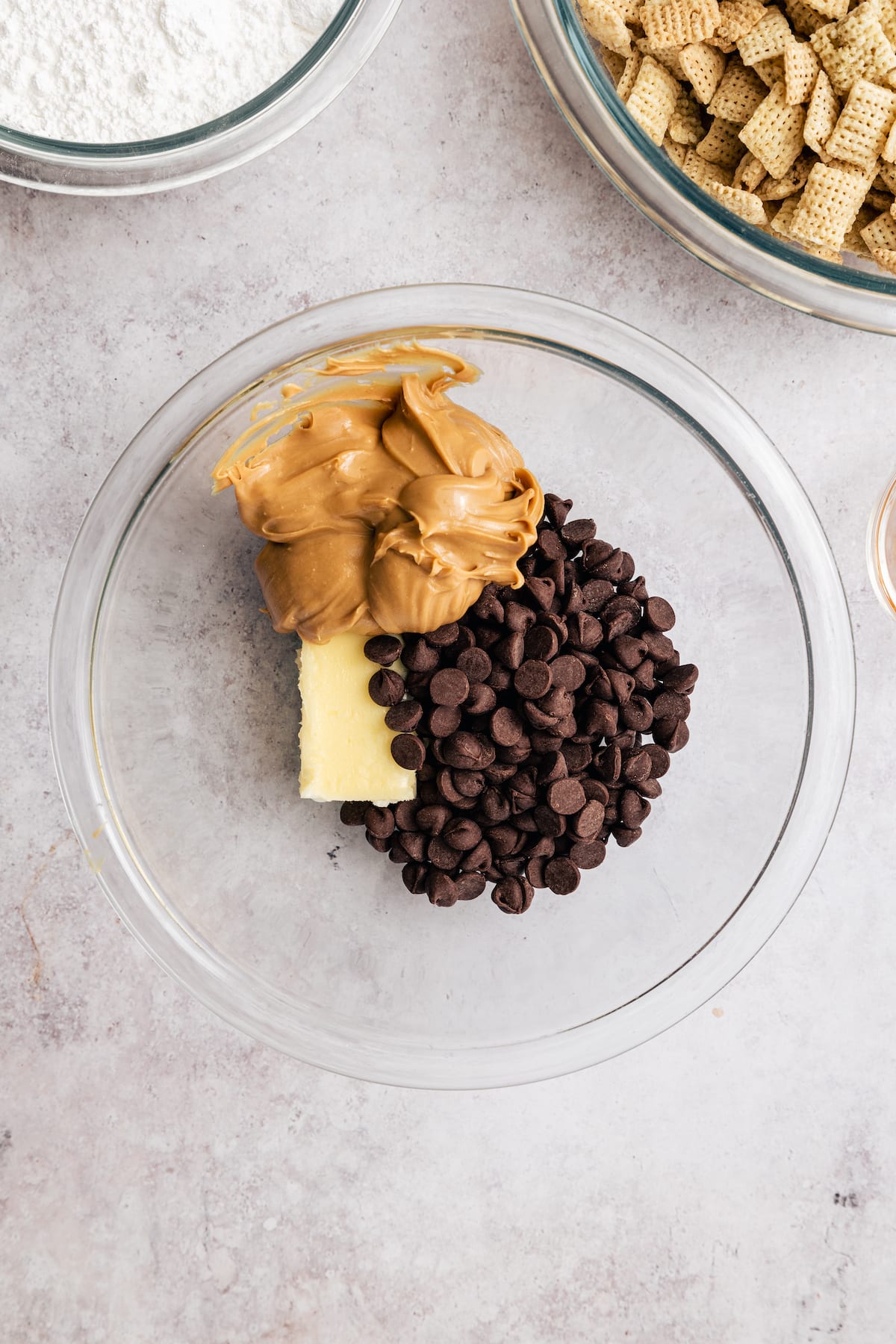 Prepare your chocolate and peanut butter mixture. Use a medium, microwave-safe bowl to melt the chocolate chips, butter, and peanut butter together. Start with 1 minute on high, stir, and heat again in bursts, stirring in between until the mixture is smooth. Lastly, add in the vanilla extract.
Place your Chex Cereal in a large bowl. You will need six cups of Rice Chex. A lot of recipes I've seen call for nine cups, but a friend once taught me that six is the magic number. It really maximizes the chocolate peanut butter flavor. I'm officially converted!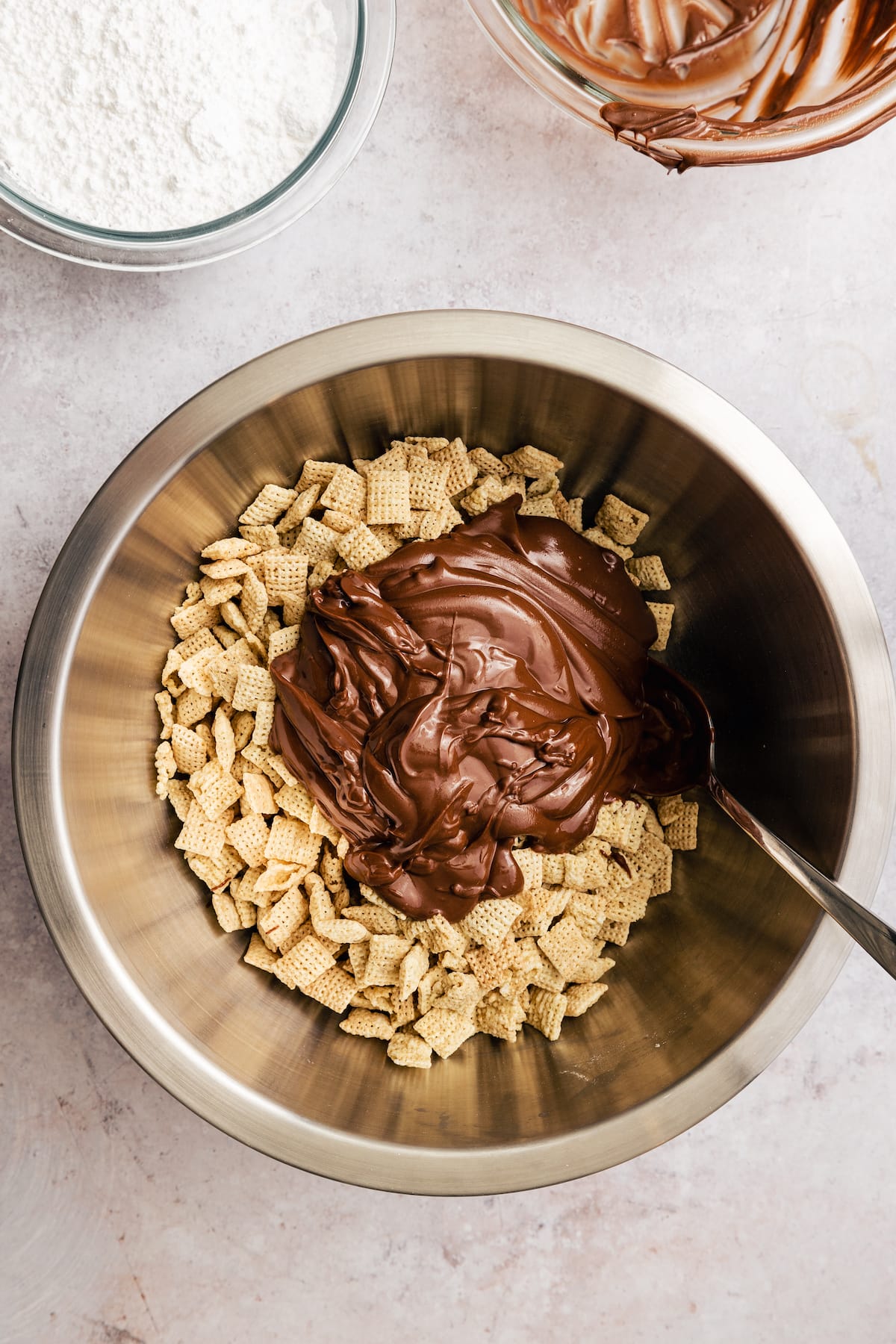 Pour the chocolate peanut butter mixture over the cereal. Stir the mixture GENTLY with a spatula, making sure to not crush the cereal. You want it to stay in whole, grabbable pieces! When the cereal is evenly coated, transfer it to a large Ziploc bag.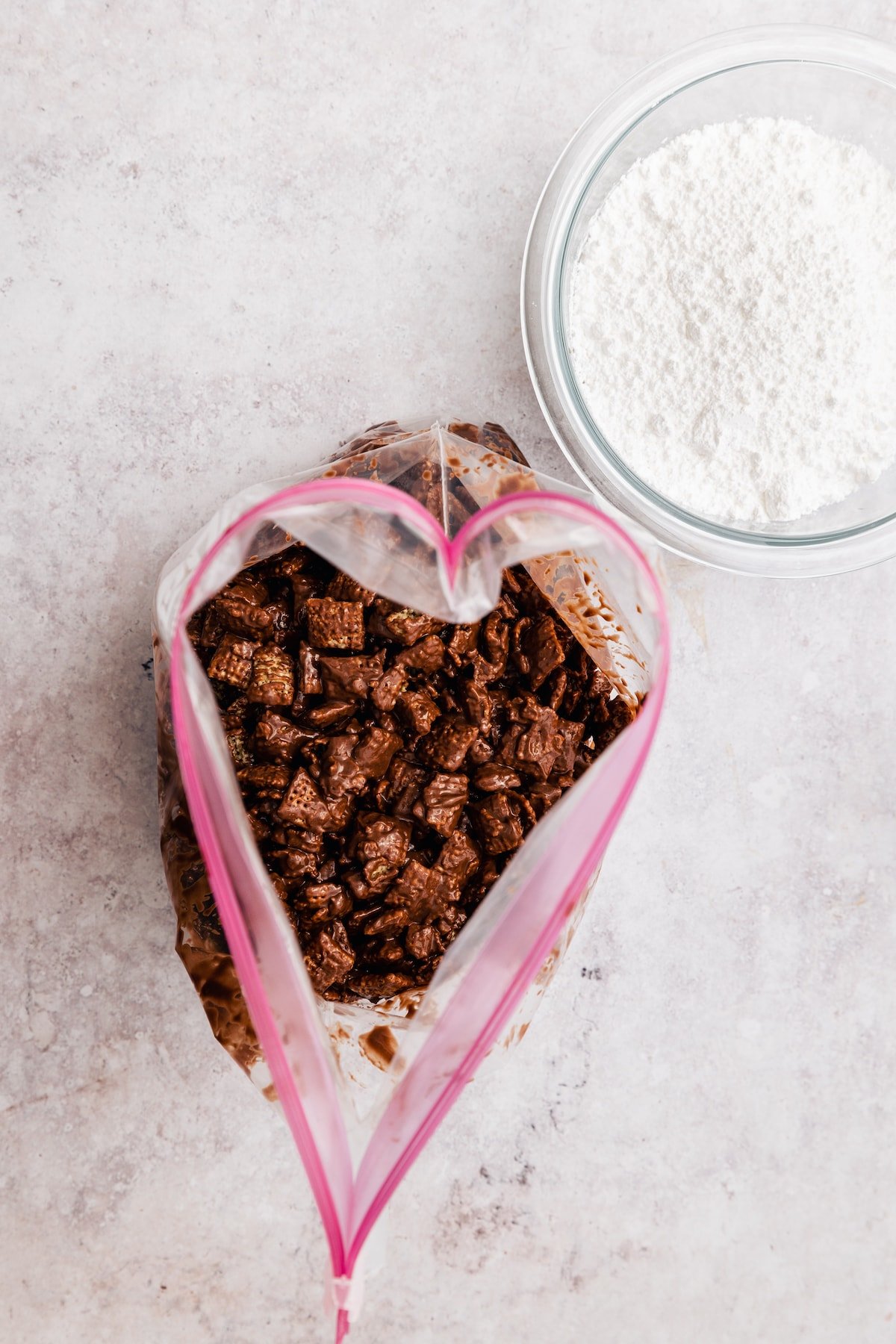 Add the powdered sugar. You will need 1½ to 2 cups of confectioner's sugar, depending on how well-coated you like your puppy chow. Make sure to seal the bag before you give it a good shake! Kids love helping with this part. Shake your chow until all of the cereal is evenly coated in white.
Pour the puppy chow out onto a big piece of parchment paper. Or wax paper. Spread the puppy chow in a single layer so it can cool without sticking together. Let it sit until the chocolate is completely hardened. To speed up the process, you can also spread it out on a tray and pop it into the refrigerator.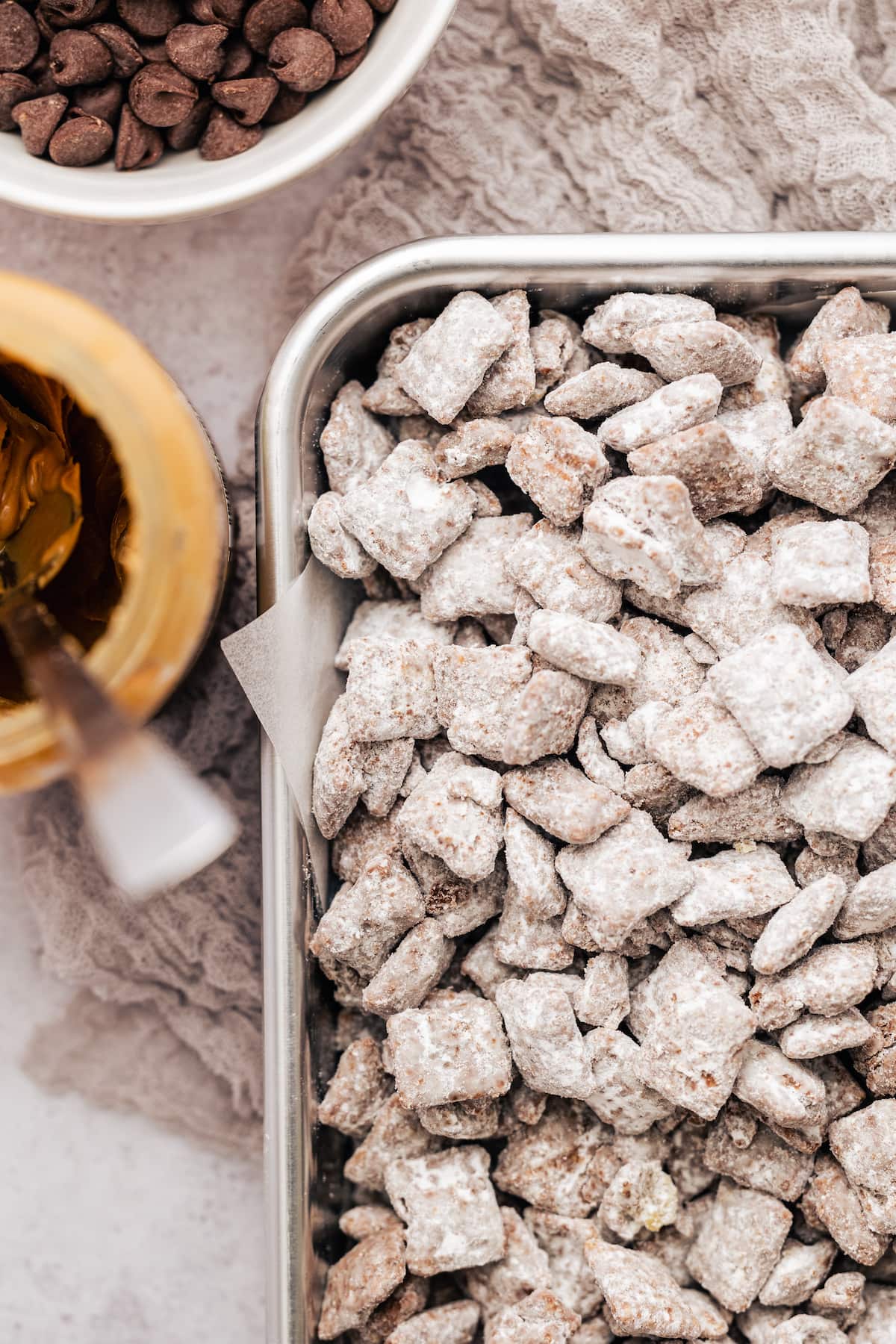 Tips and Variation Ideas
A few tips for making the best puppy chow, a.k.a. Muddy buddies:
Don't overmix. Not only does overmixing run the risk of crushing the Chex cereal, but you also want to be left with the occasional indulgent clump of chocolate and peanut buttery cereal!
Don't go easy with powdered sugar. In some dessert recipes, less is more. This is not one of those. Make sure you really get everything well-coated in powdered sugar. You may need to add more than you think!
Make s'mores puppy chow. If you're looking to change things up, I have an absolutely amazing recipe for s'mores puppy chow for you to try. It brings Graham crackers, mini marshmallows, and chunks of chocolate into the mix, and the results are DELICIOUS.
Add coconut. Try chocolate coconut Chex Mix for another variation of puppy chow, made with Chex cereal coated in chocolate and shredded coconut.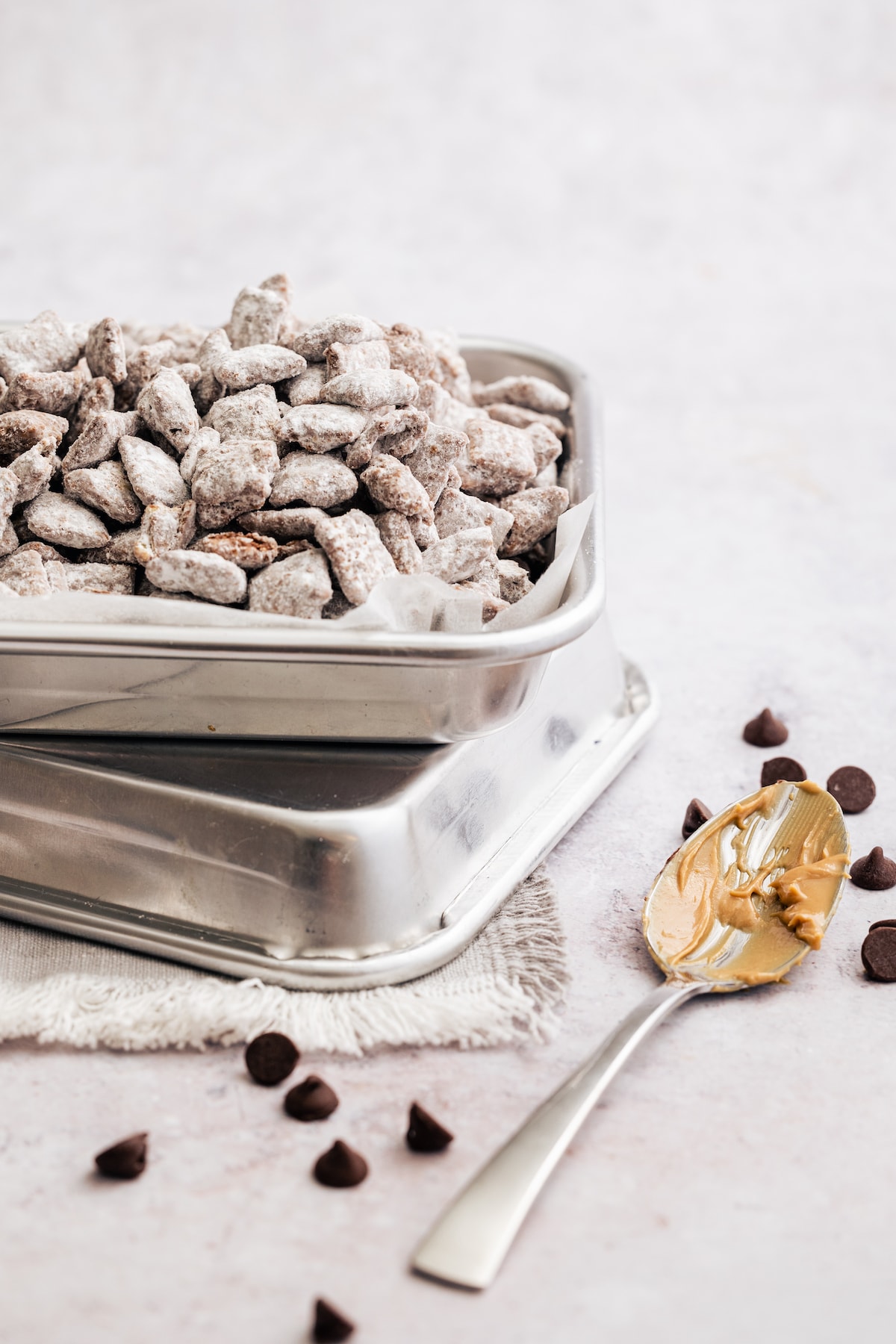 Common Questions
Let's answer a few FAQs about puppy chow:
How long is puppy chow good for?
Stored airtight, homemade puppy chow will stay fresh at room temperature for up to 2 weeks. Then again, if yours lasts that long without being devoured, you seriously deserve a medal! See below for more tips on how to properly store your puppy chow.
What if I'm allergic to peanut butter?
For allergy-friendly, peanut butter-free puppy chow, the peanut butter in this recipe can be substituted with another variety of nut or seed butter. Good alternatives are cashew butter, almond butter, soy butter, or sunflower seed butter (like SunButter).
Can I make puppy chow ahead?
Yes! Puppy chow's long shelf life makes it perfect to make ahead, to have on hand for more than one occasion. I love to make huge batches during the holidays for this reason. Endless on-hand party snacks and gifting, all season long!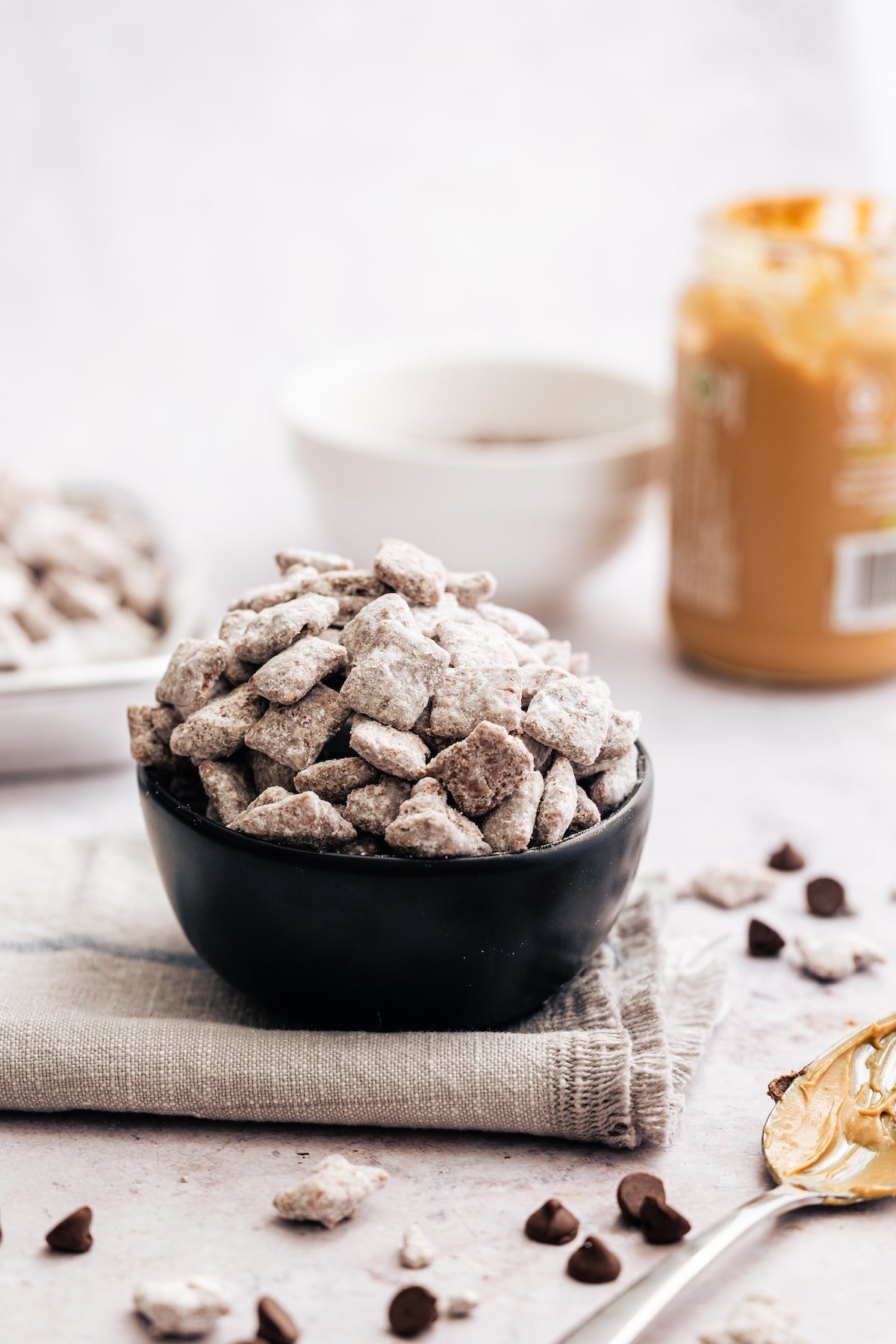 How to Store
Once the puppy chow is cool and hardened, store it in a large airtight container on the counter for up to 2 weeks. You can also keep puppy chow in the fridge if your kitchen is particularly warm, to prevent the chocolate from sticking.
Puppy chow is also fabulous for gifting. Store it in decorative Christmas tins or bags to give to friends, family, and neighbors for the holidays. I've never met anyone who isn't thrilled to receive a gift of chocolatey homemade candy!
Can I Freeze It?
Yes! Stash a batch of puppy chow in the freezer for easy thawing whenever the occasion calls for it. Store it in a freezer-safe, airtight container or freezer bag, and keep it frozen for up to 2 months. Make a huge batch at Halloween, and you'll be well-stocked until Christmas!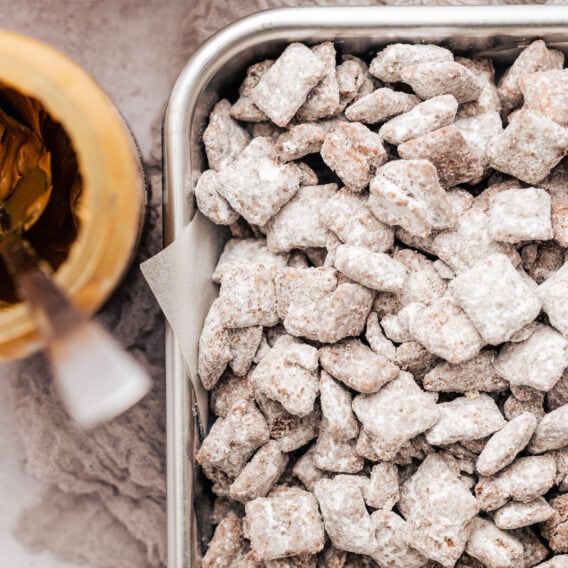 Puppy Chow
Sweet and sugary, homemade Puppy Chow is easy to make and SO addicting. This recipe for chocolate peanut butter-coated Chex cereal is a perfect party snack, especially at the holidays!
Instructions
Place the chocolate chips, peanut butter, and butter in a medium microwave safe bowl. Microwave on high for 1 minute. Remove the bowl from the microwave and stir. Put the bowl back into the microwave and heat for an additional 30 seconds or until mixture is smooth when stirred. Add the vanilla extract and stir again.

Pour the cereal in a large mixing bowl. Add the chocolate peanut butter mixture and gently stir until cereal is evenly coated. Pour the coated cereal into a large Ziploc bag. Add the powdered sugar. Seal the bag and shake until the cereal is well coated. Spread on parchment paper or waxed paper. Let sit until cool and chocolate is set.

Store the puppy chow in an airtight container for up to 2 weeks. If it is warm in your kitchen, store the puppy chow in the refrigerator.
Nutrition
Calories:
161
kcal
,
Carbohydrates:
15
g
,
Protein:
3
g
,
Fat:
10
g
,
Saturated Fat:
4
g
,
Cholesterol:
7
mg
,
Sodium:
112
mg
,
Potassium:
123
mg
,
Fiber:
1
g
,
Sugar:
5
g
,
Vitamin A:
415
IU
,
Vitamin C:
3
mg
,
Calcium:
43
mg
,
Iron:
3.8
mg
Have you tried this recipe?
Leave a comment below and share a photo on Instagram. Tag @twopeasandpod and hashtag it with #twopeasandtheirpod
More Party Food Ideas