Greek Chicken Bowls
Greek Chicken Bowls are made with lemon oregano chicken, rice, tomatoes, cucumber, olives, feta cheese, red onion, fresh herbs, and finished with tzatziki sauce. These healthy bowls are great for lunch or dinner.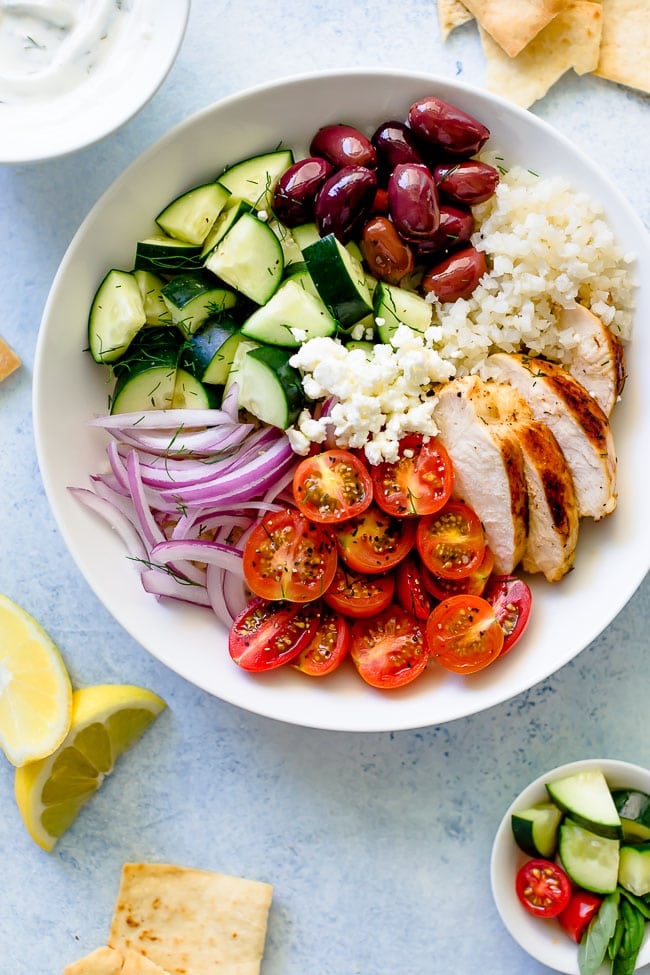 Quick and Easy Meal
If you are looking for a quick and easy dinner recipe, you are in luck because these Greek Chicken Bowls are a weeknight favorite. And if you can't wait until dinner, guess what? They are great for lunch too! You can meal prep all of the ingredients and have them ready to go for a grab and go lunch you can take to work or school. You really can't go wrong with these easy Greek Chicken Bowls. They are loaded with fresh ingredients and lots of flavor!
Meal in a Bowl
So what goes in a Greek Chicken Bowl? All of your favorite Greek flavors in one big bowl. These bowls are loaded with goodness. You start with marinated lemon oregano chicken and your favorite grain. You can use rice, quinoa, or farro. If you want the bowls to be low carb and want even more veggies, you can even use cauliflower rice.
Next, add all of the fun toppings. These bowls are all about the toppings!
tomatoes
cucumber
kalamata olives
red onion
feta cheese
fresh dill and parsley
You can also add hummus and serve pita chips on top for a little crunch or serve fresh, warm pita bread on the side. These bowls are very customizable. And if you want the bowls to be vegetarian, you can leave out the chicken and add chickpeas.
Meal Prep Chicken Bowls
If you want to prep the bowls in advance, you certainly can. We like to prep all of the ingredients on Sunday so the bowls are ready to go and just hanging out in the fridge until you are ready to eat.
You can cook the chicken and your grain of choice in advance. Store in a container in the fridge. You can also chop up all of the vegetables and make the tzatziki in advance. You can store all of the ingredients individually or portion them out into meal containers to grab and go for the week. Just don't put the tzatziki sauce on the bowls until you are ready to eat. The ingredients will be good in the refrigerator for up to 5 days. You can prep on Sunday and eat all week!
If you are trying to eat healthy and want a really good meal waiting for you, meal prep these chicken bowls. You will be SO glad you took the time to do a little prep!
If you like these Greek Chicken Bowls, you might also like: