Shrimp Bowls with Coconut Cilantro Lime Rice and Pineapple Salsa
Shrimp Bowls with Coconut Cilantro Lime Rice and Pineapple Salsa can be on the dinner table in 30 minutes! This refreshing and simple meal is a summer favorite!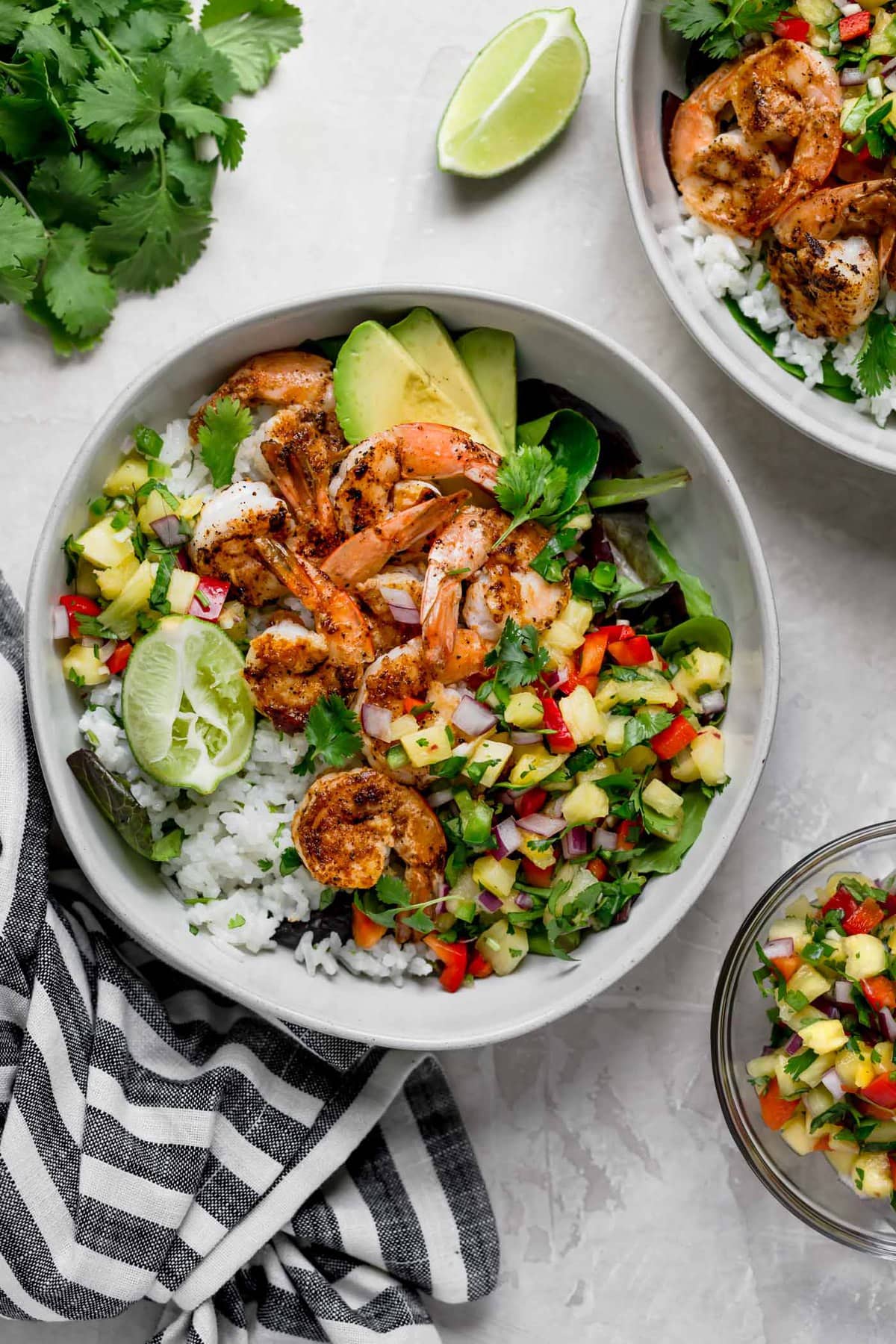 Easy Summer Meals
In the summertime, we tend to keep our meals super easy, but don't let super easy scare you away. Super easy doesn't have to be boring. Super easy can be super delicious, just like these shrimp bowls. There is nothing boring about them, they are the perfect summer meal. I love bowls because they are so simple but always so good because all of the extras.
These shrimp bowls have coconut cilantro lime rice and are topped with our favorite pineapple salsa. These bowls are loaded with flavor and only take 30 minutes to make, which makes them perfect for summertime. Plus, you will feel like you are on a tropical island while you are eating them. I am all about bringing the summer vacation vibes into our meals.
How to Make Shrimp Bowls
To make the shrimp bowls, we start with the coconut cilantro lime rice. You all know we love regular cilantro lime rice, we've even made it in the Instant Pot. We thought it would be fun to do a coconut version for summer. This rice is SO good! It is cooked in coconut milk. Pro tip-make sure you use the coconut milk that comes in a can. You can find coconut milk at any grocery store. The cilantro lime flavors go perfectly with the coconut rice. Put the lime in the coconut:)
Next up, the shrimp. Make sure you buy raw shrimp at the store that has been peeled and deveined. Season the shrimp with garlic powder, chili powder, smoked paprika, and a little oregano. Cook in a skillet for 1-2 minutes. Yep, these little shrimp cook up in no time. If you wanted to grill the shrimp, you could also fire up the grill and grill them for a few minutes. I know some people don't believe in cooking indoors during the hot summer months and that is totally fine by me!
Now let's talk about the pineapple salsa. This fresh and vibrant salsa is the perfect flavor and color booster to these shrimp bowls. The pineapple salsa is the perfect compliment to the spicy, smoky shrimp. The salsa cools the shrimp down and adds some tropical flare, again, making these bowls perfect for summer!
To assemble the bowls, add a scoop of rice to the bottom of a bowl. Top with the shrimp, the pineapple salsa, some sliced avocado, extra chopped cilantro, and a spritz of lime juice. BOOM, now you have the most perfect summer meal ever and it is SUPER easy!
Oh, if you aren't a shrimp fan, you can use grilled chicken instead. And if you are vegetarian, you can skip the shrimp and use black beans, my personal favorite. Feel free to mix it up! It's summer, HAVE FUN!
If you like these easy shrimp bowls, you might also like: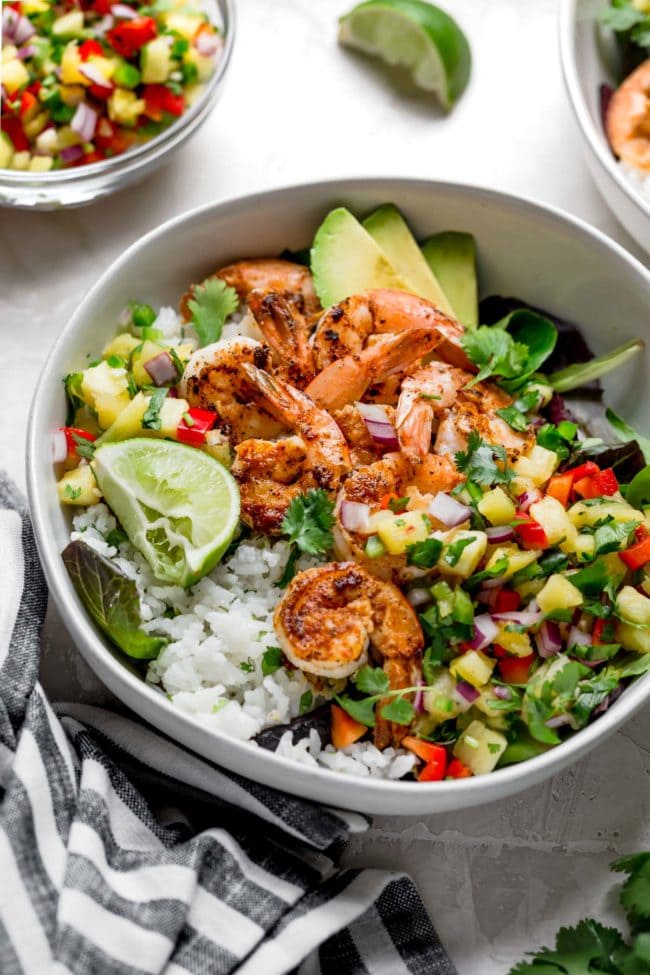 Photos by Jess Larson