Pumpkin Energy Balls
If you like all things pumpkin chocolate chip, you will love these easy, no-bake Pumpkin Energy Balls. They only take a few minutes to make and are the perfect healthy treat for fall!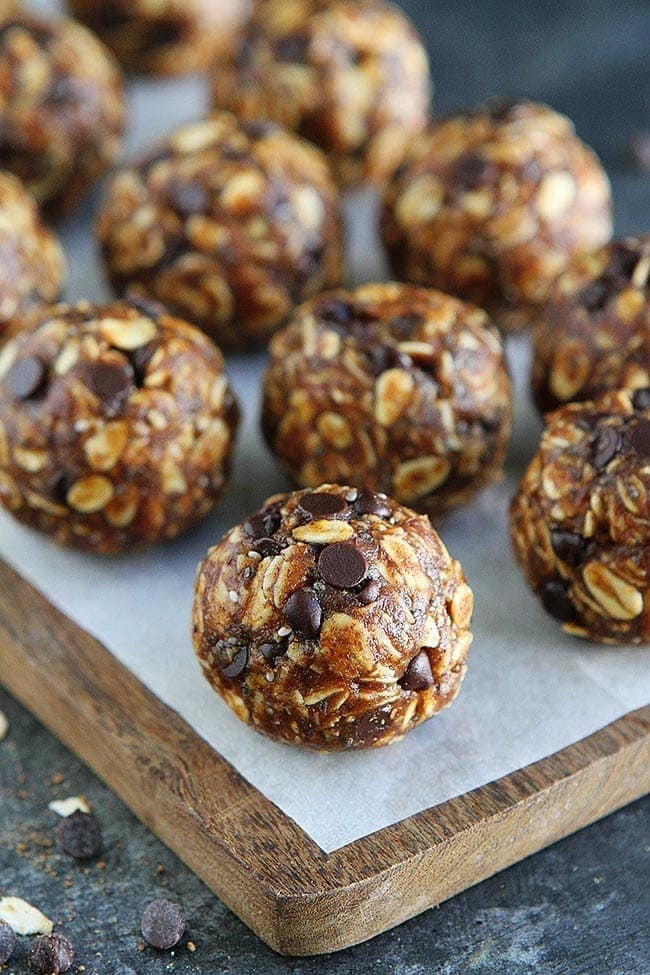 Pumpkin Chocolate Chip
I love pumpkin season because I get to bake up two of my all-time favorite pumpkin treats, pumpkin chocolate chip cookies and pumpkin chocolate chip bread. You can't go wrong with the classic pumpkin chocolate chip combo.
Well, this year I have a new favorite pumpkin chocolate chip treat, Pumpkin Energy Balls. And the best part? They are healthy and only take a few minutes to make. You don't even have to turn on the oven because these easy energy bites are a no-bake treat! Yahoo!! Who's excited? Both of my hands are raised! Let's make some energy balls!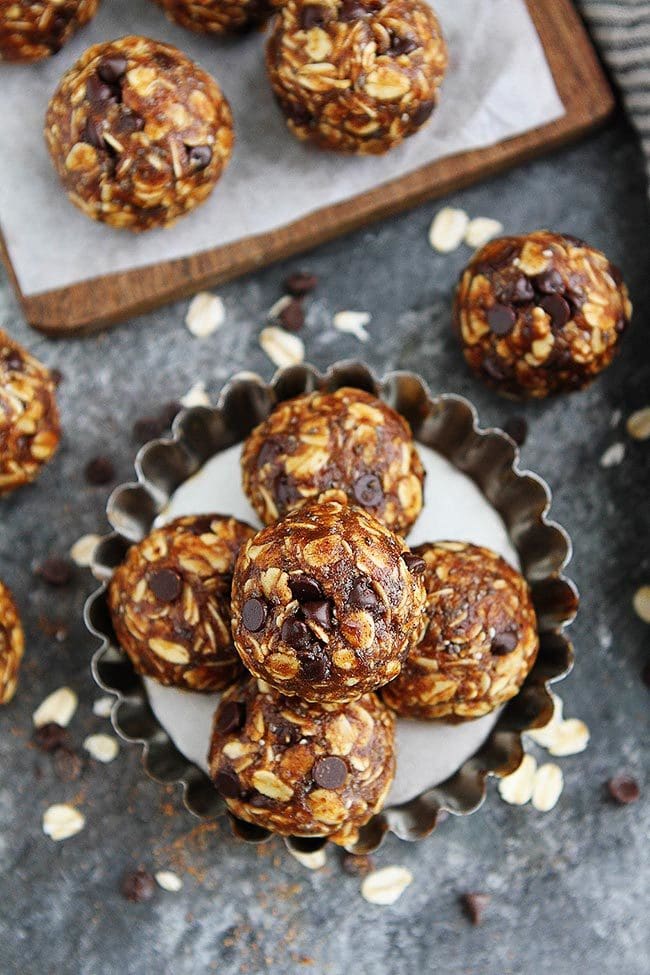 Pumpkin Energy Ball Ingredients
You probably have all of the ingredients in your pantry to make the pumpkin energy balls.
Old fashioned oats-I like to use old fashioned oats because they create a chewier, heartier energy ball. Plus, I always have old fashioned oats in my pantry. You can use gluten-free oats if you need the energy balls to be gluten-free.
Ground flaxseed meal-I love adding ground flaxseed to boost the nutritional value of the energy balls. Ground flaxseed adds fiber, omega 3 fatty acids, and protein. Make sure you use ground flaxseed meal and not whole flaxseeds.
Chia seeds-These little seeds are a loaded with nutrients and make a great addition to the energy balls. They add fiber, protein, healthy fat, calcium, magnesium, and antioxidants.
Spices-Ground cinnamon, ginger, nutmeg, and cloves add lots of fall flavor to the energy balls.
Salt-A little bit of salt is all you need, but don't skip it!
Almond butter-The almond butter is the base of the energy balls and makes all of the ingredients hold together. If you don't have almond butter, you can use peanut butter, but I really like the almond flavor with the pumpkin.
Pumpkin-Make sure you use pure pumpkin puree, you can find it in the baking aisle in a can of almost any grocery store. The pumpkin will keep the energy balls nice and moist and will give it the pumpkin flavor, duh:)
Honey-Sweeten the energy balls with honey! The honey also helps the energy balls stick together.
Vanilla extract-A little splash of pure vanilla extract is always a good idea!
Mini Chocolate Chips-Mini chocolate chips are the perfect finishing touch to the pumpkin energy balls. The pumpkin chocolate chip combo is always a winner. I love these mini chocolate chips because they are allergy friendly. If you don't want to use chocolate chips, you can leave them out and add dried cranberries. Or add dried cranberries with the chocolate chips!
How to Make Pumpkin Energy Balls
You are going to love these pumpkin energy balls because they only take about 10 minutes to make.
I like to make the energy balls in my KitchenAid Stand Mixer because the mixer makes it super easy. If you don't have a stand mixer, you can stir together the ingredients by hand. There is nothing wrong with using a bowl and a wooden spoon or spatula.
Mix together all of the dry ingredients to make sure the spices are distributed evenly.
Add the almond butter, pumpkin, honey, and vanilla extract. Mix until all of the ingredients come together and a "dough" forms.
Stir in the mini chocolate chips.
Roll the mixture into balls, about 2 tablespoons per ball. You can use your hands or a cookie scoop to do this.
Place the balls in an airtight container and chill in the refrigerator for up to 1 week.
The Perfect Healthy Fall Treat
I like to keep these pumpkin energy balls in the fridge during the fall months so we always have a healthy treat on hand.The energy balls make a great grab and go breakfast or snack Our boys love them and they have no clue they are healthy. They think I am the best mom for letting them eat cookie balls for breakfast, ha!
I also like to eat a pumpkin energy ball before bed when I am craving something sweet! They remind me of pumpkin chocolate chip cookies and that is a VERY good thing:)
Treat yourself this fall and make Pumpkin Energy Balls! They are the perfect pick me up!
If you like these Pumpkin Energy Balls, you might like: