Pumpkin Pancakes
These fluffy Pumpkin Pancakes are sweet, satisfying, and easy to make. Enjoy a stack with butter and pure maple syrup for the perfect fall breakfast!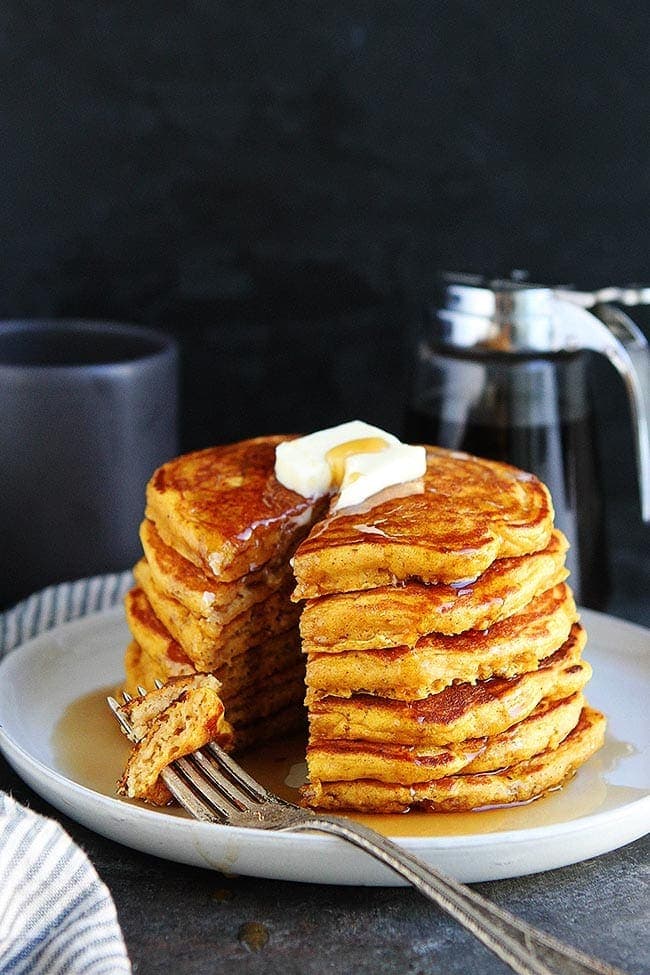 Pumpkin Pancakes for Breakfast
We love making pancakes, waffles, and French toast for breakfast every weekend. It is one of our favorite family traditions. During the fall months, I like to switch things up and make our favorite Pumpkin Pancakes. You shouldn't be surprised since I love pumpkin everything, but these pumpkin pancakes are especially delicious! They are the perfect breakfast for a chilly fall morning. I look forward to them every single year.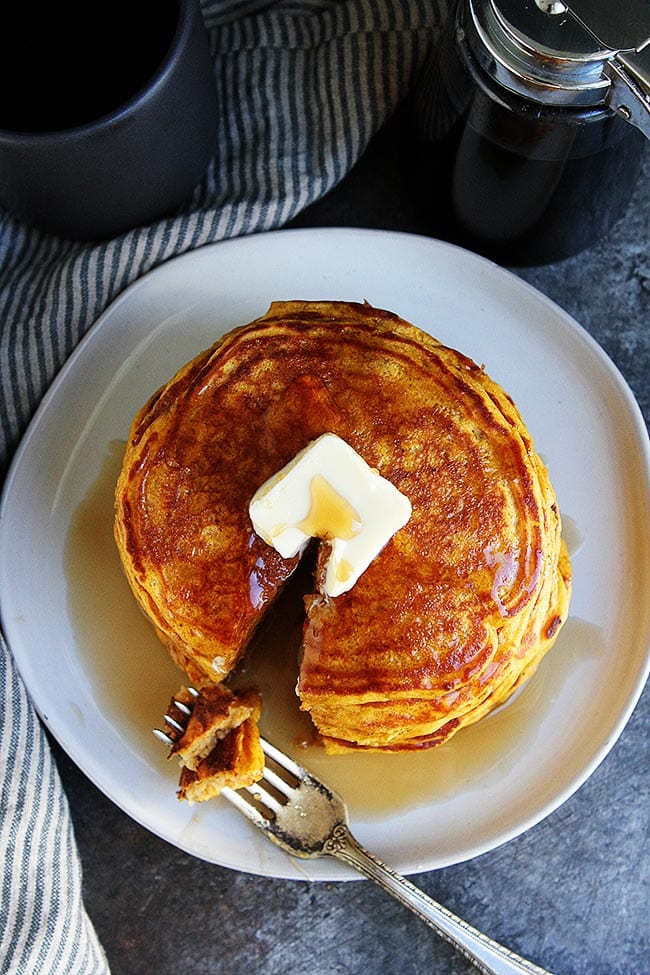 How to Make Pumpkin Pancakes
These pumpkin pancakes are easy to make from scratch. There is no need to go out for breakfast, you can make perfect pancakes right at home and they only take about 20 minutes to make.
Start with the dry ingredients. Whisk together the flour, brown sugar, baking powder, salt, cinnamon, nutmeg, ginger, and cloves. Make sure there are no brown sugar clumps in the mix.
The spices REALLY make the pancakes so don't skip them!
In a separate bowl, whisk together the buttermilk, pumpkin, egg, melted butter, and vanilla extract.
Make sure you buttermilk, egg, and melted butter are all at room temperature.
Use canned pumpkin puree. A 15 oz can will give you more than enough pumpkin. You can keep the leftover pumpkin in container in the refrigerator for up to one week. Make more pancakes or one of our favorite pumpkin recipes.
Add the wet ingredients to the dry ingredients and mix until JUST combined. Don't over mix the pancake batter or they won't be fluffy.
Cook the pancakes on an electric griddle or in a large skillet on the stove. We like to use an electric griddle because we can cook several pancakes at the same time.
Use a measuring cup to pour about 1/3 cup of batter onto the hot griddle or pan. Cook on one side for 2 to 3 minutes or until bubbles appear all over the pancake. Flip and cook for an additional 2 to 3 minutes or until golden brown.
Don't smash the pancakes down with your spatula, gently flip them and let them cook. If you smash down the pancakes, they won't be fluffy.
Oh, and if you want to add chocolate chips to the pumpkin pancakes, GO FOR IT!
Pumpkin Pancake Time
When the pancakes are done cooking, it is GO time. Top the pancakes with butter and pure maple syrup and enjoy! The pancakes are perfectly spiced and taste just like fall!
If you want to go all out, you could top them with whipped cream or our favorite brown butter buttermilk syrup. Beware, you will fall in love with that syrup! It is SO good!
Pumpkin pancakes make a great fall breakfast or brunch. They would also be perfect for Halloween or Thanksgiving morning. Every special occasion should start with pancakes!
Can you Freeze Pumpkin Pancakes?
Yes! Double the recipe and make extra pumpkin pancakes to keep in the freezer. When the pancakes are completely cool, put them in a freezer bag and freeze for up to 2 months. To reheat, put the pancakes in the toaster or microwave.
If you like this pumpkin pancake recipe, you might also like: