Tomatillo Salsa & Vitamix Giveaway
Tomatillo Salsa-you only need 6 ingredients to make this easy blender salsa. It is a perfect match for tortilla chips, tacos, burritos, quesadillas, enchiladas, and more!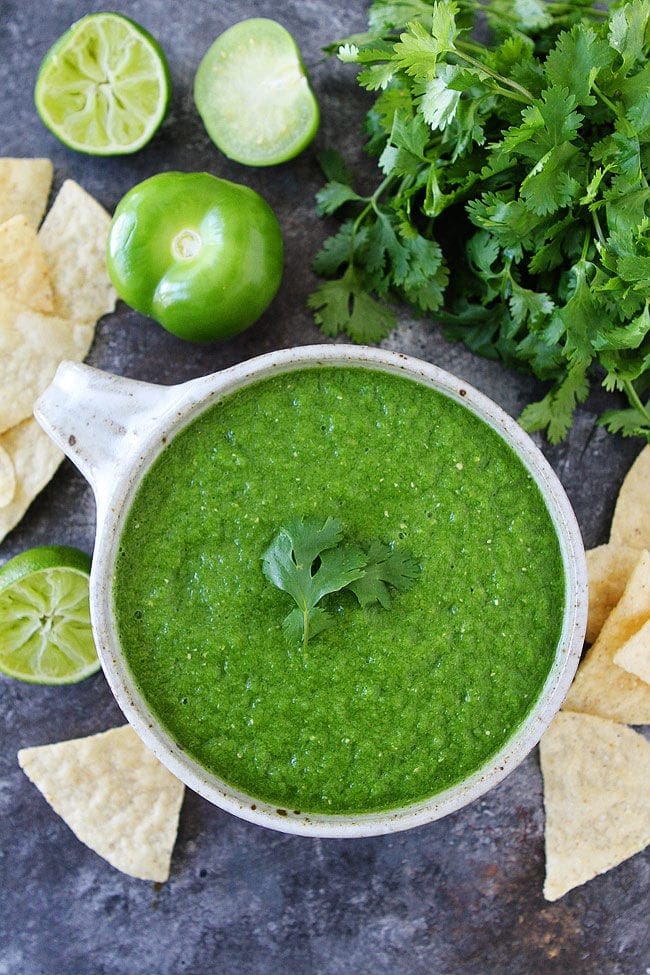 Giveaway provided by Artisan Books and Vitamix. 
It's been an exciting week with the launch of our new meal planning website, Sweet Peas Meals. Thanks again for all of your excitement and support! To celebrate, we are sharing a killer recipe for Tomatillo Salsa today AND we have a Vitamix Blender/cookbook giveaway! Yahoo!!! You guys are going to love this easy blender salsa. It only takes minutes to make!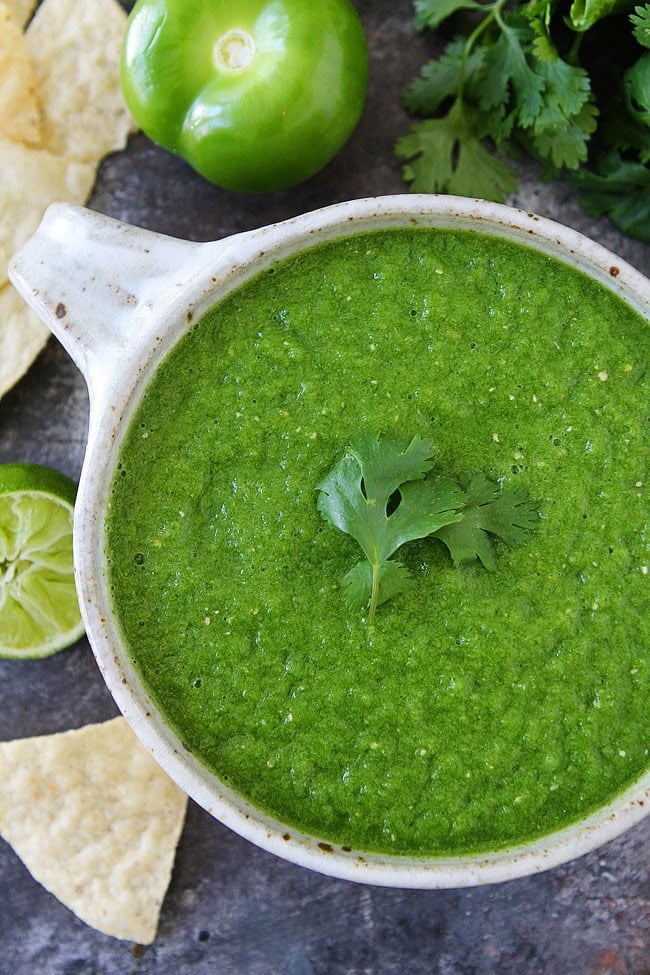 Tomatillo Salsa, sometimes called salsa verde, is our favorite. We love the green salsa, the color and the taste! It is full of flavor and so easy to make. For this recipe, you only need 6 ingredients:
Tomatillos
Onion
Garlic
Cilantro
Lime Juice
Serrano Chiles
Boom! That is it…well, and some salt, but I don't count that as an ingredient because everyone has salt, right? Don't forget the salt though because it really makes the salsa pop! It's amazing what a little salt will do:)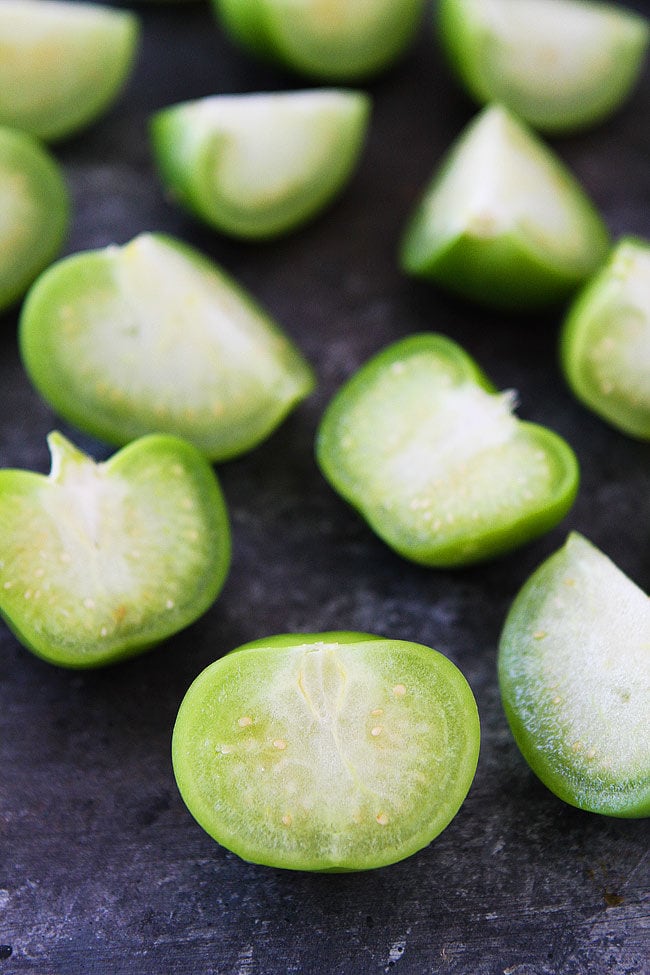 To make the salsa, you put all of the ingredients in the blender and blend! It's sooooo easy! Blender salsa is the best! The bright green color is so vibrant! You will love it! Serve the tomatillo salsa with tortilla chips, tacos, burritos, quesadillas, taquitos, enchiladas, tostadas, use it as a dressing for taco salads or burrito bowls…the options are endless!
This recipe comes from The Haven's Kitchen Cooking School cookbook by Alison Cayne. I am currently loving this gorgeous cookbook! Alison includes the essential skills from her popular cooking school classes at Haven's Kitchen in her first teaching cookbook. I have been cooking for years and still have learned a lot. This is a great cookbook for beginners or advanced cooks. The recipes are recipes you will want to make every day…like this tomatillo salsa.
Now, for the amazing giveaway. We are giving away a copy of The Haven's Kitchen Cooking School AND a Vitamix Blender. To enter to win, leave a comment on this post. The giveaway ends July 28th and is open to US addresses only. Good luck!
And don't forget to make the salsa! This easy Tomatillo Salsa is going to be a staple in your home! You can blend it up in no time and it's SO good! Enjoy!
If you like this Tomatillo Salsa, you might also like: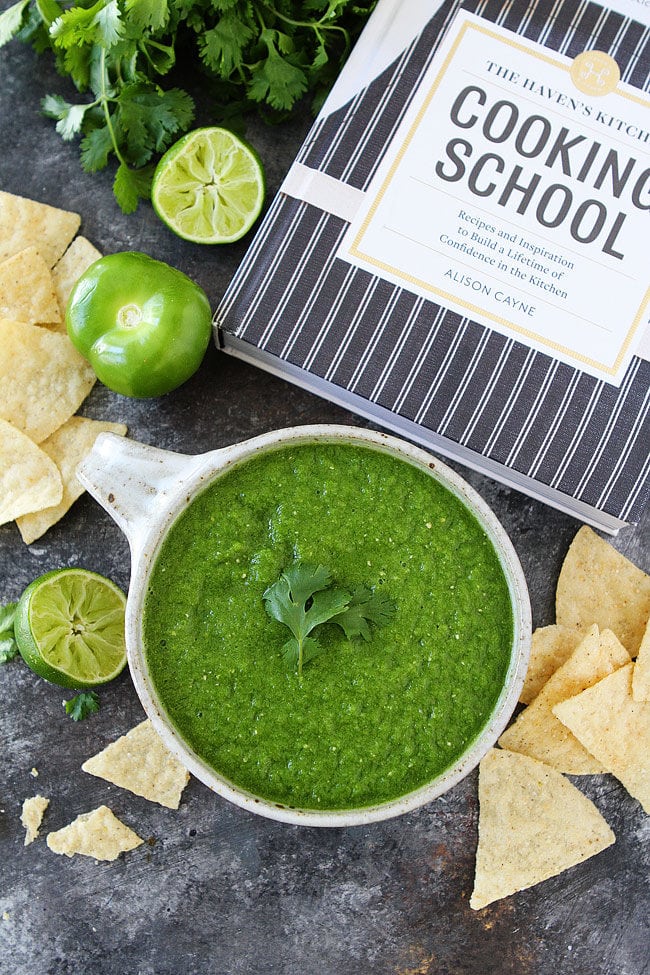 Tomatillo Salsa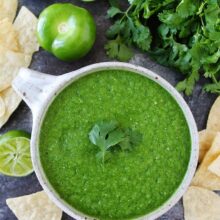 You only need 6 ingredients to make this easy tomatillo blender salsa. It is a perfect match for any Mexican food. 
Yield: About 3 cups
Prep Time: 10 minutes
Total Time: 10 minutes
Ingredients:
1 pound tomatillos, papery husks removed, rinsed and halved
1 small white onion, chopped
2 garlic cloves
1 medium bunch of cilantro, stems and leaves
1/4 cup freshly squeezed lime juice (2-3 limes)
2 Serrano chiles, seeded and chopped
Kosher salt or sea salt, to taste
Directions:
Place the tomatillos, onion, garlic, cilantro, lime juice, and chiles in a blender and blend until smooth. If you have a small blender or not a very powerful blender, you can do this in batches.
Season with salt, to taste. Store in an airtight container in the refrigerator for up to 1 week.
All images and text ©
Two Peas & Their Pod
.
Follow twopeasandpod on Instagram and show us what recipes you are making from our blog! Use the hashtag #twopeasandtheirpod! We want to see what you are making in your kitchen!