Salted Caramel Cashew Banana Bread
Salted Caramel Cashew Banana Bread-banana bread with a swirl of salted caramel and a sweet and salty cashew streusel topping! This is my new favorite banana bread recipe!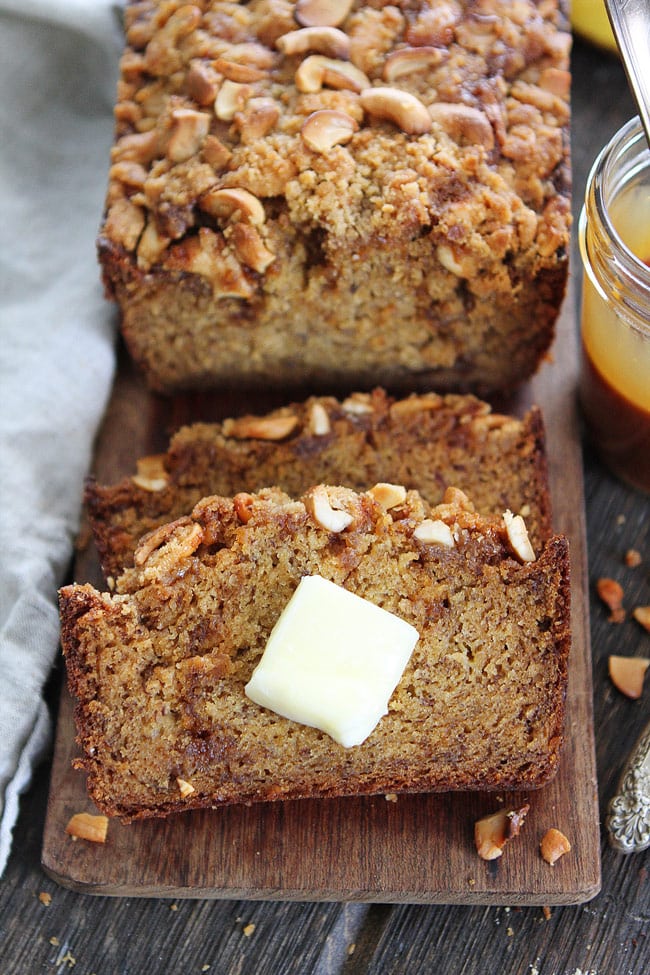 Maxwell LOVES bananas and eats them like crazy. He is always begging for a nana. I am glad he likes bananas, but he is messing with my banana baking routine. I buy bananas to eat, but I never have the intention of eating them ALL. I buy them so I can eat a few and let the rest turn brown so I can bake with them. I WANT my bananas to turn brown. Maxwell hasn't figured this out. He wants to eat the entire bunch the second we get home from the store. I try to tell him to wait because good things, better things will happen with the brown bananas, but he is not patient. He wants his nana NOW!
I didn't want to deprive Maxwell from his precious bananas, so I bought two bunches of bananas at the store. One for Maxwell and one for me. I hid my bunch in the cabinet so he wouldn't see them. I waited for them to turn brown and then I baked the most glorious loaf of banana bread. This Salted Caramel Cashew Banana Bread is EVERYTHING!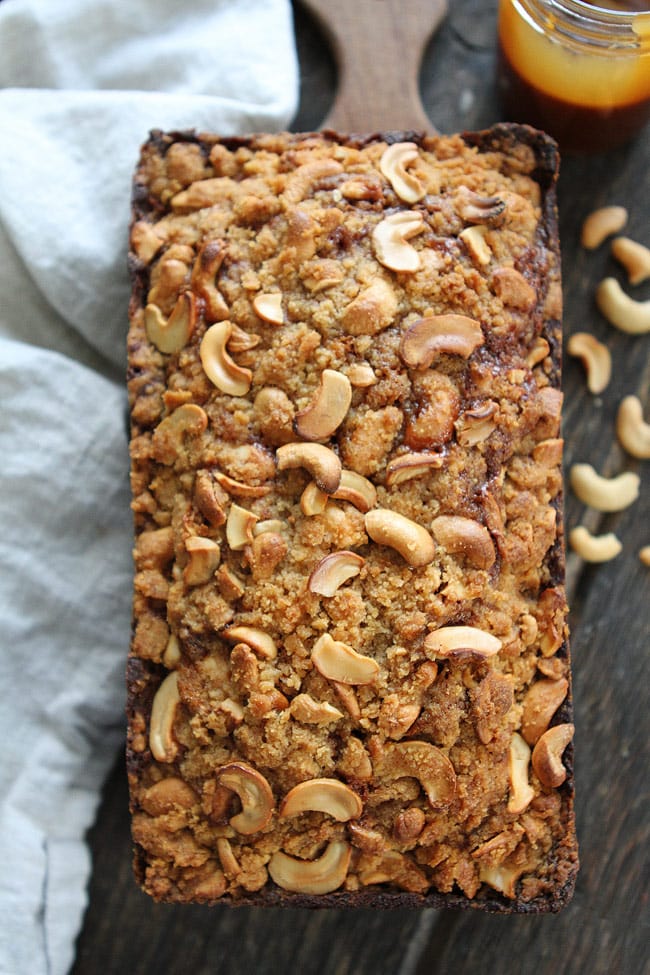 Banana bread is a classic and one of my favorite things to bake. It is good on it's own, there is really no need to jazz things up, but you know I like to play around in the kitchen so I created Salted Caramel Cashew Banana Bread. And let me tell you, I am going to have a hard time going back to the classic because this banana bread is SO good!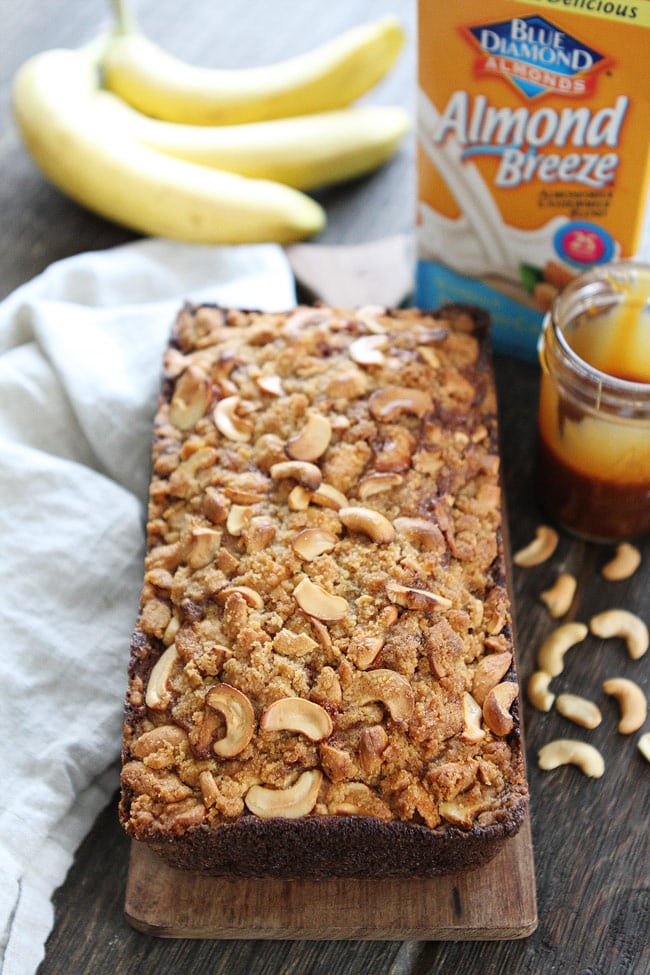 I used Almond Breeze Unsweetened Vanilla Almondmilk Cashewmilk and it made the banana bread super moist. I know, I used THAT word, but it is! The bread has a swirl of salted caramel sauce and is finished off with a cashew streusel topping!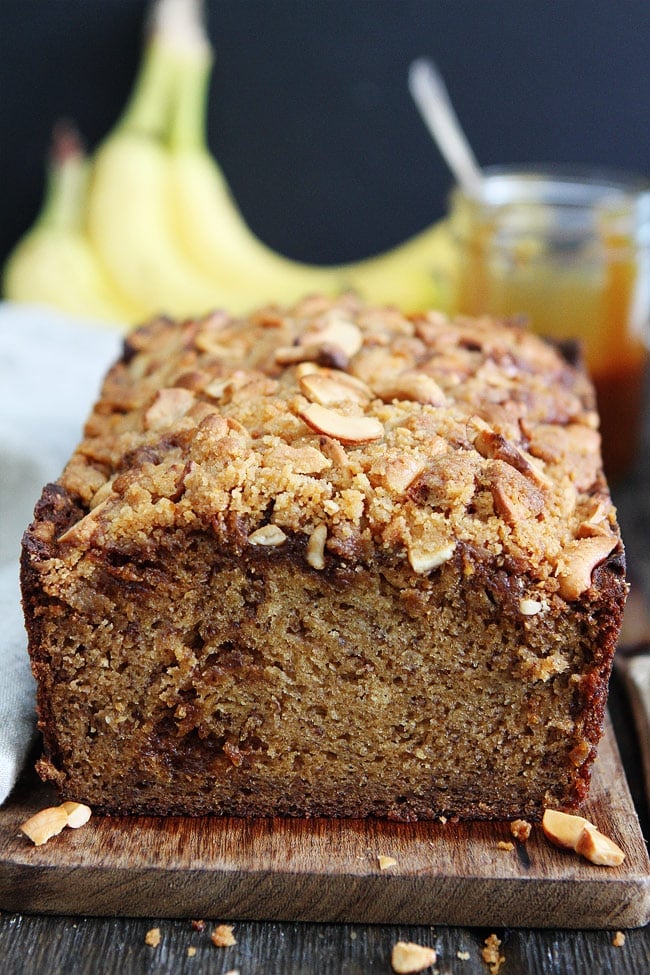 The sweet and salty combo is out of this world and I loved the crunch from the cashews. All of the flavors worked so well together! This banana bread is my new favorite! I am going to have a hard time going back to the classic loaf because this recipe is SO good!
I better hide some more bananas from Maxwell so I can make this Salted Caramel Cashew Banana Bread again! I already want another slice…or two, or three. I think I ate half of the loaf last time. Oops:)
If you like this banana bread recipe, you might also like: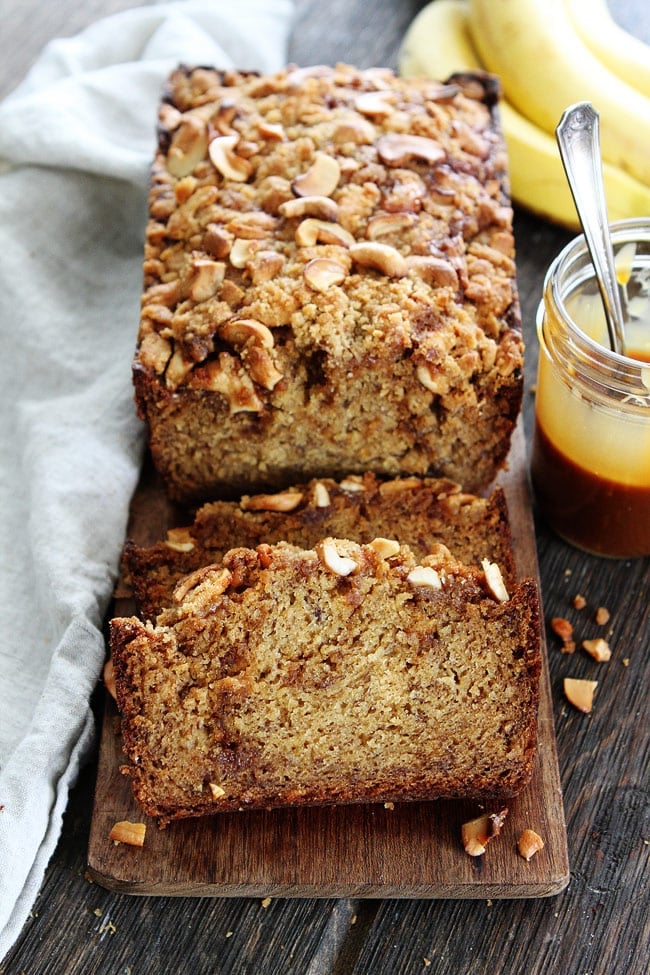 Salted Caramel Cashew Banana Bread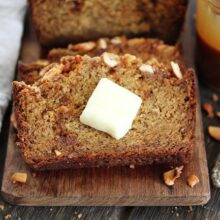 Banana bread with a swirl of salted caramel sauce and a cashew streusel topping. This banana bread recipe is the BEST!
Yield: 1 loaf bread
Prep Time: 15 minutes
Cook Time: 1 hour 5 minutes
Total Time: 1 hour 20 minutes
Ingredients:
For the bread:
2 cups all-purpose flour
1 teaspoon baking soda
1/2 teaspoon salt
1/2 cup butter, at room temperature
3/4 cup brown sugar
2 large eggs
1 teaspoon vanilla extract
4 ripe bananas, mashed
1/3 cup Almond Breeze Original Almondmilk Cashewmilk
3 tablespoons salted caramel sauce
For the streusel topping:
1/4 cup all-purpose flour
1/4 cup brown sugar
2 tablespoons cold butter, cut into pieces
1/2 cup cashew halves or pieces
Directions:
Preheat the oven to 350F degrees. Grease a 9×5 loaf pan with nonstick cooking spray. Set aside.
In a medium bowl, whisk together the flour, baking soda, and salt. Set aside.
With a mixer, cream together the butter and brown sugar on medium speed, about 3 minutes. Add the eggs one at a time, beating well after each addition. Beat in the vanilla extract and mashed bananas. With the mixer on low, mix in half of the dry ingredients. Add the milk, once milk is combined mix in the rest of the dry ingredients. Mix until just combined. Don't overmix.
Spoon the batter into the prepared baking pan and drizzle salted caramel sauce over the batter. Use a knife to swirl in the salted caramel sauce.
In a small bowl, combine flour, brown sugar, and cold butter pieces. Rub the mixture together with your fingers until combined and crumbly. Stir in the cashew pieces. Sprinkle streusel topping over the batter in the pan.
Bake for 60-65 minutes, loosely covering the bread with aluminum foil during the last 15 minutes if the top of the bread is getting to dark.  A toothpick inserted in the center of the loaf will come out clean when the bread is done. Remove from the oven and allow the bread to cool for 15 minutes on a wire cooling rack. Use a knife to loosen the bread around the edges in the pan. Carefully remove the bread from the pan and cool completely.
Note-the bread will keep covered on the counter for up to 4 days. Can freeze the loaf for up to 2 months.
All images and text ©
Two Peas & Their Pod
.
Follow twopeasandpod on Instagram and show us what recipes you are making from our blog! Use the hashtag #twopeasandtheirpod! We want to see what you are making in your kitchen!

Disclosure: this post is sponsored by Blue Diamond Almond Breeze Almondmilk and part of the "Imagine the Blendabilities" contest, where people submitted their ideas for recipes using the new Almond Breeze Almondmilk Cashewmilk Blend.