Steel Cut Oats are a healthy and hearty breakfast and they are easy to cook! You will love this simple steel cut oats recipe!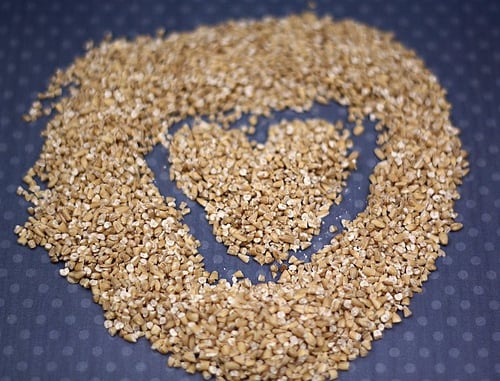 I eat oatmeal every morning for breakfast.  Josh is not a big oatmeal fan, he prefers cold cereal, toast, or a frittata in the morning. He doesn't like the mushy texture of oatmeal. I recently got him to try steel cut oats though and he is hooked.
What Are Steel Cut Oats
Steel cut oats have a different texture, they are chewy and a little crunchy-not mushy at all. I made a batch one weekend and offered him a bowl. He was a little hesitant, but said sure. He scarfed down the bowl. He loved them! Now we enjoy them all of the time. Last week, I got home from work and he said he had a craving…I was pretty sure he was going to say pizza, but nope, he was craving steel cut oats, so we had them for dinner:)
If you haven't tried steel cut oats before, here is a little background information. Steel cut oats are unrefined whole grain groats that have been dried and cut into two to three pieces by steel, rather than being rolled. They are rich in B-vitamins, calcium, protein and fiber. They look like tiny grains of rice or chopped up nuts. You can find them in most grocery stores. I buy mine in the bulk food section.
How To Cook Steel Cut Oats
Steel cut oats take longer to cook than rolled oats, about 30-40 minutes, but they are so worth the wait. I usually make a big batch on Sunday so I have oats during the week. I portion them out into little containers and take them to work to heat up. They taste just as good reheated. I just add a splash of milk and stir them up. My favorite toppings are cinnamon and raisins.
I made bruleed steel cut oats for Josh one morning-for a special treat. I never add sugar to the oats, but I knew Josh would appreciate a sweet surprise. I sprinkled brown sugar and turbinado sugar on the top of the oats and fired them up with my creme brulee torch. He loved the sugary crust on top of the oats.
You can top your steel cut oats with:
cinnamon
dried fruit (raisins, cranberries, cherries, blueberries)
fresh fruit (blueberries, raspberries, blackberries, strawberries, banana slices)
nuts (almonds, walnuts, pecans)
If you haven't tried steel cut oats, give them a try. They are so good and good for your heart too!
If you like this steel cut oats recipe, you might also like: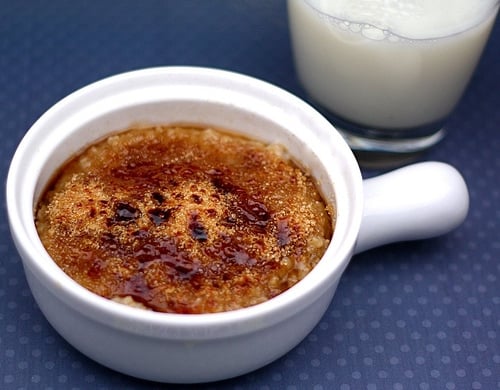 Steel Cut Oats Recipe
This steel cut oats recipe is an easy and healthy breakfast! Serve with berries, bananas, dried fruit, nuts or cinnamon.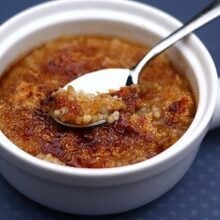 Prep Time

5

minutes
Cook Time

40

minutes
Total Time

45

minutes
Ingredients
1

cup

steel cut oats

3 1/2

cups

water

Pinch

of salt

1/2

cup

milk

almond milk, or soy milk

1

teaspoon

vanilla extract

Toppings: cinnamon

dried fruit, fresh fruit, nuts
Instructions
Bring the water to a boil in a large pot. Add the steel cut oats and and salt. Stir.

Reduce the heat to medium low and cook for 30 minutes. Make sure you stir the oats occasionally so they don't stick to the pan.

When the oats start to thicken, at about 30 minutes, add in the milk and vanilla. I think the milk makes the oats creamier. Stir the oats, milk, and vanilla together and cook for ten more minutes.

Add in the cinnamon and raisins or whatever toppings you wish.

If you want to make bruleed oats-put the oats in a bowl, sprinkle with brown sugar and turbinado sugar. With a creme brulee torch, fire the top of the oats until the sugar is crystalized.

Serve the oats hot. If you want you can let the oats cool and then portion them out into smaller containers. To reheat, I add a splash of milk and reheat in the microwave for 1-2 minutes.

*Note-you can use 4 cups of water and omit the milk, I just like the creaminess the milk adds.*