3-Ingredient White Chocolate Peppermint Pretzels
You only need three ingredients to make these festive White Chocolate Peppermint Pretzels. Chocolate Dipped Pretzels are a fun treat to make and eat!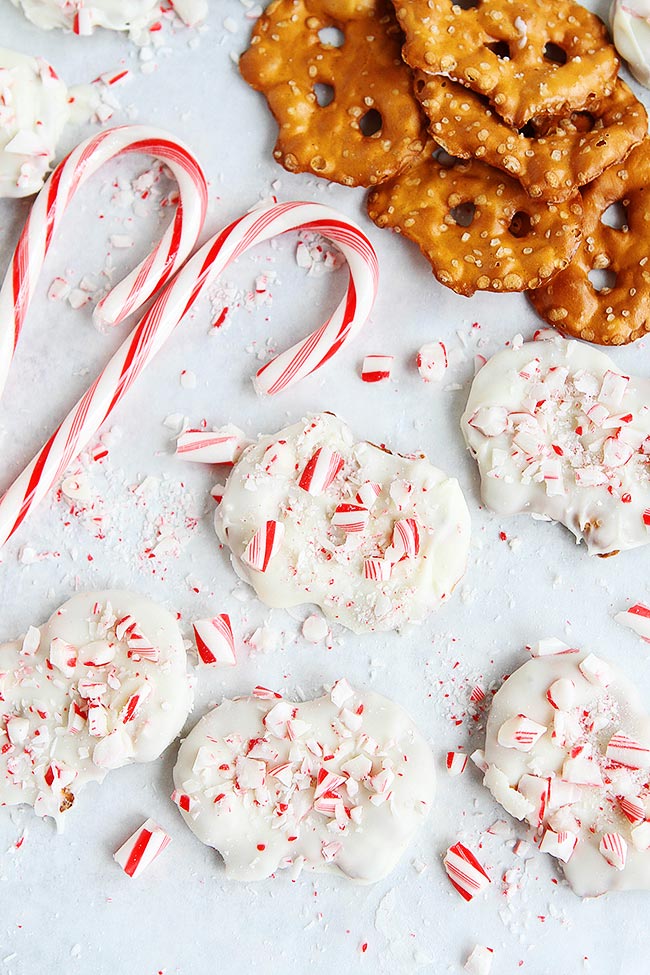 Chocolate Dipped Pretzels
Chocolate dipped pretzels are one of my favorite Christmas treats. I love the sweet and salty combo and they are SO easy to make. Plus, everyone loves chocolate dipped pretzels, they are so pretty and a great addition to any cookie plate or dessert platter.
My favorite pretzels to make are these 3-Ingredient White Chocolate Peppermint Pretzels. White chocolate and peppermint are a match made in heaven, especially during Christmas time.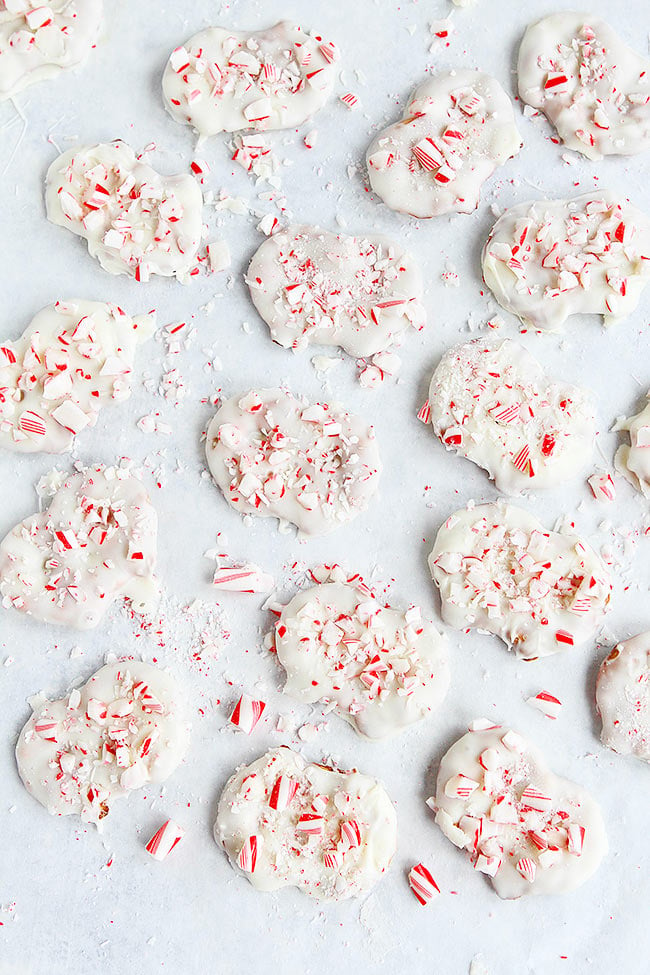 White Chocolate Peppermint Pretzel Ingredients
If you are looking for a super EASY treat to make for Christmas, you HAVE to make these White Chocolate Peppermint Pretzels. You only need three ingredients and about 20 minutes, you can't beat that! Plus, they are SO delicious.
To get started, you will need:
Pretzels
White Chocolate
Crushed Candy Canes
For the pretzels, I like to use Pretzel Crisps for this recipe because you get a good chocolate to pretzel ratio. You find Pretzel Crisps at most grocery stores. You can use regular pretzels or pretzel rods, if you wish. If you are using pretzel rods, I like to dip about 3/4 of the pretzel, leaving the end of the pretzel uncovered.
For the white chocolate, I like to use white chocolate melting wafers or candy coating. You can also use white chocolate almond bark. If you want to use white chocolate chips, make sure you check the ingredients to make sure cocoa butter is listed and not vegetable oil. White chocolate that contains vegetable oil won't melt very well and won't work for coating pretzels. And if you aren't crazy about white chocolate, you can use semi-sweet, milk, or dark chocolate. You can't go wrong with any chocolate:)
For the peppermint, I like to use candy canes. Place the candy canes in a Ziploc bag that is sealed. Crush the candy canes with a rolling pin. You can also crush the candy canes in a food processor.
How to Make White Chocolate Peppermint Pretzels
First, line a large baking sheet with parchment paper or wax paper. Have your candy canes crushed and ready to go!
Melt the white chocolate wafers or almond bark in the microwave, according to package instructions. If you are going to use white chocolate chips, place the chocolate chips in a microwave-safe bowl. Microwave for 1 minute and 30 seconds at 50% power. Stir the chips. Microwave for 30 seconds at 100% power. Stir until chocolate is melted and smooth. It might take a little more or less time, depending on your microwave. The key is to not over cook the chocolate.
Dunk each pretzel crisp into the melted white chocolate, making sure the entire pretzel is coated. Use a fork to remove the pretzel from the chocolate. Then tap it gently against the sides of the bowl until most of the chocolate has dripped off.
Place the dipped pretzels on the parchment paper or wax paper and sprinkle immediately with crushed candy canes. Let the pretzels sit until the chocolate hardens. If your house is warm or if you want to speed up the process, place the baking sheet in the refrigerator.
Store the chocolate covered pretzels in an airtight container on the counter or in the fridge for up to 2 weeks.
If you want, you can dip half of the pretzels and not the full pretzels. I have done them both ways and they are both good.
If you like this easy white chocolate peppermint pretzel recipe, check out: