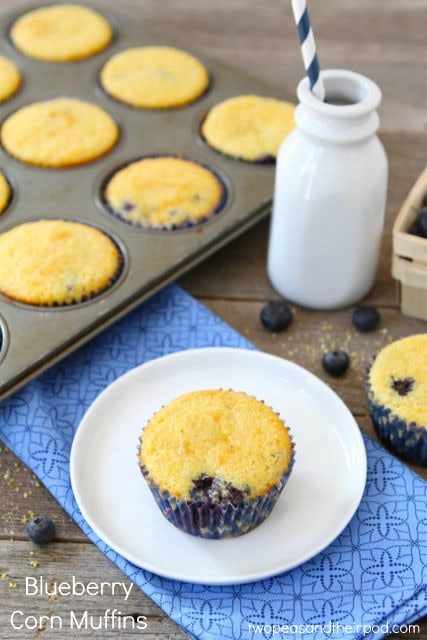 What do you do when you buy two big containers of blueberries? First, you eat them by the handful because they are so good and you can't resist. Next, you make a batch of Blueberry Corn Muffins because you are in the mood to bake and you really want to eat muffins. Well, at least that was my thought process. I could have stood at the kitchen counter shoveling blueberries in my face all day, but instead I devoured more than my fair share of Blueberry Corn Muffins.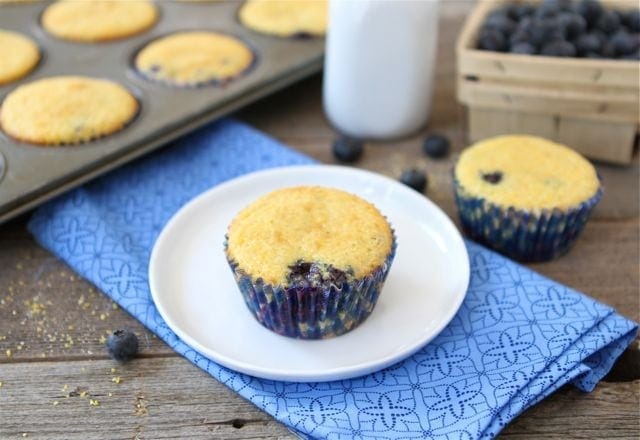 Cornbread and corn muffins are a staple in our house. We make them all of the time to go with soup, chili, salads, or just because. When I was pregnant with Caleb, I craved corn muffins like crazy. Josh got really good at making corn muffins:) I decided it was my turn to treat him to a batch of fresh corn muffins.
I always like to mix things up so this time I added juicy blueberries to the recipe. The corn muffins are tender and bursting with sweet, plump blueberries. We enjoyed our Blueberry Corn Muffins for breakfast, but they are good any time of the day. Trust me, I know. I ate one for a snack and with my dinner. They really go well with any meal. And a little hint-they are good plain, but add a dab of butter and a drizzle for an extra special treat. Almost too good to be true!
Put your summer blueberries to good use and make a batch of Blueberry Corn Muffins! And make sure you save some blueberries to make Blueberry Yogurt Waffles and Blueberry, Strawberry & Jicama Salsa on the 4th of July! Loading up on blueberries is always a great idea!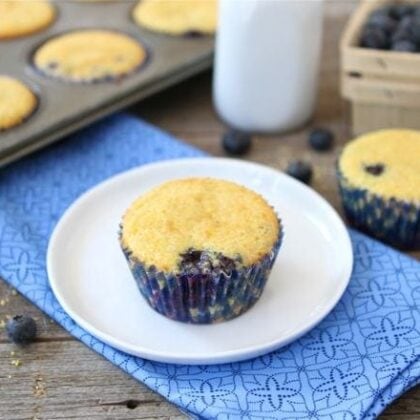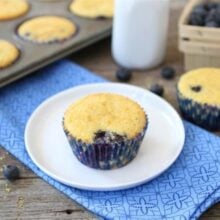 Blueberry Corn Muffins
These tender corn muffins are bursting with blueberries. They are great for breakfast, a snack, or served as a side dish to any meal.
Instructions
1. Preheat the oven to 400 degrees F. Fill a regular-size muffin pan with paper muffin cups or spray with cooking spray. Set aside.

2. In a large bowl, whisk together the flour, cornmeal, sugar, baking powder, baking soda, and salt. Set aside.

3. In a medium bowl, whisk the buttermilk, melted butter, canola oil, vanilla, and eggs until well blended. Pour the liquid ingredients over the dry ingredients and mix with a rubber spatula until combined. The batter will be lumpy. Gently fold in the blueberries. Divide the batter evenly among the muffin cups.

4. Bake for 15 minutes, or until the tops are golden and a toothpick inserted into the center of the muffins comes out clean. Transfer the pan to a rack and cool for 5 minutes. Remove muffins from pan and serve.
Have you tried this recipe?
Leave a comment below and share a photo on Instagram. Tag @twopeasandpod and hashtag it with #twopeasandtheirpod
If you like these Blueberry Corn Muffins, you might also like: