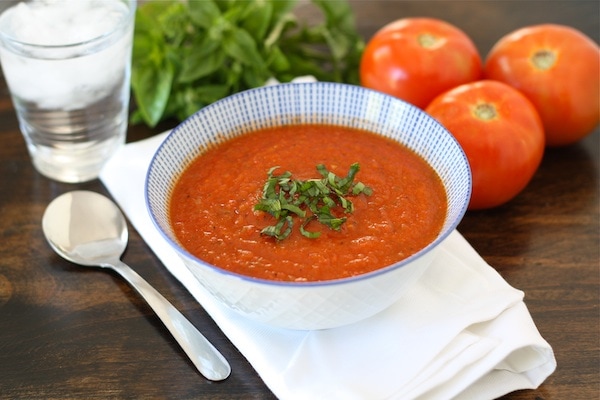 We are still adjusting to our new lives as parents. We are loving every minute, life is just "different." I used to be very organized and tried to stick to a schedule, but now I just "go with the flow." Our little pea has an agenda of his own and I am just trying to keep up. He is a good baby, which I am very thankful for, so I am able to get a few things done during the day. Josh is also a wonderful father and is a huge help around the house and with the baby. We make a great team:)
I do miss baking and cooking every day. We've made a few recipes, but we are slowly making our way back into the kitchen. Before we had the baby, we made this Roasted Tomato Basil Soup. We put it in the freezer so we could enjoy a tasty meal without doing any work. I am so glad we planned ahead because this soup really hit the spot last night.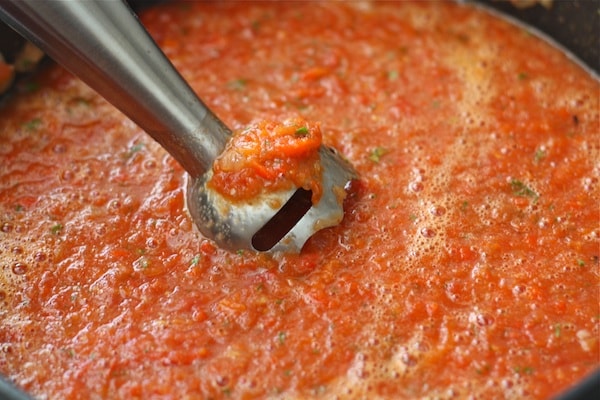 Roasted Tomato Basil Soup is one of my all time favorites. I love the added flavor the roasted tomatoes and fresh basil add to this soup. Don't be intimidated by the "roasting" part of the recipe. Roasting tomatoes is so easy and really brings out the best flavor. This soup is super easy to make and it freezes well-trust us, we know:)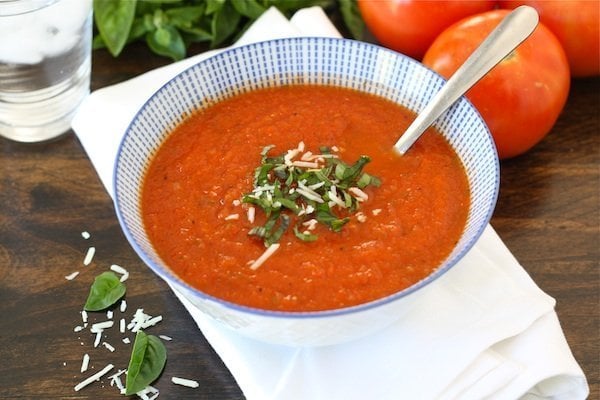 Josh made grilled cheese sandwiches to go with the soup. You can't go wrong with tomato soup and grilled cheese sandwiches for dinner-comfort food at it's finest! It was nice to enjoy a home cooked meal, without any fuss. I highly recommend this Roasted Tomato Basil Soup, it is a great meal for a chilly Fall day. Try to save some for the freezer if you can, it comes in handy when you are not in the mood to cook or have a little baby that needs your undivided attention:)
Roasted Tomato Basil Soup
Ingredients
2 1/2

pounds

Roma tomatoes

cut in half lengthwise

4

tablespoons

olive oil

divided

Salt and pepper

to taste, for seasoning tomatoes

1

medium onion

chopped

4

cloves

of garlic

minced

Dash of red pepper flakes

1

cup

freshly chopped basil

1

15 ounce can diced tomatoes

4

cups

vegetable broth

you can use chicken broth

Salt and pepper

to taste
Instructions
1. Preheat oven to 400 degrees F. Spread the tomatoes on a baking sheet and drizzle with 2 tablespoons of olive oil. Season with salt and pepper and roast for about 45 minutes.

2. In a large stockpot, heat the other 2 tablespoons of olive oil over medium heat. Add the onion and cook until tender, about 2-3 minutes. Stir in the garlic and red pepper flakes. Cook for another 2-3 minutes. Add the canned tomatoes, fresh basil, and vegetable broth. Stir in the oven roasted tomatoes. Cook for about 30 minutes over medium-low heat.

3. Use an immersion blender to puree the soup in the stockpot, or transfer soup to a food processor or blender to blend. The soup should be smooth, with a few tomato chunks. Season with salt and pepper, to taste, and serve warm.

Note-be careful when transferring the soup to a blender or food processor. You may want to wait until it is at room temperature to blend.
If you like this Roasted Tomato Basil Soup, you might also like: