Brown Butter Ginger Molasses Blondies
Brown Butter Ginger Molasses Blondies-brown butter makes these Chewy, Spiced ginger molasses blondies extra special. They are the perfect easy Dessert for Christmas!
Best Blondie Recipe for the Holidays
I have been baking a lot of Christmas cookies: snickerdoodles, peanut butter blossoms, chocolate kiss cookies, and my favorite soft gingersnaps. While I was enjoying a soft gingersnap cookie, my mind began to wonder and I started dreaming about a ginger molasses blondie. I LOVE blondies and felt like I needed to bake up a festive blondie for the holidays.
I didn't waste any time. I got out all of the ingredients to make my dream blondies. I didn't want to wait for the butter to come to room temperature so I browned the butter and that was the best decision ever. These Brown Butter Ginger Molasses Blondies are my new favorite Christmas treat! If you are a ginger molasses fan, you are going to LOVE these blondies.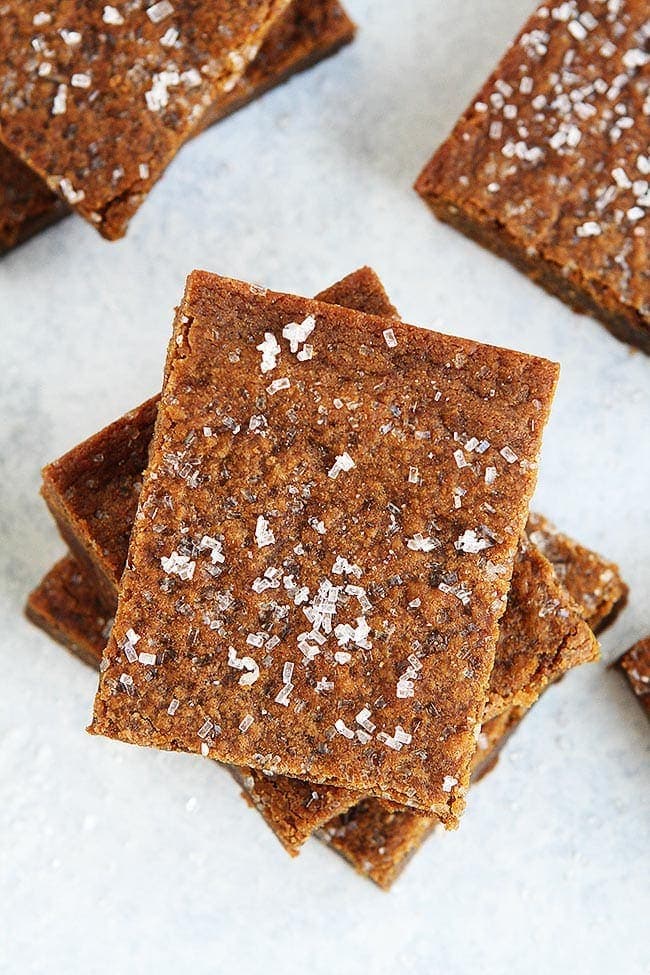 How to Make Brown Butter Ginger Molasses Blondies
Take a break from rolling and scooping cookie dough balls and make these amazing blondies! They are SO easy and SO good!
First, grease a 9×9-inch pan with nonstick cooking spray and set aside. I found the 9×9-inch pan works best for this recipe. The bars aren't too think or too thick, they are just right! If you make them in an 8×8-inch pan they will be a little thicker and will require a little more baking time. If you make them in a 9×13-inch pan, the blondies will be thinner and might bake a few minutes faster. Again, I recommend a 9×9-pan for the perfect blondies!
Next, brown the butter. Place the butter in a medium skillet and melt over medium heat, swirling it in the pan occasionally. The butter will foam and pop, so be careful. Continue to swirl the pan often. Remove pan from heat once the butter starts to brown and smells nutty. There will be small brown bits on the bottom. The butter should be an amber color. Pour butter into a small bowl and let it cool slightly.
Whisk together the dry ingredients, including all of the spices. The ground ginger, cinnamon, nutmeg, and cloves give the blondies tons of flavor!
Brown sugar makes the blondies super chewy and moist. Mix together the brown butter and brown sugar.
Add a egg and egg yolk. The egg yolk will also help make the blondies extra chewy.
Add the vanilla extract and the molasses. Pro tip-spray your measuring cup before you measure the molasses so it will come out nice and easy!
Add the dry ingredients and mix until just combined. Don't over mix. Press the blondie batter evenly into the greased pan. Sprinkle generously with sparkling sugar. The sugar will make the bars pretty and add a nice sugary crunch.
Bake for 20 to 23 minutes or until the edges are light golden brown. DO NOT OVER BAKE! This is so important. If you over bake the bars will not be soft and chewy. The bars will finish baking in the pan as they cool so take them out when they are still a little underdone.
Let the blondies cool before cutting into squares.
Easy Christmas Dessert
I love making blondies because they are an easy one pan dessert that everyone loves. These brown butter ginger molasses blondies are soft, chewy, perfectly spiced. The brown butter compliments the molasses and spices SO nicely. The combo is a winner! I love the sparkly sugar tops, but if you want to go all out, you could drizzle the bars with white chocolate or chocolate, I think that would be good too! Enjoy!
If you like this blondie recipe, you might also like: