Peanut Butter Rolo Blondies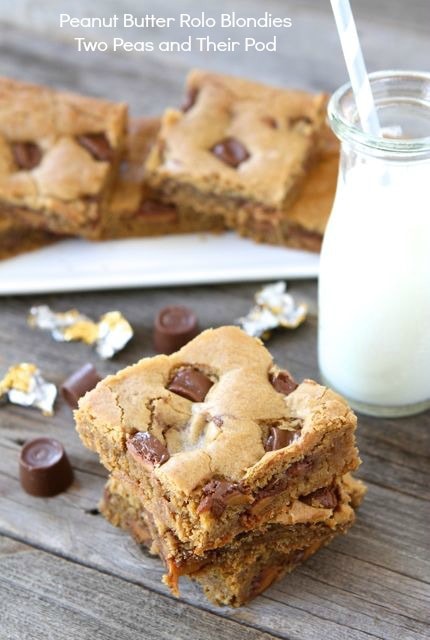 Is the leftover Halloween candy staring you down? It's time to take control and do something with that candy. May I suggest a pan of Peanut Butter Rolo Blondies? And if you can't find enough Rolos in your Halloween candy stash, go to the store and buy some. These blondies are worth the extra trip to the store. And if you are embarrassed that you are buying candy so soon after Halloween, wear your Halloween costume. No one will know it's you:)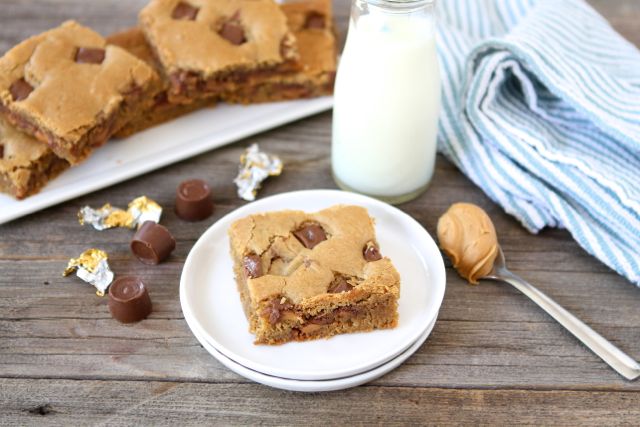 These blondies are easy to whip up. I love one pan treats! Especially when peanut butter, chocolate, and caramel are involved. I didn't chop up the Rolos because I wanted big hunks of chocolate and caramel in my blondies. If you prefer a smaller burst of chocolate and caramel, feel free to chop up the Rolo candies before mixing them into the peanut butter blondie batter. Either way, they will be good.
The peanut butter blondies are thick, soft, and loaded with chewy chocolate caramel candy. Good thing the recipe makes a large pan because you are going to want more than one of these Peanut Butter Rolo Blondies.
Looking for other ways to use up your Halloween candy? Here are a few recipes to help you out: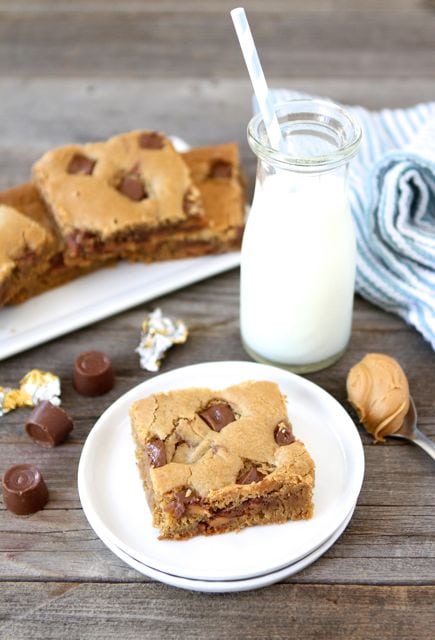 Peanut Butter Rolo Blondies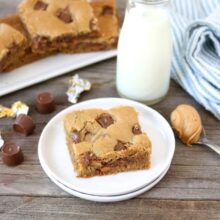 Peanut butter blondies dotted with Rolo candies.
Yield: 16 large blondies
Prep Time: 10 minutes
Cook Time: 25-30 minutes
Ingredients:
1/2 cup unsalted butter
2 cups light brown sugar
1/2 cup creamy peanut butter
2 large eggs
1 teaspoon vanilla extract
2 1/2 cups all-purpose flour
1 teaspoon baking powder
1/4 teaspoon baking soda
1/2 teaspoon salt
1 cup Rolo candies, unwrapped
Directions:
1. Preheat the oven to 350°F. Grease a 9-inch by 13-inch pan and set aside.
2. In a saucepan over medium heat, melt the butter and brown sugar, stirring constantly until smooth. Remove from the heat, and stir in the peanut butter, until creamy and combined. Set mixture aside to cool.
3. In a large bowl, whisk together flour, baking powder, baking soda, and salt.
4. Add the eggs, one at a time, to the peanut butter mixture, mixing well after each addition. Add the vanilla extract and stir to combine. Pour the mixture into the prepared dry ingredients, and stir until batter is smooth. Stir in the Rolos.
5. Transfer the batter to the prepared pan, spreading the batter evenly to the edges of the pan. Bake for 25-30 minutes or until the top is golden and the edges are slightly browned. Remove blondies from oven and place them on a wire rack to cool. Once cooled, cut into squares and serve.
Note-you can chop up the Rolos if you want, but I like biting into a big hunk of chocolate caramel candy.
All images and text ©
Two Peas & Their Pod
.
Follow twopeasandpod on Instagram and show us what recipes you are making from our blog! Use the hashtag #twopeasandtheirpod! We want to see what you are making in your kitchen!