Salted Caramel Pumpkin Pie
Salted Caramel Pumpkin Pie is the BEST pumpkin pie recipe. This pumpkin pie will be everyone's favorite Thanksgiving dessert!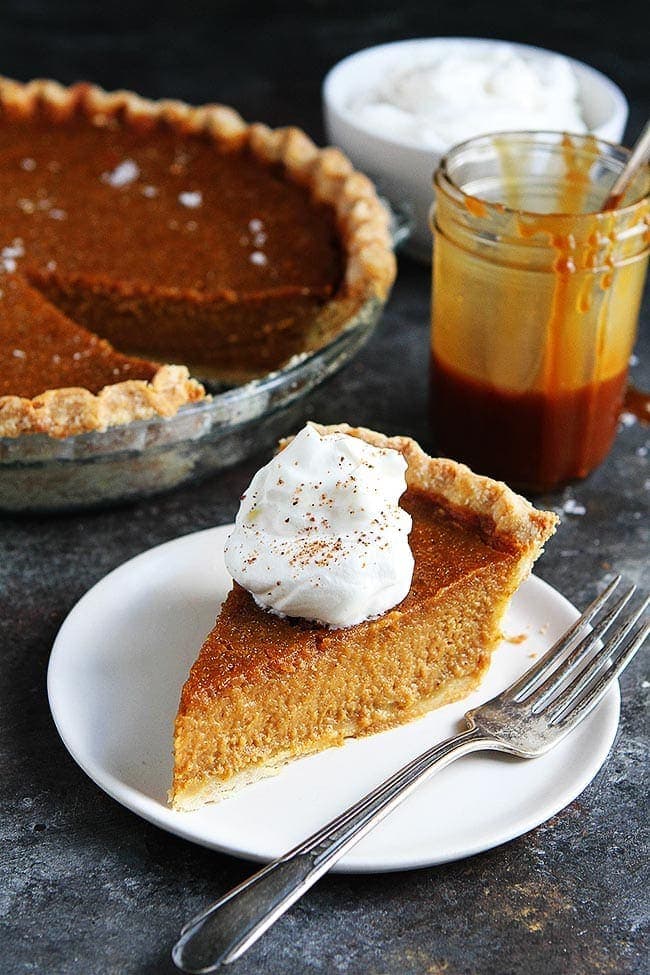 The Secret Ingredient to the BEST Pumpkin Pie
Confession, I am really not a pie person when it comes to dessert. I would rather have a cookie or brownie any day. And I really don't like pumpkin pie…at all. BUT there is one exception, I do love Josh's pumpkin pie because it is different. It has a secret ingredient that is a major game changer. Josh adds salted caramel sauce to the traditional pumpkin pie and it is EPIC! This is hands down the BEST pumpkin pie in the world!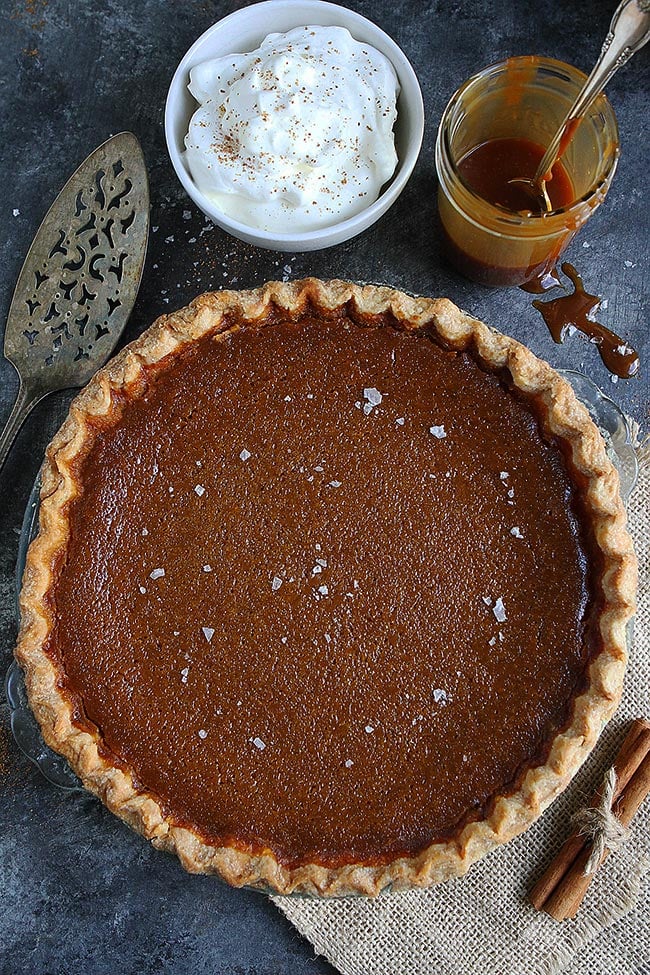 Pumpkin Pie, a Thanksgiving Tradition
Pumpkin pie is a Thanksgiving tradition. We always had Libby's pumpkin pie at our Thanksgiving feasts and I would always try to like it, but I would always take a bite and give my piece to my dad. I wanted to love pumpkin pie, but I could never get on board. I always felt bad because pumpkin pie is a holiday tradition.
But now I can embrace the tradition and eat an entire piece of pumpkin pie because this Salted Caramel Pumpkin Pie is perfection! Sorry Libby, but Josh' pumpkin pie is the BEST! In fact, we were going to put this recipe in our cookbook, but everyone that tried it told us they couldn't wait for the book, they NEEDED it on the blog for the holidays because they wanted to make it for their family and friends. We decided to share it because we didn't want to ruin anyone's Thanksgiving:)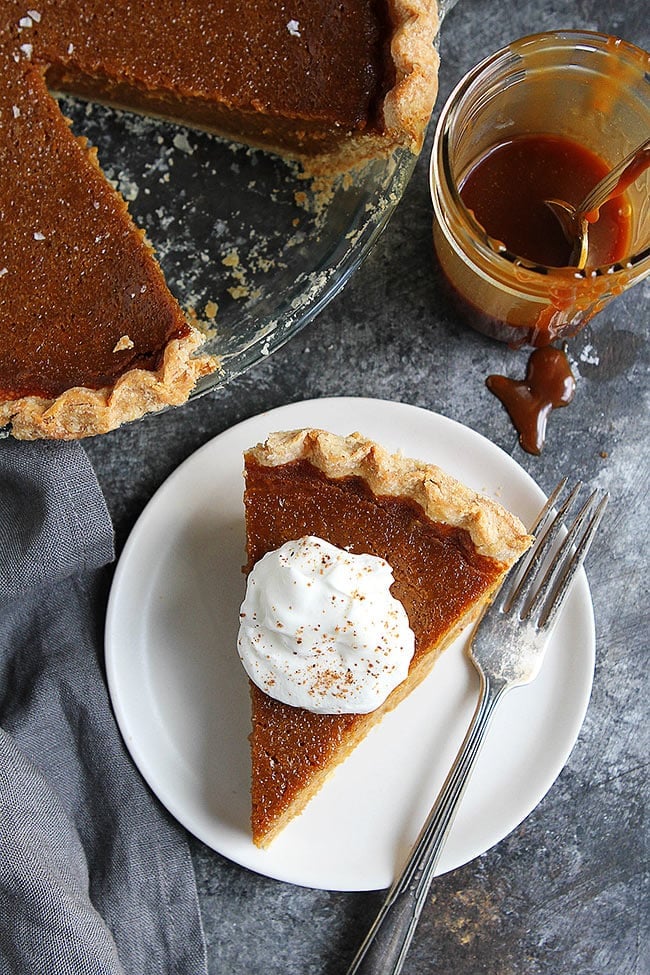 Tips for Making the Best Pumpkin Pie
Start with your favorite pie crust. You can make the pie crust from scratch or use store-bought. We love this pie crust recipe. It makes two pie crusts, you can use one and freeze the other or make two pies. You might need two pumpkin pies because this pie always goes fast:)
After you roll out the pie dough, place it in a pie pan, and crimp the edges, you will need to blind bake the pie. What is blind baking? It is basically pre-baking the crust so the pie crust doesn't shrink and so the bottom doesn't get soggy. This is necessary for pumpkin pie and other cream and custard pies. To blind bake, you can weigh the pie down with pie weights, dry beans, or dry rice. Make sure the weights cover the bottom of the pie and press against the sides of the pie. The weights on the bottom will keep the pie from puffing up and the weights against the sides will keep the sides from sinking as the crust bakes.
Make sure you buy pumpkin puree and not pumpkin pie filling. We are making our own pumpkin pie filling and it's SO much better. You will love all of the spices and the secret ingredient, salted caramel sauce.
You can use our homemade salted caramel sauce, it's the best! If you want to use store-bought, you can, just make sure you get a nice, thick caramel sauce, not ice cream topping. Trader Joe's salted caramel sauce is really good if you are in a pinch.
If the edges of the pie crust start to get too brown, you can cover them with a pie shield.
When the pie is done baking, turn off the oven and let the pie cool in the oven with the oven door slightly open. This will prevent cracking. Remove from oven when the pie is cooled to room temperature.
When the pie is cool, cut into slices and serve with whipped cream or ice cream.
To store, cover the cooled pie loosely with plastic wrap or foil and keep in the refrigerator up to 3 days.
Best Thanksgiving Dessert
Make this Salted Caramel Pumpkin Pie for Thanksgiving and you will be the hit of the holiday. Everyone will LOVE it and wonder why this pumpkin pie is SO delicious? I am telling you, that salted caramel is magical! You can tell them the secret ingredient or you can keep it our little secret. Just beware, they are going to beg you for the recipe…or they will just assign you to bring pumpkin pie to Thanksgiving every year because this pie is the BEST Thanksgiving dessert.
If you like this pumpkin pie recipe, you might also like: