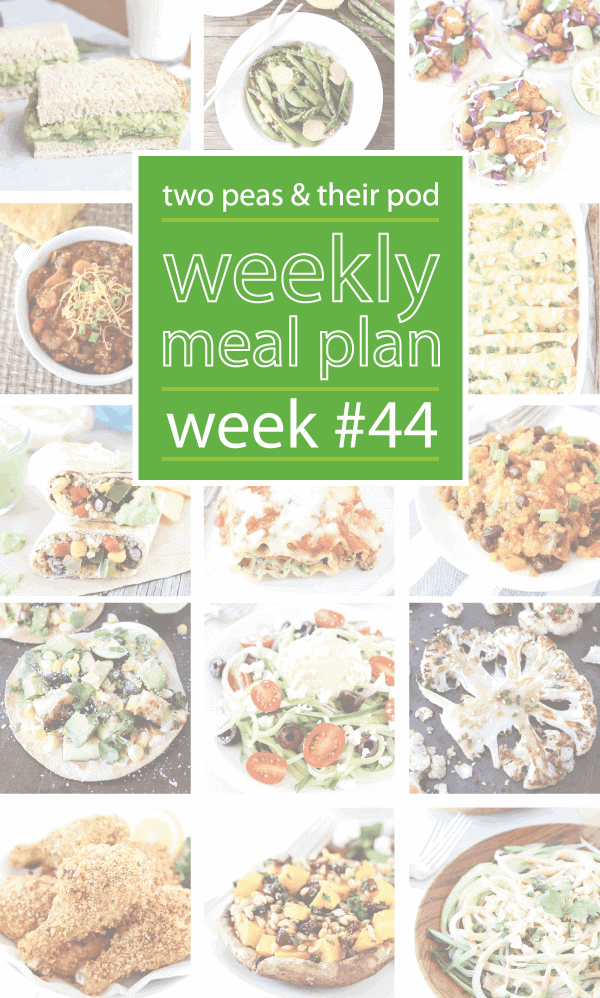 We have lots of fall favorites on this week's menu. If you are a sweet potato fan, you will be a happy eater this week:) And of course there are a few of my favorite pumpkin desserts included! Enjoy!
Week 44
Monday (11/16): Vegetable Lime Chickpea Chili– I love a veggie packed chili! This one is perfect for Meatless Monday! Serve crusty bread on the side.
Tuesday (11/17): Orzo Stuffed Peppers– These simple stuffed peppers are fun to serve and fun to eat. Make a simple green salad to go with!
Wednesday (11/18): Power Salad with Lemon Chia Seed Dressing– A power packed and healthy salad for a mid week pick me up! Make Pumpkin Maple Cookies for dessert!
Thursday (11/19): Black Bean and Sweet Potato Soup– One of my favorite soups and perfect for a cold day! Serve our Easy Cornbread on the side. It is the BEST!
Friday (11/20): Roasted Sweet Potato and Spinach Risotto–Its cold outside and this risotto will be the perfect thing to warm you up!
Saturday (11/21): Pumpkin French Toast– This French toast is TOO good! Top with butter and maple syrup and you will be in breakfast heaven. Eat leftovers or go out for dinner!
Sunday (11/22): Lentil Soup with Sweet Potatoes & Spinach– I'm on a sweet potato kick this week, I can't get enough! They are perfect in this hearty lentil soup! Serve Three Cheese Zucchini Drop Biscuits on the side and have a piece of Pumpkin Cinnamon Streusel Coffee Cake for dessert!
Tip- Stock up on sweet potatoes this week, you'll be using them for a few recipes! Plus, they are great to have on hand and last a long time!
If you make one of our recipes, take a picture and share on Instagram! Use the hashtag #twopeasandtheirpod! We want to see what you are making in your kitchen! And don't forget to follow us on Instagram!
And remember, we created a Weekly Meal Plan section on our blog so you can get inspiration from all of the weeks!