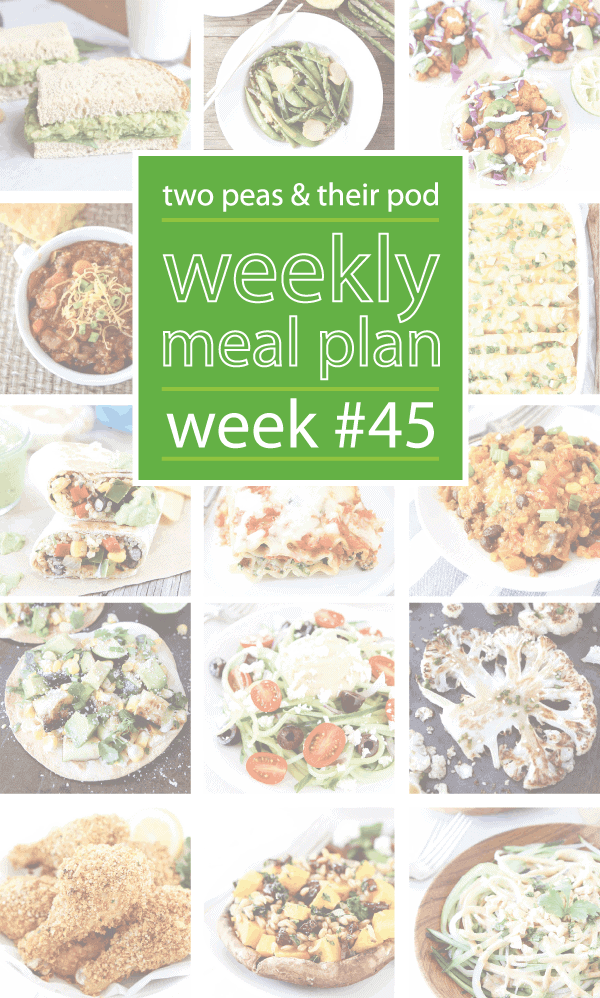 This is a BIG week! It's Thanksgiving and that means you need to have your meal planning done ASAP…so you aren't fighting the crowds on Wednesday night. We included lots of ideas for your Thanksgiving feast so start planning NOW! Ready, set, GO!!
Week 45
Monday (11/23): Mushroom Quinoa Soup– A perfect bowl of soup to warm you up on a cold evening! Give me some crusty bread to eat with it and I'm one happy girl!
Tuesday (11/24): Apple Cinnamon Baked Oatmeal– Comforting and delicious! Serve scrambled eggs on the side!
Wednesday (11/25): Easy Chickpea Vegetable Stir Fry– An easy and light meal so you can get your mind and tummy ready for Thanksgiving tomorrow!
Thursday (11/26): Happy Thanksgiving! Start your holiday morning off right with some Pumpkin French Toast. Try a few of our favorite sides to compliment your holiday turkey: Cranberry Orange Roasted Brussels Sprouts, Sourdough Stuffing with Mushrooms, Apples, & Sage, Slow Cooker Mashed Potatoes, Fresh Cranberry Sauce and Potato Rosemary Rolls. And no holiday is complete without dessert! Make a Pumpkin Bundt Cake with Cream Cheese Frosting and an Apple Cinnamon Streusel Galette. For more Thanksgiving ideas, check out all of our recipes here.
Friday (11/27): Take a day off and eat leftovers!!
Saturday (11/28): Leftover Cranberry Sauce Muffins– Have leftover cranberry sauce? Make these muffins for breakfast! Eat leftovers for dinner, I know your fridge is still full:)
Sunday (11/29): Brown Butter Pasta with Sweet Potatoes and Brussels Sprouts– A simple pasta with amazing flavor!!
If you make one of our recipes, take a picture and share on Instagram! Use the hashtag #twopeasandtheirpod! We want to see what you are making in your kitchen! And don't forget to follow us on Instagram!
And remember, we created a Weekly Meal Plan section on our blog so you can get inspiration from all of the weeks!