This easy Chocolate Banana Bread is moist, tender, and a chocolate lovers dream! It is the BEST banana bread recipe.
I am super excited to share this Chocolate Banana Bread recipe with you today. I have been testing the recipe for a few weeks and it is finally perfection. It is probably the best banana bread in the history of all banana breads…if you like chocolate. But who doesn't like chocolate? If you don't, I am not sure we can be friends. Just kidding, we can be friends because that means I can eat your slice of Chocolate Chocolate Chip Banana Bread:)
It has taken me a few weeks to get this recipe absolutely perfect because we keep running out of bananas. Our boys are little monkeys and I can't keep enough bananas in the house to bake banana bread. Last week, I hid some bananas in the back of the pantry so the boys wouldn't find them. The bananas turned brown and I used them to make this EPIC loaf of Chocolate Banana Bread. I nailed the cocoa banana bread recipe this time. It is absolutely perfect!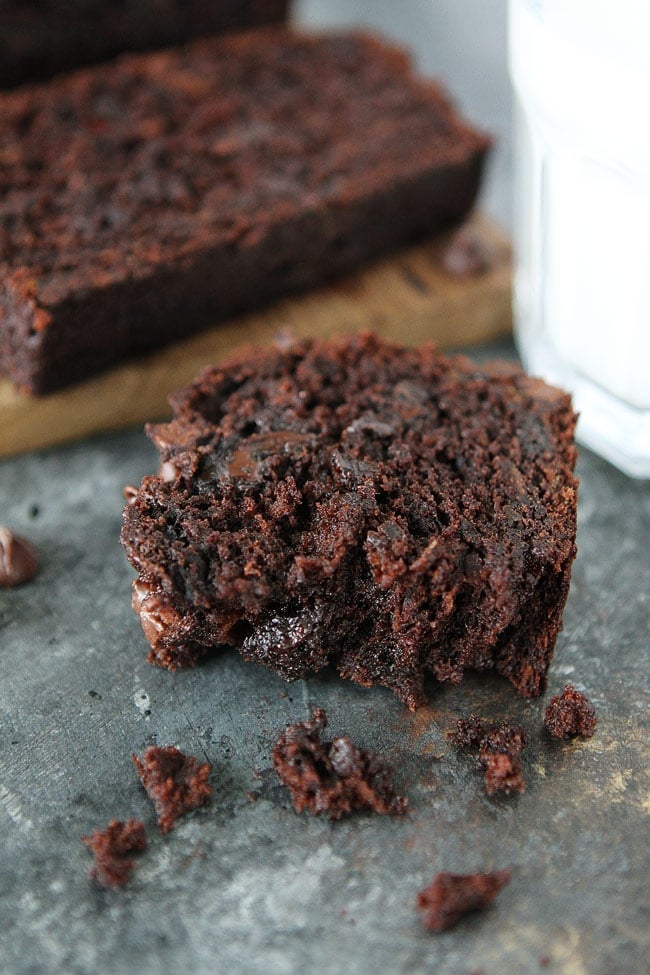 So what makes this banana bread so special?
Well, first the chocolate, duh. Chocolate makes everything better. It is made with Dutch process cocoa and chocolate chips. I use Dutch process cocoa because the chocolate flavor is so intense. The bread has chocolate chips in the loaf and on top. YES!
Next, the bananas. Obviously, it is banana bread. Overripe bananas are the key. If you have to hide bananas to get them to turn brown, do it. When I first made the recipe, I only used one cup of mashed bananas and the bread was good, but not great. I increased the bananas to 1 ½ cups mashed bananas and BINGO! It is the perfect banana/chocolate ratio. The bananas make the bread super moist and you can still taste the bananas. I like chocolate, but it is chocolate BANANA bread so I wanted to be able to taste the bananas too. 1 ½ cups mashed bananas is the magic number.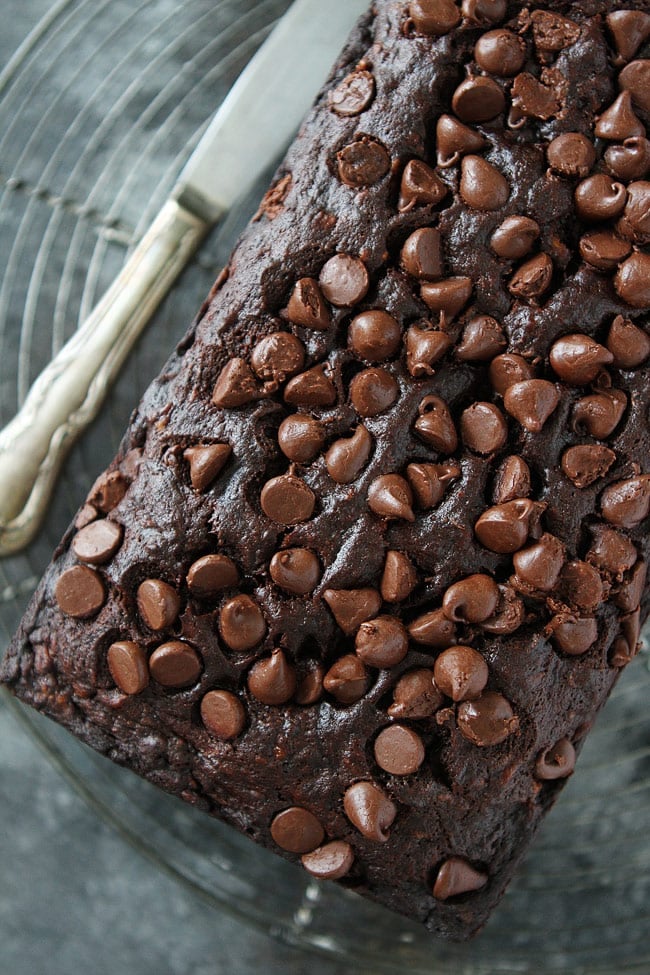 This recipe also calls for melted unsalted butter AND oil. The butter gives the bread a nice flavor and the oil keeps the bread extra moist. The combo produces a tender crumb with great flavor.
I used brown sugar and only brown sugar in this recipe because again, I wanted the bread to be super moist and brown sugar keeps baked goods more moist because of the molasses content. And I know, I have used the word moist a million times in this post and I am sorry, but the bread is really moist and I promise that is a really good thing.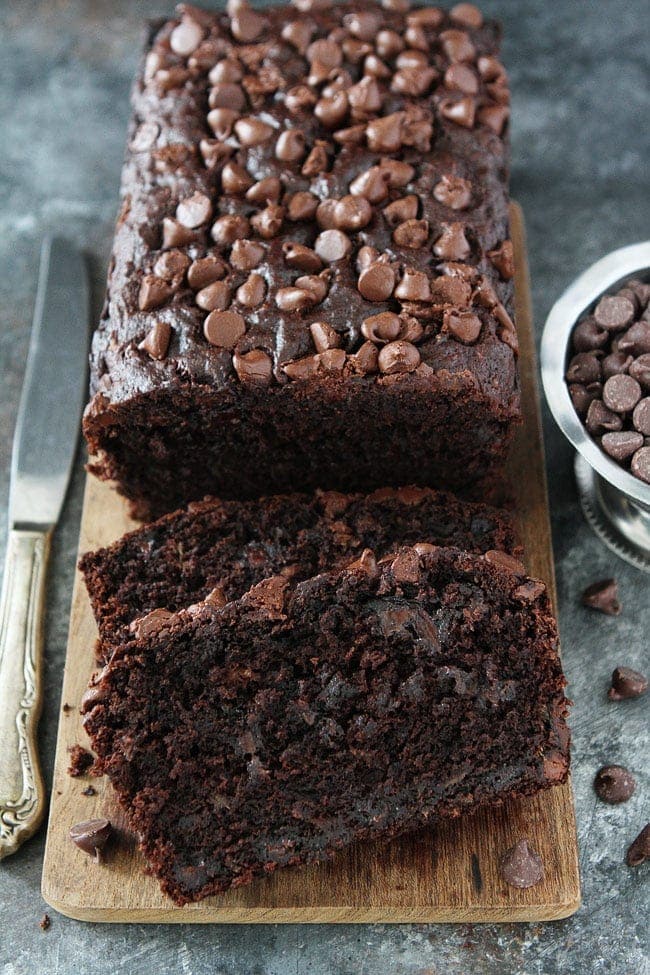 Another key ingredient is sea salt. I tried the recipe with regular salt and again, it was good, but not great. I used sea salt this last time and it was the kicker, literally. I loved getting little kicks of salt with the chocolate. Sweet and salty is my jam!
Make sure you don't overbake the bread. Take it out of the oven when a toothpick comes out clean or cleanish. If you hit a chocolate chip, there will be melted chocolate on the toothpick. Don't let that fool you for the batter. You don't want to overbake the loaf. You might need to test the bread in a few spots.
Let the bread cool in the pan for 15 minutes and then let it cool on a wire rack until warm. Slice and enjoy every last crumb.
This Chocolate Chocolate Chip Banana Bread is the ultimate banana bread. It is SO rich and divine. And it is bread so it is totally acceptable to eat a slice for breakfast. Or you can eat a slice as a 3 p.m. for a chocolate pick me up. Or you can eat a slice after dinner for dessert. Or you can eat a slice topped with ice cream at midnight. It is the BEST banana bread and I think you should make a loaf TODAY. I hope you have brown bananas handy.
Oh, and if you want to really impress your sweetheart on Valentine's Day, make a loaf of this Chocolate Banana Bread. It is chocolate heaven and better than store bought chocolates or flowers because it is baked with LOVE! And I promise it is easy to make. And if you are a peanut butter fan, check out my Chocolate Peanut Butter Banana Bread. You will FLIP over this recipe!
If you like this Chocolate Banana Bread, you might also like: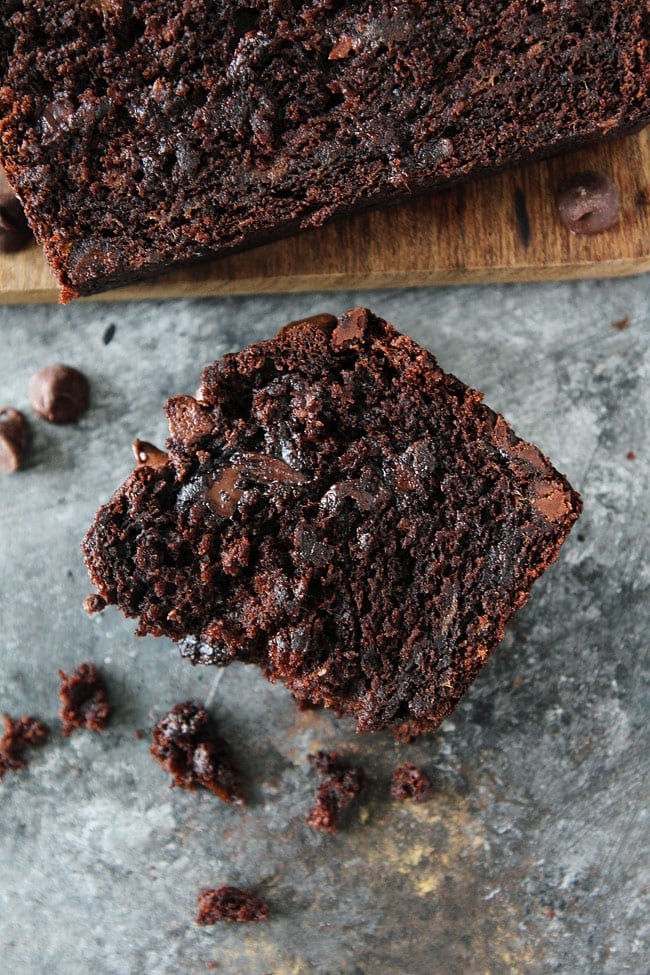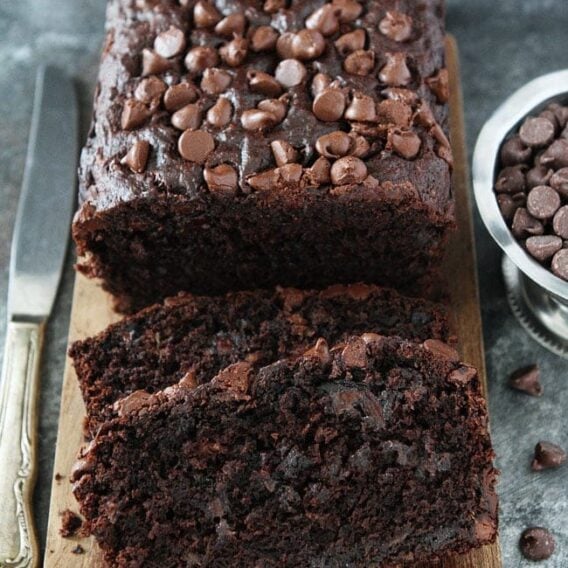 Chocolate Banana Bread
The ULTIMATE banana bread! Chocolate lovers will instantly fall in love with this easy quick bread.
Instructions
In a medium bowl, whisk together the flour, cocoa powder, baking soda, and sea salt. Set aside.

In a large bowl, mash the ripe bananas with a fork. Add the melted butter and oil and stir until combined. Stir in the brown sugar, egg, and vanilla extract. Stir until smooth.

Stir the dry ingredients into the wet ingredients, don't overmix. Stir in ¾ cup of the chocolate chips.

Pour batter into prepared pan. Sprinkle the remaining ¼ cup of chocolate chips over the top of the bread. Bake for 50-65 minutes, or until a toothpick inserted into the center of the bread comes out mostly clean, you might have some melted chocolate chips on the toothpick and that is fine. You just don't want a lot of gooey batter. Check at 50 minutes, just to be safe. Oven times vary.

Remove the pan from the oven and set on a wire cooling rack. Let the bread cool in the pan for 15 minutes. Run a knife around the edges of the bread and carefully remove from the pan. Let the bread cool on the wire cooling rack until slightly warm. Cut into slices and serve.

Note-the bread will keep on the counter, wrapped in plastic wrap, for up to 4 days. This bread also freezes well. To freeze, cool the bread completely and wrap in plastic wrap and aluminum foil. Freeze for up to 1 month. Defrost before slicing.
Have you tried this recipe?
Leave a comment below and share a photo on Instagram. Tag @twopeasandpod and hashtag it with #twopeasandtheirpod