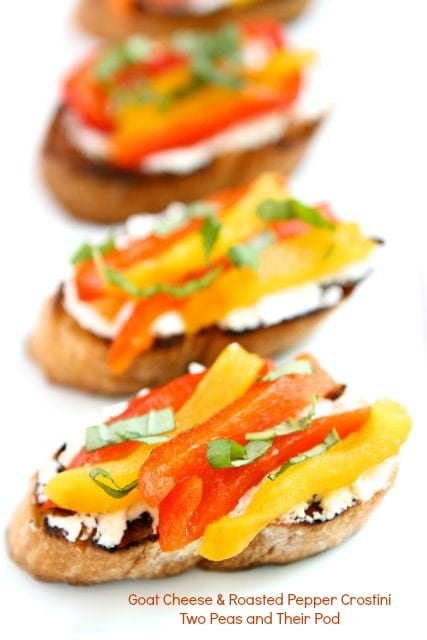 Football season is in full swing and that makes our home a happy home. We love watching football. Of course, you can't watch football without good food to munch on. I picked up a bunch of peppers from the farmers market and decided to make Goat Cheese & Roasted Pepper Crostini for game night.
Josh asked for Queso Dip or Hot Wings, but I told him too bad! I was in charge and making crostini! He didn't mind when I brought the platter of Goat Cheese & Roasted Pepper Crostini downstairs. He gobbled them right up! Football food at it's finest…and super easy too!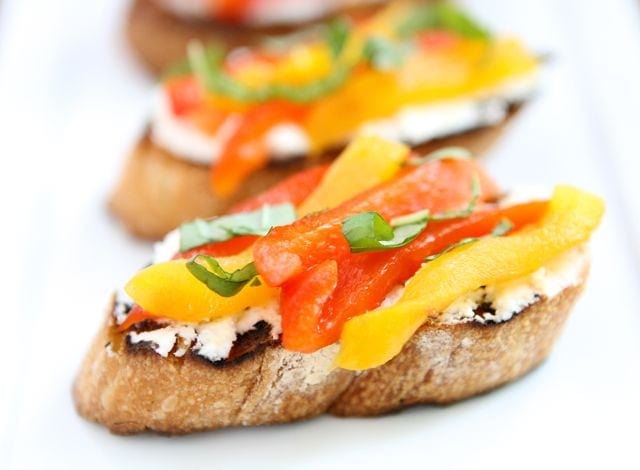 You can roast the peppers on the stove top, if you have a gas stove. You can also roast them in the oven or on the grill. Do what works for you. And if you are feeling lazy and don't want to roast peppers, you can always use store bought roasted peppers in the jar. I like to roast a bunch of peppers at once and freeze them. I take them out and use them for sauces, pizza, etc.
Anyways, once you have the peppers roasted, making the crostini is a breeze! I grilled the baguette slices, but you can also toast them in the oven. Spread each baguette slice with goat cheese, top with roasted peppers, add a little fresh basil, and BOOM! You have a beautiful and tasty crostini!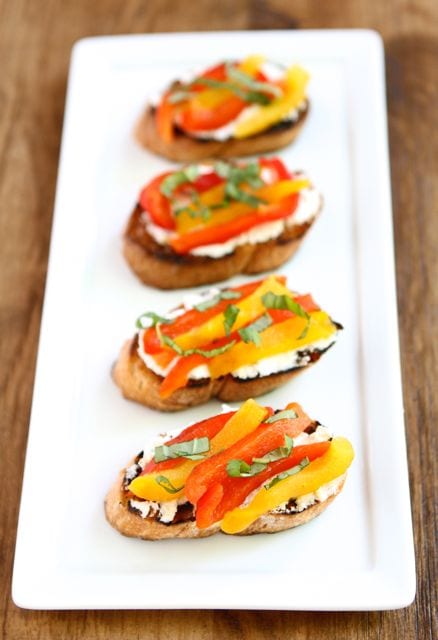 Goat Cheese & Roasted Pepper Crostini make a great appetizer for any party. If you are a football fan, turn on the game and enjoy some crostini! And if you think crostini is too fancy for football, think again! You can have nachos, chili, and pizza on the side:)
For the recipe, check out my post on Cafe Zupas. Happy weekend!
If you like this Goat Cheese & Pepper Crostini, you might also like: