Mashed Cauliflower
Mashed Cauliflower-a delicious low-carb side dish that is flavored with garlic, herbs, and butter. This easy cauliflower mash will remind you of mashed potatoes! Serve along side your holiday meal or any meal!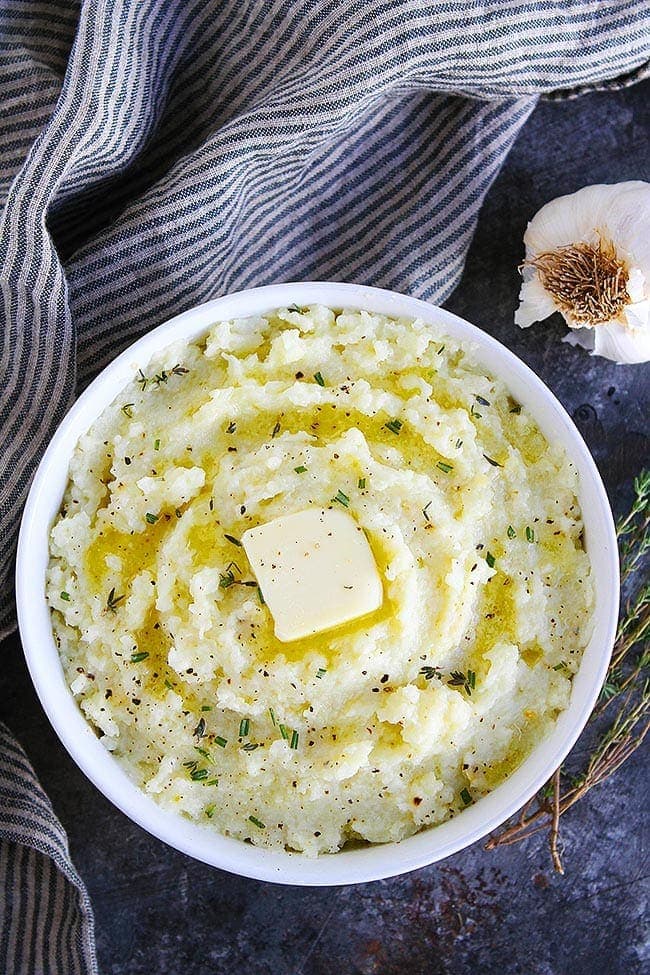 Cauliflower Mashed Potatoes
Cauliflower is one of my all-time favorite vegetables. I love it roasted, in salads, in grilled cheese, in chowder, in tacos, and the list goes on. Cauliflower is a wonderful vegetable because is can be used in SO many ways! It is kind of a magic vegetable, you can even use it to make Cauliflower Mashed Potatoes. Yes, cauliflower mashed potatoes! It's a thing and it's a VERY good thing. Cauliflower turns into a creamy cauliflower mash that will remind you of mashed potatoes. If you don't believe me, ask my boys. They love cauliflower mashed potatoes…and they claim they don't like cauliflower:)
Mashed cauliflower is not as starchy as potatoes, but you still get a creamy and delicious texture that is similar to mashed potatoes. This low-carb alternative to mashed potatoes is a great healthy side dish to serve at Thanksgiving, Christmas, Easter, or any meal!
How to Make Mashed Cauliflower
Mashed Cauliflower is so easy to make. You only need five ingredients:
cauliflower
olive oil
garlic
herbs
butter
To make cauliflower mash, you need to steam the cauliflower. I like to use our Instant Pot to steam the cauliflower. It steams in no time and turns out perfect every time. If you don't have an Instant Pot, you can use a steam basket and steam the cauliflower on the stove for 6 to 8 minutes. It is really important that you steam the cauliflower instead of boiling it. If you boil the cauliflower, the cauliflower will hold too much moisture and the mashed cauliflower will not have the same texture of mashed potatoes, it will be more of a puree.
While the cauliflower is steaming, cook the garlic in a little olive oil. When the cauliflower is done steaming, pour it into a large bowl. Add the garlic, herbs, and butter. Mash the cauliflower with a handheld immersion blender or potato masher. I prefer the blender, it gets the cauliflower nice and creamy. Be careful to not over blend the cauliflower or you will end up with a puree instead of a cauliflower mash.
Adding Flavor to Mashed Cauliflower
Cauliflower is a bland vegetable so it is very important that you add flavor to the mashed cauliflower. The flavor add-ins will bring the mashed cauliflower to life and give it that mashed potato taste. Here are some flavor ideas:
Garlic-garlic is a MUST! The garlic adds lots of flavor to the mashed cauliflower. I sauté the garlic in a little olive oil before adding it to the steamed cauliflower.
Herbs-I like to use a mixture of thyme and rosemary. You can also add in sage, parsley, or chives.
Butter-Adding butter will make the mashed cauliflower creamy and will give it that mashed potato flavor. I like to use salted butter. You can use 2 to 3 tablespoons, depending on how buttery you want the cauliflower mash to be. If you want to go all out, you can brown the butter and add browned butter to the mashed cauliflower. The flavor is amazing!
Cream Cheese or Sour Cream-I don't add cream cheese or sour cream, but you certainly can!
Cheese-If you want a cheesy cauliflower mash, you can add in shredded cheese. Parmesan, cheddar, or Gouda.
Bacon-I don't think anyone will complain if you add cooked chopped up bacon! It adds a ton of flavor to the mashed cauliflower.
Easy Holiday Side Dish
I love making this mashed cauliflower recipe for Thanksgiving, Christmas, and Easter. It is the perfect holiday side dish. It can be made in advance and everyone will appreciate a healthier side dish…but they really won't know it is a healthier option because it is SO good! They won't believe they are eating cauliflower! And if you can't wait for a holiday, make this mashed cauliflower to go with any meal. We make it all of the time because it is an easy side dish to any meal and I am always happy my boys are getting their veggies in. They never complain when mashed cauliflower is on the dinner menu. They love it and I think you will too!
If you like this mashed cauliflower recipe, you might like: