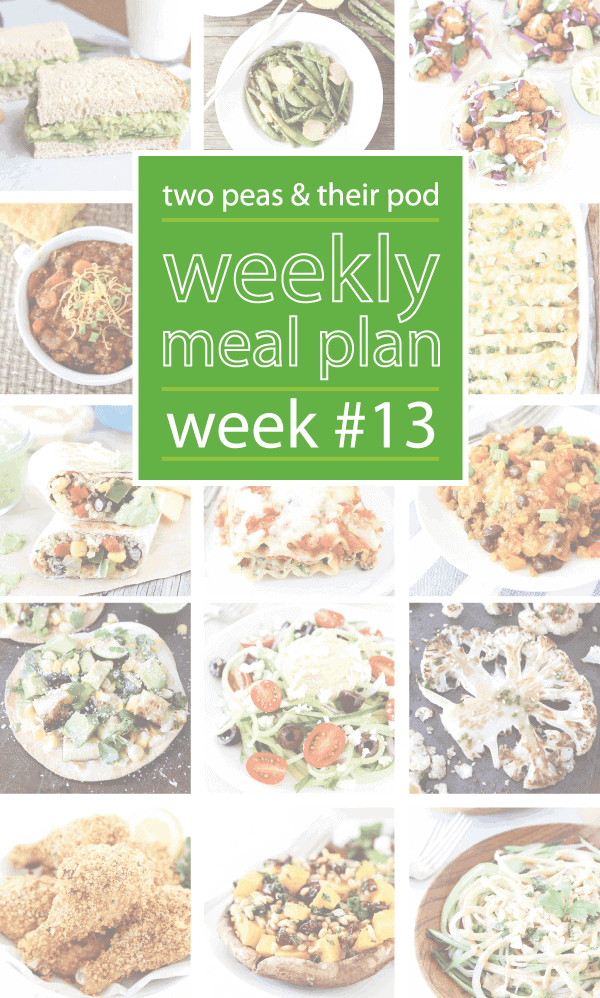 Enjoy this week's meal plan! I can't wait to eat dinner this week:)
Week 13:
Monday (4/13): It's National Grilled Cheese Month, so we are having Sweet Potato and Kale Grilled Cheese for dinner! Kettle chips and grapes on the side!
Tuesday (4/14): Asian Quinoa Salad-we love this healthy and colorful salad!
Wednesday (4/15): Roasted Chickpea Fajitas-veggie fajitas with chickpeas for a nice punch of protein! While you are cooking, munch on chips and Strawberry Mango Salsa!
Thursday (4/16): Arugula Pasta Salad-pasta night is always a good night!
Friday (4/17): Pear and Blue Cheese Flatbread-this flatbread is loaded with flavor and only takes 20 minutes to make. Make Lemon Cookies with Toasted Coconut Frosting for dessert. Happy Friday!
Saturday (4/18): Josh and Caleb love making and eating English Muffin Breakfast Pizzas! I am starting my weekend with a Pineapple Mango Green Smoothie. Eat leftovers or go out for dinner!
Sunday (4/19): Roasted Vegetable Stuffed Shells-cheesy baked pasta is the perfect Sunday dinner. Make a simple green salad to serve on the side and Balsamic Strawberry Ricotta Shortcakes for dessert!
Check out our other Weekly Meal Plans!